Britain's nineteenth-century Arts and Crafts movement had a curious relationship with Victorian notions of social advancement. Whereas proponents of the Industrial Revolution encouraged mechanization and new technology, people in the Arts and Crafts movement looked back to the Middle Ages. Both camps firmly believed in progress—the improvement or even perfectibility of the human condition—yet one group looked to the future while the other favored a return to the past.
Best known through the works of William Morris, Dante Gabriel Rossetti, and Edward Burne-Jones, the British Arts and Crafts movement represents one of several directions taken in the fine and decorative arts from the middle to late nineteenth century. Morris and his friends combined concepts of art, design, and workmanship from others; they in turn inspired later trends such as North American Arts and Crafts, Art Nouveau, and Bauhaus.
Arts and Crafts advocates opposed industrialization and factory-made goods on aesthetic and moral grounds: mass production dehumanized workers, and the cheapness of low-quality decorative items encouraged people to decorate their homes with excessive ornamentation. Ironically, although Prince Albert wanted the Great Exhibition to encourage beautiful design, several of the event's own organizers publicly decried poor examples of design throughout the exhibition. Morris idealized medieval craftsmen, who made their products by hand, and medieval art, which expressed profoundly Christian themes in beautifully designed furniture, textiles, and architecture.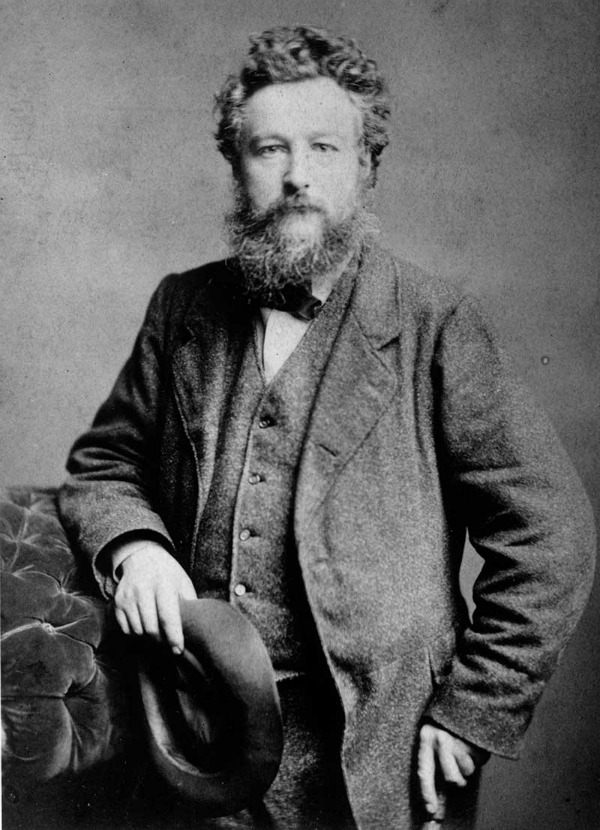 Mechanization caused rapid and dramatic social changes that continued into the Victorian period (1837–1901). Even Britons who did not work in the factories seemed to feel these effects, leading to government reports, parliamentary acts, moralizing sermons, and satirical novels such as Dickens's Hard Times (1854). Starting with James Hargreave's spinning jenny in 1764, technology virtually reinvented the textile industry. Other inventors soon developed the spinning mule, vertical power looms, the flying shuttle, and the cotton gin—all powered by steam in factories rather than home workshops.
By 1800, Manchester was the center of British cotton production with forty-two mills. Workers left the drudgery of agricultural work and flocked to cities or company towns at the mills for the chance of better income and educational opportunities and a wider social circle. Yet factory work was often dangerous and the hours very long. Many reformers felt that industrialization not only disrupted the connection between the producer and product, but also destroyed moral character and responsibility.
At the same time, Victorian artists, writers, and intellectuals often expressed a longing for simpler times, which to them meant the Middle Ages. (They assumed that the working classes shared these attitudes.) Early in the century, Gothic novels (including Mysteries of Udolpho, later satirized in Jane Austen's Northanger Abbey) and Sir Walter Scott's medieval-inspired romances became wildly popular. Several prominent designers explored the Gothic aesthetic and its implications for a moral, sometimes Christian, aesthetic that resisted the mechanical. Architect Augustus N. Pugin (1812–1852), for example, promoted a return to medieval Gothic style as well as to the "faith and social structures of the Middle Ages." Unlike later designers, he was not averse to mechanical production when it eased labor.
John Ruskin (1819–1900), a major art critic, prolific writer, and social thinker during the Victorian period, did more than anyone to glamorize the Middle Ages. Ruskin's studies of architecture and art focused as much on the social conditions from which an object arose as on the object itself. In his 1853 essay "The Nature of Gothic," published in Volume 3 of The Stones of Venice, he set out three principles for labor and workmanship:
Never encourage the manufacture of any article not absolutely necessary, in the production of which Invention has no share.
Never demand an exact finish for its own sake, but only for some practical or noble end.

Never encourage imitation or copying of any kind, except for the sake of preserving record of great works. Ruskin believed that a medieval system of production allowed for individual expression by artisans who designed and produced their work. Workshops could properly nurture their moral and daily needs, whereas nineteenth-century industrialization destroyed that expression and morality. Although some circles ridiculed his ideas about art and social welfare, the founders of the Working Men's College embraced them. Liberal educators established this men's education center in 1854 as "one of the first institutions which had for its object the giving to the manual workers some opportunity of satisfying the human instinct for knowledge and beauty" (quoted in Gillian Naylor). Women had less support for training, although schools for lacemaking, design, painting, and needlework (the School of Art Needlework, for example) were established to provide women with paid work opportunities in handcrafts.
Ruskin's ideas on art and craftsmanship particularly resonated with two artistic circles in the mid-nineteenth century: the Pre-Raphaelites and the Arts and Crafts movement. The Pre-Raphaelite Brotherhood, founded in 1848 and essentially dissolved by 1853, originally consisted of the aspiring painters John Everett Millais (1829–1896), Dante Gabriel Rossetti (1828–1882), and William Holman Hunt (1827–1910). They carefully studied nature to develop genuine ideas for expression. Their paintings, based on medieval subjects, abounded in intricate details and brilliant jewel-toned colors; for example, the flowing dresses of the women in their paintings shimmer with rich reds, golds, and sapphire blues.
The Pre-Raphaelites overlapped with the burgeoning Arts and Crafts movement through the Working Men's College, university associations, shared ideals, and design and production collaboration. In particular, they wanted to redefine design and to comprehensively understand the materials they used in their work. In their enthusiastic admiration for the Gothic and medieval, they emphasized a quality of workmanship that was human and individual (therefore not perfect) as opposed to the standardization of industrial products. However, they rejected any work that was shoddy, whether hand- or machine-produced.
William Morris (1834–1896) remains the most enduring representative of the British Arts and Crafts movement. An intelligent man from a well-off family, he embraced the medieval idyll in his childhood, supposedly reading all of Sir Walter Scott's Waverley novels by the age of seven. At Oxford, he met Rossetti and Burne-Jones, read Ruskin's writings, studied medieval illustrated manuscripts, and developed his skills as a writer and poet. A walking tour in northern France with Burne-Jones impressed upon both men a lasting sense of beauty in nature and the organic essence of Gothic architecture.
Both men imagined the Middle Ages to be "founded on respect, moral leadership and a true sense of a morally ordered society," according to biographers Rosalind Ormiston and Nicholas Michael Wells. The men's dream of a society where manual labor and craftsmen were respected led to the establishment in 1861 of Morris, Marshall, Faulkner & Co, Fine Art Workmen in Painting, Carving, Furniture, and Metals. Rossetti and Burne-Jones collaborated in The Firm (as it became called), and they honed their design and production skills by completely furnishing and decorating Morris's Red House east of London. Morris was particularly adept at learning all manner of artisan crafts, including embroidery, textile and book printing, weaving, and natural dyeing. He taught his daughters to embroider, partly through unpicking and studying old examples; the younger daughter, May, eventually managed the company's embroidery department.
The participants in the Arts and Crafts movement produced all manner of designs, home furnishings, and paintings, but Morris is best remembered for his nature-inspired designs that were printed or embroidered onto fabric. Even now, you can buy Morris designs on fabric, wallpaper, and accessories. Although the original inspiration for the style came from medieval tapestries and embroideries, Morris's designs were not meant to be historical or imitative. They were inventive, intricate, and orderly. The overarching rule for Morris was to "have nothing in your houses that you do not know to be useful, or believe to be beautiful." Early on he acknowledged that the working class he honored and tried to help could not afford his products, yet he wanted to instill his ideals through all socioeconomic levels as a way of creating a more equitable social order.
Alas, I could find no evidence that the Arts and Crafts movement either employed knitting in its designs or affected knitting design at the time. The closest connection seems to come more than a century later with the intricate pattern and colorwork of Alice Stanmore, especially in her Tudor Roses garments. Her designs, worked with colors she finds in her Hebridean landscape and knitted with wool yarns she carefully selects and processes, exemplify the best combinations of beauty, form, and function. Although we may not reach the artistry of the movement's original designers, or later artists such as Alice, we can honor the Arts and Crafts ideals by studying and employing our materials to express our environmental, social, and personal aesthetics.
---
Carol Huebscher Rhoades of Madison, Wisconsin, has a doctorate in comparative literature, specializing in nineteenth-century British and Swedish women's writing. She teaches workshops on and writes about traditional British and Scandinavian knitting and crochet. She has also translated many books on Scandinavian knitting, crochet, and cooking.
This article originally appeared in Knitting Traditions 2017. Get the issue and learn more about the Arts and Crafts movement.
[Featured Image: "The Adoration of the Magi," tapestry by Morris & Company, 1890. St. Petersburg, Russia, The State Hermitage Museum. Photo by Fine Art Images/Heritage Images/Getty Images.]
---
FURTHER RESOURCES
Byatt, A. S. Peacock & Vine: On William Morris and Mariano Fortuny. New York: Alfred A. Knopf, 2016. Callen, Anthea. Women Artists of the Arts & Crafts Movement, 1870–1914. New York: Pantheon, 1979. Morris, William. News from Nowhere or an epoch of rest. London: Routledge & Kegan Paul, 1970 (first published in 1890). Nadzeika, Bonnie-Lynn. "Gustav Stickley and the Arts and Crafts Movement in America." PieceWork 24, 2 (March/April 2016), 20–24. Naylor, Gillian: The Arts and Crafts Movement: A Study of its Sources, Ideals, and Influence on Design Theory. Cambridge, Massachusetts: The MIT Press, 1971, 1980. Ormiston, R., and N. M. Wells. William Morris: Artist, Craftsman, Pioneer. London, England: Flame Tree, 2013. Parry, Linda. William Morris Textiles. New York: Viking, 1983. Ruskin, John. The Lamp of Beauty. Selected and edited by Joan Evans. Ithaca, New York: Cornell University Press, 1959. __________. The Stones of Venice, 3 volumes. London: Smith, Elder & Co., 1851–1853.