I've traveled to many spinning events over the years without spinning friends in tow, and it can be a bit intimidating for some of us. In my early years of traveling for events like SOAR (Spin Off Autumn Retreat), I was grateful for event organizers who encouraged community. Having easy ways to chat and network can make all the difference! Here are a few ways that we try to help you make the most of your time at SOAR!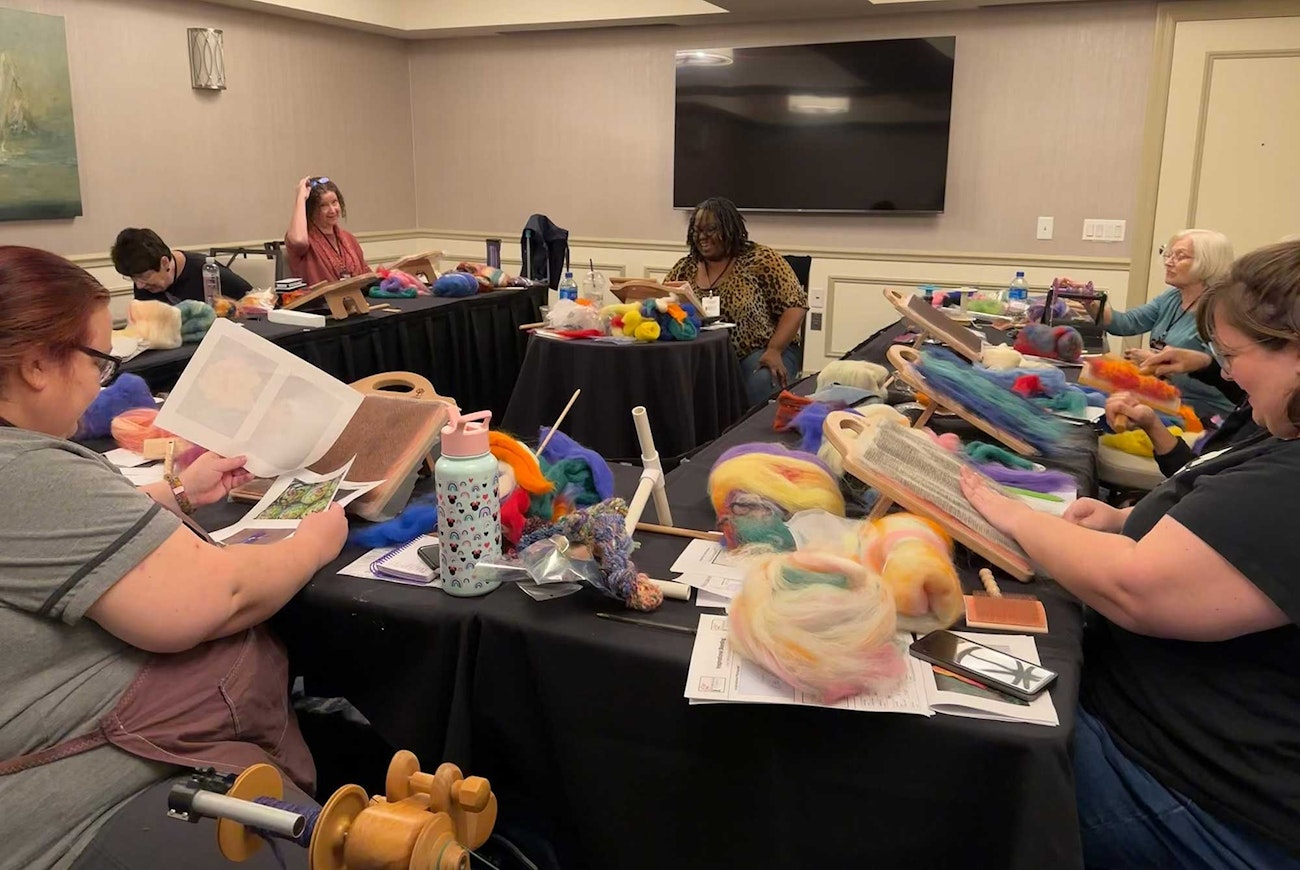 The amazing Dia Robinson teaching blending board
Small Classes
This will be the 40th anniversary for SOAR, and the event has changed so much over time. When we started talking about what SOAR would look like when it returned, Linda Ligon hoped that we could return to the small class sizes and mentorship feel that the event had in the very early days. Many of our classes have around 10 students, which, speaking as an instructor, is a wonderful size to balance comradery and individualized attention. Classes this size also make it easier to connect with fellow students and your instructor.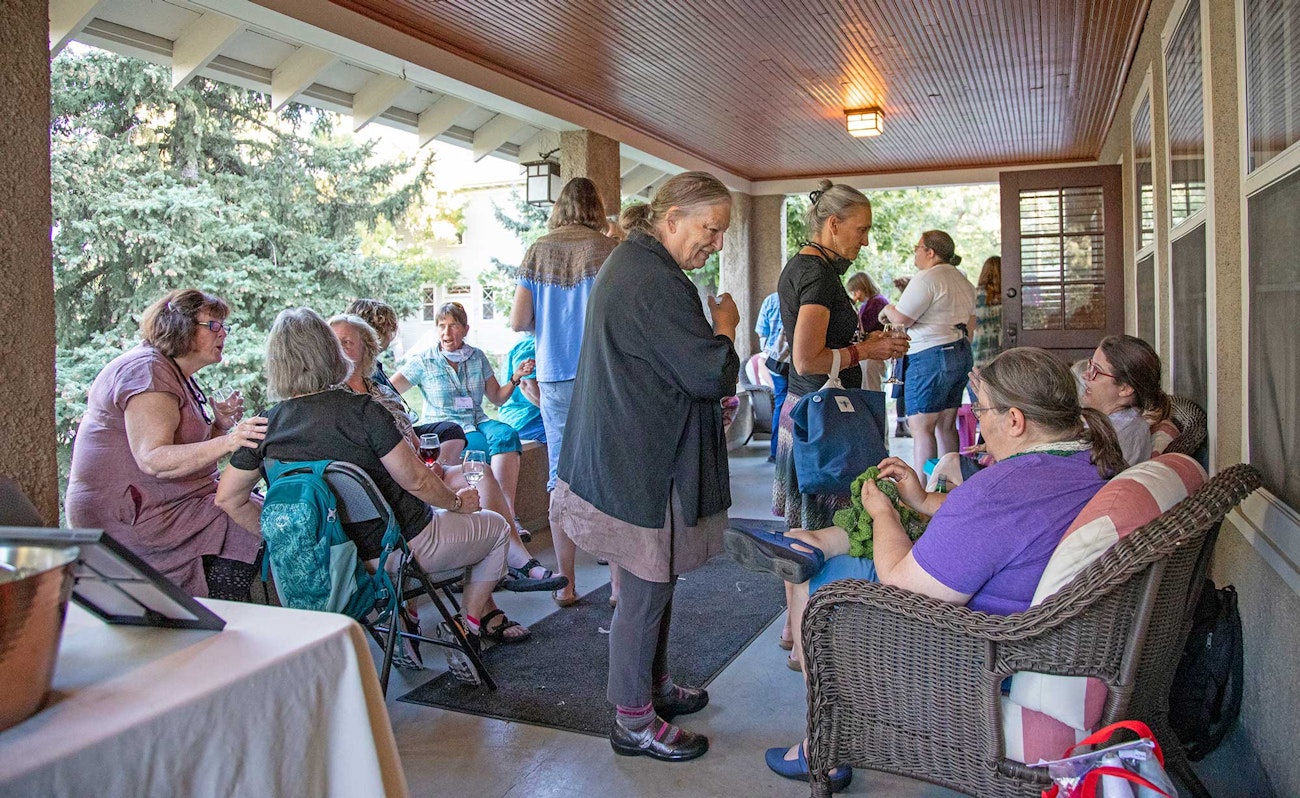 SOAR 2021 happy hour
Happy Hour
This new SOAR tradition started in 2021 when the event was held in Boulder, Colorado, and we love it! Before dinner, gather in the big open space in the hotel's atrium for a drink, snack, and chat. (Alcoholic and nonalcoholic beverages are available, and a Starbucks kiosk is a few steps away.) I love watching spinners pushing tables aside, pulling up chairs, and widening the circle to welcome new faces. There's nothing quite like winding through clusters of happy spinners and stopping to chat with classmates along the way. "Happy Hour" pretty much sums it up!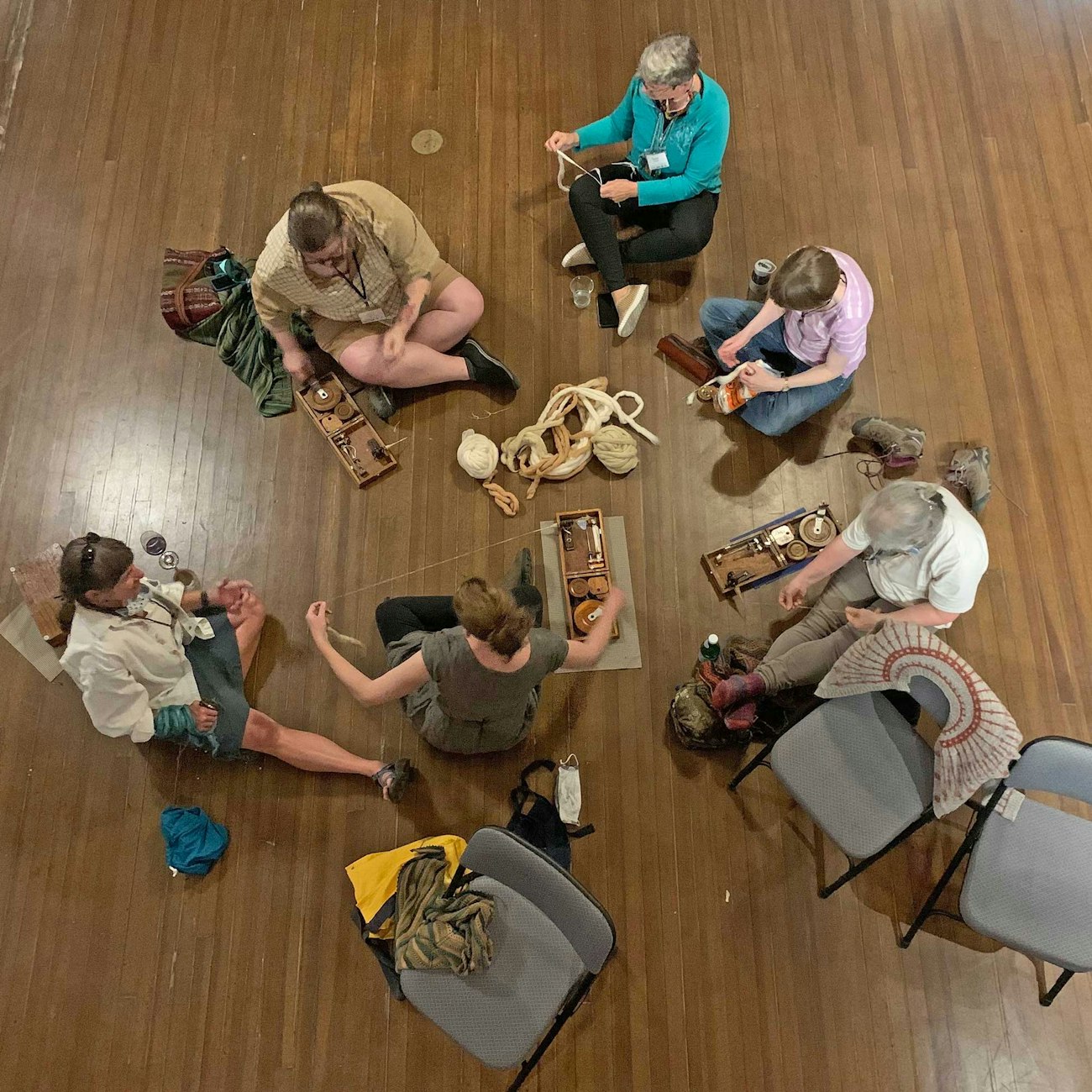 Spontaneous gathering of charkha spinners!
Meals Together
This longtime SOAR tradition endures; everyone gathers to eat together. Some folks save seats for friends so they can catch up after a busy day of classes, or others, like me, love sitting down with a table of people I've not spent time with yet at the event. New friends, old friends, it's all great. I might sit down with someone I saw spinning on a wheel I'm curious about or someone wearing a fabulous shawl I want to ask about.
Especially after the COVID years of isolation, I am grateful for the time I get to spend with spinners. I hope you'll join us in Loveland this fall!
—Kate
Class registration is underway, and some classes still have space. Check the website for more information, and reach out if you have any questions!
Kate Larson, editor of Spin Off, teaches handspinning around the country and spends as many hours as life allows in the barn with her beloved flock of Border Leicesters.