I live in Loveland, Colorado, the Sweetheart City, and Valentine's Day is kind of a big deal around here. Heart-shaped Valentines line the city streets, and our city hosts a special Valentine's Day re-mailing program. We take that loving feeling seriously!
But personally, I think of love as being more of an action than a day devoted to candy, cards, and flowers, and nothing says I love someone more than when I say it with yarn and fiber. Here are five ways to share the fiber love this season or at any time of year.
1. Make a handspun, handmade gift.
As kids, my sister and I didn't hand out store-bought Valentines to our classmates. No way! We had fun making them. Glue, doilies, glitter, colored paper, and markers declared our friendly affections. Many (cough) decades later, I now say "I love you" in yarn. The object of my heart knows how much I care when presented with knitwear crafted from my handspun.
2. Teach someone to spin.
There's no greater way to share the fiber love than to teach someone how to spin (knit, crochet, weave, embroider). My Grandma taught me to knit and crochet, and fiber-enabling friends showed me the joy of spinning, and to this day, I cherish those memories of our special times together, making. Giving the gift of time says more than that you care about someone; it shows them that they matter.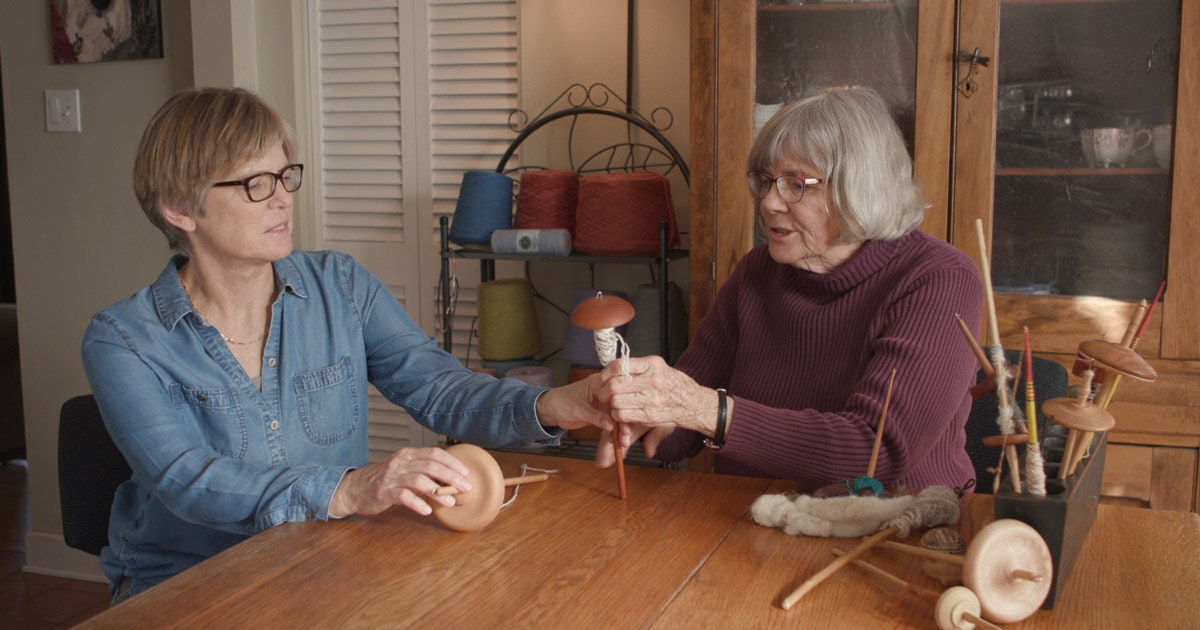 Teacher Maggie Casey discusses different types of spindles.
3. Give some bumps and braids a new, loving home.
I admit, like many of us, I've fallen for a dazzling hand-painted braid . . . and then fallen out just as quickly. It's not that I'm fickle, but I know I am not the only handspinner to get caught up in the moment at a fiber festival from time to time. No judgement here! But every bump, batt, and braid deserves a loving home. Pass that luscious fiber along to a friend, and it might just become his favorite spin.
4. Support your fibery community.
It's no secret that the pandemic years were tough for many spinning teachers, indie dyers, and artisan toolmakers. Fiber events were canceled or moved online. Now that we can all gather again in person, we have even more choices and can take classes and purchase goods through fiber festivals, meet and greets, and of course, so many online sources.
5. Show yourself some love.
I relish my time alone with fiber. It recharges me after a long, stressful week. The hum of my wheel soothes me. I find comfort in the fiber drafting through my hands. Time to spin makes me a more loving human being, and right now, we all could use more love.
Elizabeth Prose is a former associate editor of Spin Off.
Originally published February 14, 2021; updated February 13, 2023.