It's been a year, hasn't it? Virtually everyone I know experienced a 2021 that was jammed with changes, adjustments, readjustments, losses, and joys. Spending some time at the wheel (or charkha or spindle) as one calendar year changes to another helps me process what has been and what is to come. Spinning leaves me feeling lighter, even if I'm returning to heavy things.
Our wish for you on the cusp of 2022 is that you give yourself the gift of time to spin! As a thank you—and a nudge to pull 5 ounces of squishy indulgence from your stash—we are releasing a new knitting pattern by Kerry Bullock-Ozkan, the Towline Hat. This is the perfect quick project to start the New Year off in the right direction. Begin as you intend to proceed!
Kerry is a professional knitwear designer. She created this toasty hat using a bouncy, 3-ply yarn she spun from American Tunis roving purchased from Tarheelbilly Farm. Charis Walker and her family raise Tunis sheep, Galloway cows, bees, and more in Ohio. Charis will share more here about her flock and farm in the new year.
Best wishes to all of you from all of us at Long Thread Media!
—Kate Larson and the Spin Off team
Towline Hat
Kerry Bullock-Ozkan
Cables aren't necessarily the first thing that comes to mind when thinking of projects for woolen-spun yarns. Smooth, round worsted-spun yarns are usually recommended for making cables pop. But after sampling this Tunis lambswool from Tarheelbilly Farm, I immediately thought of knitting a hat with squishy cables similar to the Aran wool hats my mother and I once wore.
I purchased 5 ounces of 100% American Tunis lambswool roving as part of the Shave 'Em to Save 'Em challenge. According to The Fleece and Fiber Sourcebook, Tunis is a dual-purpose breed with an interesting history. Tunis lambs have a reddish color to their wool when born, which fades to a creamy white over time. The fiber was soft and bouncy, with a warm cream color and medium staple length, and fluffed up pleasantly when finished.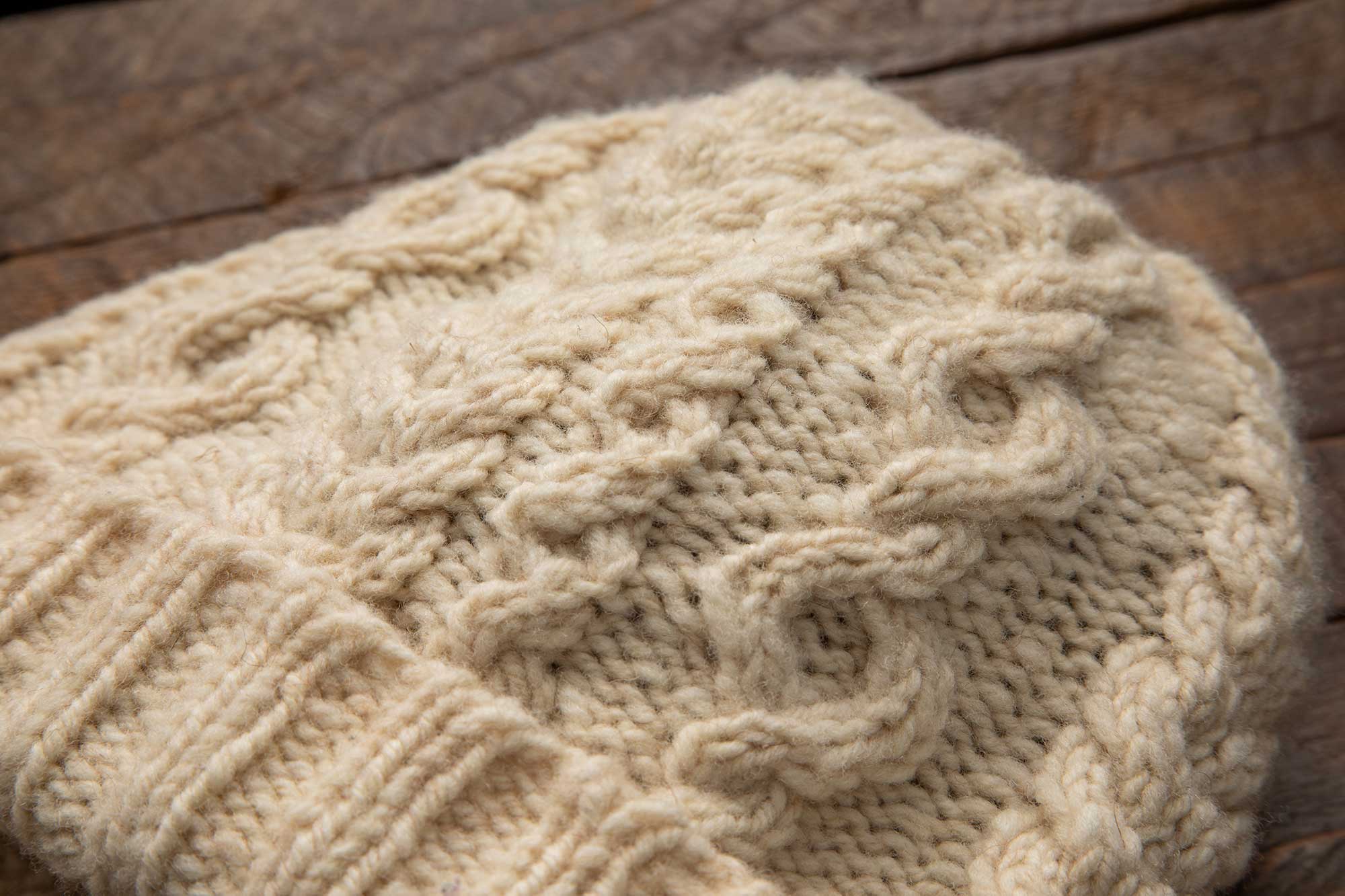 Spinning Notes
I spun the sample from roving with minimal preparation, only shaking the fiber out a bit to loosen it up. I choose to make a woolen-spun three-ply for several reasons. I think the bounce and crimp of the fiber paired with the loft resulting from the woolen spinning helped to make up for the loss of stitch definition due to the slightly fuzzy surface of a woolen yarn. The three-ply yarn structure also gives a nice roundness and height to the cables.