One day as I was talking to an editor here at Long Thread Media, she said, "You have such a weird job." And she's right. My title is editorial assistant; my duties, on the other hand, are all across the board. I handle shipping and receiving, various emails, ordering yarn, loading web posts . . . the list grows every day. One of my responsibilities that I enjoy the most is assisting with photo shoots.
A few weeks before a shoot happens, the editorial and art teams create a list of items that need to be photographed, along with color schemes, props, and tools that will enhance the overall image or create interest in the shot. For the Fall 2023 issue of Spin Off, we were able to borrow a drumcarder from Classic Carder. Spin Off's editor, Kate, is a patient and wonderful teacher regarding all things fiber. She brought scraps of various types of fiber to the shoot and demonstrated how to load them onto the carder to create a batt.
Toward the end of our lunch break, the art director loaded shades of purple, red, and orange to create a vibrant batt using colors that she had not worked with before, and she loved the whole process. I tend to be a "tidy spinner," my fiber being a single color, spun super fine, and plyed with a matching color—very boring. This "painting" experience of adding colors to the drumcarder was outside the box for me, but I am always up for learning and trying new things. First, I laid down a layer of brown wool and then started digging into Kate's scrap bag. Green, gold, black, white silk, and a random bit of red Angelina all ended up on the batt and this randomness was so fun! I had absolutely no idea how it would turn out.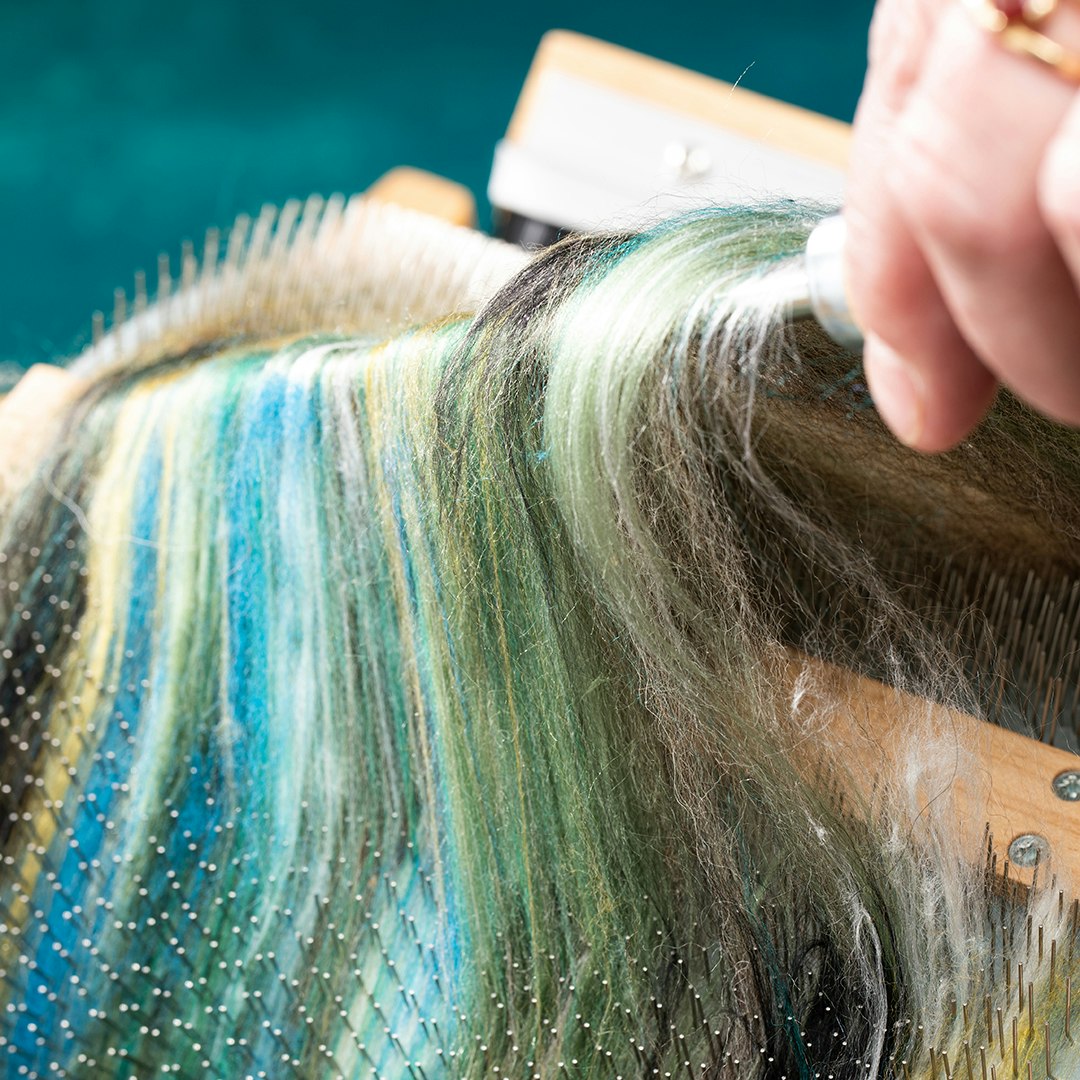 Oops! I see fingers, let's sneak those out of frame.
The colors matched the other photos we had taken earlier in the day so the team decided to grab some action shots of removing the batt from the carder. We added a background, adjusted the lighting, and locked the angle of the camera. While I moved very slowly and took several pauses, held very still and adjusted my hand out of the frame, the photographer got some amazing images of the drumcarder and fiber in action together.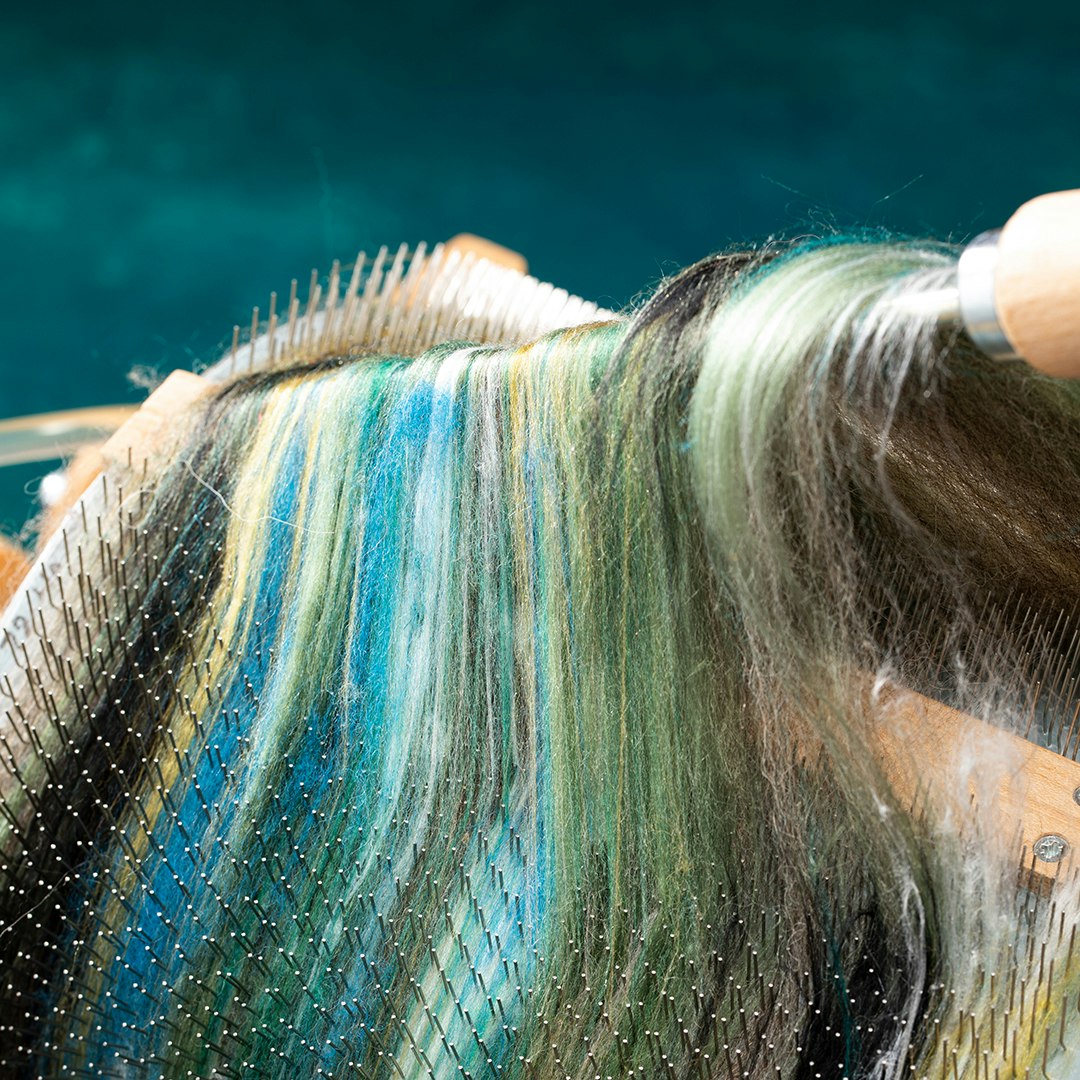 That's better. Should we try this as a cover image?
I had no idea that one of these photos was selected for the cover until it came time for me to do the digital review of the magazine around press time. And I absolutely love it! When I first started helping out with photo shoots, I was under the impression that it was a fairly simple process: place the item down on a table top, throw some light on it, and go. Quick and easy. But it truly is an art unto itself. The combination of items, the angles, the lighting, and the setting all play a part and make a difference in how the final photos look. What have I learned in the process? Sometimes the "what if we try this?" gets the magic to come out and play.
—Katrina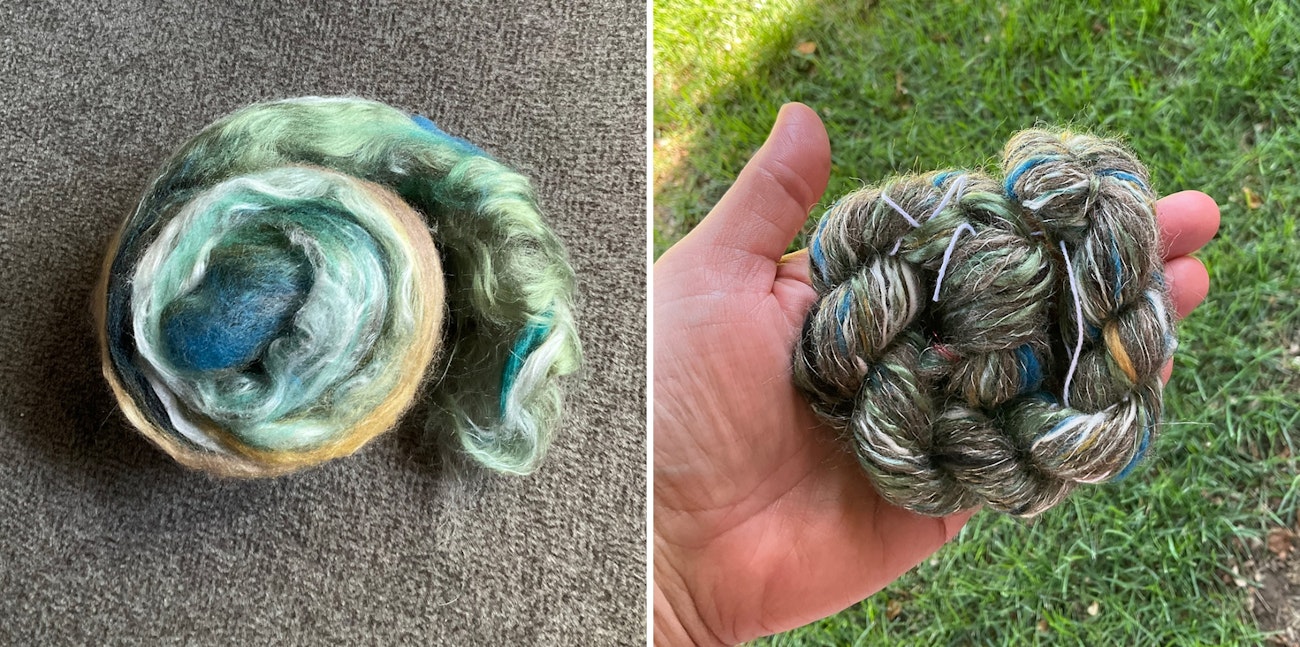 The little batt grew up and became a tiny little skein. I think it might become a woven wall hanging. Photos by Katrina King
Spin Off Fall 2023 celebrates all things carding! Learn from Roy Clemes how carding cloth is made, try five different fiber preparations with handcards, and see Amy Tyler's favorite flick cards. Read a Shetlander's history of the classic woolly hap (and make your own), learn why you might need a wool picker, and so much more!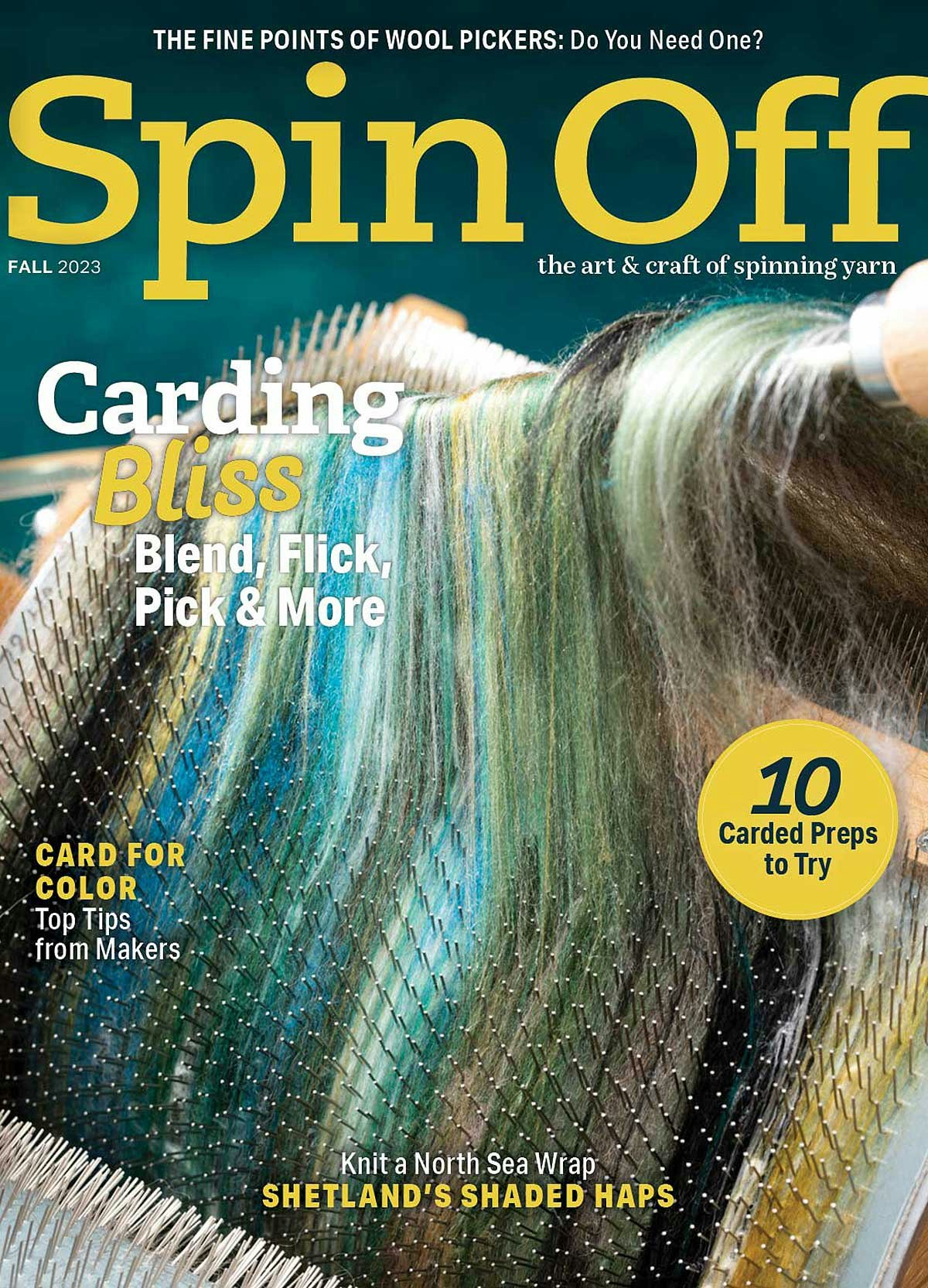 The resulting cover!
Subscribers will find the Fall issue in the Spin Off library. Not a subscriber yet? Learn about all the perks or find the Fall issue in our Shop.
Katrina King is the editorial assistant for Long Thread Media. As an avid maker, she is always looking to learn more craft techniques.