As 2023 begins, I find myself considering my New Year's resolution—to slow down. I often feel like I need to do more, move faster. In reality, I could do with a bit more planning and focusing on the task at hand. The act of spinning yarn could be considered the embodiment of slowing down. From the selection of the ideal fiber, to spinning singles, plying, setting the twist, and finally the step of creating something special and unique, this is not a process that can be done speedily. Spinning yarn definitely recalls the slow-fashion movement.
Unexpected Lace
I look forward to Spin Off's themed spin-along every year, and the opportunities to reconnect with old friends as well as make new ones. This year's theme, a Lace-along, provides diverse options to participate. When I first learned of the theme, I thought to myself "I don't really knit lace." Lace is what my grandmother's curtains, tablecloths, and doilies were made of. I thought on it for the night, and I perused back issues of Spin Off magazine as well as friends' project pages for inspiration. What I found surprised me and reminded me that I do, in fact, knit lace! One of my favorite lace projects was a pair of socks I made for my sister using sportweight yarn that she dyed and spun. There was even enough yarn to make a matching pair for myself!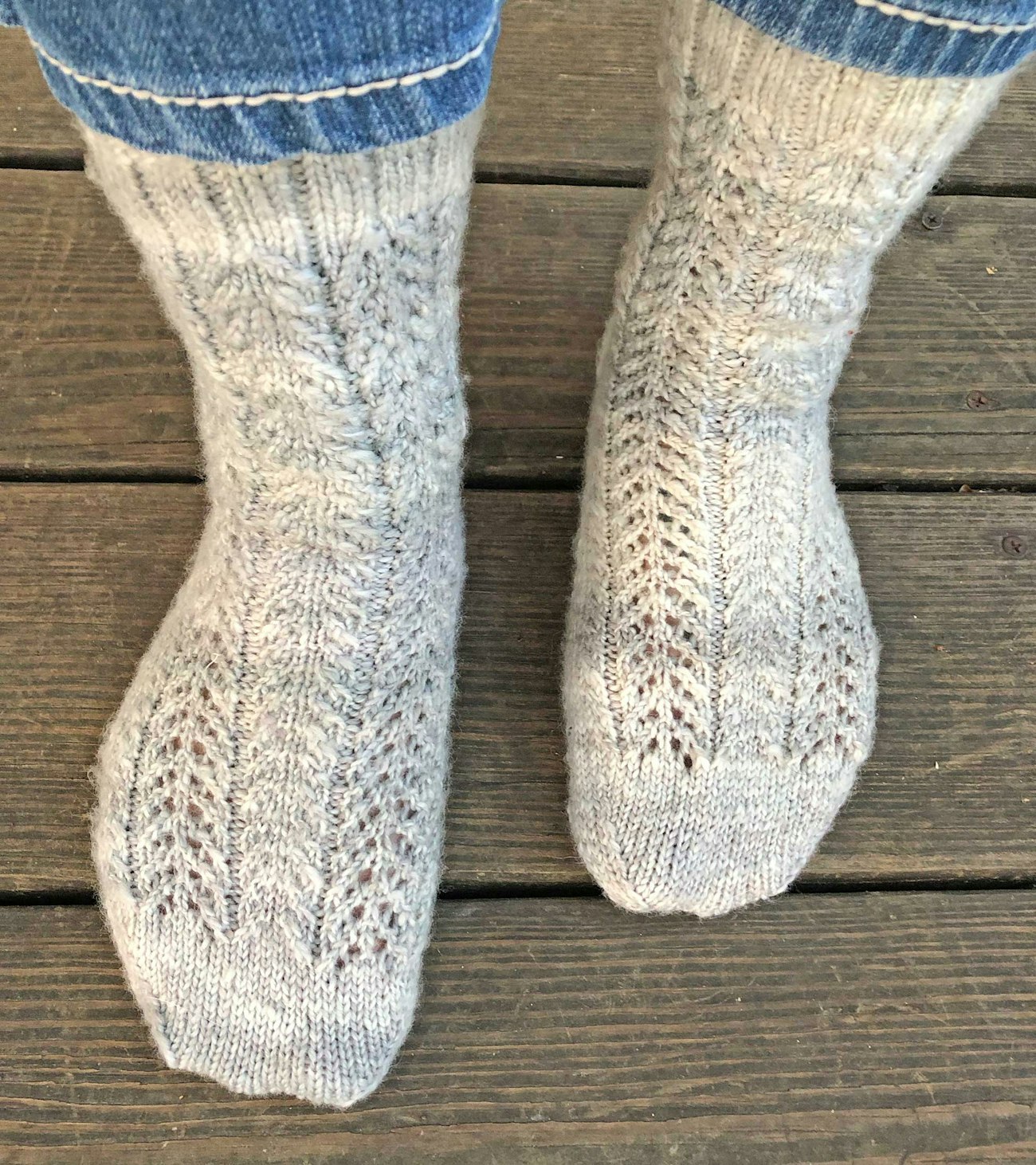 Stefanie models one of her favorite lace projects, her Cumulonimbus handspun socks. Photo courtesy of the author
One could spin laceweight yarn of course, stretching out the pleasure one gets from a small amount of precious fiber. But heavier weight yarns are also often used in lace patterns with wonderfully cushy, and sometimes bold, results. Adriana's Soft Kiss Scarf designed by Adriana Schoenberg, for example, was designed with DK-weight yarn. Carol Huebscher Rhoades's Clun Forest Hat is a nice small worsted-weight project with a little bit of lace for beginners, while the Misty Mountains Shawl by Freyalyn Close-Hainsworth is a project that could work with any yarn. My first large handspun project was a lace top knit with bulky yarn. I am excited to see how you interpret the theme.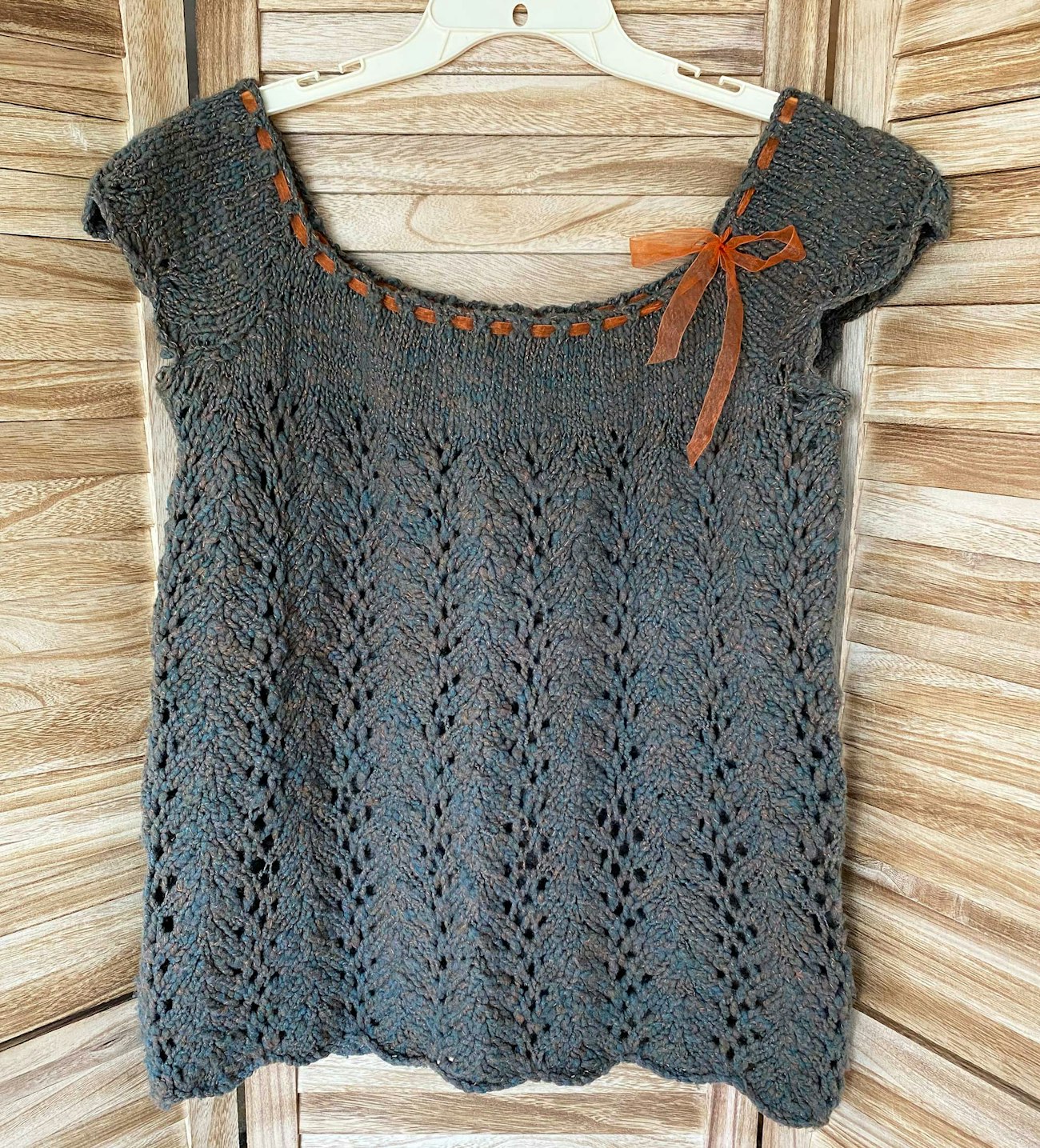 Stefanie's knitted Louisa: Lace Tunic beautifully shows off the continuous lace stitch in an A-line configuration. Photo courtesy of the author
Since I am first and foremost a knitter, and a wee bit obsessed with socks in particular, my plan is to spin a 3-ply sock yarn to knit Kristi Schueler's Green Lake Socks from the Fall 2007 issue of Spin Off. The wool and silk fibers I gently blended on my drumcarder will give me some texture and color variation, which I prefer over solid-color rovings. Digging through my fiber stash, I found some small amounts of green sari silk as well as the Leicester Longwool locks left over from last year's spin-along that I will draft alongside one of the plies to add some pops of green to my spin.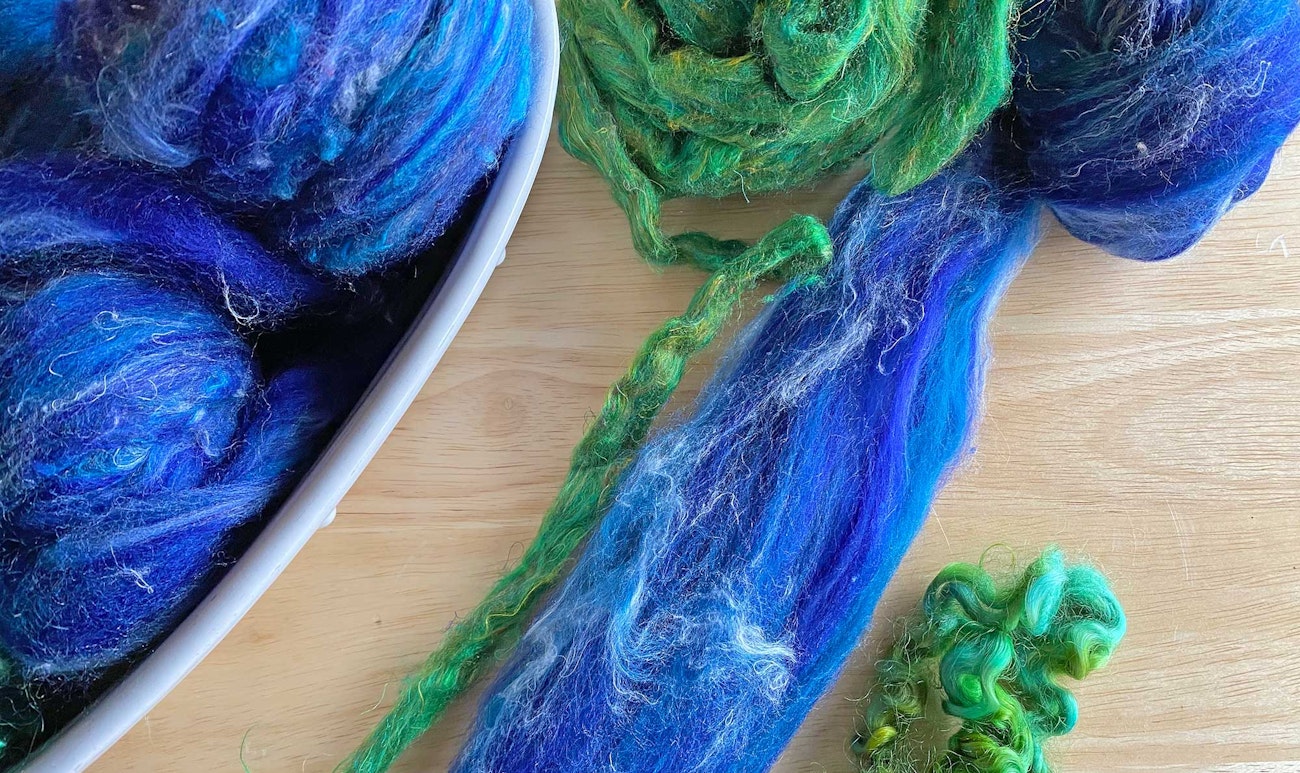 Vibrant wool and silk from Stefanie's stash will lend itself well to lovely lace socks. Photo courtesy of the author
And who knows? If time allows, perhaps I'll look to the Winter 2020 issue and weave some luxury laces (see what I did there?) akin to John Mullarkey's beautiful woven silk boot laces.
I hope you'll join us!
Post your progress on social media using #spinoffmagazine or find us in the Spin Off Knitters & Spinners group on Ravelry. We're excited to see what you make!
Resources
Also, remember that if you are an active subscriber to Spin Off magazine, you have unlimited access to previous issues loaded with lace patterns. See our help center for the step-by-step process on how to access them. Or visit the Spin Off library to find even more lace patterns.
When Stefanie Johnson is not protecting public health through environmental inspections and communicable disease investigations, she enjoys teaching others to spin, knit, and weave. The Johnsons raise French Angora rabbits, honeybees, and a variety of chickens and ducks on their hobby farm, Settlers Grove, in Illinois. More of Stefanie's work can be found in Knitty, Knotions,and on Etsy and Ravelry.