SPONSORED CONTENT
Many spinners and weavers reach a turning point in their lives when they dream of a life in fiber. At home with two infants, Lydia Christiansen turned to her spinning wheel as a personal sanctuary, and she decided she wanted to make fiber her vocation. Looking around her rural corner of Whidbey Island, Washington, she saw small farms with a few sheep—and she also found a year's clip of wool wrapped in bedsheets, dropped straight from shearing the sheep to the local thrift shop. Many of us dream owning of a little farm with a couple of sheep, but Lydia knew that wasn't going to transform her fiber dreams into a livelihood.
Yet she saw in those small flocks and sustainable farms a precious and untapped resource. The United States once produced millions of pounds of wool, mostly from small farms, but only a small percentage of that remains. What little domestic wool is shorn each year generally comes from large farms with thousands of sheep. Flocks with less than 100 sheep (sometimes as few as 40 sheep) still produce beautiful wool that is far more valuable than the dollar or two a pound that most farmers receive for it. That value is in high-quality fiber and yarn, but it's also in the carefully tended soil and the lives of the animals and people who create it.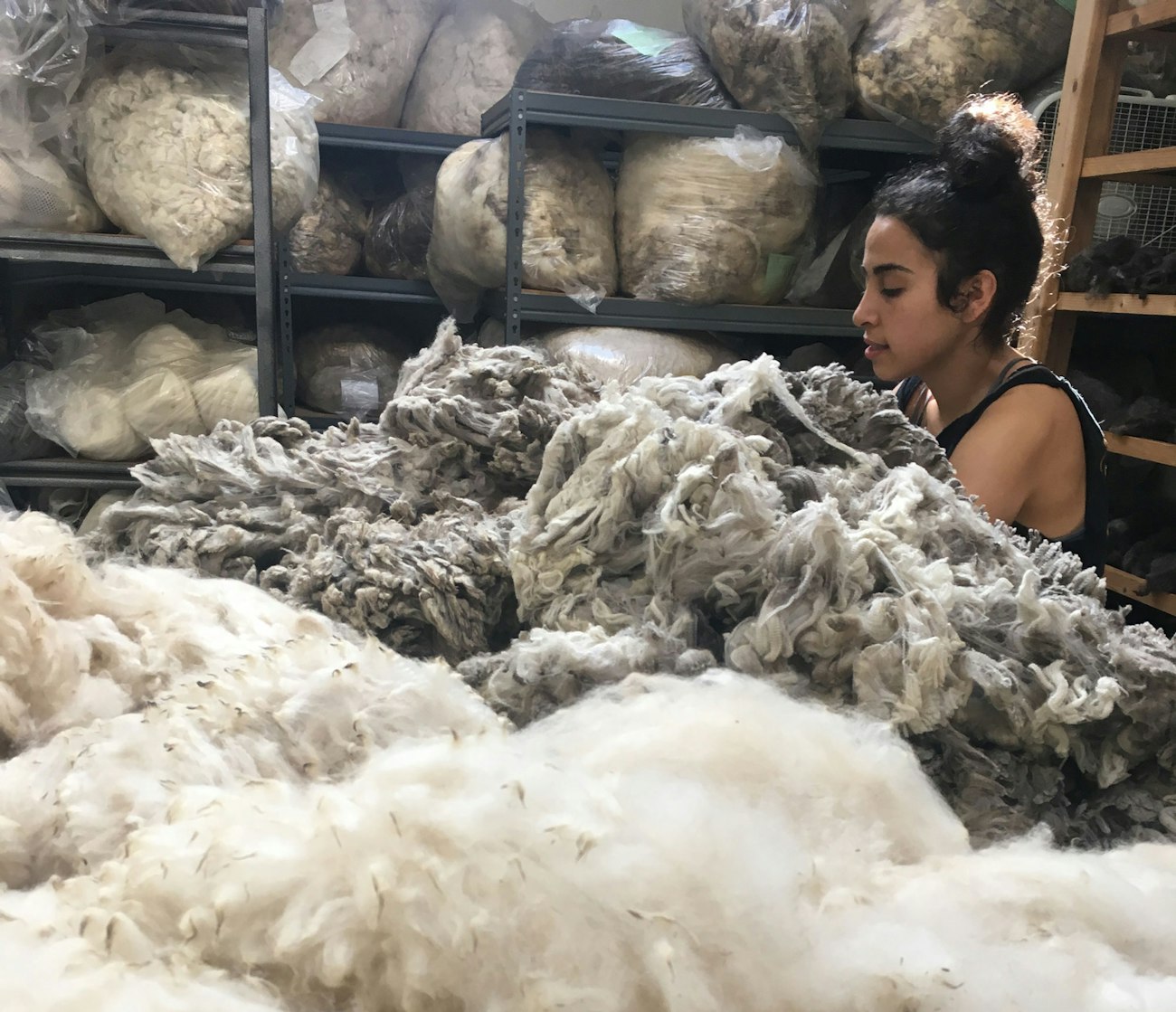 Skirting Cormo fleeces is a chance to get up close and personal with the wool. Natural colored wool, which can have little value for a huge commercial operation, is a special treat in small-batch fiber. Photo courtesy of Abundant Earth Fiber
Small Batch Values
What those small farms needed—and what fiber artists seeking a connection to sustainable wool and local yarn needed, too—was a small-batch mill. From its beginnings, Abundant Earth Fiber has grown as a mill owned by a handspinner, supporting her family by processing fiber to bring out the natural wool's qualities.
Abundant Earth Fiber Mill processes wool on behalf of small farms, helping them earn a higher price for it as yarn and roving than as raw fleece. The mill also purchases domestic non-superwash fiber directly from local farms to create their own lines of yarn and roving, forming the link between small-batch wool and consumer. Abundant Earth has experimented over the years to create fiber that Lydia is proud of that also satisfies customers' craving for lively, squishable, sustainable yarn.
Formerly a public-school teacher, Lydia now educates knitters, spinners, and weavers about the connection between craft and soil. Through the mill's School of Wool, she also shares her knowledge with shepherds and other mill owners, helping them take up the mission of bringing small-batch wool from the farm to the fiber artist.
Dye Easy
As a fiber professional, Lydia still struggles with the same challenges as other fiber enthusiasts: trying something new can seem overwhelming when you need time to learn the skill, new equipment, and available workspace. If you're just thinking about how to dye yarn for a small project or a few ounces of fiber, do you really have to find a respirator and create stock dye solutions—or just stick with drink mix?
Lydia thought it would be awfully nice to have an easy-to-use professional color to mix up in simple, self-contained setup in her kitchen. Then she could have the fun of choosing colors without committing to a dedicated dye studio. So Abundant Earth Dye Tinctures were born, a collection of 25 hues that fiber artists can use to overdye stash yarn, dip-dye a skein, or ombre-dye protein-fiber textiles. She demonstrates using one of the Tinctures in the video below:
Embedded content: https://vimeo.com/706437191
If you've been inspired by one of the annual color-themed issues that Spin Off releases every spring, this is a simple way to dip your toe (or lock, or skein) in the dyebath and try dyeing the easy way. Subscribe to our All Access program to check out back issues and view an online dyeing course.
Small Batch Wool: the satisfaction of meaningful craft
For Abundant Earth Fiber, Lydia says, "Wool craft is more than just yarn, it's our connection with the natural world and the satisfaction of meaningful work." Yarn, roving and dyes—made thoughtfully, in small batches—forms the bridge between sustainable farm and yarn wool craft.
SPONSORED CONTENT