As a handspinner, my passion is undoubtedly connected to the spinning wheel. My journey began with two used spinning wheels: a charming saxony wheel and a small, upright wheel. The first was acquired through an eBay auction and the other was a local thrift store find. Each wheel had its own set of challenges but repairing them and researching historic information about the spinning wheels gave me so much joy. From that point on, my curiosity and desire to understand how different spinning wheels work began to grow. So did my herd of wheels to over 40 wheels, currently.
In 2020, I made the decision to invest in woodworking equipment, including a wood lathe, drill press, and bandsaw for restoration projects with a long-term goal of bringing all my antique and vintage wheels back to life to function once again.
The wheels I have in my collection take the form of varying sizes and styles and many of them are used regularly. I have chosen four wheels to highlight because of their uniqueness and function. Enjoy this quick video tour of my wheels, and then read on to learn more about them.
Tyrolean Wheel
A true workhorse of a wheel, my blue Tyrolean spinning wheel is quite a treasure in my eyes. I acquired this wheel in 2018 from a local flea market. Unfortunately, this wheel has no visible maker marks, but it closely resembles Tyrolean wheels in the earlier 1800s. Some of the qualities that make this wheel stand out from the crowd are its brass, fluted orifice, a large flyer and bobbin, as well as a large drive wheel, which is just over 23 ½ inches in diameter. The bobbin whorl on this wheel measures approximately 2 ¾ inches in diameter.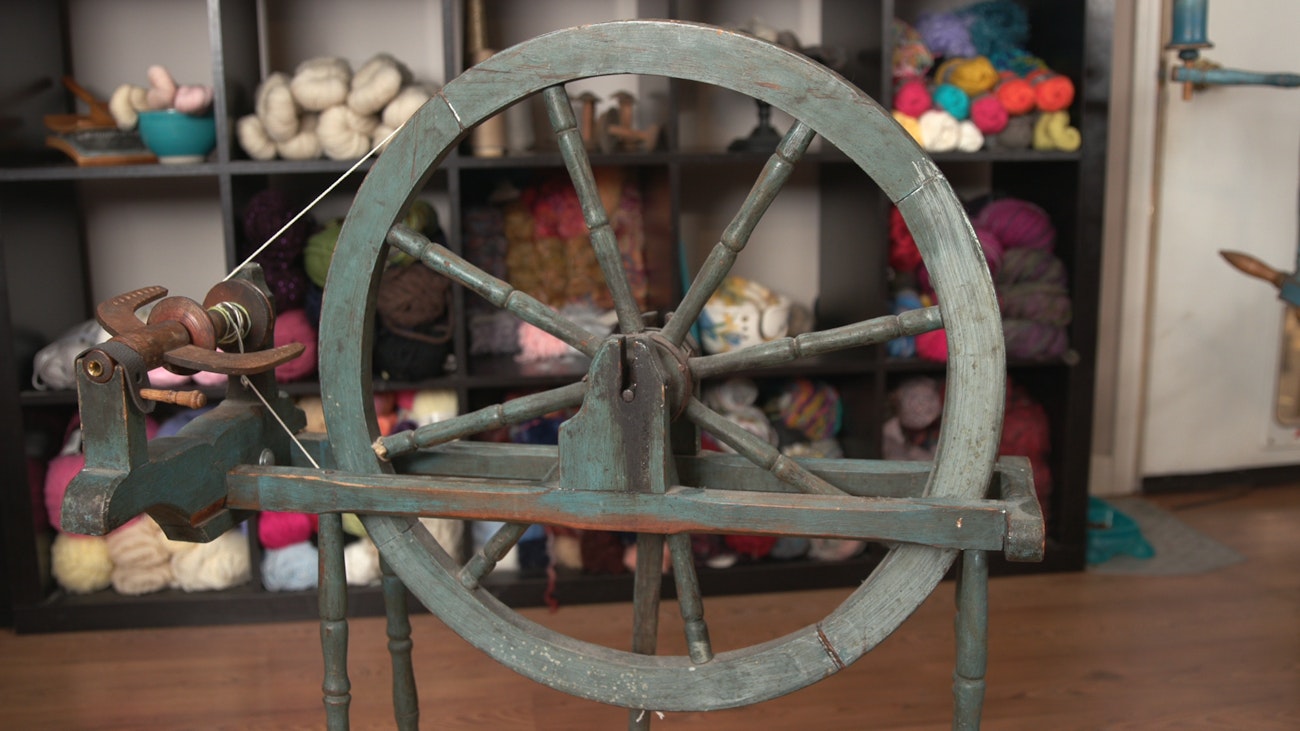 Heavenly's Tyrolean-style wheel
Observing the drive wheel for the first time, I noticed there was a large split in the hub indicating some form of trauma. A previous owner managed to bring stability to the center hub by using strips of metal and irregular-shaped nails. There is nothing charming about these repairs, but the repairs give insight to the tools available at the time and points to a utilitarian precedence, which I can deeply appreciate. Although, the repairs on the hub are not pretty, they are quite clever and ultimately allow the spinner to continue to produce lovely yarn.
Since acquiring the wheel, I have temporarily replaced a rusted carriage bolt with a new one. The purpose of the bolt is to adjust the distance of the flyer assembly and drive wheel, similar in function to a tension knob on many other older wheels. One thing I found unusual was the use of an octagonal nut on the crankshaft near the footman. I believe the hardware used may give a little more insight to the age of the wheel.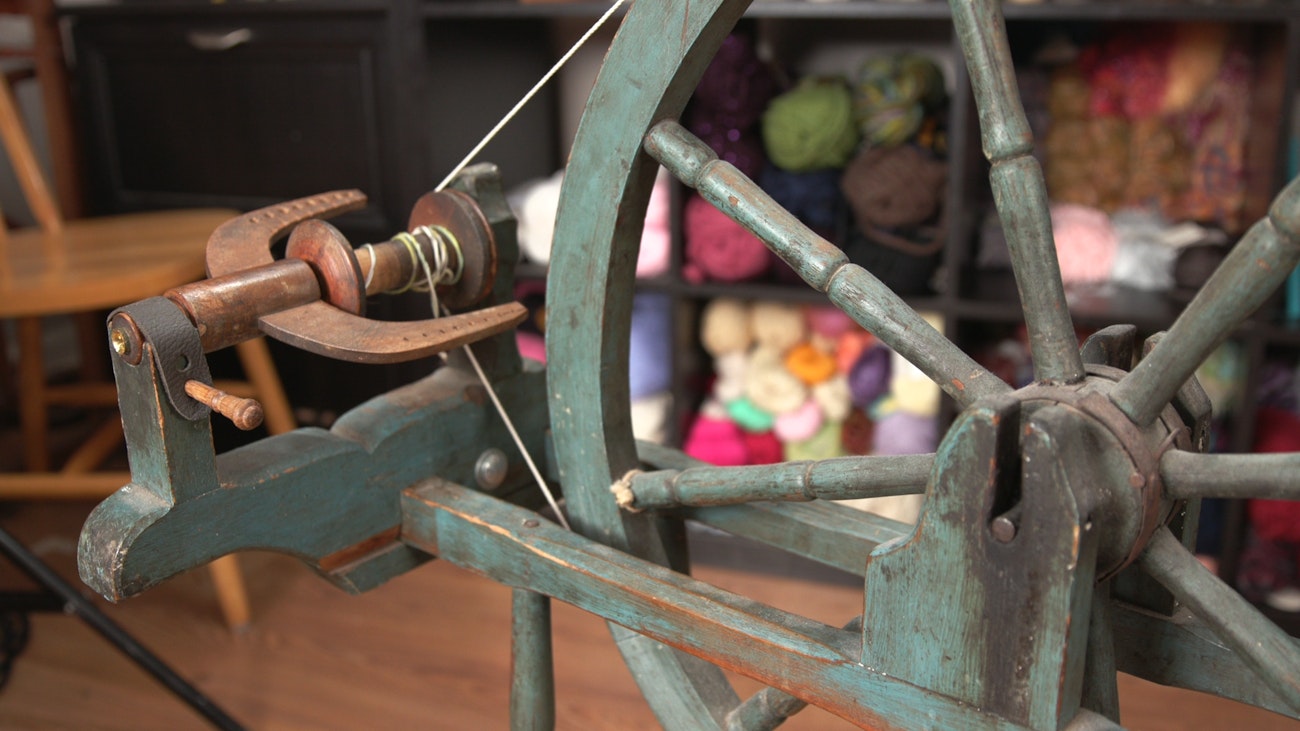 Heavenly's Tyrolean wheel features a large flyer that is tensioned with a brake band near the brass orifice (bobbin-led).
Being a single drive, bobbin-led wheel with a large orifice, I am most inclined to spin two-ply lofty, Aran- and bulky-weight yarns on it. I like spinning for large projects on this wheel because the bobbin can hold a large quantity of singles.
One of my favorite features of this wheel includes the flyer design. It has large holes alongside the arms into which a wire loop or wood peg is used to guide the yarn onto the bobbin. The holes allow for the spinner to move the yarn to a desired peg hole to fill the bobbin evenly.
Finnish Wheel
This glorious, blue Finnish wheel joined the herd in January 2021. I purchased this beauty in an online auction, and I am so glad I did. The paint on the wheel appears to be original except for a lighter layer of pale-blue paint on the distaff; the absence of paint on the worn treadle, front edge of the table, and where moving parts are frequently handled by the spinner is ideal for antique wheels. This wheel has had its share of a workout in its lifetime.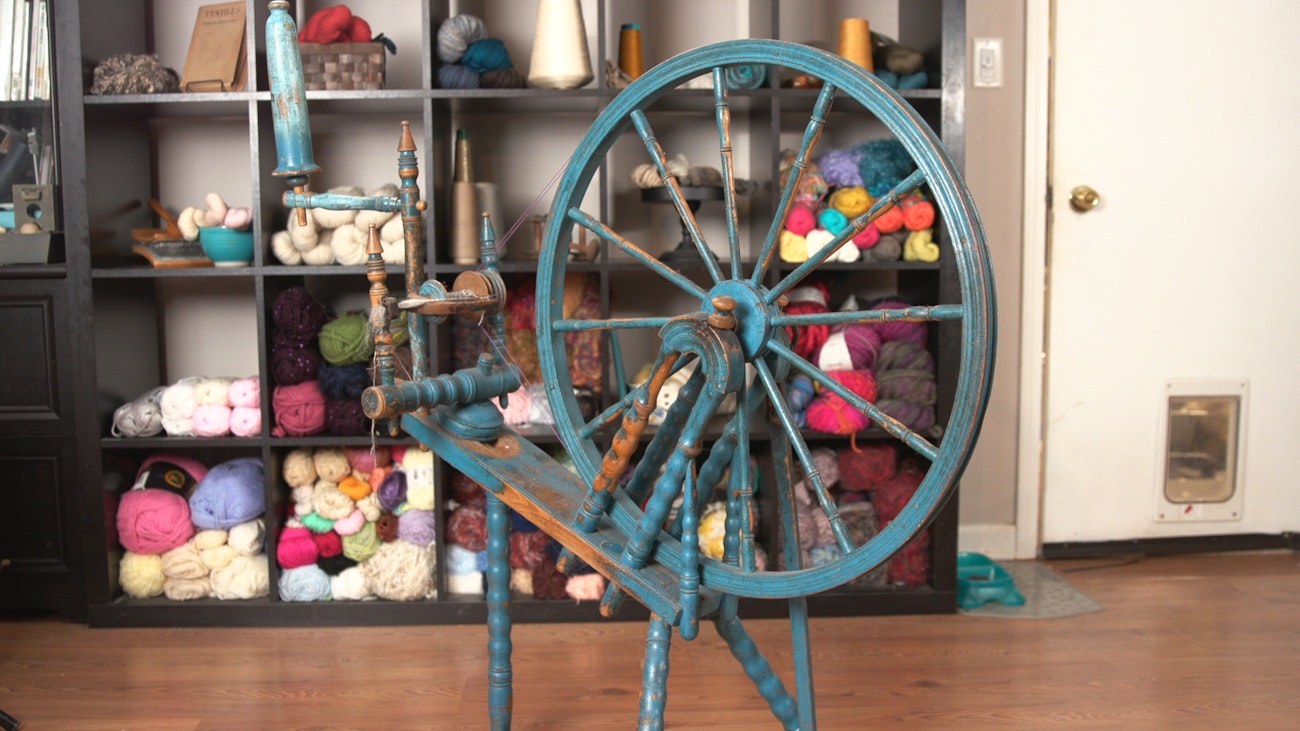 Heavenly's Finnish wheel
The orifice on this spinning wheel is fluted, the drive wheel is approximately 27 inches in diameter, and the tension system is double drive. The ratios on this wheel range between 11:1 and 12:1. Sometimes similar wheels will showcase a year in a contrasting paint color on the table. Although there isn't a definitive year for my individual wheel, these wheels aren't rare in Finland, with many of them have markings from mid- to late-1800s. It is important to note that Scandinavian spinning wheels with double-arch drive wheel supports are often characterized as Finnish wheels, but there are some Swedish wheels with similar features.
One of my favorite features about this wheel is the truncheon distaff. It appears to be original to the wheel, and it serves a great purpose when spinning flax stricks. I enjoy spinning flax on this wheel, but I also enjoy spinning fine, woolen yarns from rolags.
Connecticut Chair Wheel
My Connecticut chair wheel is unique and not nearly as common as other older wheels. This type of wheel is an accelerator wheel, and because of a winning bid in September 2019, this lovely chair wheel joined my collection. My research suggests it is from the early 1800s. The parts on my wheel are not completely original; the flyer, distaff and some of the wooden nuts were restored previously.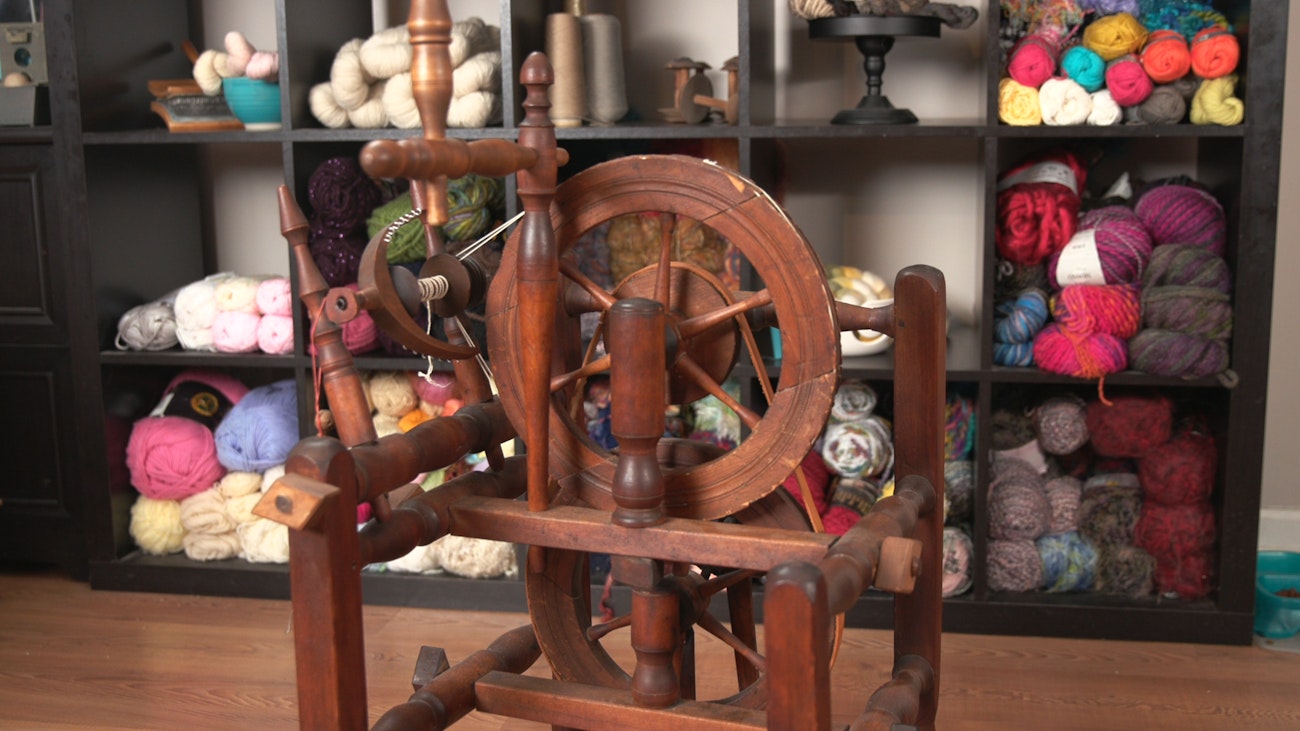 Connecticut Chair Wheel
This spinning wheel, unlike other similar chair wheels, has the larger drive wheel positioned on top, and the position of the drive wheel can be fine-tuned by adjusting the vertical posts in the center of the chair frame. This is similar in function and design to accelerator wheels that have been found in different parts of Massachusetts.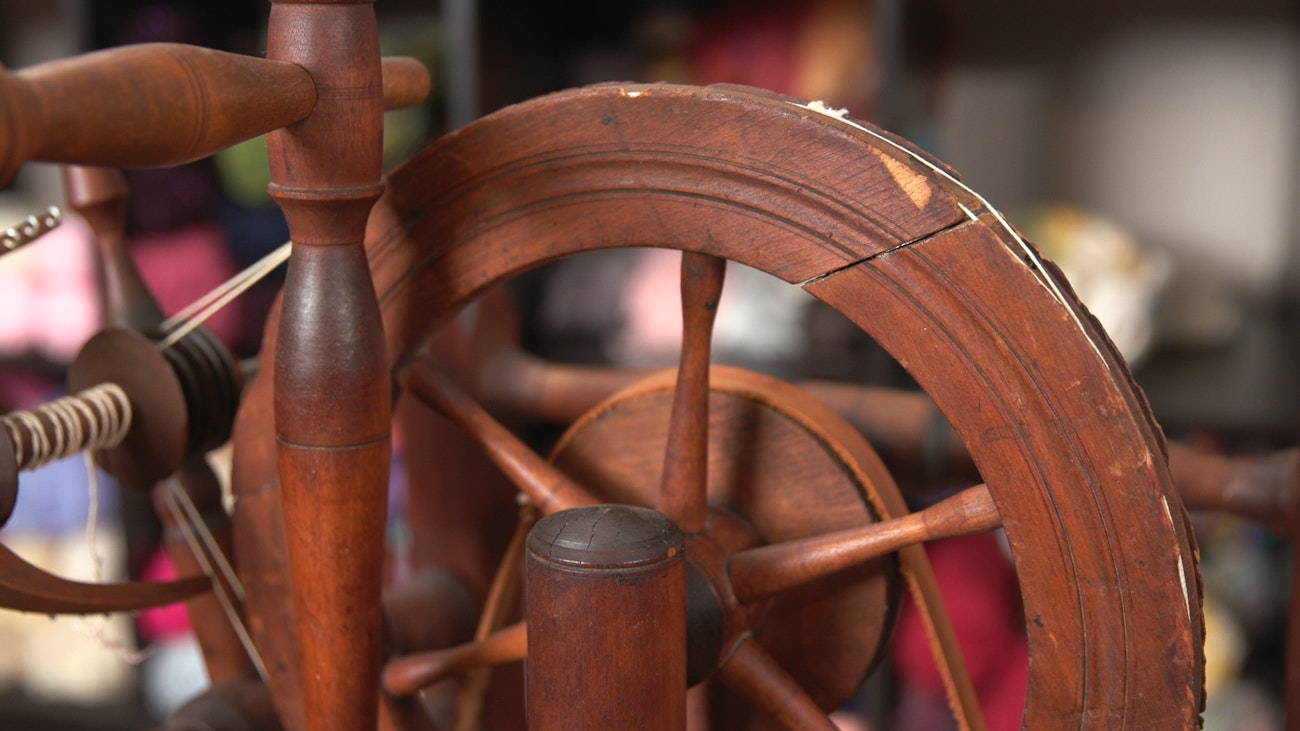 The two pulleys of the accelerator design are connected with a leather band.
To adjust the drive band tension, the wooden nut in front of the mother-of-all can be loosened. The spinner can then move the flyer assembly farther away or closer to the drive wheel. I wrote an article for Spin Off Summer 2020 that covers more detail about accelerator wheels (see Resources). The ratios on this double-drive wheel are approximately 17:1 and 18:1. My favorite yarns to spin on it are fine and laceweight singles, mainly for socks and shawls.
Bavarian Wheel
Last by not least is my Bavarian wheel, which is sweet in every way. It became part of my collection on March 22, 2021, through an online auction. It is an ornate and petite wheel, measuring approximately 27 inches in height. The length is only 22 ½ inches, excluding the tension knob.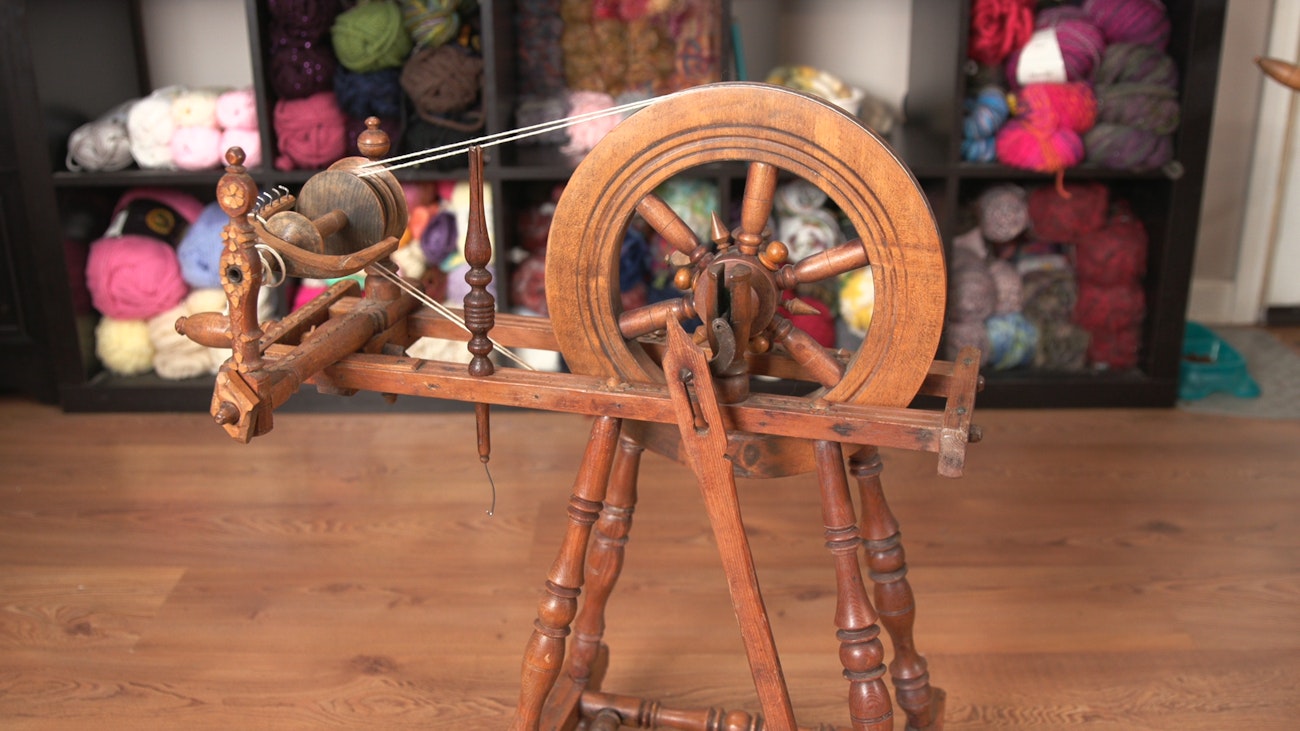 Bavarian wheel
This wheel is quite similar in structure to Tyrolean wheels, but this wheel features more intricate, decorative elements. For example, handmade wooden appliqués in the shape of flower petals embellish various parts of the wheel. The center of the "flowers" is often part of the joinery, especially at the bottom frame of the wheel.
My favorite thing about this wheel is the front maiden. Most spinning wheels have matching or similar maidens; however, this wheel has a round maiden in back and a flat maiden in front. The maidens house (or support) the flyer assembly. Instead of using leather bearings, the flyer rests in the maidens, which is also helpful for transportation.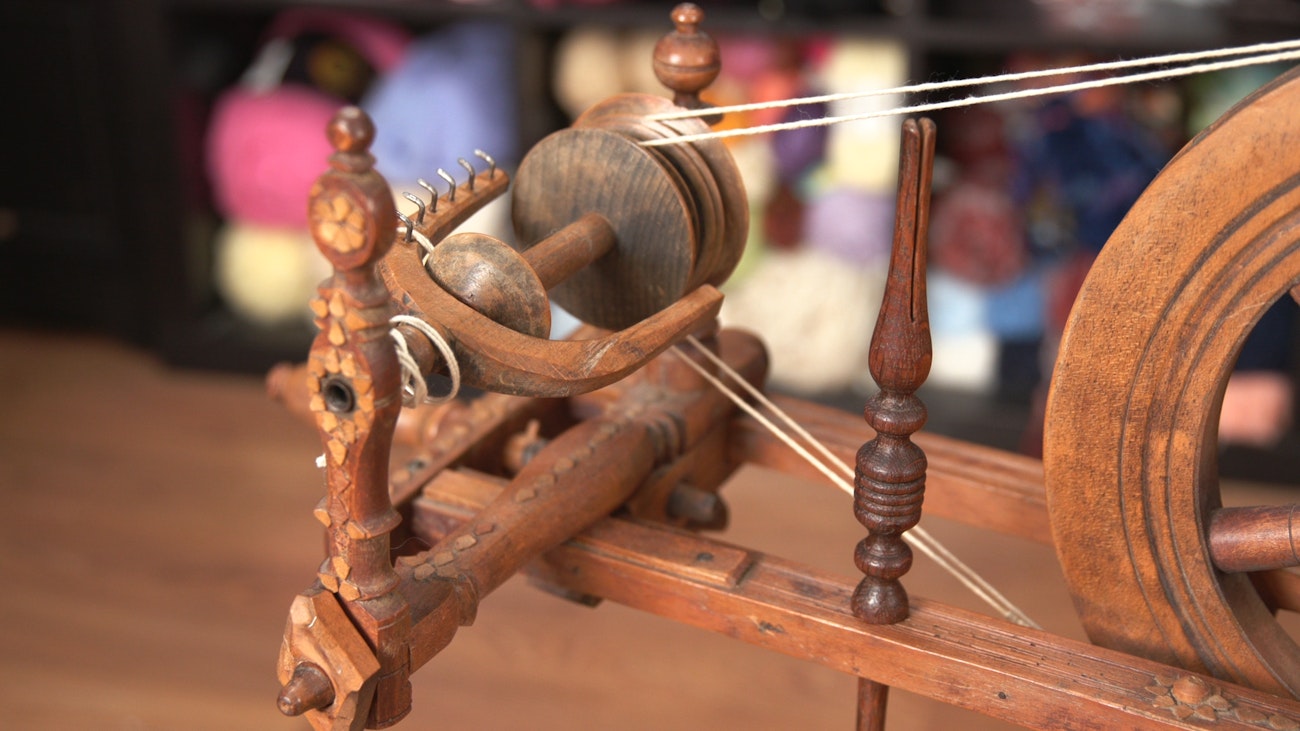 Decorative elements and stylized flowers created with wooden inlay make this wheel unique in Heavenly's collection.
To remove the flyer assembly, the spinner removes a wooden nut located at the bottom of the front maiden and slides the maiden forward. It is not an easy task to find other wheels with this feature, but the most recent ones I have seen through online auctions were in Nunberg and Eichenau, Bavaria. While researching online, I found a silver metalwork collection through the Metropolitan Museum of Art. The collection, which features an ornate miniature spinning wheel like this one, is believed to have origins in southern Germany between 1675 and 1700.
This sweet, little double-drive wheel is a delight to use. With ratios of 4.5:1 and 5:1, I prefer to spin worsted weight singles, and its compact size makes it easy to transport.
Resources
Belfast Municipal Art Gallery & Museum. Catalogue of the Horner Collection of Spinning Wheels and Accessories. Belfast: Belfast Municipal Art Gallery and Museum, 1909.
Bresser, Heavenly. "A Spinner's Path: Maker's Marks and Antique Accelerator Wheels." Spin Off Spring 2020.
Pennington, David and Michael Taylor. Spinning Wheels and Accessories Atglen, PA: Schiffer, 2004.
Heavenly Bresser is the owner of Heavenly Knitchet. She is an award-winning handspinner and teacher at major fiber events all over the United States. Aside from spinning and teaching, she can be found dyeing fibers and making jewelry. Her goal is to inspire, encourage, and uplift other fiber artists. Visit her online at heavenlyknitchet.com.