SPONSORED CONTENT
I love portable projects that can move with me out in the world. Just like my spindles or book charkha, a small rigid heddle used backstrap-style to weave narrow bands can be used just about anywhere.
I've woven bands on hikes in the forest, in my barn with lambs bouncing about, through meetings and lectures, and in random hotels when I needed a bit of peace. Today I've been weaving in my greenhouse on a very cool spring morning, seated in a chair, but you can also stand or sit on the ground to weave in this method. All you need to do is tie the far end of the warp to something secure and the near end of the warp to your belt. With backstrap weaving, you are part of the loom—a beautiful thing.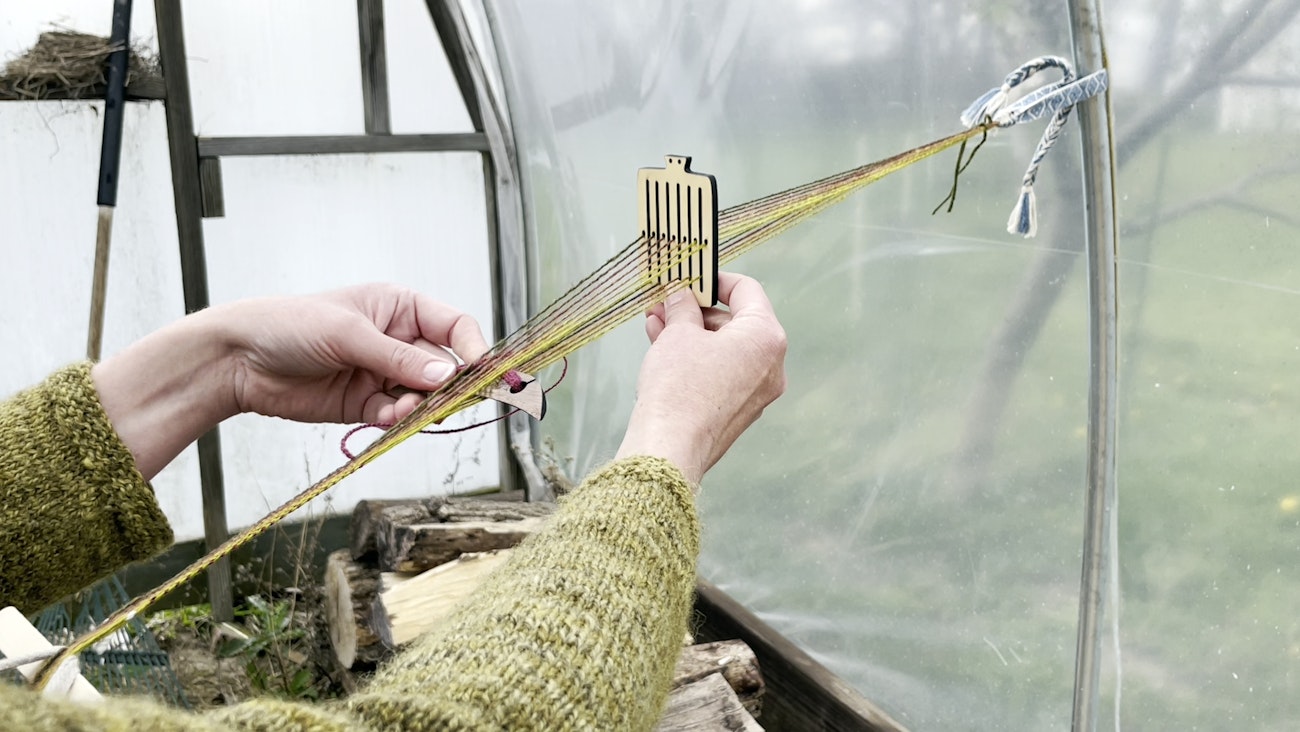 Kate weaving a simple plain-weave band in her greenhouse using a small 13-thread rigid heddle from TheDancingGoats.
Plain weave bands are super easy to learn to warp and weave, and I'll show you the basics in a short tutorial. Patterned bands created with a pick-up technique look much more complicated, but after learning how to create plain-weave bands, pick-up only requires a few more skills.
This type of traditional bandweaving is just so much fun, and it only takes a little time, a small amount of yarn, and a few tools to get started. Will you join me?
Tools
You'll first need a rigid heddle and shuttle. These traditional tools come in all shapes and sizes, ranging from simple to ornate. Especially when getting started, having a lightweight heddle is really helpful. The two shown below are very lightweight, smooth, and snag-free. Both are made by Robin Goatey, the maker behind TheDancingGoats.
The small 13-thread heddle (below, left) is based on a French example from the Roman Era. I love having that historical connection with a sweet tool that is small enough to tuck into my pocket! The larger heddle (below, right) is a 25-thread Scandinavian-style heddle. Made in maple plywood, it is amazingly strong and lightweight for its size.
The shuttle I've been using a lot lately (also below, left) is one of Robin's short, curved shuttles in walnut. It fits just so in my hand, and the inside curve has a beveled edge that makes beating the weft in place easy. The pointed ends allow me to use either end of the shuttle to select threads when working pick-up patterns.
The other tools and supplies needed can be mostly be gleaned from around your home. I cover some of the "make-do" options in the tutorial.
Handspinning for Bandweaving
In the video below, I'm weaving two different bands: plain-weave (shades of green) and pick-up (white and red). Plain-weave bands are simple to warp and weave, and I've created the different colors in the warp here using only one ball of yarn. I spun a hand-painted braid into fine singles, and then used chain-plying to pool the colors. I spun the weft as a finer single and used a 2-ply construction.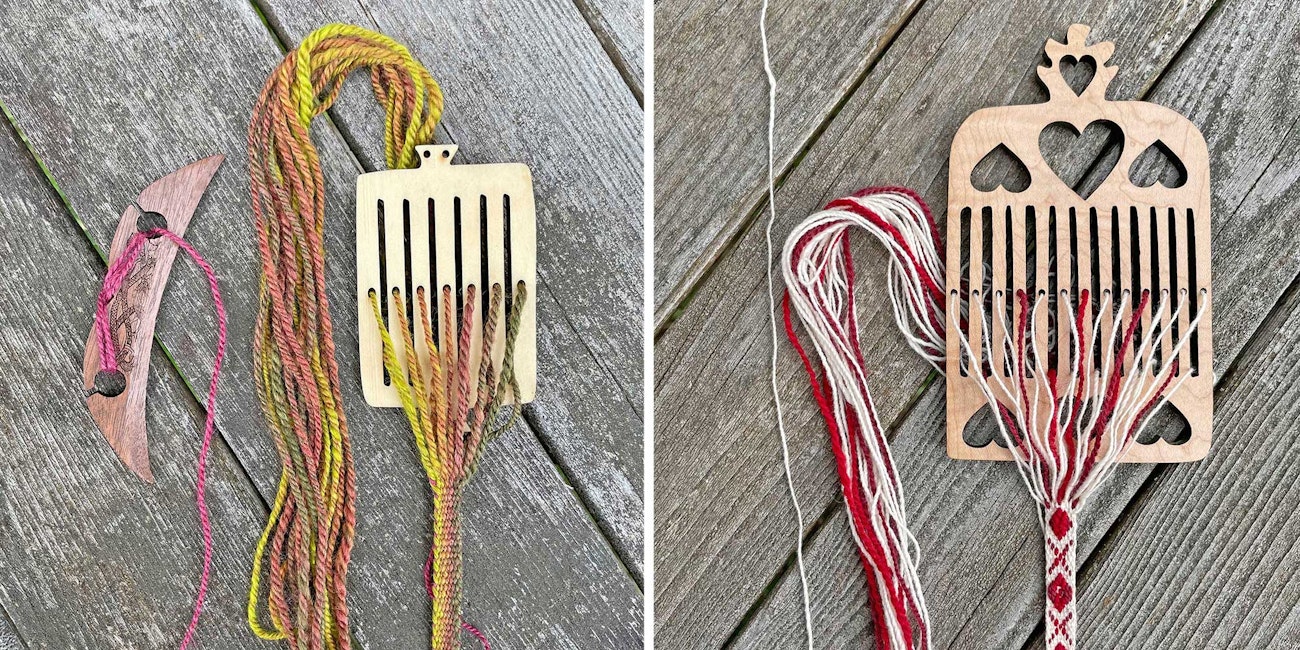 Kate wove a plain-weave band using the smaller 13-thread heddle (left) and a pick-up patterned band using the larger Scandinavian-style heddle. Photos by Kate Larson
For pick-up patterns like I used here to create a red and white patterned band, the pattern threads (red) need to be at least twice as large as the background threads (white). An interesting thing I've learned by band sleuthing in museum collections is that Norwegian bands often have a different twist direction in pattern versus background threads. Here, my red, 2-ply threads have a S-ply twist, and my white charkha-spun cotton threads are 2-ply with an Z-ply twist.
There is so much more to explore when combining factors such as fibers, colors, patterns, twist direction, weft to warp size, and more. Luckily, short bands require such a small amount of yarn and time that you can quickly try different combos.
See Spin Off Spring 2023 or the new Bandweaving: Using Rigid Heddles and Inkle Looms eBook for more inpiring ideas for your handmade bands.
This video is sponsored by: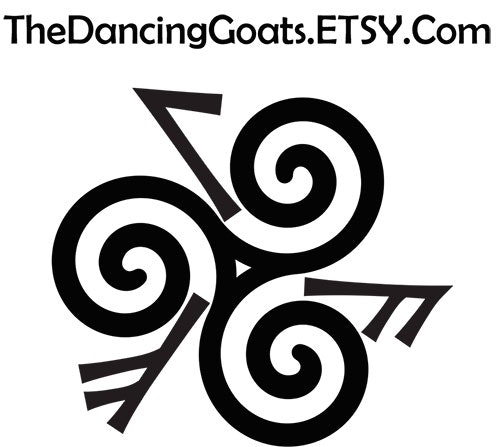 TheDancingGoats makes historic and prehistoric reproductions, and re-imaginings of fiber arts tools. Focusing on the prehistoric textile traditions of the Northern Roman Provinces, the Northern Isles, and Western Europe. Shuttles, heddles, looms, spindles, and whorls. Tools are made in wood, stone, pewter, copper alloys, ceramics, and glass. The company's advanced CNC Laser is dedicated to making fiber arts tools and folklore inspired creations. TheDancingGoats business model is Inspired by Albrecht Durer's life, journals, and his Nuremberg School. Learning, teaching and practicing the Heritage Arts since 1987. Learn more at TheDancingGoats.Etsy.com.
---
Kate Larson, editor of Spin Off, teaches handspinning around the country and spends as many hours as life allows in the barn with her beloved flock of Border Leicesters.
SPONSORED CONTENT