Most new spinners soon start to acquire a stash. Many veteran spinners speak longingly, or grudgingly, or lovingly about their stashes. But what exactly is a stash and what is it for? The definition of a spinner's stash seems obvious—a collection of spinning fibers yet to be spun—but it can also be far more than that. A stash can be a collection of memories, a map of the journey one has taken as a spinner, a representation of fiber friendships, a record of ambitions and failures.
I have two stashes: a teaching stash, with fibers I have earmarked for teaching, and a personal stash, which encompasses everything I mentioned plus a record of my boredom and bad choices, sale prices I couldn't pass up, and cases where my eyes were bigger than my stomach (or rather my eyes bigger than my fiber storage capacities).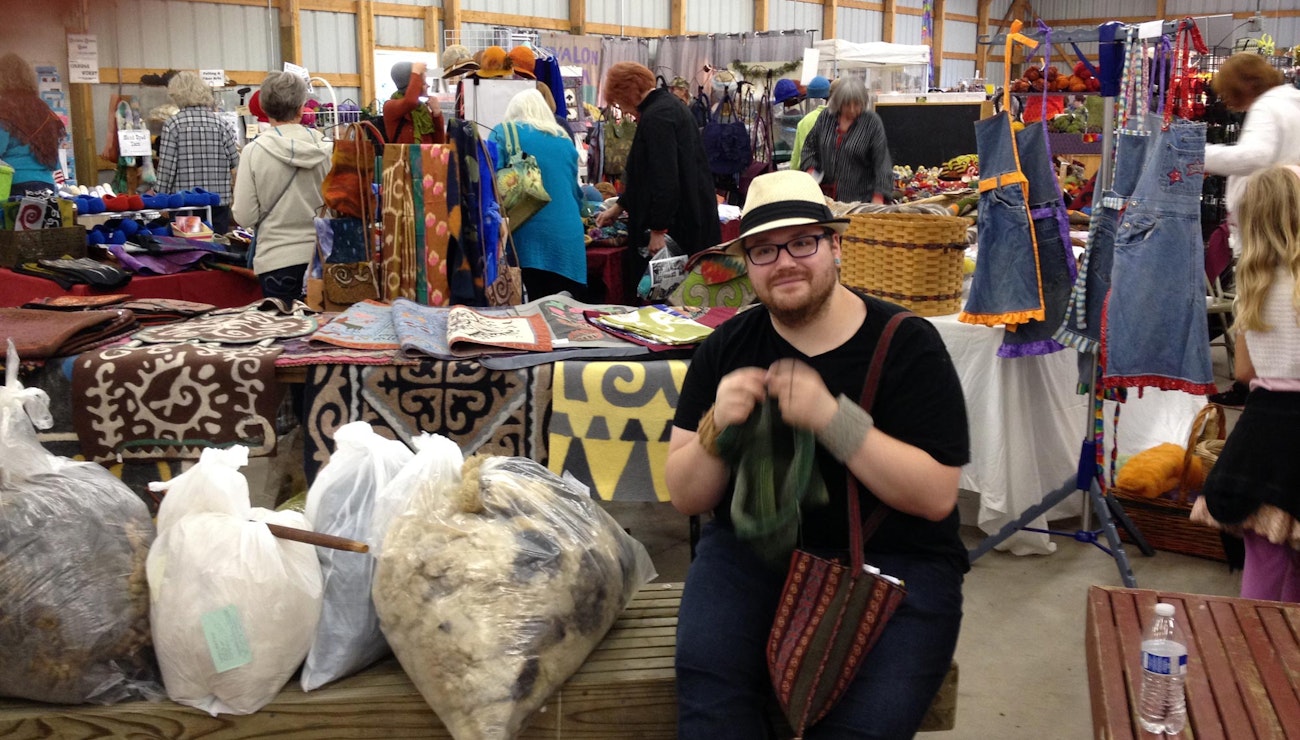 One, two, three, FOUR bags full? It might have been too much for the stash at this fiber fest. Photo courtesy of Devin Helmen
Some of the items in my personal stash are fibers given to me by friends—things they knew I would enjoy and so they passed on to me. Other parts of my stash are fleeces I bought when I had become reckless from wool fumes and fiber festival enthusiasm. Yet other parts of my stash are things I bought because they were on sale, or because I wanted to support a fiber vendor, or because I was feeling low that day and buying something pretty and full of yarn potential cheered me up.
I have come to a point where I am feeling overwhelmed by my stash, and it needs to be reviewed and organized and, if necessary, pruned. Some—probably most—of my stash I will keep, but some of it I may sell or give away. I have done this in the past; over my years of spinning I have belonged to several monthly spinning fiber clubs and enjoyed each month's surprise. I often received fiber I could not wait to spin, but other times received fiber I just did not care for, generally due to the breed of sheep wool. For instance, I personally do not like spinning BFL roving or top, nor do I enjoy using the resulting yarn. BFL is a favorite fiber of a friend of mine and so I sent her the BFL top I had received in the fiber clubs.
As your stash grows, consider organizing it by fiber or color, or some method that makes the most sense to you. Photo by Devin Helmen
A stash can sometimes feel like an obligation, or a burden, or some immovable force. I look at mine as an ever-changing resource or garden. Sometimes I will harvest something delightful as a treat to spin. Sometimes I'll pick something useful to make a particular yarn or finished object. And some things I will pass on to friends or sell to strangers because I have an abundance or have decided that I don't like it after all. It can be easy to feel that your stash has a mind of its own and that it grows as soon as your back is turned. But you are the one in charge of it, and can prune or grow it however you want.
Devin Helmen has been immersed in fiber since learning to spin at age 8. They spin, knit, and weave in beautiful Minnesota. Devin enjoys writing and teaching about fiber arts and has a passion for spindles and everyday textiles. They blog, intermittently, at afewgreenfigs.blogspot.com.