The Carmel Crafts Guild, located on the central coast of California, has always had one goal: to have fun creating! And to celebrate our 75th anniversary, we decided to bring that fun-loving attitude out to the public this past summer by throwing a party. And loads of people showed up!
The guild was formed in 1948 by an eclectic group of artists in the iconic town known as Carmel-by-the-Sea on the Monterey Bay. It included many different artisans, from those who worked with iron, wood, and leather to jewelers, potters, spinners, and weavers. Our very first president was ornamental ironworker Francis Whitaker (1906–1999), recipient of the National Endowment for the Arts' National Heritage Fellowship.
Nowadays, our focus is more on textiles (and, as I mentioned earlier, having a good time!). We held our 75th anniversary party at the beautiful Devendorf Park in the middle of downtown Carmel on a lovely, tourist-filled midsummer Saturday. We set up banners and all kinds of displays and invited the public to watch our demonstrations. People from all over were noticeably fascinated, as they watched us spin on spinning wheels, e-spinners, and spindles; weave with tablets, rigid-heddle looms, and even a floor loom; and make bobbin lace and demo some knitting.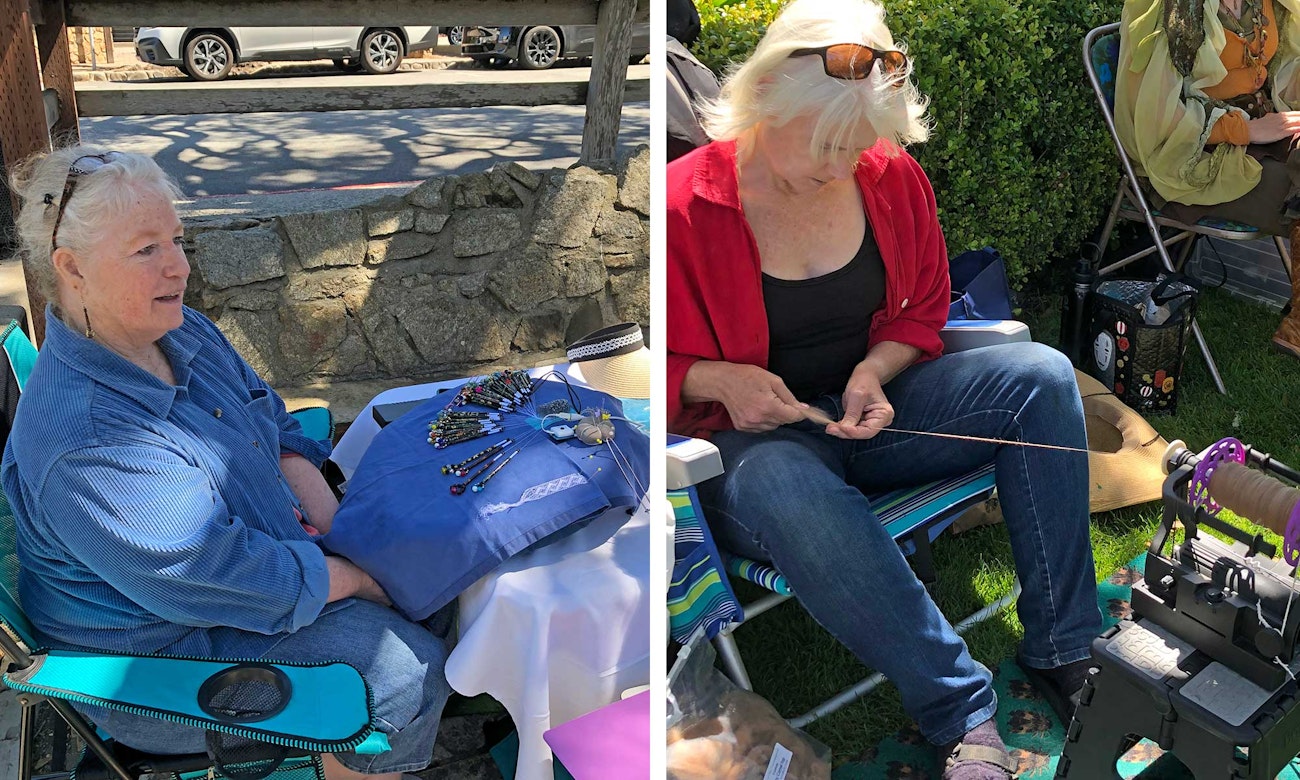 Guild members demonstrate how to work bobbin lace and spin using an e-spinner.
And, of course, we set up a special area for kids (of all ages) to try their hand at creating fabric from string using pre-warped cardboard or rigid-heddle looms. Many "oos" and "aahs" could be heard surrounding the resulting fabric.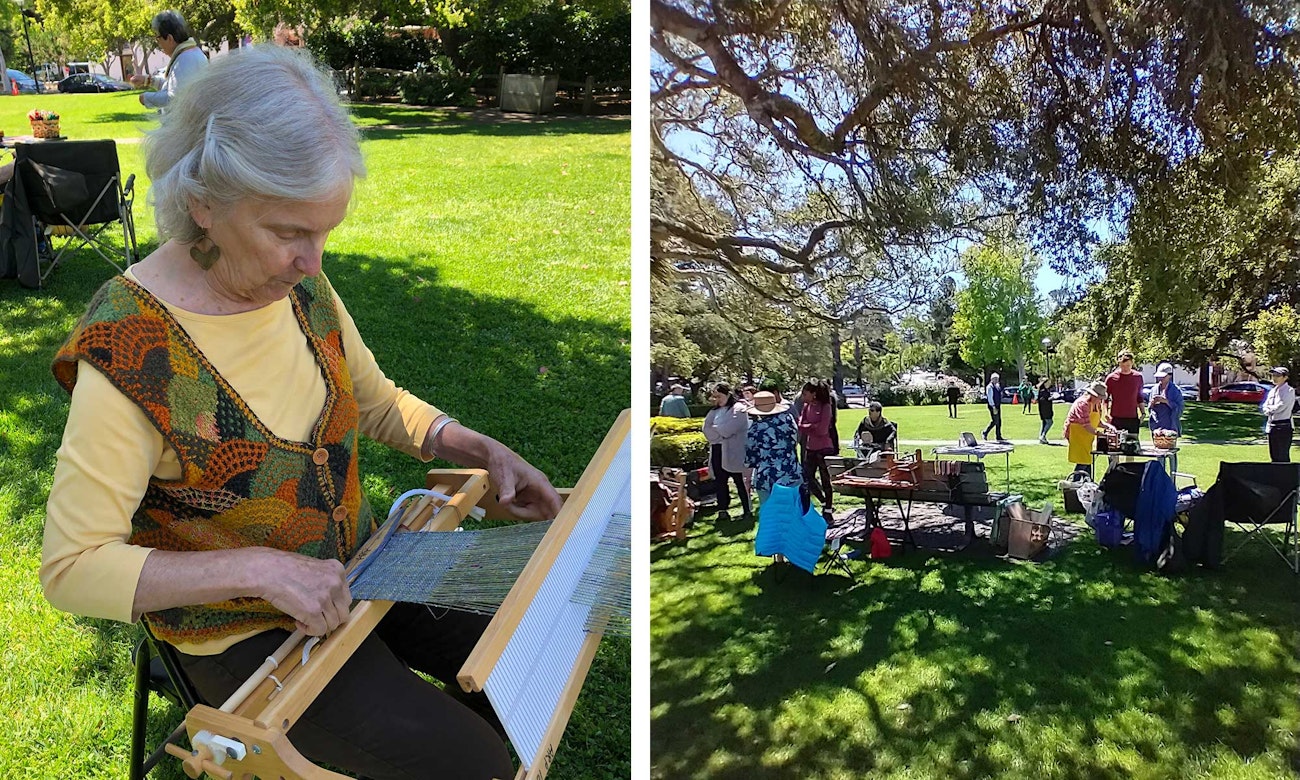 A guild member works on a rigid-heddle loom, while visitors peruse displays of various handicrafts.
The Carmel Crafts Guild is no stranger to taking our love of fiber to the public. Our annual activities include the Monterey County Fair, where we've displayed our work every year since the early 1950s. We also conduct several beginning weaving classes each year and generally jump at any opportunity to go public.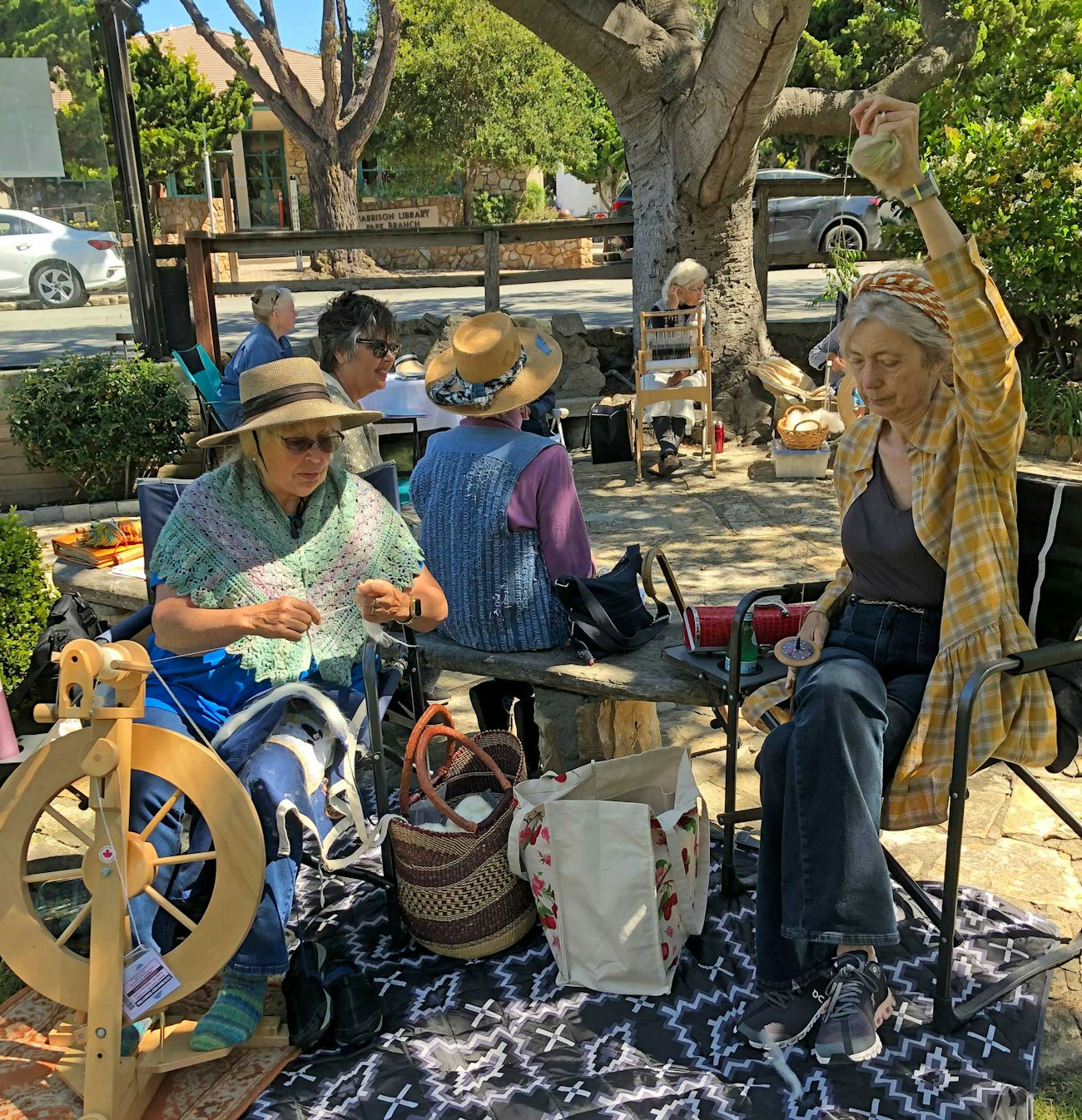 The park in Carmel is just one of many venues where members hold demonstrations and display their work.
We expect the fun to continue for the Carmel Crafts Guild for another 75 years and beyond. Why? Because we are having a blast!
Learn more at carmelcraftsguild.org.
Megan Fuller is the guild historian and a retired librarian with a love for showing kids all about weaving. She's a CCG Board Member.
Joan Near is a retired yarn shop owner with a serious obsession for weaving and teaching. She's in charge of CCG programs this year.