Working intentionally with color in your handspun projects can be like enjoying a layer cake. Spinning your favorite color is satisfying, but you can invite other colors into the experience, adding depth and complexity to your work. No color is an island unto itself, but it can take some practice to develop the skill of seeing the color interactions that surround us.
Using more than one color leads you down the path of perceiving how colors appear when placed next to each other. Seeing the ways in which colors interact—really seeing them—is as important a tool as key color concepts, such as hue, value, and saturation, and familiarity with a basic 12-hue color wheel. Josef Albers, considered one of the most influential teachers of visual art in the twentieth century, commented, "What counts here—first and last—is not so-called knowledge of so-called facts, but vision—seeing."
Handspinners have unique advantages when it comes to color use and expression. I began my spinning journey after seeing a sweater in Spin Off magazine in the late 1980s. The "blue" knitted, handspun sweater incorporated other color characters and color interactions. That photo and the sensation of seeing inexpressible colors captured my desire to spin and to create yarn with a unique visual sensation that does not look like commercial yarn.

As customer and employee, I found a wall of mega-colorful fiber supplies as long as a city block at Straw Into Gold in Berkeley, California. This famous store offered yarn, spinning fibers, books, and knitting, spinning, and weaving tools in the Bay Area for decades. I found two routes to color heaven while there. The store had shelves filled with cones of 20 to 30 colors of yarn in assorted styles and offered a wind-off service for single balls. I challenged myself to knit an entrelac cardigan using more than 25 colors, moving from cool to warm hues. Originally hired to assist customers with knitting patterns, I was able to observe a multitude of color interactions created by customers selecting their own palettes for projects.
The second important color revelation I had while working at Straw Into Gold was finding Rita Buchanan's innocent-looking book, A Dyer's Garden. I found this little book irresistible to hold in my hand. To plant a seed and grow color in one's own yard seemed like alchemy. Could I really make the colors from her pages simmer in a dyepot and color my handspun? I did, and I kept every unexpected variation and have collected them in clear bags, where I can see unplanned color interactions.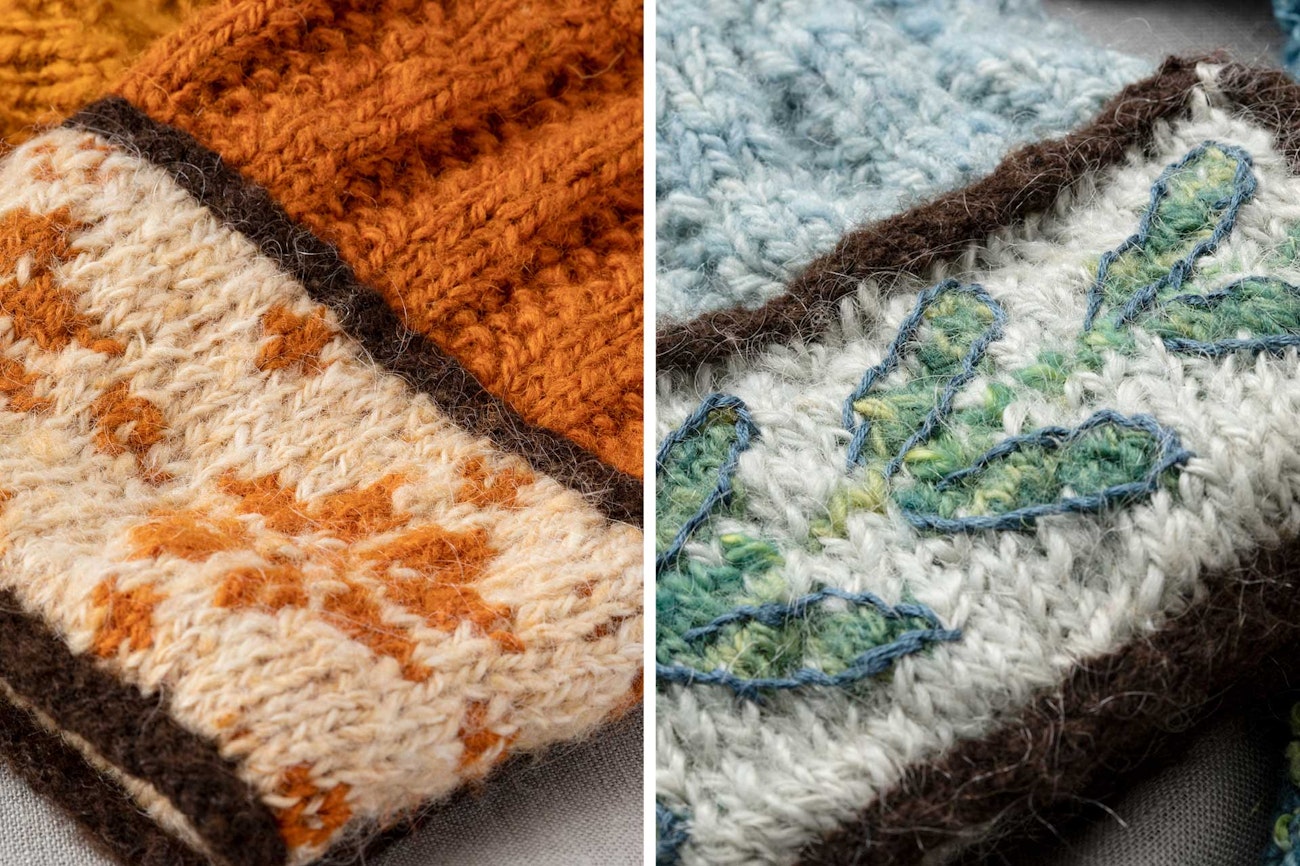 Rita Buchanan observed that plant dyes produce complex color because they contain all three primaries. This was a fascinating concept that helped me understand the complicated colors resulting from my dyepots. Having amounts of all three primaries in a color suggests a neutral undertone, which can perhaps seem gray, brown, or olive green. For example, when I simmered dyer's coreopsis flowers, a decided undertone of brown indicated three primaries involved. A fabulous dye recipe book by Susan Rex, Complex Color, explains the story behind composing the colors of chocolate brown, olive green, and teal, although Rex relates these color-theory ideas through acid dyes rather than natural dyes. Understanding color mixing can take time to learn, but it is an extremely valuable tool.
The value of color is how light or dark a color is when compared to gray scale—from black, through many grays, to white. Using a black-and-white filter on a smartphone is a quick and easy way to explore value.
Exploring color as a tool can help you identify interesting options to pair with your favorite color. A number of artists and fiber artists are credited with saying, "There's no such thing as an ugly color." Open up your personal palette of color as a handspinner and keep exploring!
Resources
Albers, Josef. Interaction of Color, 50th anniversary ed. New Haven, Connecticut: Yale University Press, 2013.
Bryant, Laura. A Fiber Artist's Guide to Color. Video. Fort Collins, Colorado: Interweave. https://shop.longthreadmedia.com/products/a-fiber-artists-guide-to-color-download.
Buchanan, Rita. A Dyer's Garden: From Plant to Pot; Growing Dyes for Natural Fibers. Loveland, Colorado: Interweave, 1995.
Mattison, Terry. "Find Your Colors! Road Map to Repeatable Dyes." Spin Off, Spring 2021, 68–73.
Menz, Deb. Color Magic: Value & Harmony. Video. Fort Collins, Colorado: Interweave. https://shop.longthreadmedia.com/products/color-magic-value-and-harmony-grouped.
———. Color Works for Spinners. Video. Fort Collins, Colorado: Interweave. https://shop.longthreadmedia.com/products/color-works-for-spinners-download-in-hd.
Rex, Susan. Complex Color: Color Mixing for WashFast Acid Dye. Medicine Hat, Alberta, Canada: self-published, 2008.
Rodgers, Esther. Color Blending for Spinning with Esther Rodgers. Video. Fort Collins, Colorado: Interweave. https://learn.longthreadmedia.com/courses/color-blending-for-spinners-with-esther-rodgers.
Ellen McKean began designing textiles at the age of four after receiving a child's hand-cranked Singer sewing machine. Wishing for a "fabric factory," she found it through spinning, dyeing, growing dye plants, sewing, knitting, and weaving. An intensive period of studying classical music at Jacobs School of Music, an interruption for eye surgery due to family genetics, an interlude of making textile art-to-wear, and recently, a joyful return to music gives a brief history of her artist's life.
This article first appeared in Spin Off Fall 2021.