Editor's Note: In this article, Deb focuses on her experiences in putting her food-dye experiments to use in beautiful sweaters. For recipes, application methods, and dyeing effects, we hope you'll check out Sukrita Mahon's deep dive into working with food dyes in the Spring 2021 issue of Spin Off.
Sometimes we spinners need to just let it go. Unless we're completely spontaneous spinners, we make a lot of choices before or while we're spinning, and usually it's easy to see a direct line between our decisions and their effects on the yarn. I have celebrated the fact that spinning gives me total control over my materials. However, all that control flies out the window once I place some yarn or fiber in a dyepot.
Food coloring for "serious" dyeing? Yes. "Serious" reference books—including my favorites Gail Callahan's Hand Dyeing Yarn and Fleece and Felicia Lo's Dyeing to Spin & Knit—discuss these dyes. Various websites also provide great instructions and ideas for dyeing yarn with sugar-free Kool-Aid mix, Easter egg colors, and food-coloring pastes or gels. If you want added incentive, feast your eyes upon Susanna Tobias's commercial yarn dyed with leftover Easter egg colors (instructions below).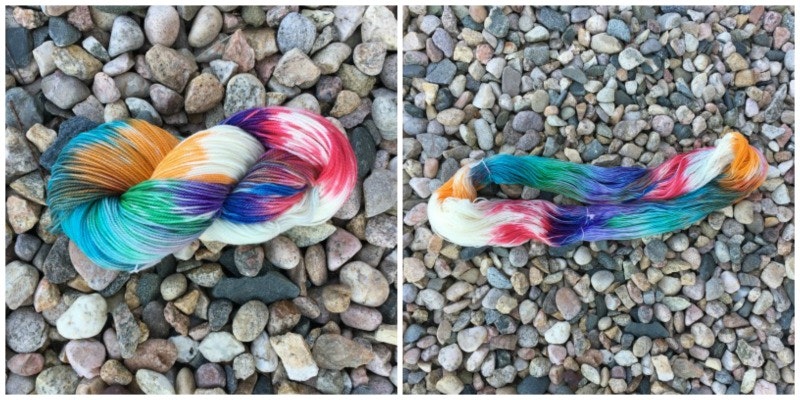 Crochet technical editor Susanna Tobias didn't want to toss her dyes after an egg-coloring session, so she used them on a skein of Plymouth Yarn's Dye for Me Happy Feet. See her instructions below.
Personally, I was hooked, as other home dyers have been, the moment I discovered the infinite possibilities of these easy-to-use, safe, and inexpensive dyes. I prefer the paste, gel, or liquid food colorings that bakers use for cake decorating, since these products come in a wide range of colors and I can mix colors easily. White vinegar fixes the color—and sure, my yarn smells like a salad, but I personally need more salad in my life. Best of all, I can add color before and/or after spinning!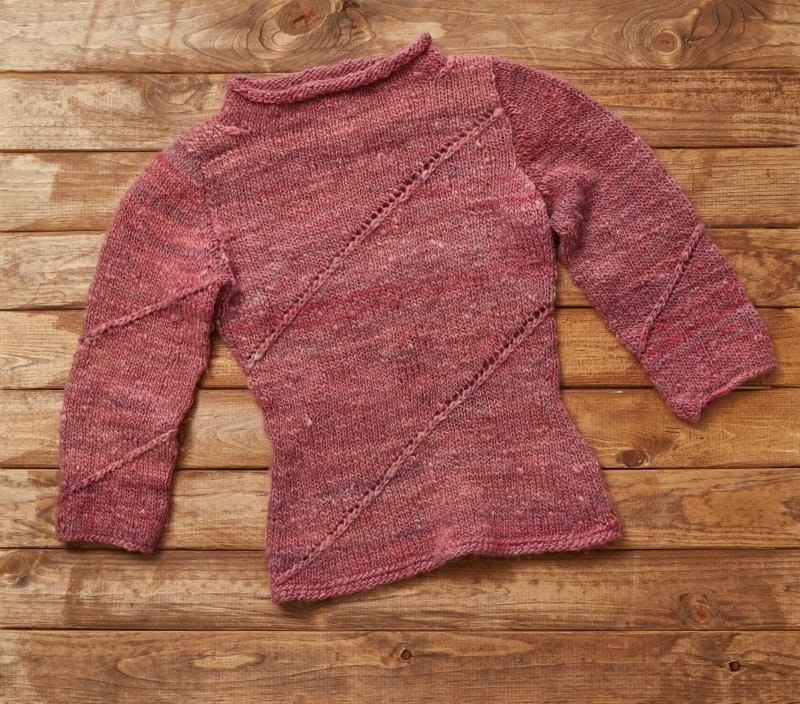 The "cheeseball" method introduced tonal colors into fiber, batts, and singles yarn.
Fiber Cheeseballs
My first major experiment with food-coloring dyes involved liquid food coloring, a pound of raw Coopworth fleece, and my beloved drumcarder. After I scoured the fleece, I tied it into softball-sized "mozzarella balls" (a tip from Gail Callahan's book) and dyed it with purple food coloring. The fleece came out in mixed shades of berry—inner sections of the cheeseballs picked up less of the dye than the outer layers. I then drumcarded the colored fleece into tonal batts and spun a bulky singles yarn. Kira Dulaney's Traveling Eyelet Sweater suited this gorgeous handspun perfectly.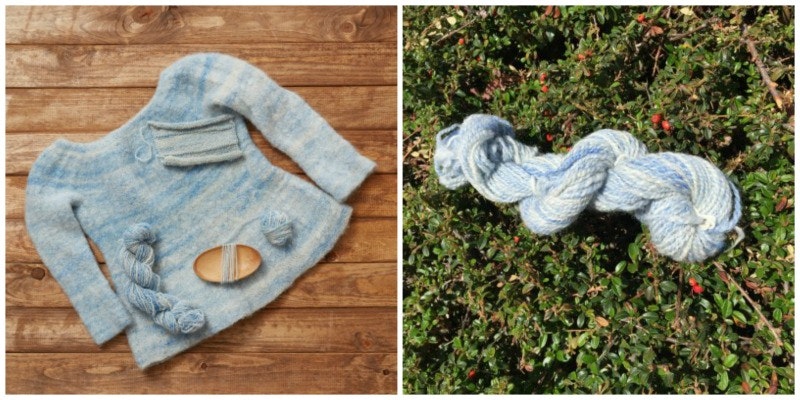 Variegated yarn made with a food-coloring dyebath and drumcarder
Variegated Batts
Spoiler alert—this sweater project ended in disaster, but not because of the sweater pattern or the dyeing. Here I used several breeds: a Corriedale/Romney sheep named Annie plus a Finnsheep. About three-quarters of the raw wool stayed in its natural color. I dyed the remainder in cheeseballs with blue food coloring. Then I drumcarded pure white batts and pure blue batts, which I then blended into variegated batts. These variegated batts became a wonderful 2-ply worsted/DK yarn, which then became Kathleen Dames's glorious Sotherton sweater from Jane Austen Knits, Summer 2012. Unfortunately, I didn't love the finished sweater because it was too big and heavy, without the body-hugging fit that Kathleen had intended. I tried felting it slightly in the washing machine to reduce the size. That's when disaster struck in the form of a completely felted sweater. Ooopsssss. The now-felted body may become a basket or a tote bag, and the sleeves can become holders for straight needles and DPNs.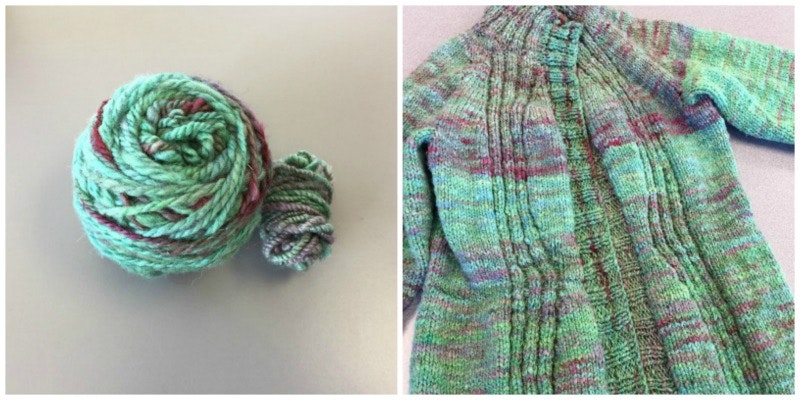 You can buy food coloring in premixed complex colors such as black or maroon. Their component colors (red, blue, yellow, etc.) adhere to yarn or fiber at different temperatures, so they're liable to "break." Breaks can be a bug or a feature.
Breaking Bad vs. Breaking Good
My handpainting odyssey produced a lot of beautiful yarn—too much for just one sweater. Since I didn't need two sweaters in the same wisteria colors, I recently overdyed all the leftover skeins green with Wilton food coloring. And since I wanted a dark, less bright shade than Wilton's Kelly Green, it seemed like a great idea to mix in some black.
However, I forgot that paste/gel colors tend to break. Manufacturers offer so many complex colors because they can mix components: Wilton, for instance, makes their violet color out of fuchsia and turquoise, and black from blue, red, and yellow. When you heat a dyebath using violet or black food coloring, these component colors adhere to yarn (called striking) at different temperatures. In other words, the mixed color breaks. You can't mix paste or gel colors as if they were, say, paint. Adding black paste to green paste didn't darken the green; it added red and blue to the green.
So imagine my surprise when a supposedly dark green yarn became a mix of green and red! As it turned out, I liked the effect. If I'd alternated skeins while I knitted, my cardigan from Amy Swenson's Slow Curve design would have been perfect. (Note to self: Start alternating skeins when you knit hand-dyed yarn!) Because I didn't do this, skeins created dramatic splotchy patches on the sweater, so I'll overdye the finished garment until I'm happy.
Overdyeing
When you dye your own yarn, it ain't over till it's over. You can always add more color—but not take it away—to beautify a less-than-satisfactory yarn. In fact, Felicia Lo layers colors on her yarn and fiber to develop rich, complex shades. I can overdye my splotchy cardigan with a gray commercial dye (no breaking this time!) to even out the splotches, and the resulting color will have all kinds of interesting depths. Even a supposedly solid black will have these depths.
So let your dyes run wild and crazy—Steve Martin crazy! Throw caution to the winds! Plan carefully to be spontaneous, just like me!
Susanna's Sock Yarn
Materials:
Yarn
Distilled white vinegar
Water
Easter egg dye kit
Large foil pan
Paper towels
Hard boiled eggs (optional)
Steps:
1. Unwind the hank into a circle, place it in the foil pan and soak it in a vinegar/water mixture (I used ¼ C vinegar and ½ to ¾ C water).
2. Prep the dye as instructed.
3. Dye the eggs (optional).
4. With the yarn still in the pan, pour the leftover dye onto the yarn as desired, soaking up the excess with paper towels. (If there is dye puddling in the bottom of the pan, lift out the yarn and dump the extra dye before placing it in the oven. This step prevents the colors from getting muddy).
5. Place the yarn in an oven preheated to 200°F preheated oven and bake for 15 to 30 minutes.
6. Rinse the yarn and hang to dry.
Deb Gerish is the former editor of Love of Knitting magazine.
Originally published October 20, 2017; updated October 12, 2022.