Sometimes things do not work out the way we hoped and planned. Such is the case with my dye garden this year. I planted it with hope and visions of homegrown color in my future. The weather—and the animals who frequent my yard—had other plans. However, one hardy plant survived the summer and has happily landed in my fall dyepots: dyer's chamomile.
How It Started
You might have read about my springtime garden plans, and the optimism of planting season: The madder plant I divided into thirds was replanted, the woad seeds were carefully sown in rows, eight precious Hopi sunflower seeds were planted, and the dyers chamomile divisions from elsewhere in my yard were neatly transplanted along a garden pathway.
I watered and watched, checking each day for seedlings to sprout and signs that the transplants were taking root. Sturdy sunflower seedlings popped up, and then tiny woad plants appeared. Each day I would visit the dye garden,curious to see what was happening, as part of my daily walk around the rest of the yard.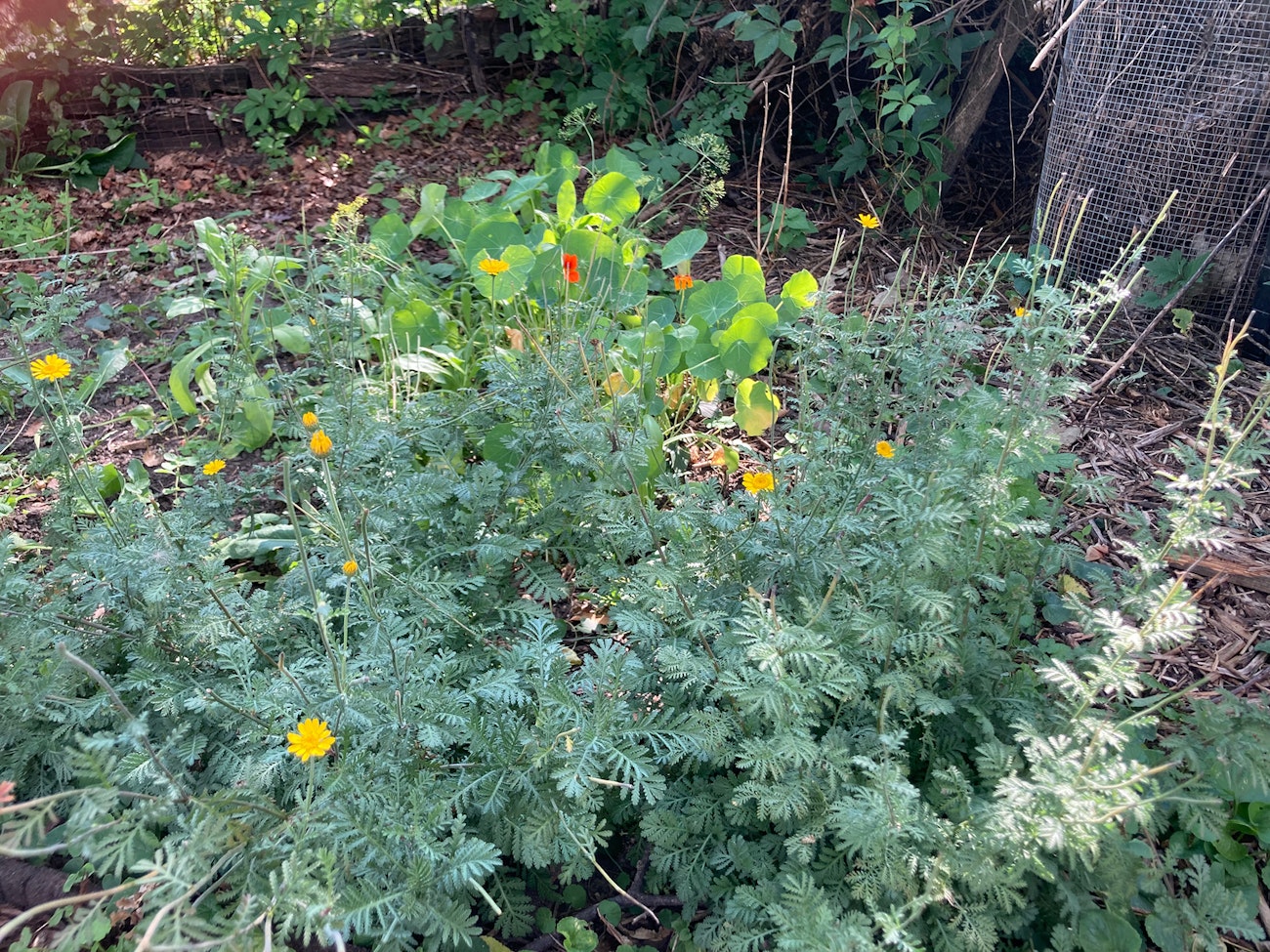 Dyer's Chamomile growing happily alongside nasturtiums. Where are the rest of the dye plants?
And Then . . .
One day, I noticed a sunflower seedling had disappeared. And then there was a hole in the middle of a row of woad seedlings. After a week, only one sunflower plant remained, with four very sparse and intermittent rows of woad. The next day, one of the madder plants had vanished. One evening when I was sitting outside enjoying the weather, I saw my last Hopi dye sunflower plant eaten by a rabbit, who continued grazing on the remaining woad plants.
Eventually, all I had was four woad plants and my original stand of dyer's chamomile in another part of the garden. Minnesota (and many other regions) had a very dry late spring and early summer, so many of the plants typically eaten by the local rabbits were growing very slowly if at all. While I regretted the loss of my dye plants, I could not blame the rabbits for going after the vegetation that still was green due to my evening rounds of watering.
A Silver (or Golden) Lining
One plant the rabbits seemed to avoid was dyer's chamomile (Anthemis tinctoria). It started blooming in early June, and twice a week or so, I spent a pleasant 10 minutes picking the open, bright-yellow blooms. In addition to the row I planted in the new dye garden, I have a clump in an ornamental bed. Harvesting the blooms takes very little time: just pinch the stem off just below the flower. Once I picked the blooms, I poured them onto a platter in our non-airconditioned sunporch. The flowers usually dried in a day or so, and over the course of the summer, I accumulated just over 4 ounces of the dried dyestuff.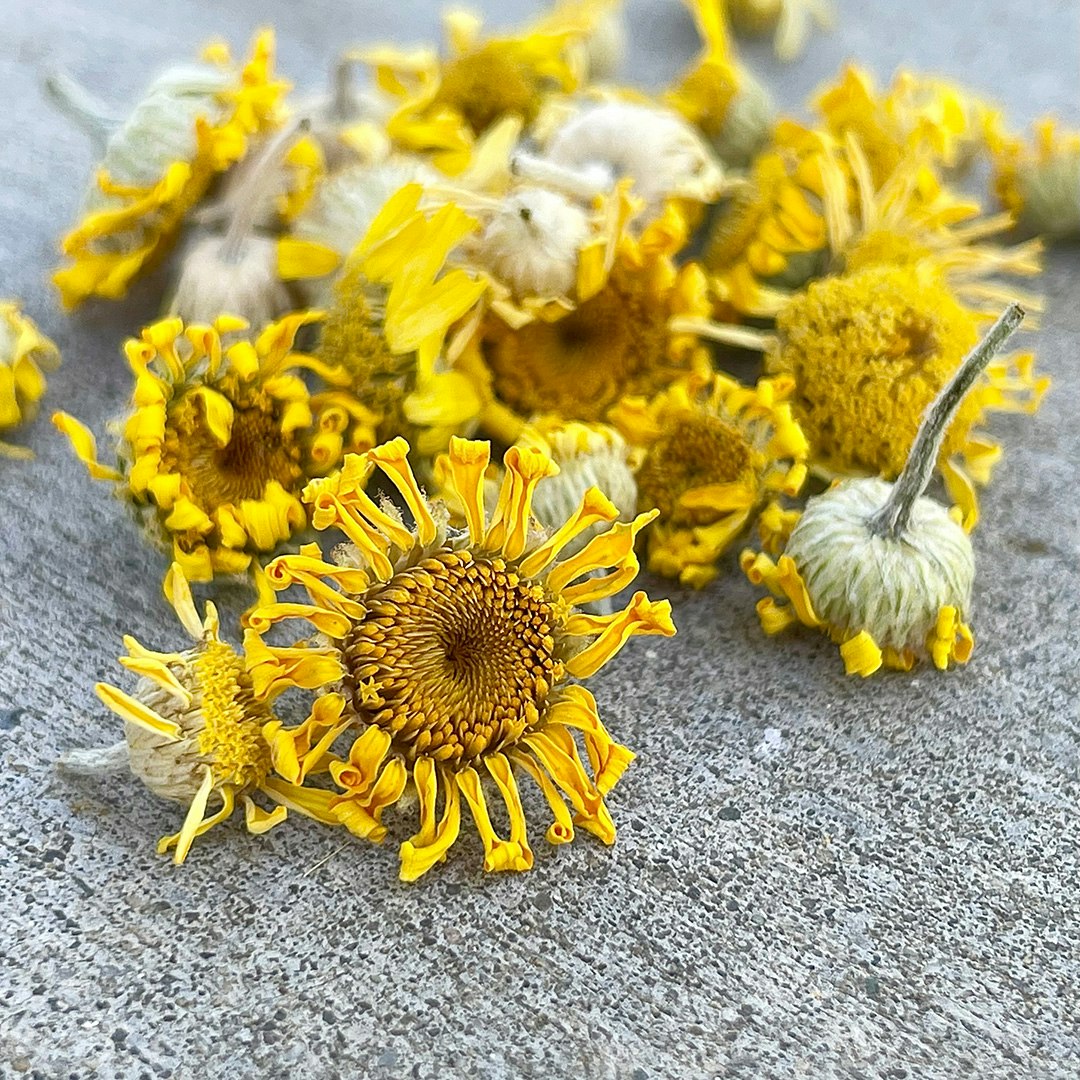 Dyer's Chamomile is hardy perennial in the sunflower family. Photo by Kate Larson
I Iike using dyer's chamomile at 50% WOF**; however, I usually see recipes for it at 100% or 150% WOF. I would suggest to anyone trying dyer's chamomile for the first time to begin at 100% WOF (equal weights of fiber and dyestuff) and adapt as desired.
I simmer the flowers in a pot of water for about an hour. Then, I strain the flowers out, add alum-mordanted fiber, and continue to simmer until I am satisfied with the color of the fiber. The silk (shown at top) was the first fiber added to a fresh dyepot of dyer's chamomile, so it is quite vibrant. Like many dyers, I add other fibers in succession to exhaust the pot. These fibers, like the wool locks shown, will be progressively less vibrant.
Even though my 2022 dye garden did not go according to my plans, I have enjoyed following the progress, successes, and failures of my plot. Next year, I will continue to work towards a dye palette made up of locally grown color.
** Weight of Fiber. This means that you can use half the weight of dyestuff to fiber. So, for example, you would need 2 ounces of dried flowers to dye 4 ounces of handspun yarn. The proportion of dyestuff to fiber depends on the concentration of the dye compound, the mordant used, personal preference, and more. In the case of dyer's chamomile, most resources recommend something between 50% and 100% WOF.
Devin Helmen has been immersed in fiber since learning to spin at age 8. They spin, knit, and weave in beautiful Minnesota. Devin enjoys writing and teaching about fiber arts and has a passion for spindles and everyday textiles. They blog, intermittently, at www.afewgreenfigs.blogspot.com.