In 2010, engineer Maurice Ribble's girlfriend (now wife), Emily, wanted an electric spinning wheel but found the available options too expensive. Maurice built one and offered the plans and code for his electric wheel online, and the first Electric Eel Wheel (EEW) was born. To help fund his research and business, Dreaming Robots, Maurice uses Kickstarter.
In the Summer 2018 issue of Spin Off, we asked Maurice to tell us more about the EEW and his plans for the future.
Spin Off (SO): What is the latest Electric Eel Wheel (EEW)?
Maurice Ribble (MR): The latest versions are the EEW Mini and the EEW5. But check our website; we are constantly improving things even within a version. As long as the updates are backward-compatible with the major parts such as the circuit board and bobbins, I keep the versions the same and just roll out improvements once they've gone through enough testing. The EEW is in a state of continuous improvement. I find it a shame more products out there don't do this. The world would have better things if more companies were willing to iterate and constantly make their products better.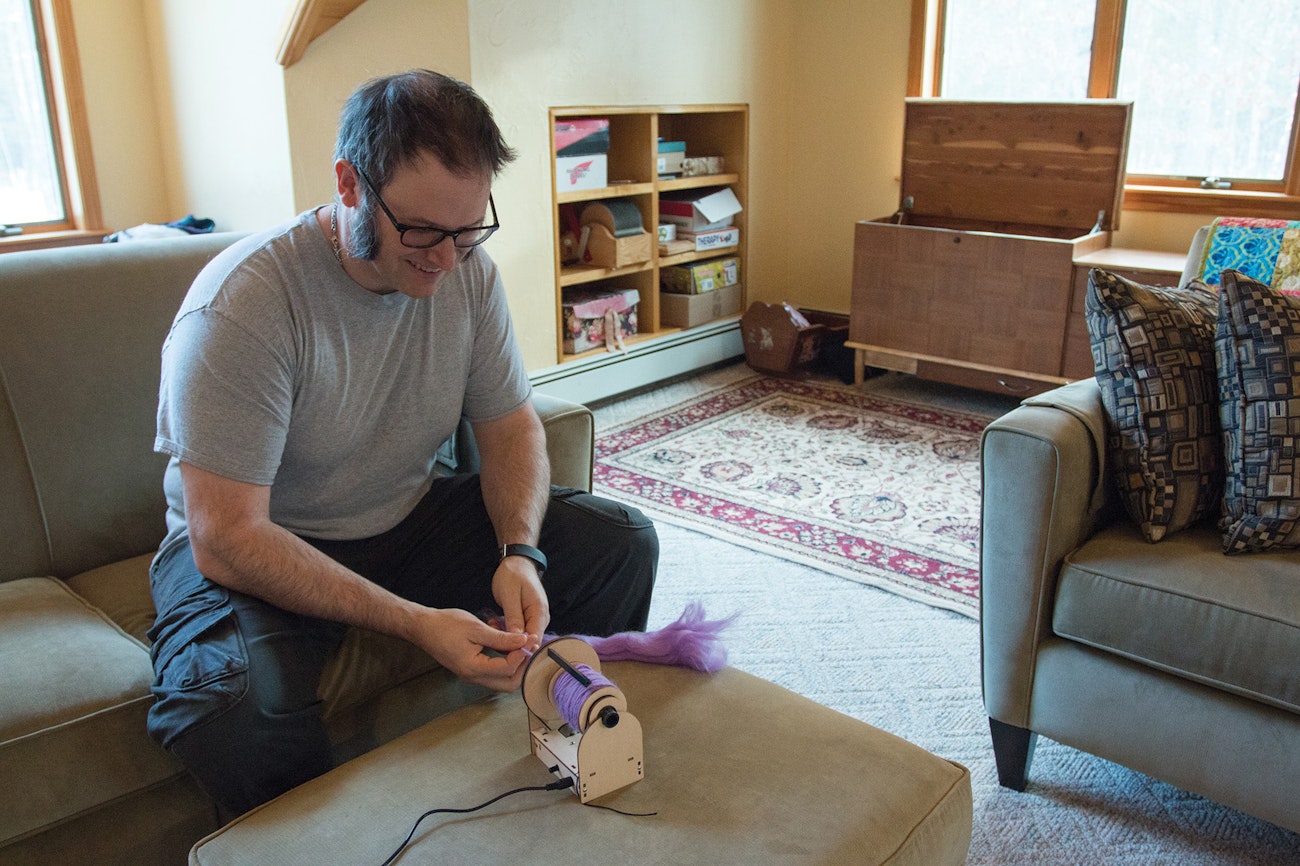 Maurice spinning on the EEW Mini
SO: What should a spinner think about before buying an electric spinning wheel?
MR: While electric spinning wheels aren't for everyone, many people who have tried electric decide it's for them. The smaller sizes make electric wheels more portable than treadle wheels, and the fact that you don't need to use your feet allows you to use them in more places. The price of an EEW is a fraction of the cost of most other electric spinning wheels. One thing to remember about the EEW line is that there is a small compromise for a greatly reduced price. If you want the best electric spinning wheel at any price, the EEW probably isn't for you. The wheels that cost four times as much are a little quieter. For reference, the EEW5 is a little quieter than a person talking, and I'm always working on ways to make it even quieter. I'm looking into switching to a quieter but still affordable motor.
SO: What challenges have you faced in designing your wheels?
MR: Probably the biggest mistake I've made with electric spinning wheels was with an earlier version of the EEW5. Initially, I designed the spindle (inner piece of the flyer) and slider hooks to be molded out of plastic. This helped keep the cost down and seemed to work great. I did quite a lot of testing with it, but not enough testing with spinning yarn. After people had used it a while, they started to realize the plastic pieces were showing wear from the friction of the yarn.
I came up with some short-term fixes pretty quickly, such as putting aluminum tape on the areas that were showing wear. Then I spent nearly six months finding a permanent solution. I had spent a lot of money building the tools to make these parts—injection molding requires very expensive steel molds to make the plastic pieces—and I wanted to find a way to use the molds with a harder or lower-friction plastic. While harder plastic helped, it couldn't solve the problem to my satisfaction. In the end, I had to write off all of the expensive tooling costs and switch to a different process to make the slider hooks and spindle from metal.
To keep my customers happy, I sent out free replacement parts to my Kickstarter backers who experienced the wear issue. This was a very expensive mistake, but in the end, all my customers were happy with the upgrade, so it was worth it. The current version of the EEW5, which has the metal parts, is also a really nice wheel, which is important to me. The engineer in me really needs to be proud of the products I'm selling.
SO: Why did you decide to use Kickstarter? What has that experience been like?
MR: It's a great way to involve the spinning community. People who back a project on Kickstarter often want to see how that product gets built. I am happy to tell people that story. This sparks discussions between my backers and me, and sometimes those discussions lead to clever ideas that can be used to improve the EEW.
Building things is also cheaper when you build a lot of them at the same time. The EEW would be much more expensive if I had to build just a few at a time. With Kickstarter, I can build 500 or more at a time because I get the money ahead of time and can afford to buy a bunch of parts all at once.
My experience with Kickstarter has been great. I have gotten great feedback, and so far, all of my Kickstarter projects have delivered on time and with the vast majority of my backers very happy. When I bring a project to Kickstarter, I have the product designed and have a plan for manufacturing, so my risk for failure or delays is low.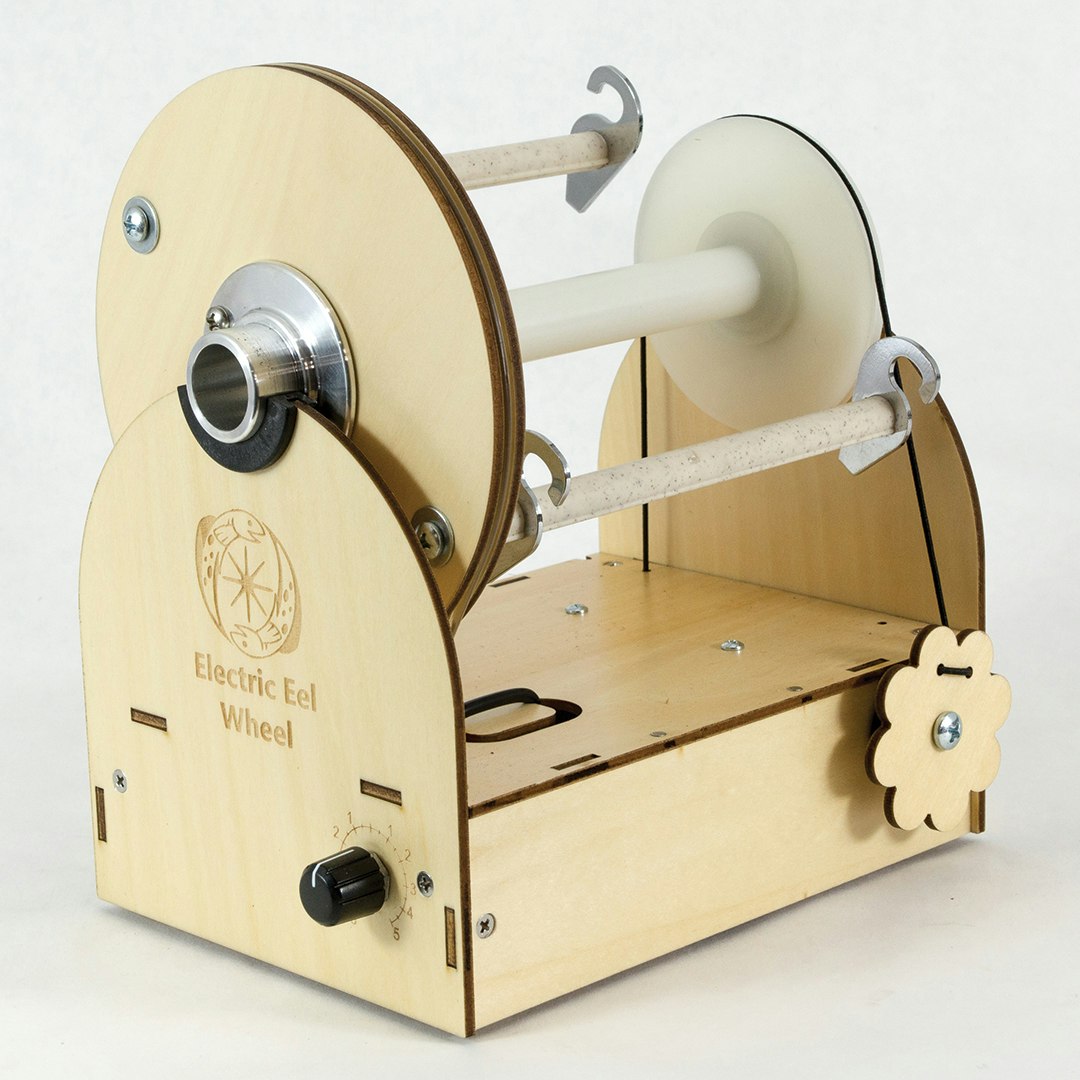 The EEW5
SO: What is the most common upgrade or accessory request for the EEW?
MR: These days, the most requested accessory is probably an auto flyer: a flyer where the hooks move themselves, so you don't need to stop the wheel to move them. Some flyers use a geared solution, but it is very expensive and adds significant tension to the yarn, which makes it unsuitable for really fine yarns. I've spent considerable time trying to figure out a way of offering an affordable auto flyer without the downside of more tension. So far, I haven't solved this. I have several prototypes, but I am not happy with any of them. I expect to keep working on this. I'm sure it's a solvable problem, but it just requires a bunch of iteration to find a satisfactory solution.
This article was featured in the Summer 2018 issue of Spin Off. We also spoke with Maurice about the open-source model he uses to distribute Electric Eel software and hardware plans in "Freewheeling," Spin Off, Summer 2016.
Also, remember that if you are an active subscriber to Spin Off magazine, you have unlimited access to previous issues, including Summer 2018. See our help center for the step-by-step process on how to access them.
To learn more about the Electric Eel spinning wheel, visit www.electriceelwheel.com or contact Maurice Ribble at [email protected]. Also, check out the Electric Eel's new Facebook group, www.facebook.com/groups/ElectricEelWheel.
Elizabeth Prose is a former associate editor of Spin Off.
Originally published August 27, 2018; updated September 7, 2022.