Once you've basked in the absolute joy that comes from learning how to spin, you might start casting around for other equally satisfying pursuits. One of those is dyeing yarn with natural dyes. Just as ancient people learned that they could infuse their textiles with the colors of the earth and heavens using some pretty simple techniques, so can you.
Natural dyeing can be as simple as collecting tansy leaves from your garden or old tea from your cupboard, placing it and a skein of yarn in a canning jar filled with water out on your porch on a sunny day. Of course, it can be more involved as well—it depends on what colors you're looking for, the fibers you are dyeing, and the pH levels in your water supply.
From roadside plants to your spice cabinet, to mineral infused muds, the world around you can yield amazing colors that are harmonious and balanced. Imagine yarn you have made with colors extracted gently from the natural world—imagine bliss. There are basic rules to dyeing: know your dye, know your fiber, and know your water. This free Guide to Dyeing Yarn eBook is an essential guide whether you're a beginner or are experienced in dyeing. Even if you're working with natural dyes, there are safety precautions to take to protect yourself and the environment. Dive into the basics of hand dyeing yarn and understand the different approaches depending on the fiber, from cotton to wool.
What's inside our Guide to Dyeing Yarn?
Introduction to Natural Dyes By Dagmar Klos
Discover safety essentials, set up, materials, and fiber preparations required for working with natural dyes for wool, cotton, and many more. It's important to know the different approaches depending on the fiber you're working with, because the ideal approach for one fiber can be harmful to another. Learn everything you need to know to properly dye yarn with this comprehensive introduction to natural dyes.
Color from Weeds By Lynn Ruggles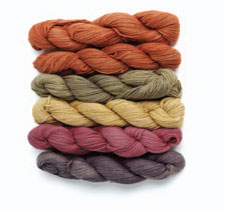 During her gardening studies, Ruggles stumbled across important and interesting knowledge about weeds. Thus began a two-year exploration of dyeing yarn with weeds. To start, she made a list of potential dye candidates from plants she had already identified. As it was already July, she began with plants that bloomed in the late summer and were listed in the book as nonfading or lightfast.
Dyeing with Black Walnuts By Elizabeth Fahey
Homesteader, Elizabeth Fahey, dyes wool with walnuts over an open fire to make her family handspun, handknitted, naturally dyed socks. This is the dye that is her delight. Every fall, she makes a big batch of it to dye the yarn for the thick, woolly socks that she knits to keep her family members' feet toasty warm. The husks contain tannin, which acts as its own mordant to make the colorfast. Rather than fading with time, the color seems to darken slightly.
In Hot Water: Experiments with Natural Springs and Vegetable Dyes By Glenna Dean
Glenna wanted to know how cotton could be dyed so that colors remain bright after some 700 years (like the ancient textiles found in the south western United States). She decided to explore the dye potential of the natural springs and various mineral waters in her area.
Sun-Kissed Dyeing: Achieving Beautiful Colors with Solar Power by Jeannine Bakriges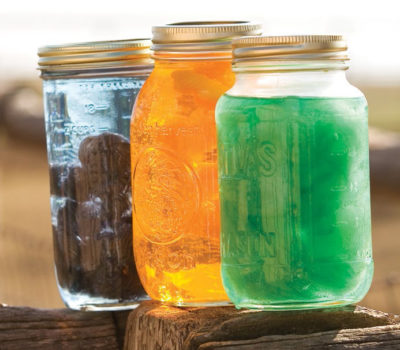 Talk about nature at its finest! Learn a process that allows you to dye without having to tend a fire, an electric hot plate, or a gas burner. Learn from an expert in solar dyeing, Jeannine Bakriges, as she recounts the experience of completing solar-dyed yarn projects with a group of other fiber-lovers. The range of projects produced, the colors achieved, and the often unusual methods used by Brighid's Dyers were amazing.
In our free Guide to Dyeing Yarn: Learn How to Dye Yarn Using Natural Dyeing Techniques, gathered from the pages of Spin-Off magazine, you will learn the ins and outs of natural dyes, explore dyeing with black walnuts as well as using a natural hot springs to supply mineral mordants (the "glue" that holds the dye to the fiber), and get instructions for making a solar dyeing oven. Learn alongside of experts in the natural dyeing world—spinners like you who have explored and experimented until their hearts are content with natural dyes.
Happy spinning and dyeing!
The Spin Off Editors
Published October 20, 2017; updated January 29, 2020.