Deciding to buy wool combs can be a big step. They're not the first piece of equipment any spinner buys, but once you have a pair you'll wonder how you got by without them. You may picture the full English combs, but the more manageable (and less lethal) mini combs are incredibly versatile. Here are five reasons to add mini wool combs to your spinning tool kit.
1. Chaff and vegetable matter, begone! Combing removes undesirables such as vegetable matter and deposits them behind the rows of teeth, leaving you with only the prime fiber. If you have an otherwise perfect fleece that has a little extra hay in it, a few passes with combs will take that right out. (Spread a cloth in your lap to catch any veggie matter that falls out.)
2. You love to spin worsted yarns. Short forward draw is my favorite technique, and it wants to make a smooth worsted yarn. Combing the fibers to make them parallel prepares the fiber for a worsted draw.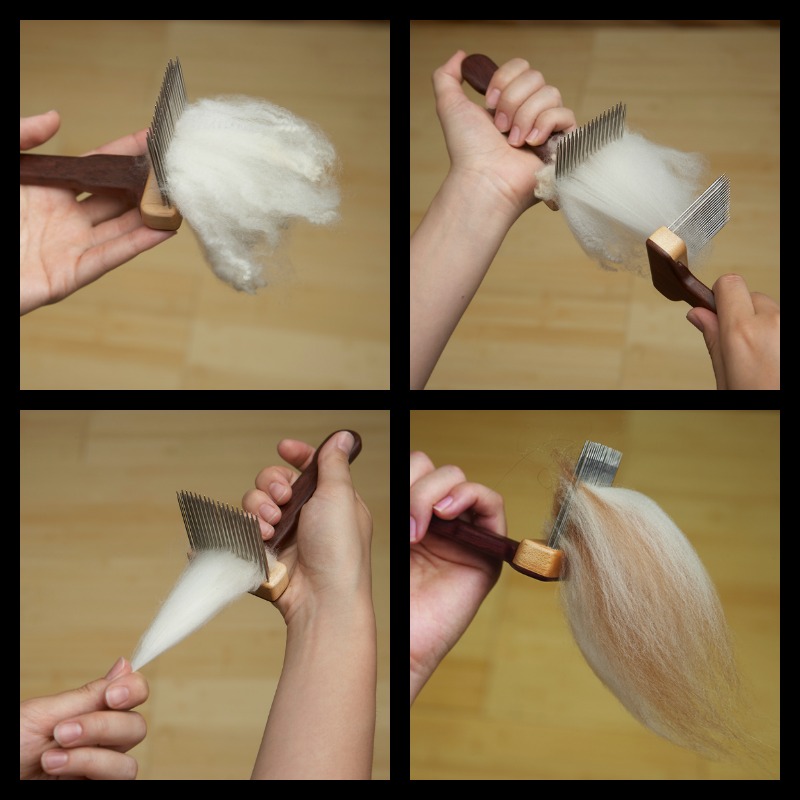 3. You like to spin off the beaten path. There are more prepared fibers available today than ever before, but not every fleece is available as combed top. If you want to comb and spin a greater variety of fibers, at some point you'll need to prepare them yourself, and some fibers really want to be combed. (Listen to them.)
4. You're tired of spinning compacted commercial top. Commercially prepared fiber has a lot going for it, but between when it's combed and when it's in your hands ready to spin, it can be squished and rubbed (and dyed and felted) and generally roughed up. It's also been pressed to subdue the natural crimp. Lively and airy, hand-combed top is delightful to spin—no predrafting or stripping required.
5. You like to make your own fiber blends. Mini combs are a perfect way to blend colors and textures. Layer different elements and use the combs to create a custom fiber prep.
But don't buy mini combs if . . .
You want to impress your friends. Wielding a pair makes you formidable to spinner and non-spinner alike. Use caution and only use your wool processing powers for good.
—Anne