Whether you remake, renew, recycle, or reuse, mending is as important as ever, and spinners have it covered. Visible mending can add a pop of color and a good dose of character to any wardrobe staple or still-useful object. Whether visible or invisible, we love seeing your mends using handspun! We asked you, our readers, to show us your mends, and we're thrilled to share your beautiful and useful mends below. Plus, check out Spin Off Summer 2023 to see even more handspun mends.
When I first started spinning, I was looking for a way to put my freshly made yarns to use. In our household, we've always had baskets to use for many things (see the mended basket shown above). When baskets are used frequently, the rim is often the first part to break. A basket, in an early stage of damage, can be mended with handspun yarn. Small amounts of uneven yarns are often sufficient to knit, crochet, or weave a rectangle or other shape to cover the broken area. Pin-loom squares can also provide the perfect patch in some cases. —A. Sabine Schröder-Gravendyck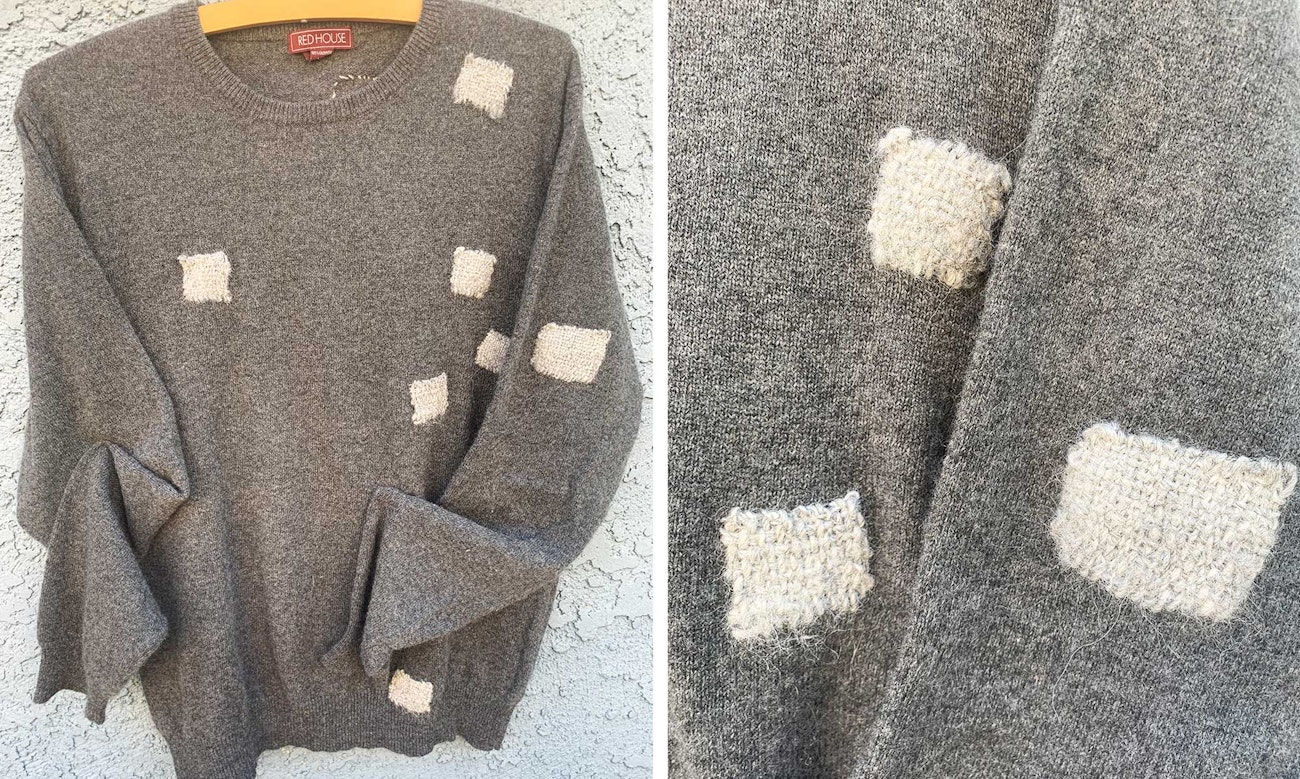 Michelle created patches using her Speedweve loom. Courtesy of Michelle Gannes
This is my recycled cashmere sweater, mended with a Speedweve loom and using handspun cashmere to create patches. —Michelle Gannes, West Hills, California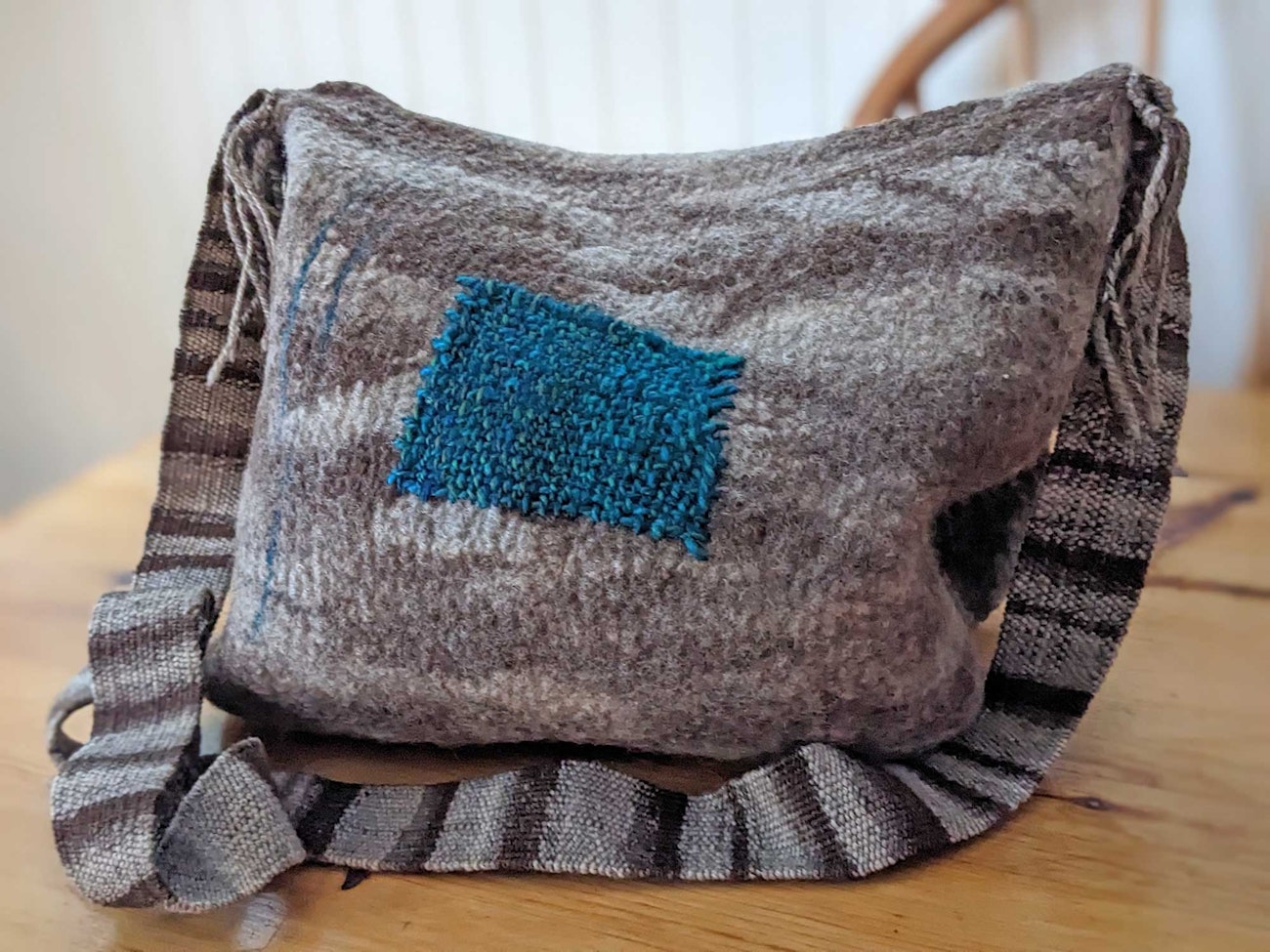 Sheleigh's felted bag gets a pop of color from a patch woven with BFL and silk. Courtesy of Sheleigh Peers
I made myself a felted bag and had used it so much that it wore a hole where it rubbed against my body when I walked. I had a bit of leftover Bluefaced Leicester and silk that I had spun for mittens, and I used it to weave a little patch. I love the bright pop of blue against the muted brown color of the bag! —Sheleigh Peers, Madeira Park, British Columbia, Canada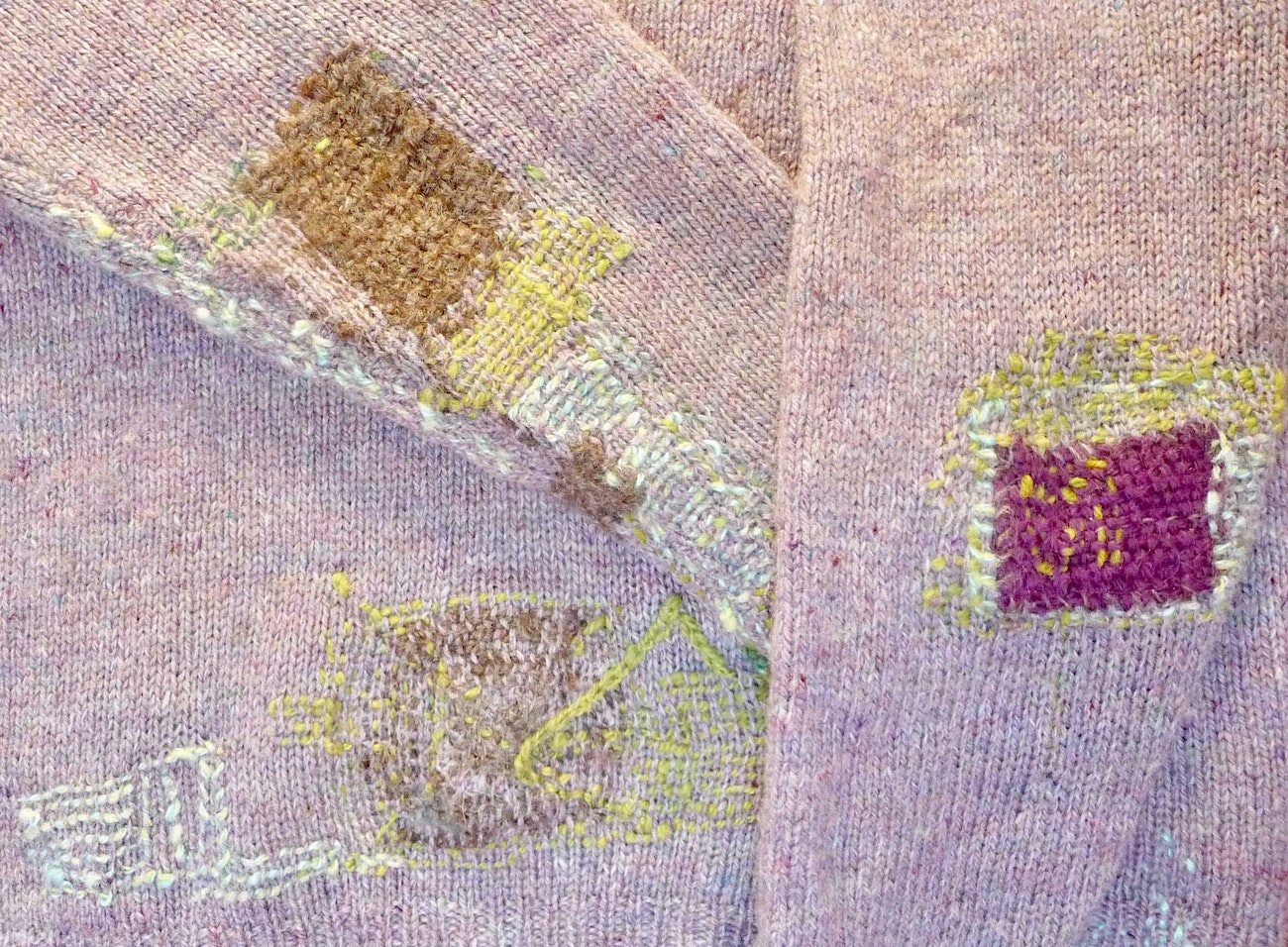 Jill admits that her technique is a bit freeform, but the repeated combination of colors results in a cohesive look. Courtesy of Jill Fry
This ongoing mending project is an attempt to save an old handknit wool sweater (a thrift store purchase from over 20 years ago). The sweater has developed numerous holes and thin spots and the ribbed cuff edges were almost completely worn away. My mending style is more random than planned, as I just invent it as I go—rather like doodling with yarn. I used mostly darning over the holes, plus some chain and blanket stitching to build up the frayed edges. I also just weave in and out in thin areas where the knit stitches still exist, using a variety of 2-ply handspun remnants in Romney, Canadian Arcott, and mohair, amongst others. —Jill Fry, Millarville, Alberta, Canada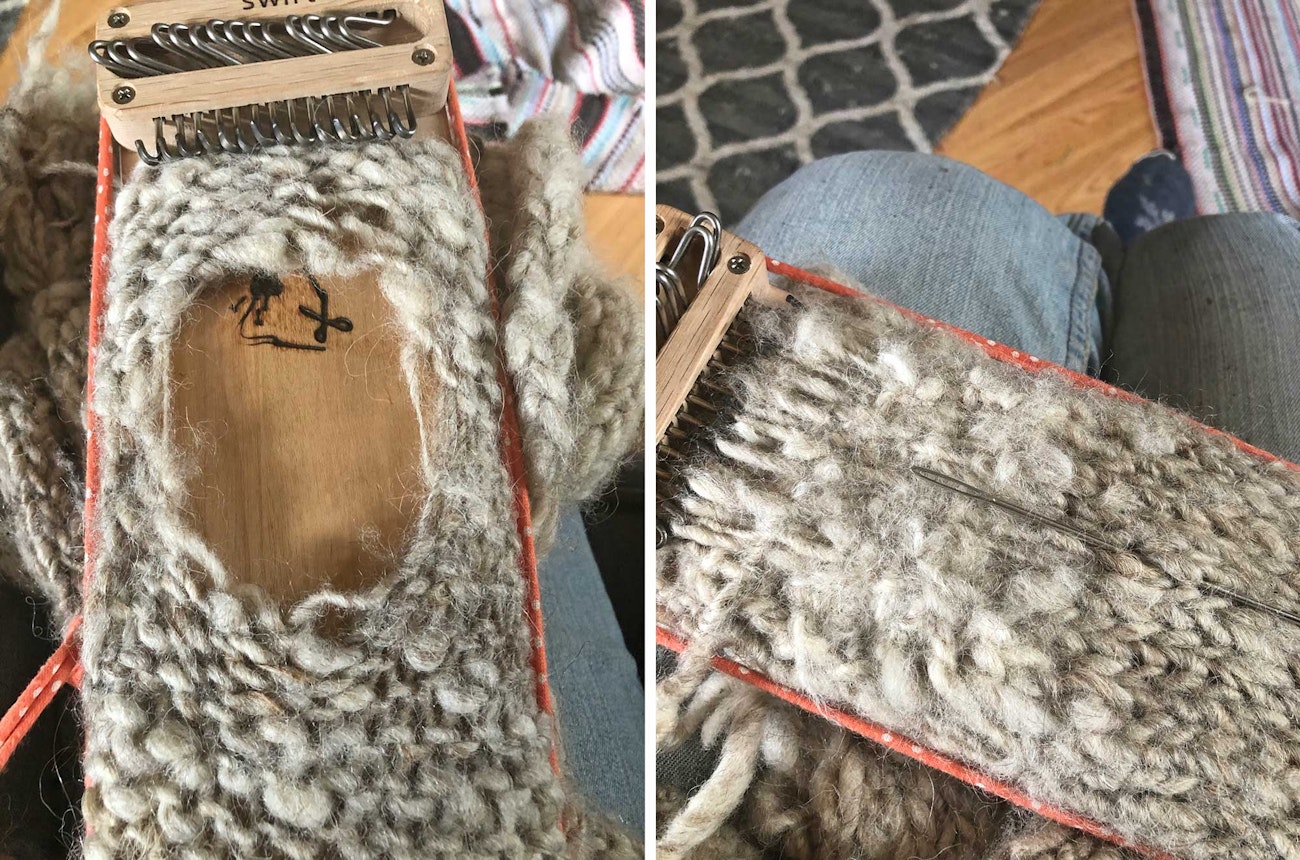 Katy used a darning loom to repair a substantial hole in her knitted scarf. Courtesy of Katy Abbas
My very first hand-processed fleece-spun wool project from 1998 was a knitted scarf, hat, and mitten set. I dug it out to wear in 2021 and the moths had put a big hole in my scarf. I purchased a little high-quality repair loom and the repair is now almost hidden. —Katy Abbas, New Hampton, Iowa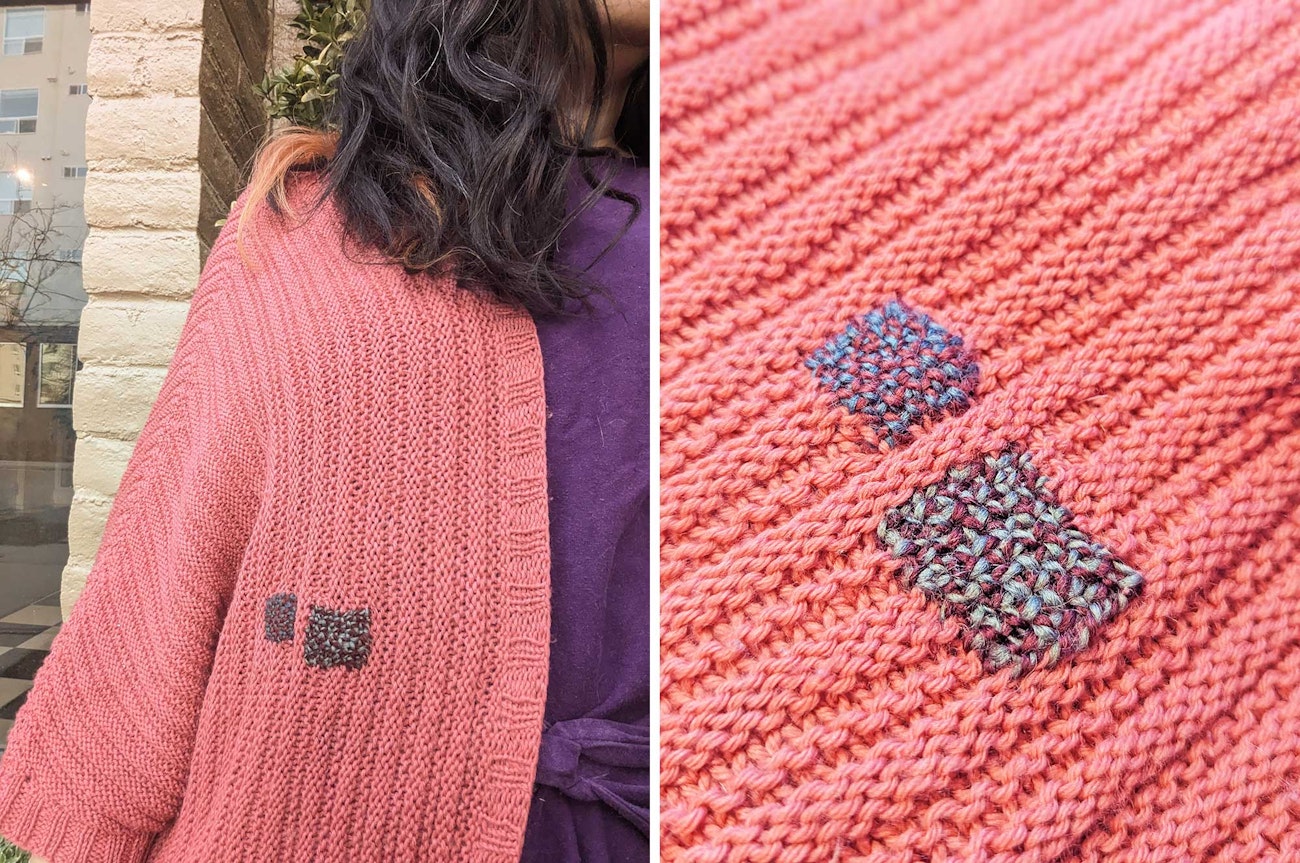 The shifting colors in Miriam's handspun mending yarn created a different look in each patch. Courtesy of Miriam Felton
My favorite sweater was ready for a refresh, as there were a couple of spots that needed to be mended. I decided to patch the holes using a Speedweve-type darning loom and some beautiful handspun yarn gifted to me by Hannah Thiessen, author of Slow Knitting and Seasonal Slow Knitting. I was able to create a nice, sturdy patch that wasn't too stiff, and the result is spectacular. The slow color shift of the handspun makes each patch unique, but the garment is still cohesive as a whole, with each mend giving it a little more personality and a little more life. —Miriam Felton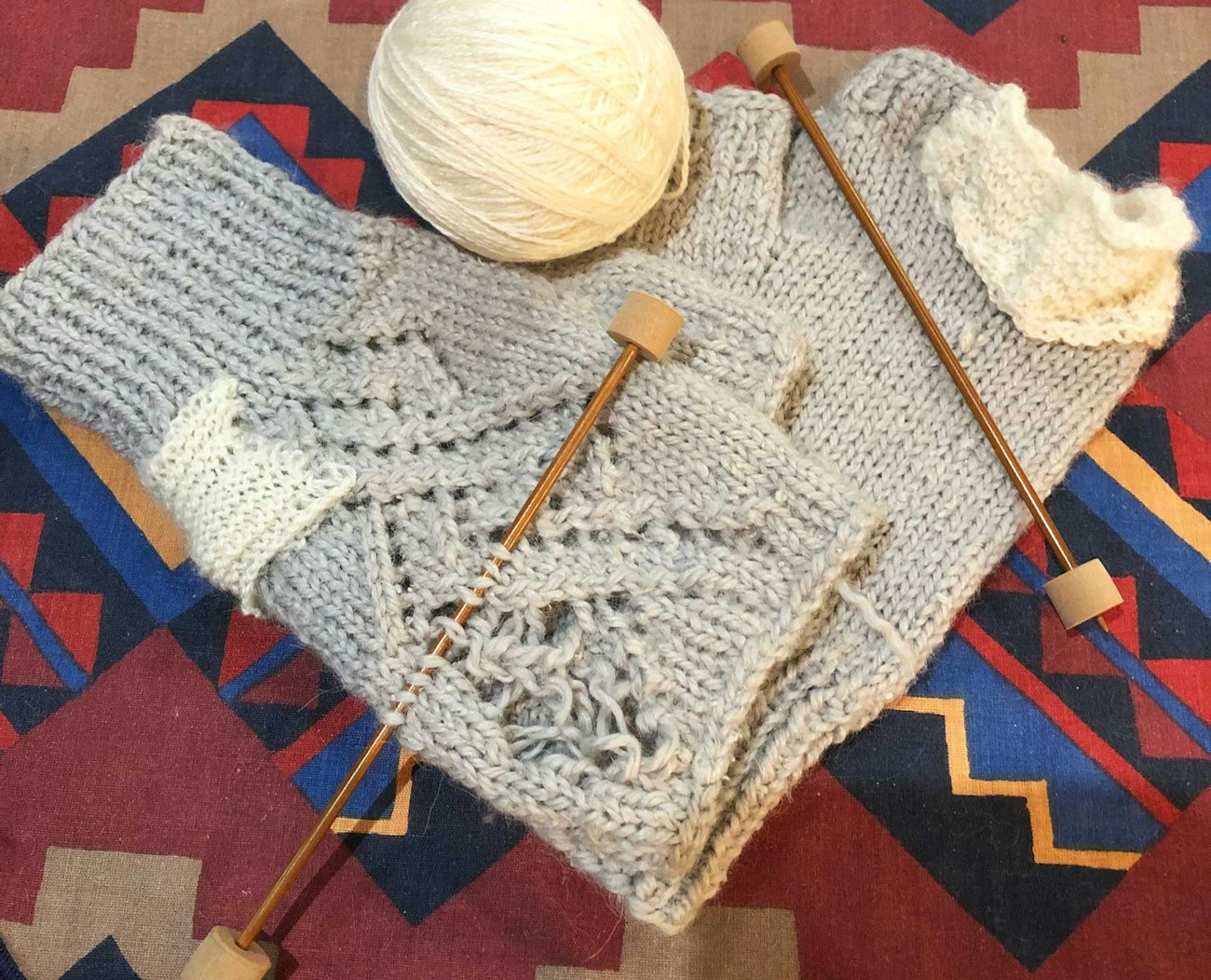 Sheryl added pretty little details to her mitts using leftover yarn from a lace shawl project. Courtesy of Sheryl Williams
I gifted my daughter a pair of alpaca mittens, but unfortunately, the dog thought they made a great chew toy. They sat for several years because I could not throw them away. Then I thought I'd give visible mending a try. I grafted on knitted patches with random designs using Merino fingering left over from a lace shawl. My daughter is quite pleased and the dog will not get these! —Sheryl Williams, Amarillo, Texas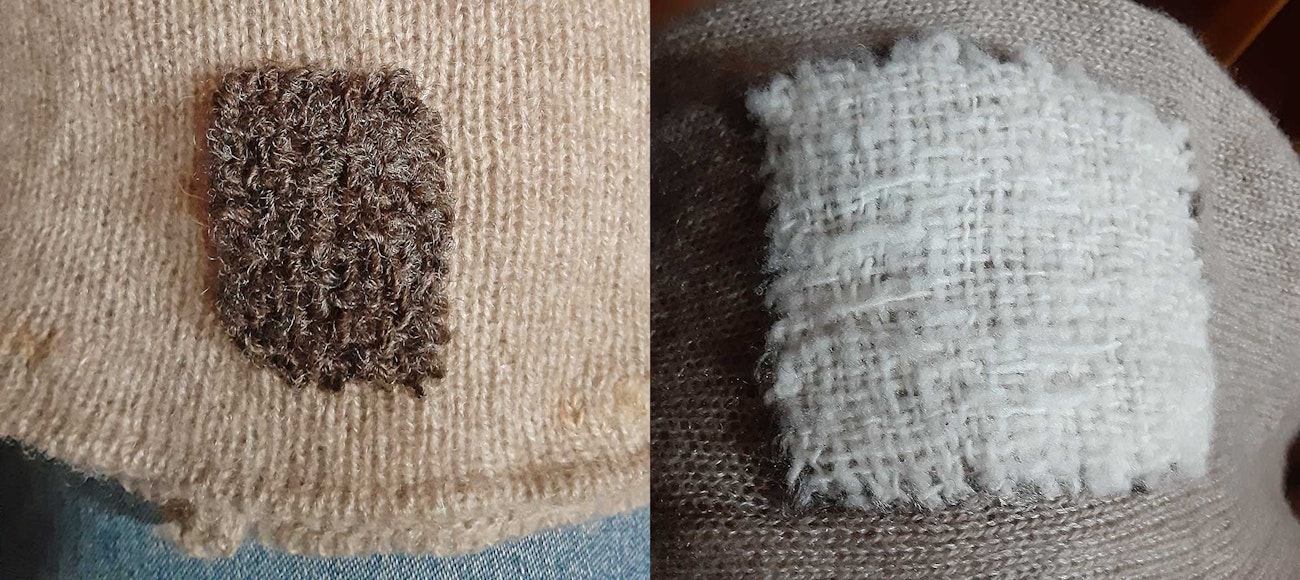 Despite the temptation to cut off her sweater's damaged arms, Nathalie's mends turned this thrift-store find into what is now her favorite sweater. Courtesy of Nathalie Sinclair
When I bought this cashmere sweater at a Goodwill store it had holes from mites on both arms, and I ended up paying very little for it. My first thought was to cut the arms shorter, but then I saw an article on visible mending and decided to try it using bits of my own handspun yarns. I figured if I didn't like the result, I could always cut the fabric—right? It's now my favorite sweater to use in my studio. —Nathalie Sinclair, Repentigny, Quebec, Canada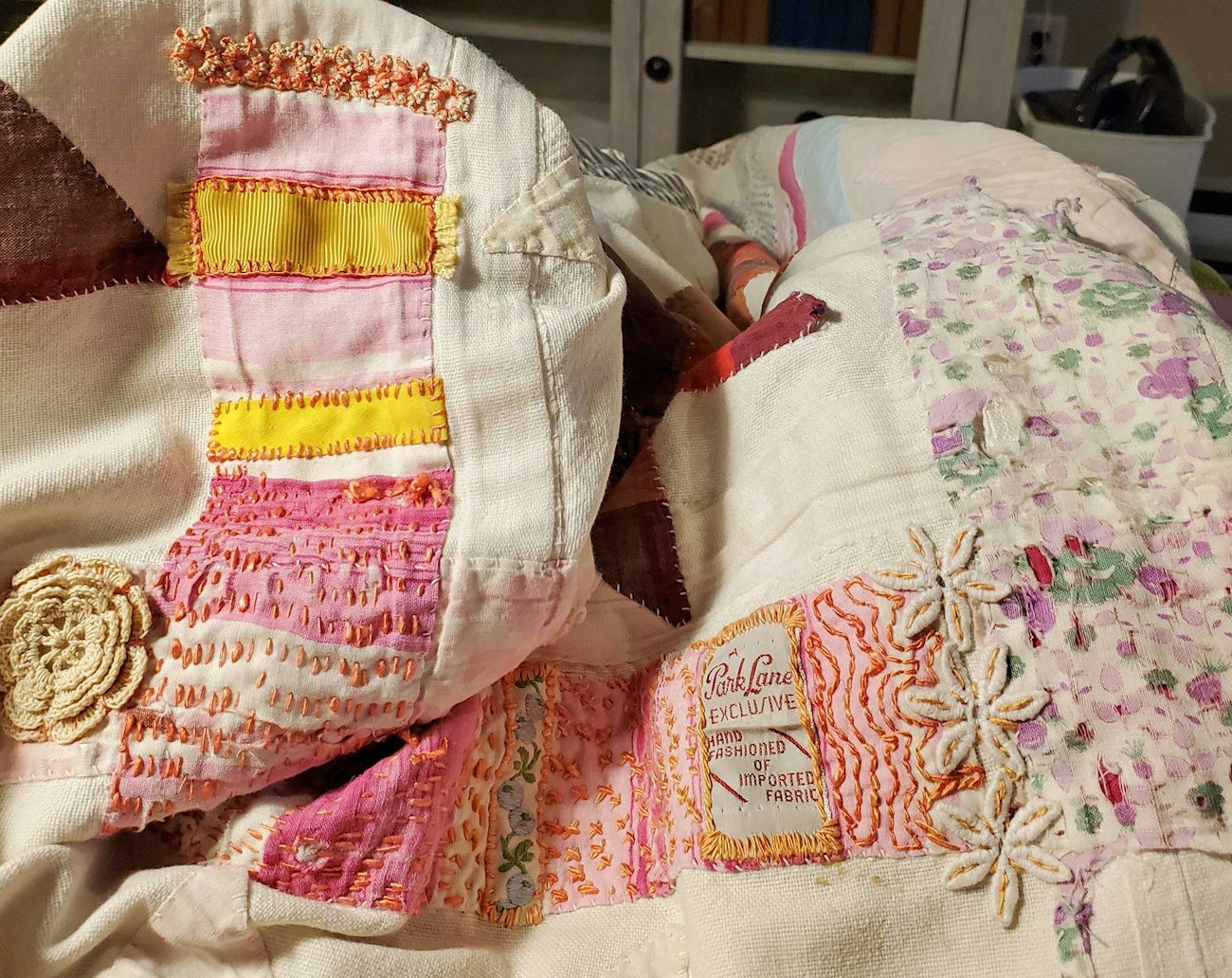 Visible mending has added even more character to Elizabeth's vintage quilt. Courtesy of Elizabeth Brunetta
I'm using a variety of visible mending and embroidery methods to revive and prolong the life of my beloved vintage quilt, which I use every day. Here is a stripe mended with my handspun silk singles. It anchors my patches, tacks my various bits and bobs, and lends color, sheen, visual interest, and strength to my mend. —Elizabeth Brunetta, Ottawa, Ontario, Canada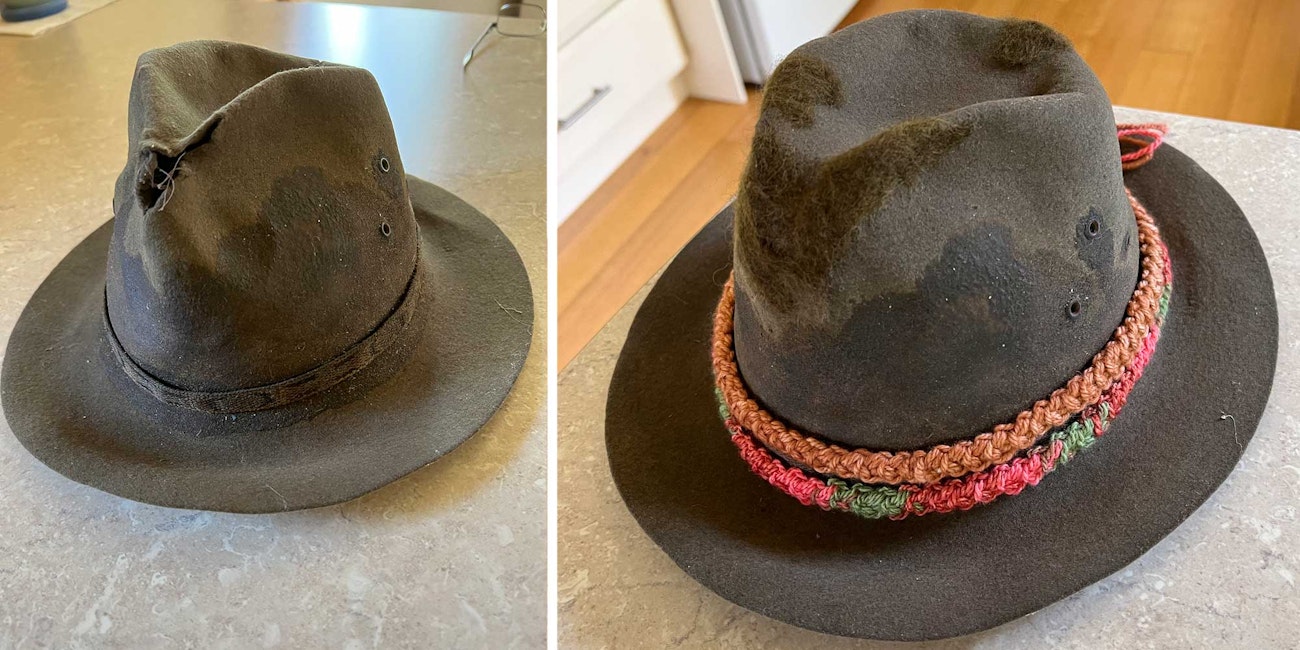 Jennifer's hat needed a little TLC and a needle-felted patch repaired the holes in fine fashion. Courtesy of Jennifer Ensley
I mended a rent in a favorite well-worn hat by lining it with wet-felted Suffolk fibers and needle felting a drumcarded blend of Polwarth/Gotland fibers on the outside. The Polwarth/Gotland fibers were dyed using Landscape Dyes. —Jennifer Ensley, Elliminyt, Victoria, Australia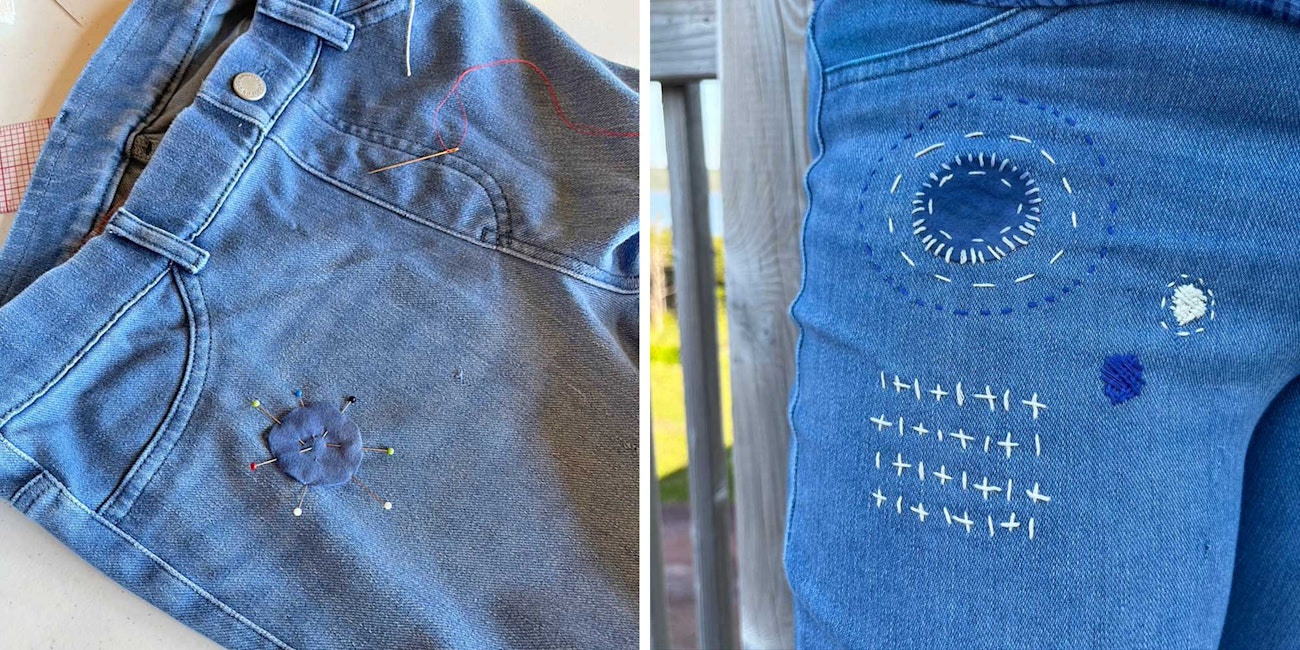 The visible mending on Rekha's jeans gives them loads of character. Courtesy of Rekha Krishnamurthi
I love these jeans, though they have a few holes. I did not want to throw them away, but how could I wear them? Visible mending to the rescue! Not only did I repair the holes, I added additional decorative stitching. Using pre-spun Sashiko thread, I used a mix of stitches, like ten-cross stitch, running stitch, blanket stitch, whip stitch and needle weaving/darning. I now receive many compliments on these jeans. —Rekha Krishnamurthi, Jersey City, New Jersey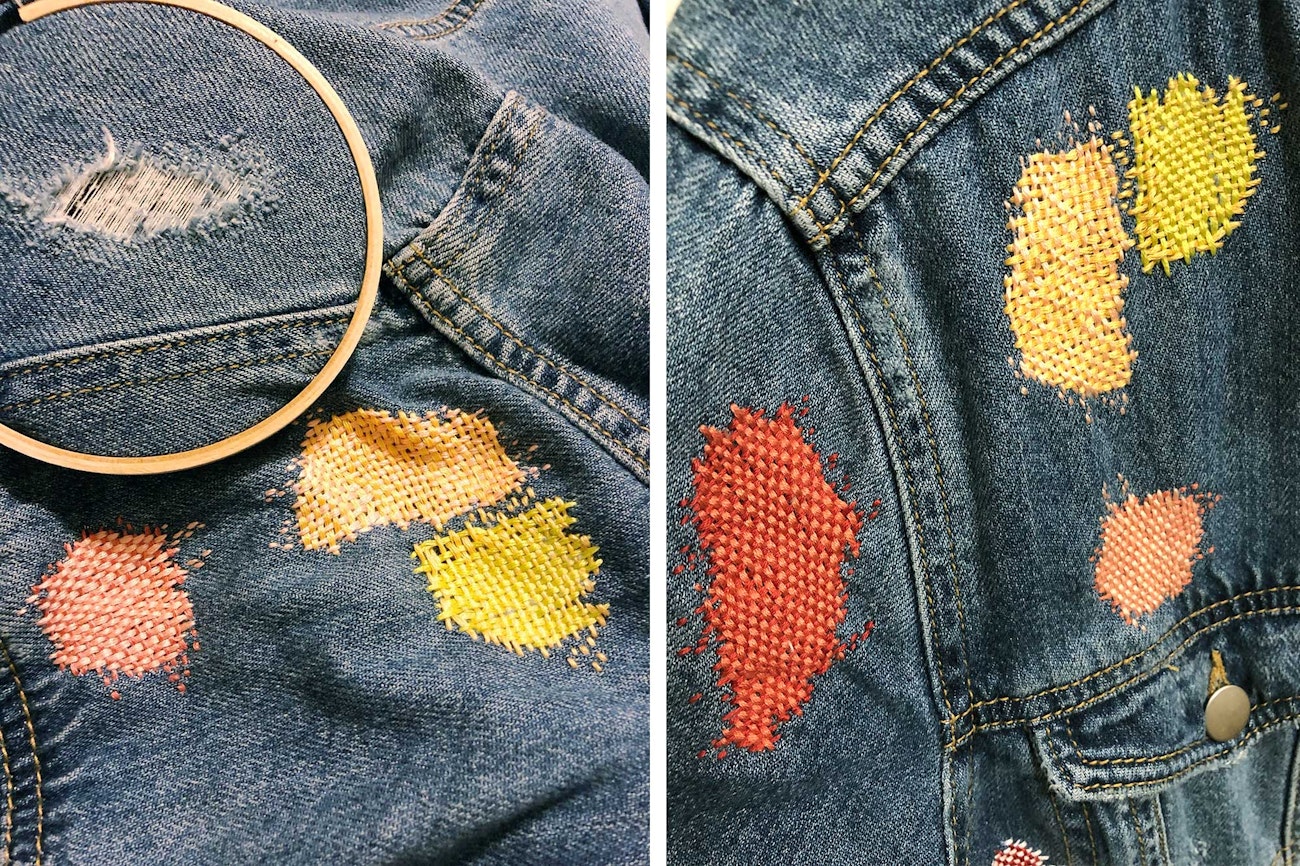 Melissa's denim jacket went from ordinary to remarkable after adding a few colorful mends. Courtesy of Melissa Galbraith
I have this soft denim jacket with terrible fashion holes in it. I knew I wouldn't wear it with the holes, and I wanted to add a pop of color to the mends. I used some of the new DMC thread colors and the darning stitch to reinforce the worn areas and add vibrancy to an otherwise ordinary denim jacket. —Melissa Galbraith, Des Moines, Washington
We'd love to see more of your mends! Tell us about your mends, send us a couple of photos, and you might be featured in Spin Off. We love to see mending of all kinds, but preference will be given to those that incorporate handspun yarns. Show us what you've got by clicking here.