One of the biggest misconceptions I encounter regarding box- and book-style charkhas is that they are not for serious spinning. The sweet little wooden box, the small cop of singles—surely these are made for travel and fun rather than sweaters and yardage. Not so.
The speed of these tools (often around 100:1, but it varies) packs a big punch. While charkha spinning for me is mostly about the joy of working with the tool, I'm still looking for efficiency as a knitter who loves garment-scale projects. These charkhas are connected with Gandhi's swadeshi movement and were always focused on the balance between meditative exercise and productivity. Box- and book-style charkhas are designed to produce handspun singles that can be handed to a weaver for use as both warp and weft in a cloth called khadi.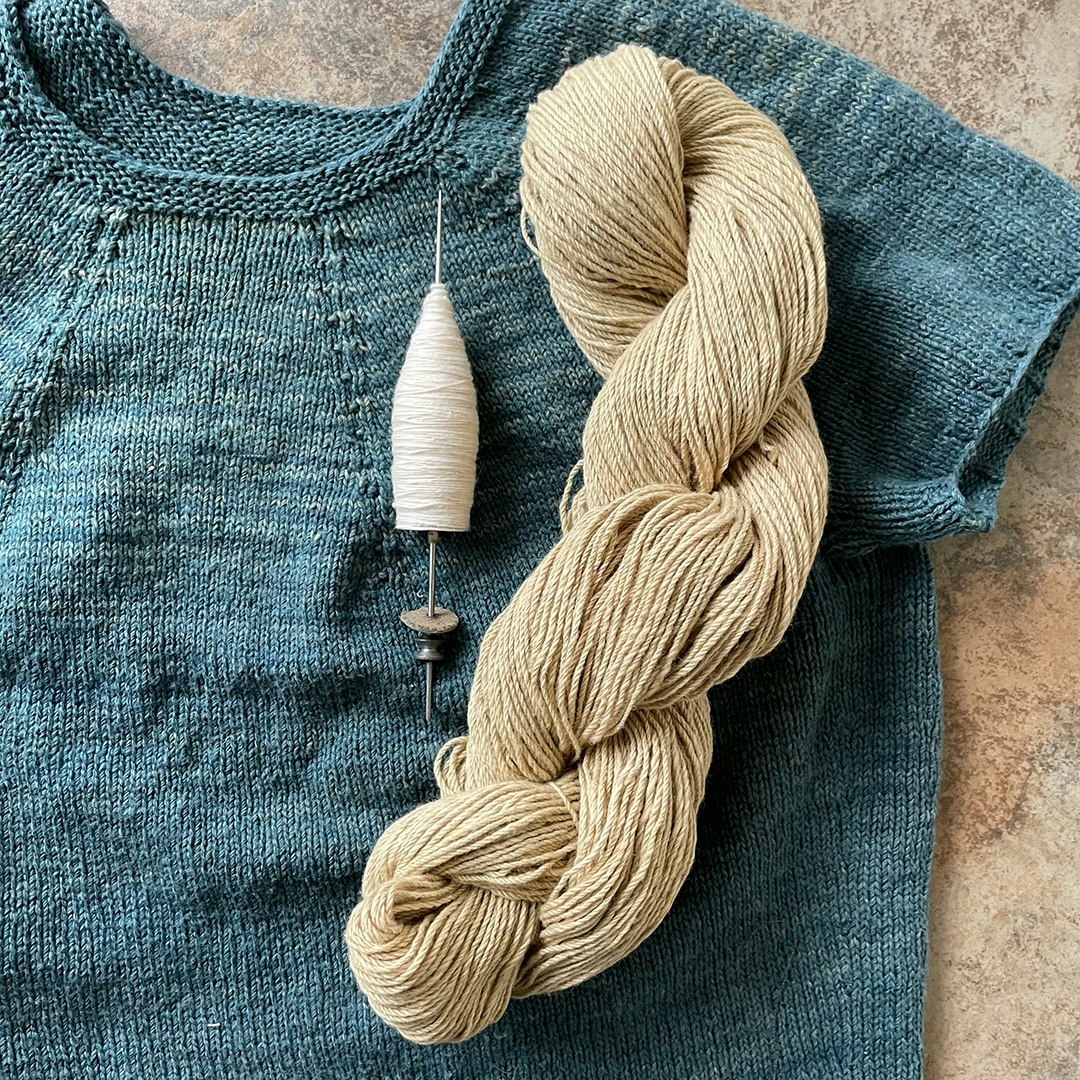 Kate's newest cotton top, knitted with charkha-spun singles in green cotton, plied on a wheel, and later dyed in indigo. Shown with a charkha spindle of white cotton and a 150-yard skein of three-ply green cotton for knitting. Photo by Kate Larson
However, as a band weaver and knitter, I want a plied yarn. While you can ply small skeins on a charkha, I prefer spinning my singles on my charkha, storing them on bobbins, and then plying generous, squishy skeins on my spinning wheel. The storage step is vital to my personal process, allowing me to reduce splicing, reaching down to change bobbins on my lazy kate, extra ends to weave in on my sweater, and all the general fuss that might slow me down.
I'll show you how I do it! My cardboard pirns (also sold as quills depending on where you purchase them) hold three charkha-spindles worth of cotton singles. Each of my spindles, depending on how fine I am spinning, average 100 yards. So, each pirn/quill holds 300 yards, and I need three of those to create a three-ply knitting yarn. My most recent short-sleeve cotton sweater used two and a half skeins of handspun cotton. I wish you could feel this velvety, indigo goodness!
You can check out my course, How to Spin on a Charkha, for tips on plying and much more. You'll learn about fiber options, adjustments and maintenance, ergonomics, spinning skills, and problem-solving to help you build your charkha confidence.
Happy spinning,
Kate
Kate Larson is the editor of Spin Off and spends as many hours as life allows in the barn with her beloved flock of Border Leicesters.