By some measures, it's barely summer, but this is the time of year when I start thinking of fall—specifically, the Spin Off Autumn Retreat. 2023 marks the 40th anniversary of SOAR, which began as a small, informal gathering in the mountains of Colorado. This year we're back in Colorado, more on the prairie than the mountains, but still full of the spirit of exploration and camaraderie.
It's been nearly 20 years since I went to my first SOAR, but I still remember the feeling of going from, "Who are these crazy spinners?!?" to "How do I get back here next year?" Another first-time participant that year called her husband to tell him that she had found her people. I asked some members of our repeat SOAR family, teachers and students alike, what their favorite lessons from SOAR have been.
Practical Advice
My favorite practical lesson was when I wound a little skein of two-ply yarn I was happy with, and another attendee dragged me into the bathroom, turned on the hot-water tap, put a little soap in the basin, and threw my yarn into it. She swished it around, scrunched it up, squeezed it out, threw it at the counter, and repeated, to my astonishment. It came out great—my first introduction to finishing with a hearty fulling pass.
Maggie Casey loves teaching spinners from beginning to expert (and many experts take beginning spinning classes from her, because you can always learn something from Maggie). Although she says she always learns from her students, her favorite lesson from SOAR was from when she was a student:
"Before I started teaching, I took a SOAR class on drop spindles from Rita Buchanan. She was the one who taught me and the rest of the class how to park and draft. I wish I knew who came up with the technique because they created so many spindle spinners. Was it Rita? But it isn't just [for] spindle spinning; it made me realize how helpful it is to break down a skill into a series of simple steps."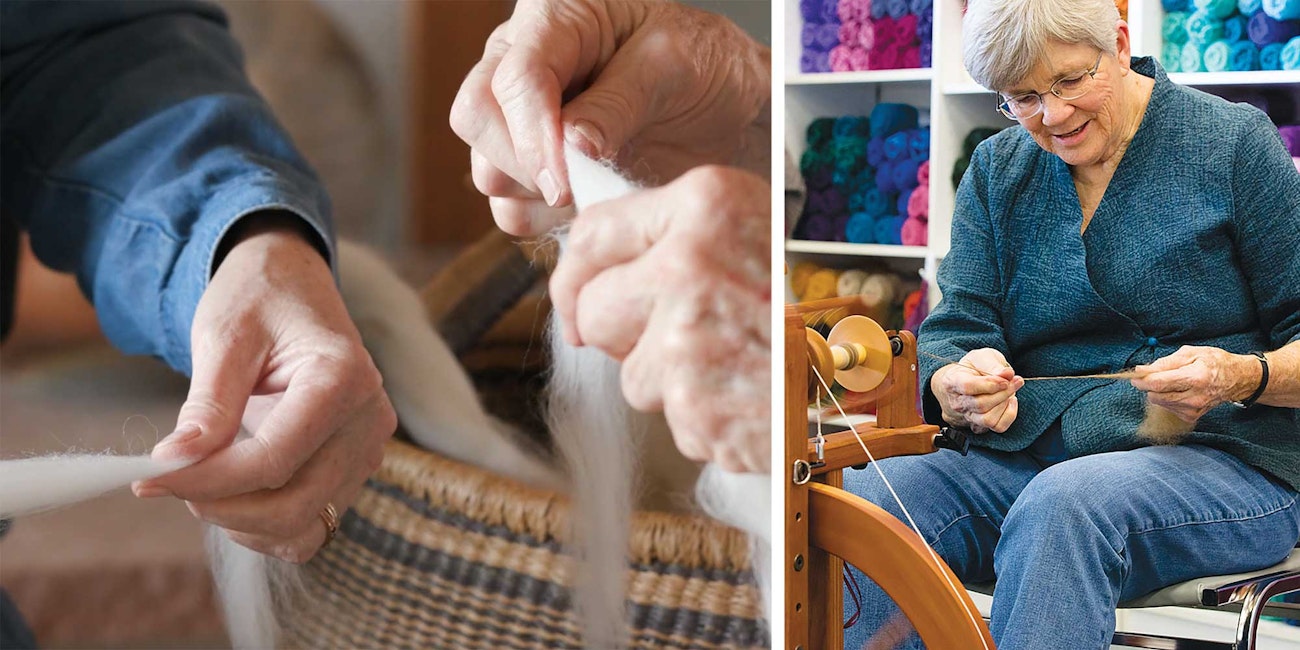 Maggie is teaching Targhee: A Sheep of the Wooly West and The Pros and Cons of Predrafting at SOAR 2023.
Devin Helmen has been spinning since they found a spindle and pamphlet in a living-history museum gift shop at the age of eight. They have a passion for practical cloth and traditional spinning. At SOAR 2022, they took a class on methods and traditions of Pueblo cotton spinning.
"The best thing I've learned at SOAR was from Louie Garcia: how to prepare cotton by hand ginning and then beating the lint to make a prep fantastic for spinning on spindles. This can prepare a large amount of cotton quickly, and the beaten prep drafts beautifully, making the spinning of it a pleasure. I was so excited to learn a technique that is so rarely taught."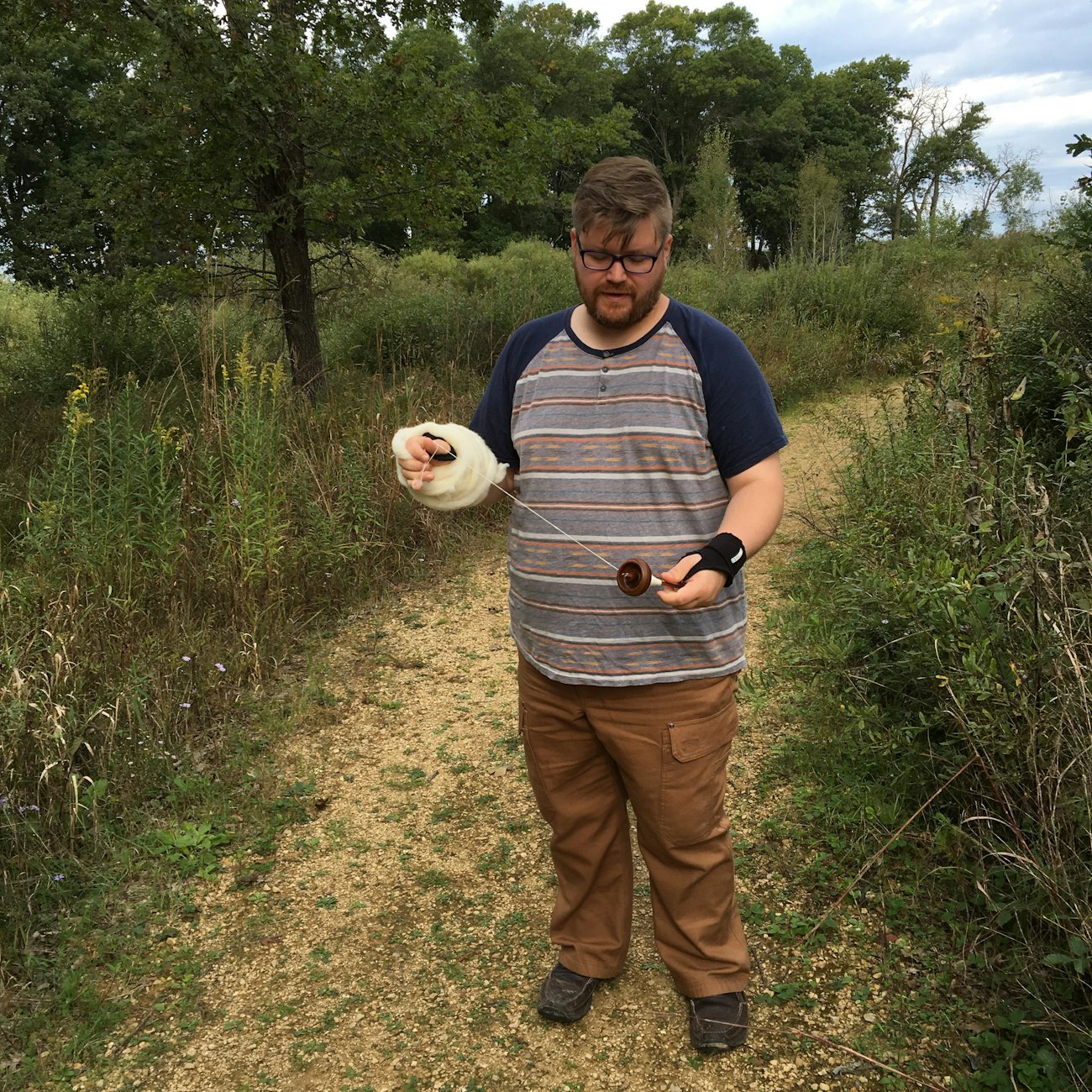 Devin, who almost always has a spindle at hand, is teaching Sturdy Spinning: Sheep Breeds for Hardwearing Yarn and Spindle-Spun Longdraw at SOAR 2023.
Spinning Life Lessons
It wouldn't be SOAR without great classes, but most of the people I spoke with said that their favorite thing they learned wasn't how to spin, it was how to be a spinner.
Kate Larson came to her first SOAR the same year that I did, though she was already a devoted shepherd. Within a few years, she was an instructor herself, but she loved her time as a student:
"How can I narrow it down to just one thing!? SOAR was so formative for my fiber life in many ways. I learned that sometimes not getting your first-choice class is one of life's greatest gifts. I discovered techniques and instructors that became an important and unexpected part of my fiber education. Another thing I learned at SOAR was that serious fiber artists can be joyful, too! My 2-day workshop at my very first SOAR in 2006 was with Deb Menz. Deb taught me so much during those class hours that I thought my brain and heart would burst, but most importantly, I saw the sheer joy that Deb still found in creating and sharing color after many years of experience. (Thank you, Deb!)"
Kate with Deb Menz at SOAR 2006 in Lake Tahoe. Kate is teaching Cold Hands, Warm Yarns: Spinning and Knitting Cozy Handcoverings; Dorset Buttons: A Handmade Tradition; and Beginning Book Charkha at SOAR 2023.
Kris Paige has been a spinner, weaver, llama owner, and veterinary technician, all roles that brought her in close touch with fiber animals. She goes where few spinners have gone before: she spins the fur of wolf/dog hybrids and volunteers at the W.O.L.F. Sanctuary in Colorado. A longtime SOAR student, she says:
"I think my favorite was showing up at my first SOAR, with my beloved Louet and some funky yarn. I was warmly and kindly greeted by sweet Dale Pettigrew. I said something along the lines of, 'I'm not sure this is yarn.' Her reply was 'Well, that's why you're here, to learn!' And I did, and have never looked back."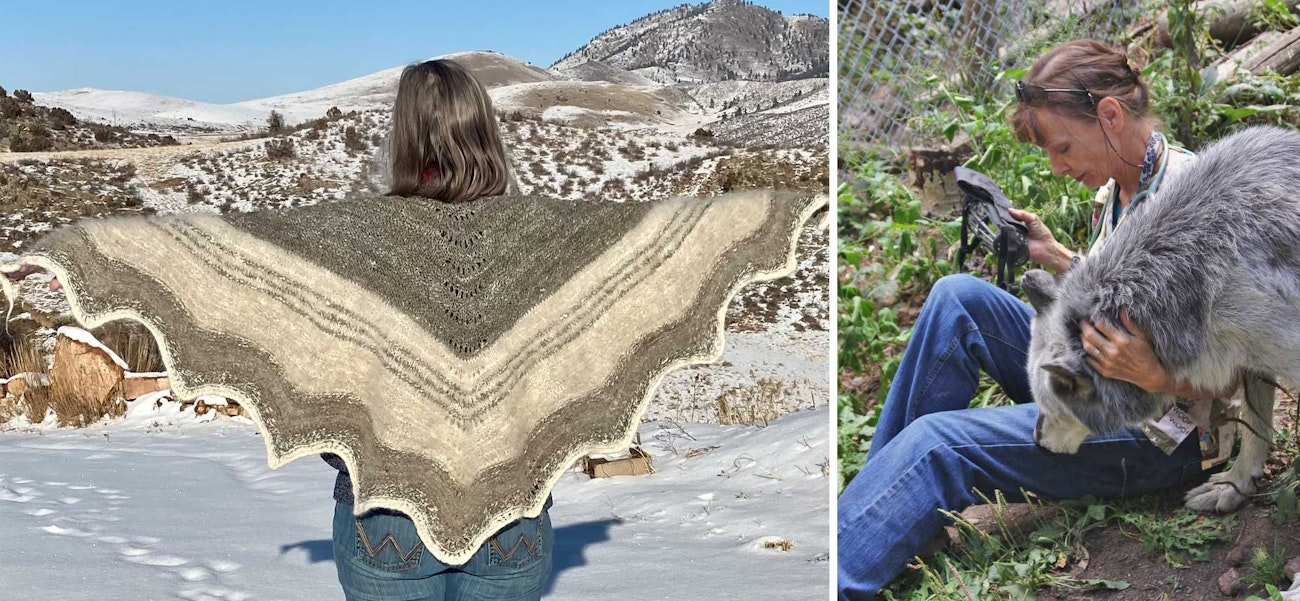 Kris is teaching A Howling Good Time: Working with Fur from Wolf-Dog Hybrids in Sanctuary.
Jeannine Glaves has been a student, instructor, and star of the SOAR Fashion Show for decades; we think she's only missed one in all the years we've held the event. "I wouldn't keep coming back if it wasn't fun," says Jeannine (who makes it fun):
"One of my favorite things I have learned is: Fiber people are the absolute best, kindest, generous, most caring people in the world!!!!! I have seen and been the recipient of many gracious acts... I have learned and been challenged—and learned, and learned. I will also have a lot of great stories to tell in my old age."
Just a few tickets remain for SOAR 2023, which will be held October 29–November 3 in Loveland, Colorado. We hope to see you there.
Anne Merrow is a cofounder of Long Thread Media.