Our beloved spinning wheels are great communicators. They readily inform us when something has gone awry. The occasional squeak or unexpected screech is a spinning wheel's cry for a little bit of love and care—and lubricant! When applied to very specific moving parts, a fresh application of lubricant, such as spinning-wheel oil, will more than likely settle the shrieks of a cranky spinning wheel.
The specifics of spinning-wheel lubrication are often a topic of hot debate, but most spinners agree that most spinning wheels work more efficiently with less stress on moving parts when lubricated. The majority of manufacturers will indicate how to lubricate your wheel, so start there first. However, many spinners, including myself, own antique wheels or those whose makers are not available for guidance. Here are a few things I've learned along the way.
When to Lubricate
Don't wait until your spinning wheel makes unpleasant sounds to lubricate its parts. Oiling your wheel should be part of a regular maintenance routine. The spinning wheel should be free of dust, dirt, old grease, fiber, and debris before you apply a fresh coat of oil or other lubricant to the various parts mentioned below.
Spinning wheels vary in their needs and frequency of maintenance. My personal preference is to lubricate my spinning wheel before a spinning session as well as during a session, going no longer than two hours without a fresh application to specific parts.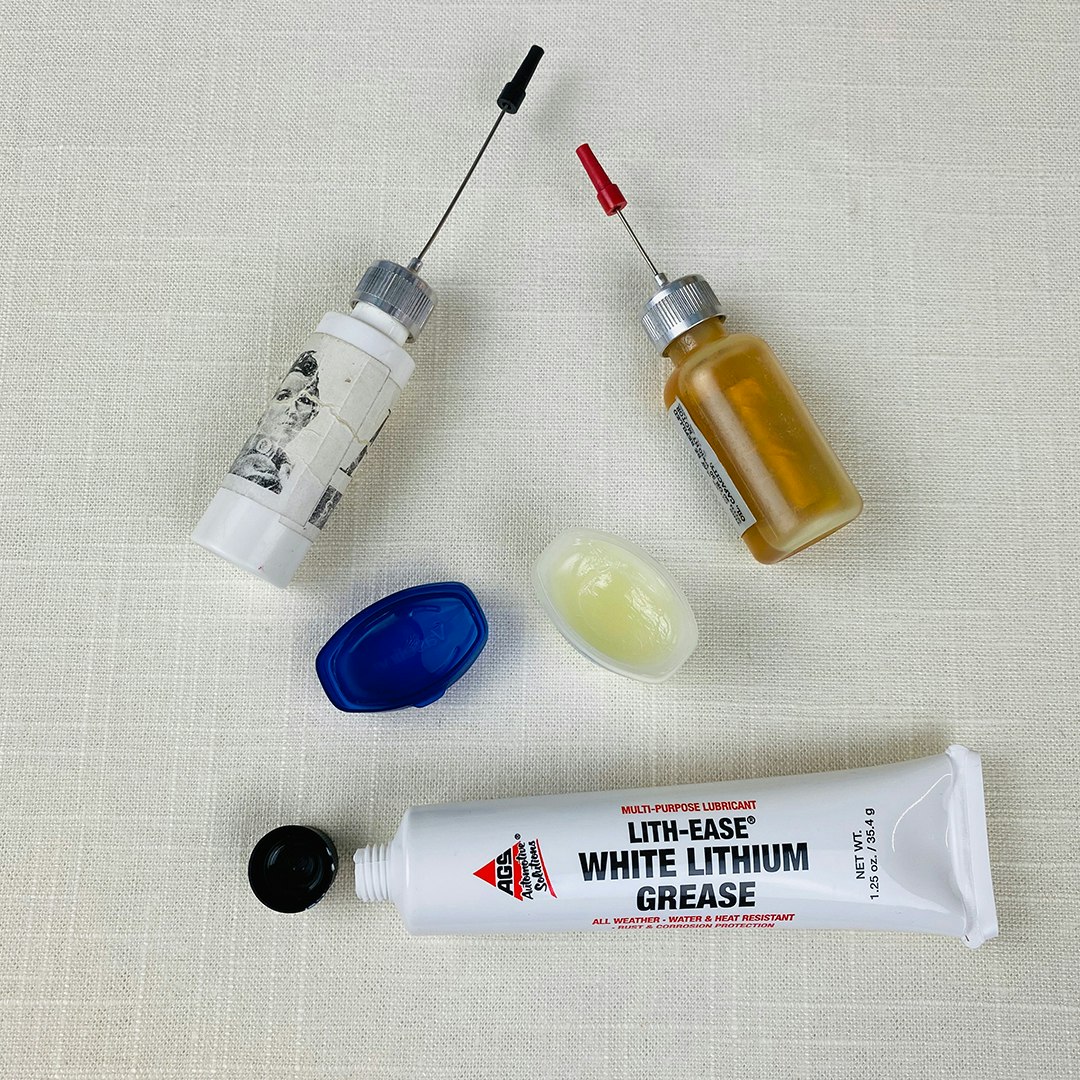 Heavenly keeps a variety of lubricants on hand for her wheel's different parts.
Select a Lubricant
Choosing oil, wax, grease, or petroleum jelly is a matter of preference and depends on the location you need to lubricate. There are oils made especially for spinning wheels by wheel manufacturers. Sewing-machine oil and 30-weight motor oil are also good options. Your choice of lubricant will also impact how often you need to apply it. For example, a lightweight oil, such as sewing-machine oil, might require more frequent use. Note: Always follow the directions in the manual (if there is one) provided by your spinning wheel's maker.
Where to Apply
Where exactly should you oil a spinning wheel? Sometimes this can be confusing, especially on vintage wheels that lack a manual. A few key parts of a wheel benefit from an application of lubricant. Here are the most common locations:
Add lubricant where the two metal pins on either side of the treadle insert into the spinning wheel leg. I like to apply spinning-wheel oil directly on top of the metal component, and a touch of white lithium grease in the hole of the leg has proven to be very effective, too.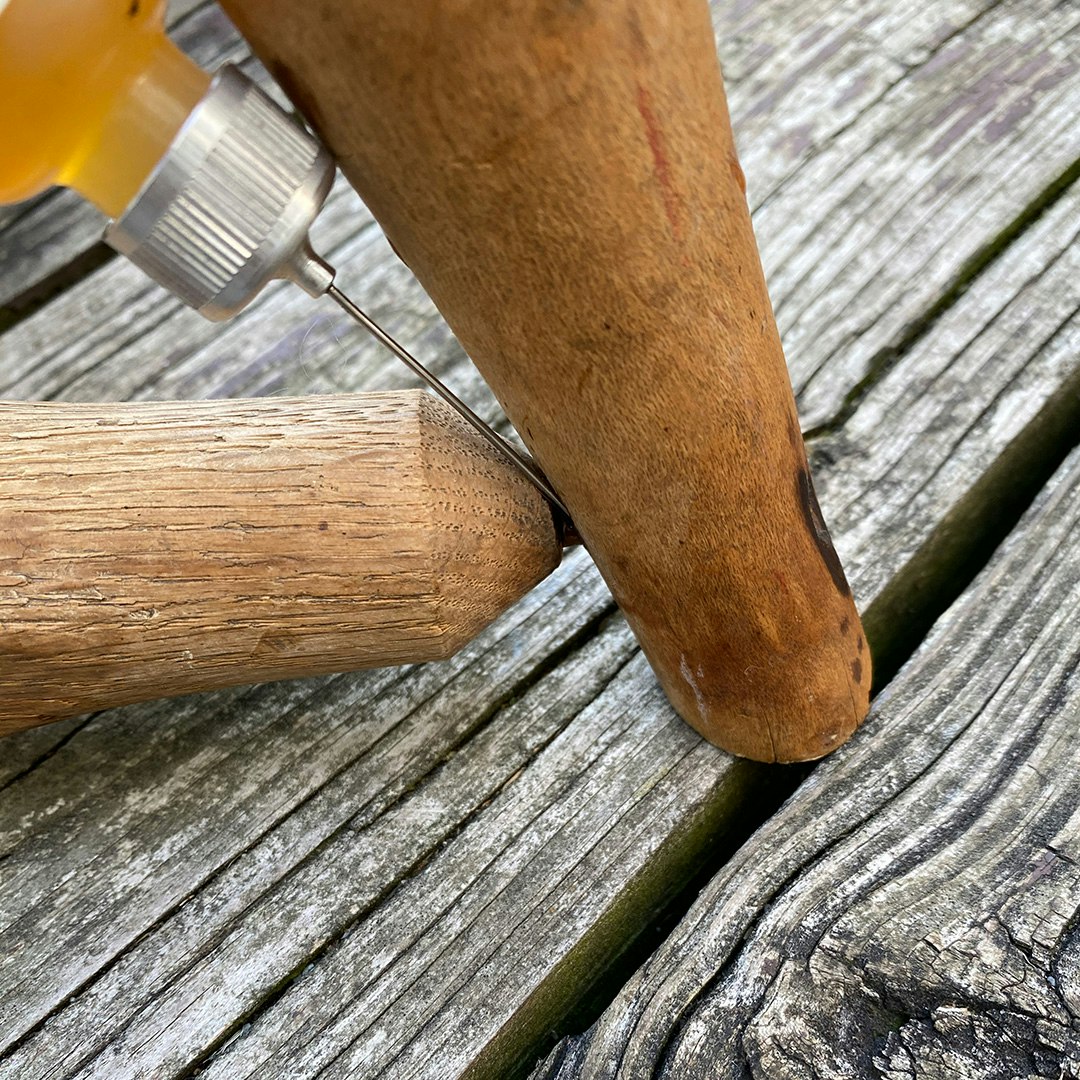 Oil the metal pins where the treadle and spinning-wheel leg meet.
Lubricate the places where metal meets leather bearings. First, oil the outside of the orifice with a drop or more of spinning-wheel oil. It is important to make sure the oil does not spill over toward the inside of the orifice opening; lubricants can soil or damage spinning fiber. The second area is the opposite end of the flyer where the shaft rests into the leather bearing of the uprights or attaches to the wheel. Again, spinning-wheel oil is applied directly on the metal.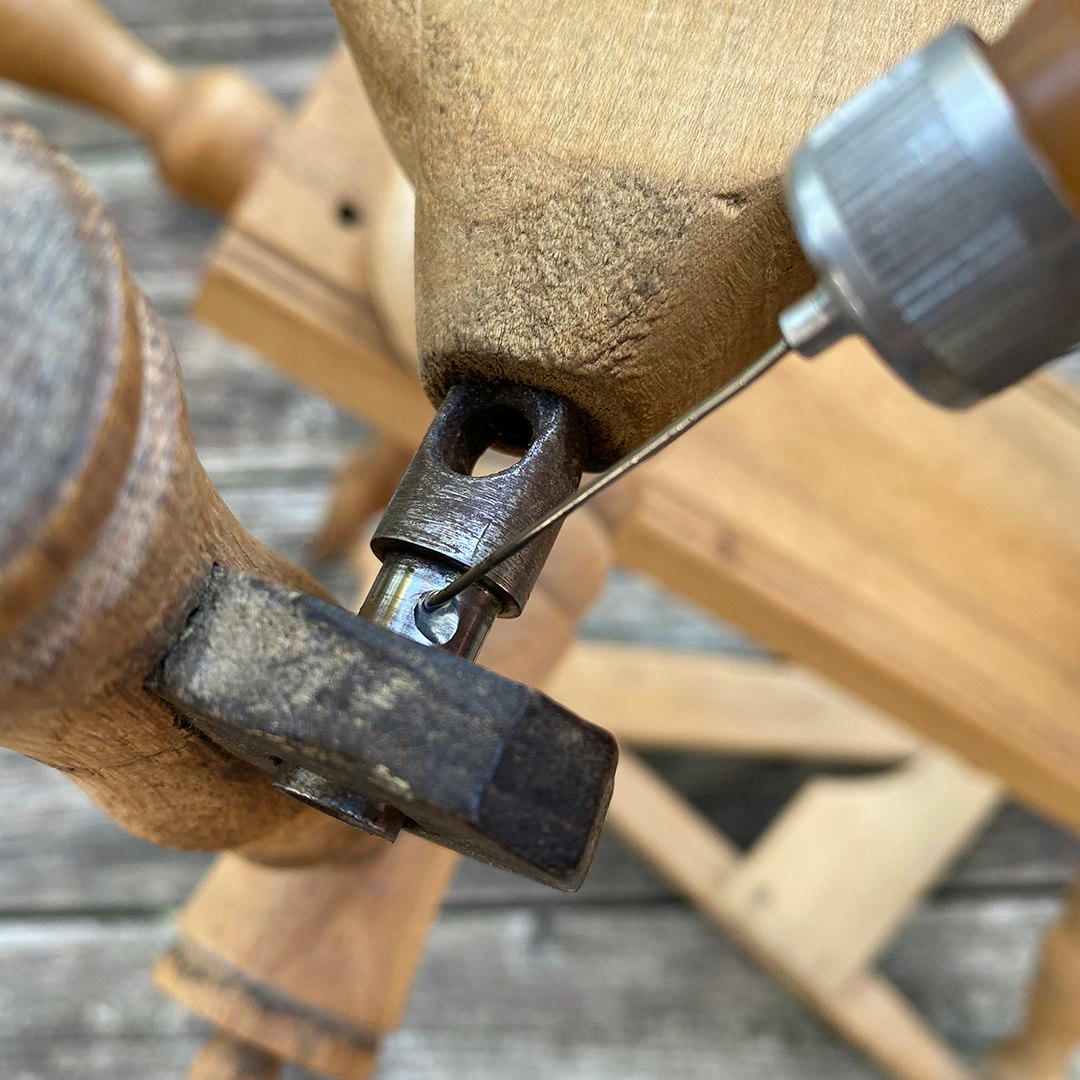 Add a drop or two of oil to the orifice.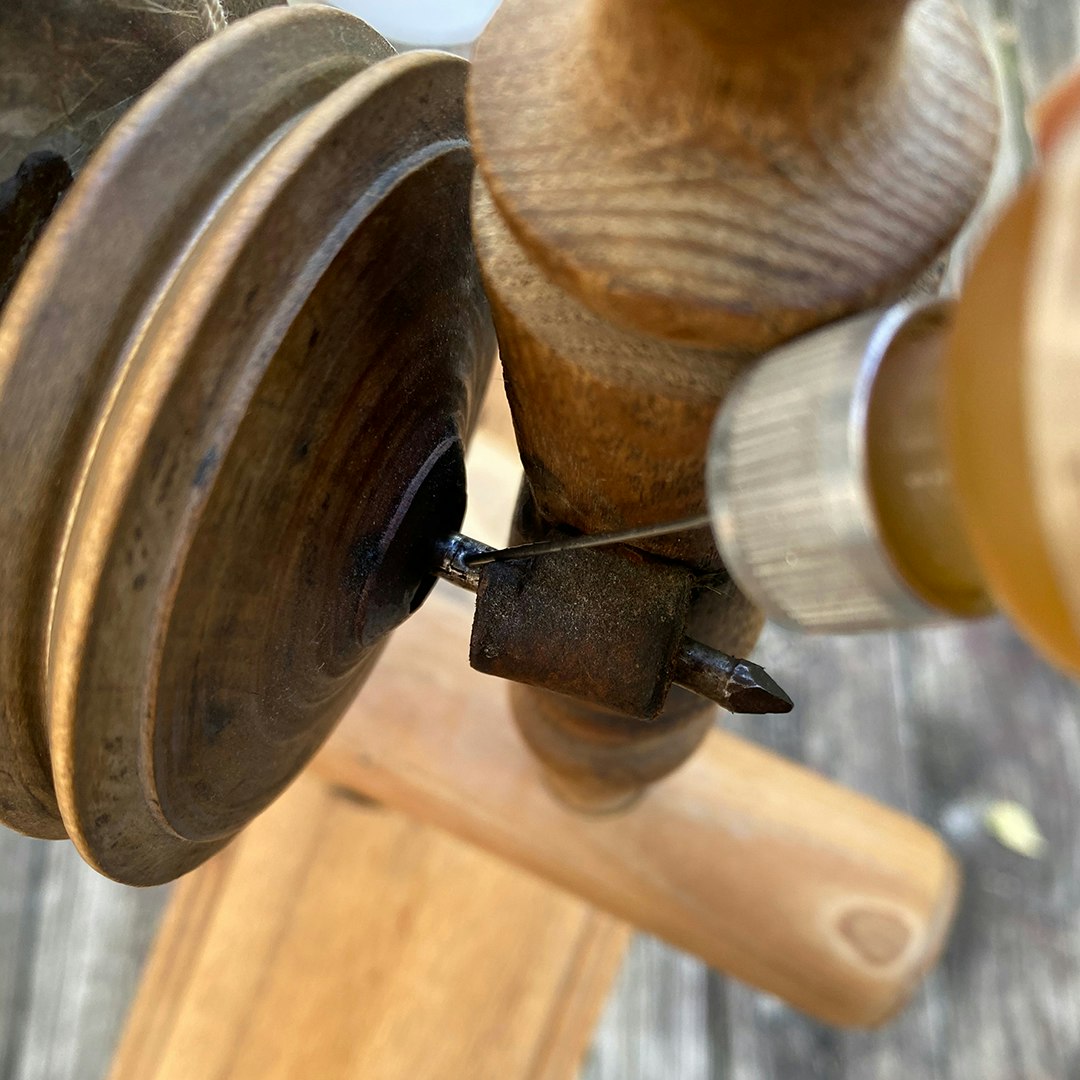 Add oil where the shaft connects to the wheel.
Lubricate where the bobbin rests on the flyer shaft. Remove the bobbin (and flyer whorl or pulley, if applicable) from the flyer and use a towel to wipe the old grease or oil from the shaft of the flyer. Also, take a look inside the bobbin because there's often a build-up of dirt and grime inside there; use a pipe cleaner to reach inside. After cleaning, apply a fresh, light coating of spinning-wheel oil directly to the shaft where the bobbin is normally positioned. Oil the shaft every time you change your bobbin.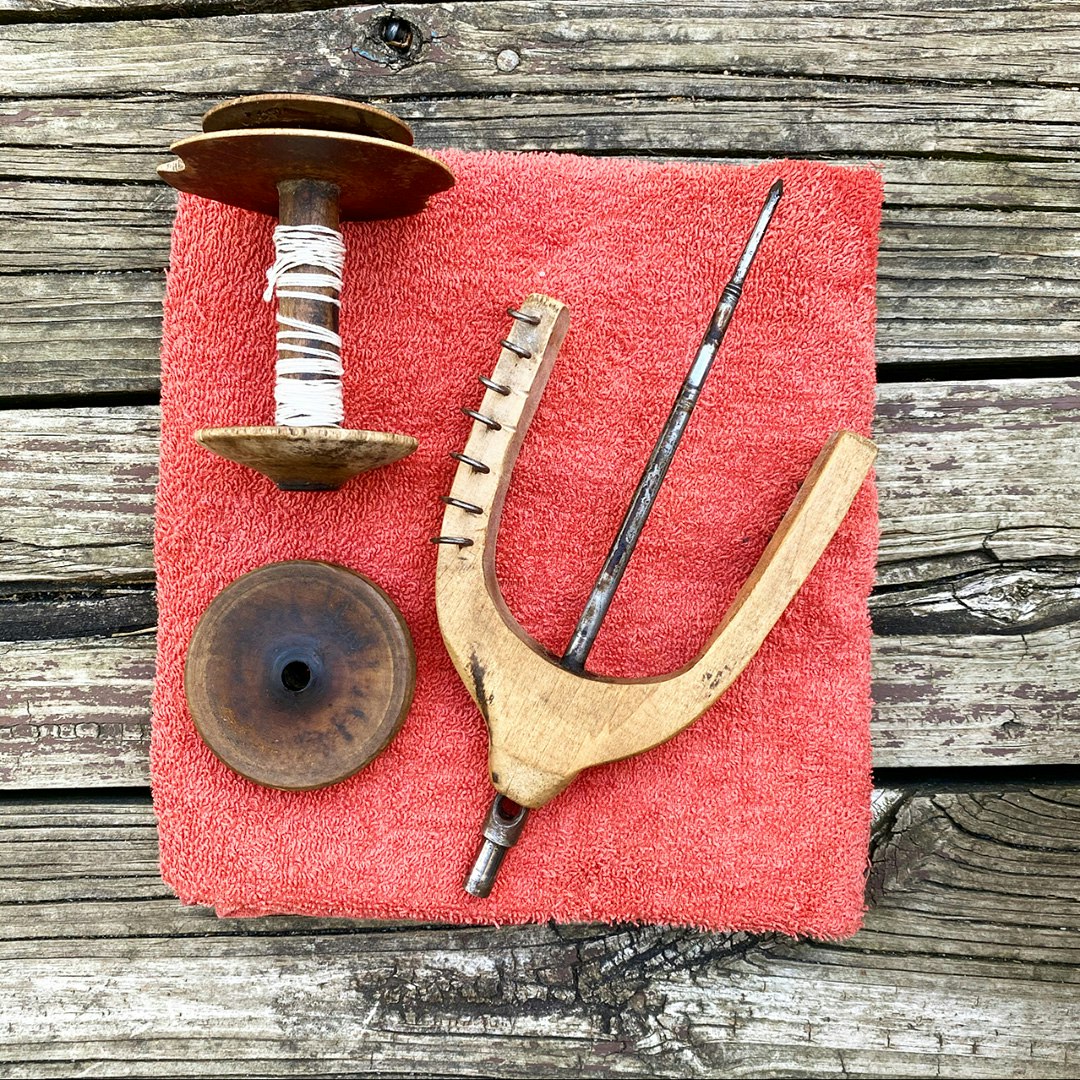 Add oil to the flyer's shaft every time you change the bobbin.
If your wheel does not have a sealed wheel-hub bearing, the location where the axle rests on the drive-wheel supports needs lubricant, too. For this area, I prefer to use a tiny bit of white lithium grease, and I apply it directly to the metal parts. Some spinners prefer to use petroleum jelly. It is important to note that leather shims are often used on antique and vintage spinning wheels in this area to help level the drive wheel. In that case, the leather should be treated with leather conditioner or dipped in spinning-wheel oil for smooth operation.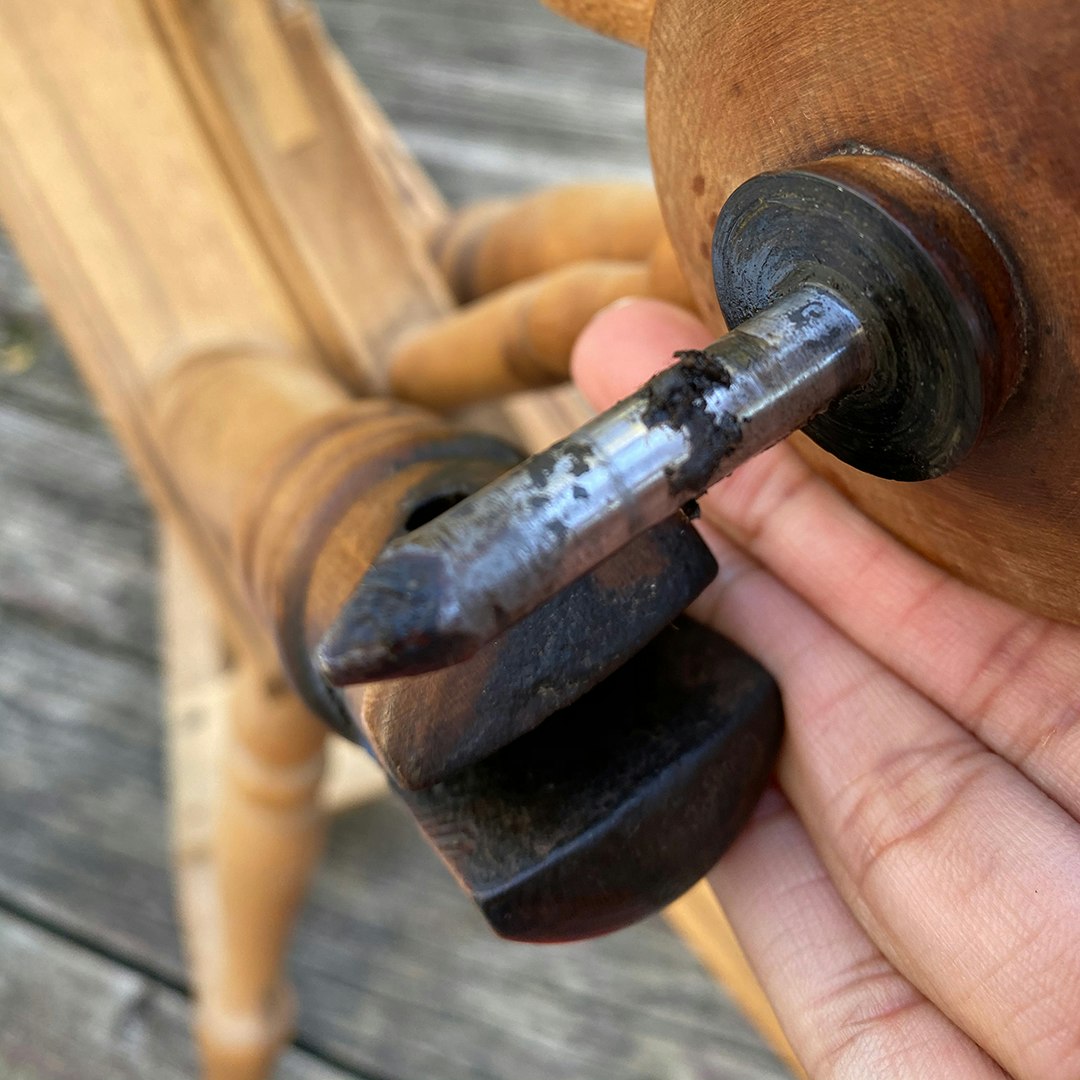 Lubricate the metal parts of the drive wheel if you do not have a sealed bearing.
The spot where the crank and footman meet can be rather noisy, especially on some older wheels. I recommend using paraffin wax by applying it directly to the hole of the footman. Some prefer to use petroleum jelly here. It is not uncommon to have a piece of leather on the bottom of a footman connecting it to the treadle. The leather here can be treated similarly to the leather shims.
Just a few minutes of care will keep your beloved spinning wheel in tip-top shape and spinning beautifully.
Happy spinning!
Heavenly Bresser is the owner of Heavenly Knitchet. She is an award-winning handspinner and teacher at major fiber events all over the United States. Aside from spinning and teaching, she can be found dyeing fibers and making jewelry. Her goal is to inspire, encourage, and uplift other fiber artists. Visit her online at heavenlyknitchet.com.
Originally published October 19, 2020; updated December 28, 2022.