I love knitting with my handspun for so many reasons. Using our own yarns gives us all those warm and fuzzy feelings, but the process of using our yarns also gives us vital information about what does and does not work well, and how we will adjust as we move forward.
Many spinners find that learning to spin cotton on a book or box charkha takes a lot of practice. Sage advice that Stephenie Gaustad passes along in her book on cotton puts it best: "Bette Hochberg once told me that the best teacher for spinning cotton was a pound of it." My goal with this simple shawl recipe is to see how that pound of imperfect practice yarns can be put to good use!
Spinning Notes
When I teach beginners how to spin cotton, I like to provide a wide range of colors and preparations. The natural color cotton we can currently purchase in slivers varies quite a bit in character: green is often silky and short, brown is often a bit crimpy and short, tan and white are often longer staple, and so on. Each of these will feel different in our hands as we get comfortable managing twist and drafting. Trying different colors until you find the one that works best for you at that time can smooth your spinning path. And bouncing between colors leaves you with a multicolor bobbin, which I find so striking!
I spun the yarn for this specific shawl while I was rehabilitating some timeworn charkhas. Because they were not in tip-top shape and I was focused on the tools and not the yards of singles, the yarn I was producing was uneven. There are slubs and thin spots and the gauge varies. However, once plied into a 2-ply yarn, this handspun shines when worked in the simple texture of garter stitch.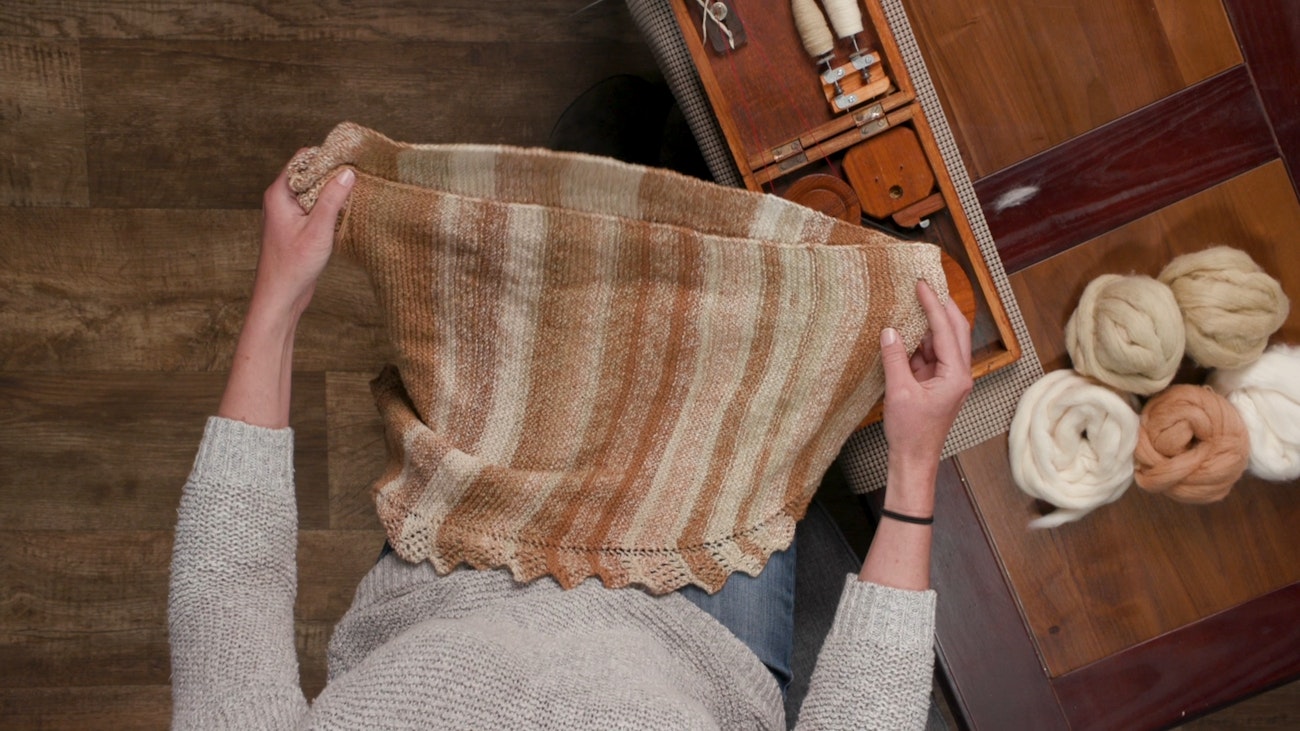 Kate's shawl, as seen in her course How to Spin on a Charkha
Pattern Recipe and PDF Download
Kate used a simple construction to knit an asymmetrical triangular garter-and-lace shawl.
For her shawl, Kate used the traditional Shetland edging pattern called Brand Iron (from The Magic of Lace Knitting by Elizabeth Lovick), but any garter-stitch lace edging will do. Try Hilton Lace or another favorite pattern.