When Annamarie Hatcher suggested that we experiment with spinning and knitting silky-variety llama fiber, I was intrigued. Although I specialize in knitting and spinning in my work as a professional historic interpreter at Nova Scotia's Fortress of Louisbourg National Historic Site, silky llama falls outside my usual range of materials.
We anticipated using llama in blends with other fibers to spin for our specific goals. We aimed for one blend that would produce a hard-wearing, comfortable pair of hiking socks and another blend for a luxurious, lustrous shawl. To us, these goals represented two ends of a spectrum that would give us a better understanding of the llama fiber and all its possibilities.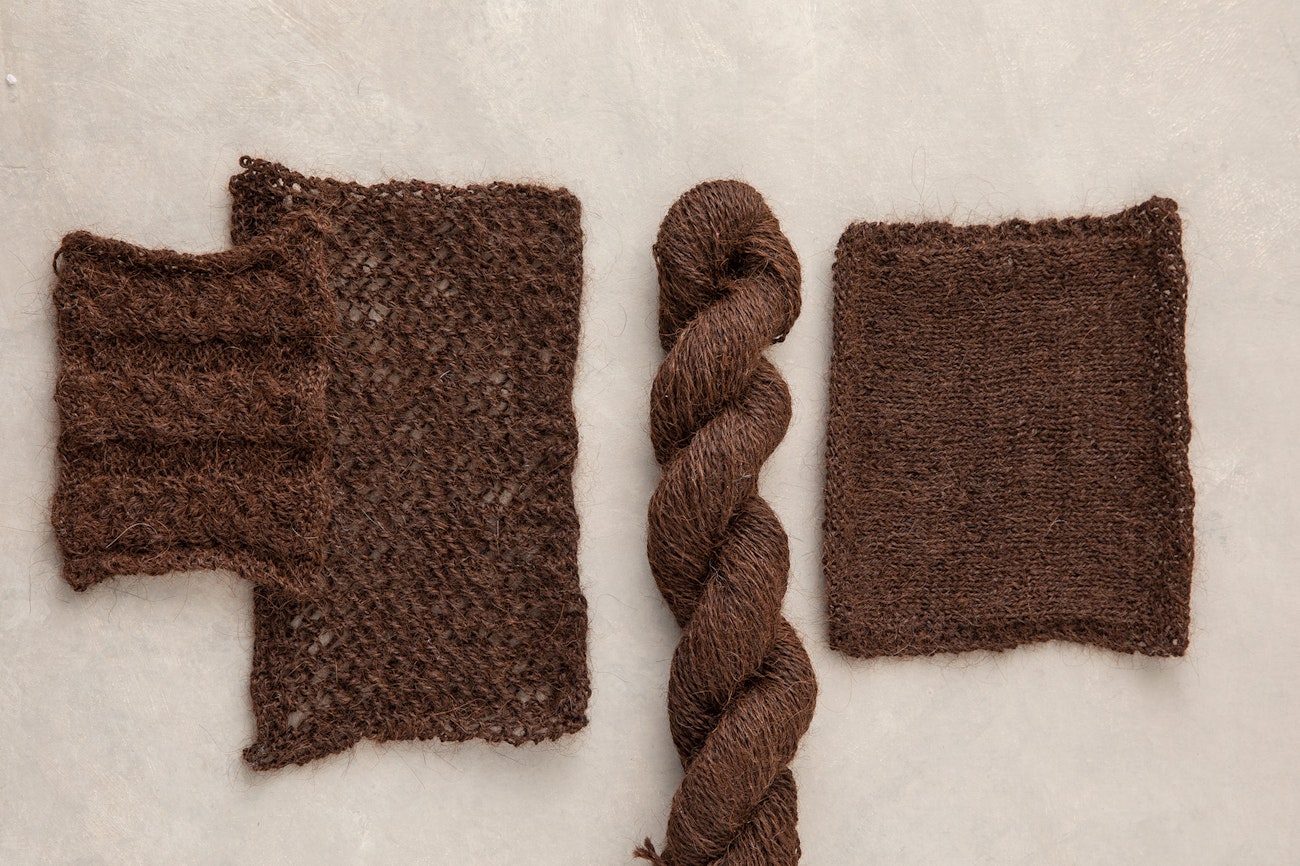 Despite their rich brown color, the 100% silky-llama samples weren't suitable for either of our goal yarns.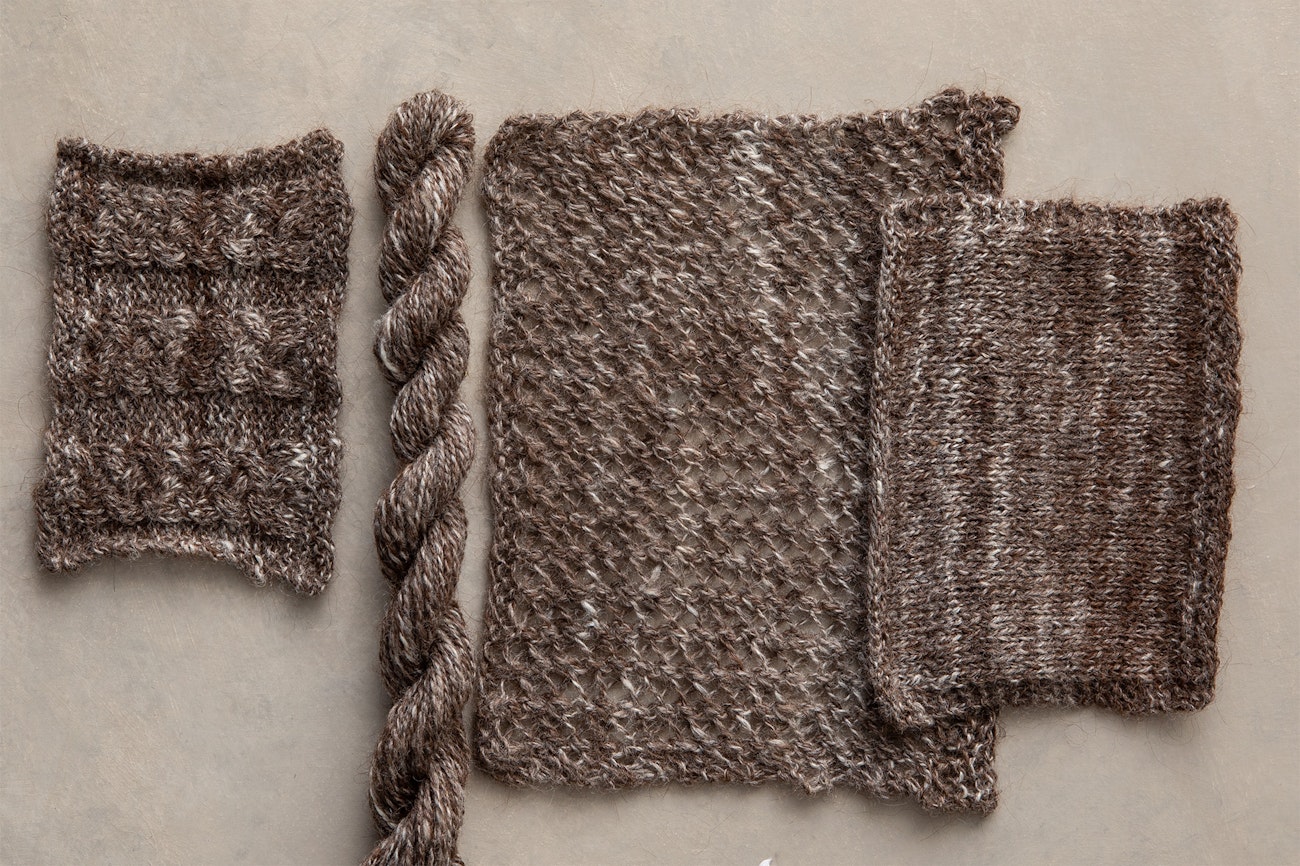 The 50% silky llama/25% tussah silk/25% Romney wool swatches had the right combination of definition and body for hiking socks.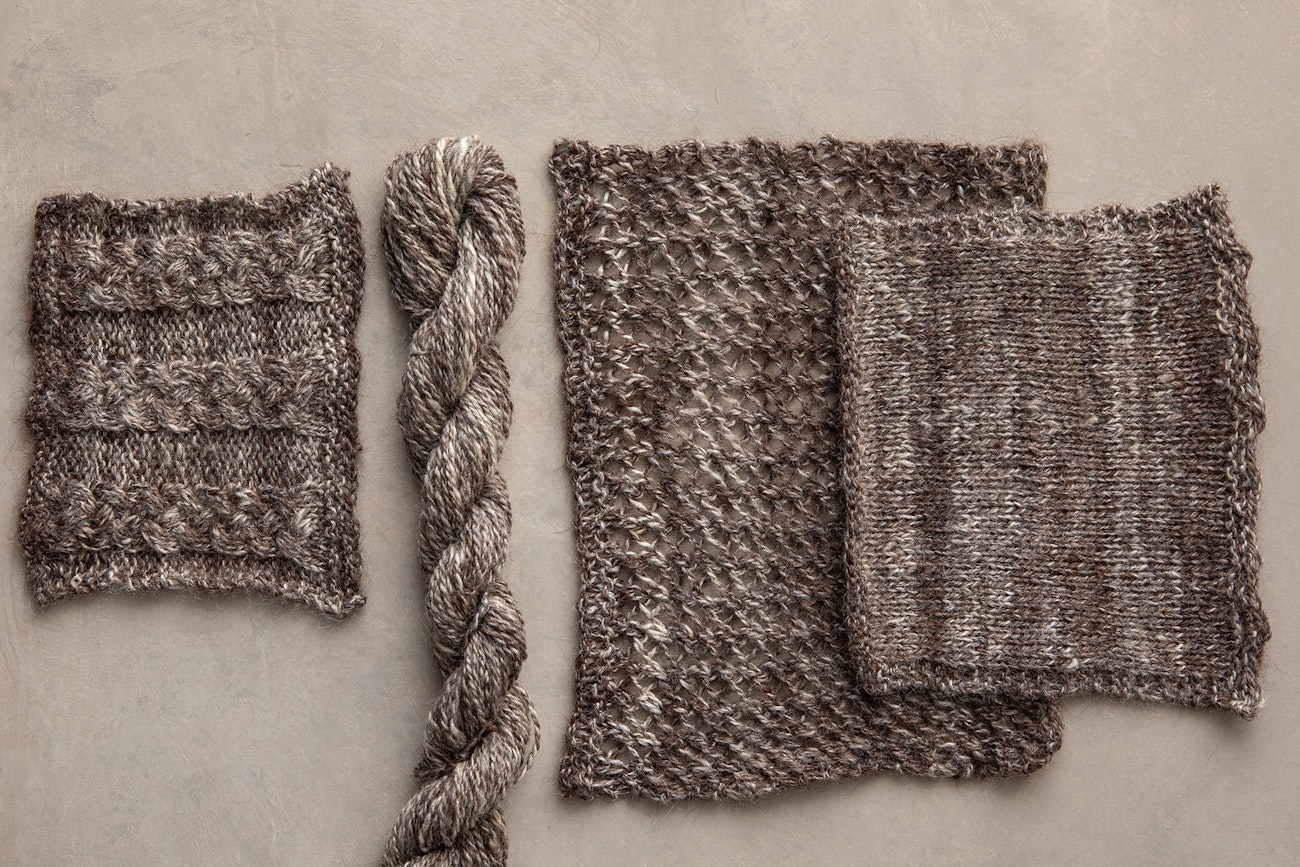 Airy and open, the lace swatch in 25% silky llama/25% tussah silk/50% Romney wool was just right for a lace shawl.
Silk was a necessary addition for our sock blend to wick away moisture and provide strength for longer wear. The llama fiber would add strength to the sock yarn as well as softness and warmth. However, the lack of memory in the llama fiber would lead to a sock that would likely wrinkle under foot and sag at the ankle, so we added wool to the blend. We chose fleece from a locally produced Romney—a versatile fleece with a well-defined crimp—to make up for the crimpless silky llama and tussah silk (see Table 1).

For the shawl, we wanted a yarn that would sensuously drape over the shoulders and (the tricky part) provide crisp definition for the lace pattern. We thought that the llama and silk fibers would contribute to the first goal and the wool to the second.
We used a drumcarder to blend the fibers, which I then spun in the Z direction and plied in the S direction as a two-ply laceweight or light fingering-weight yarn (see Table 2).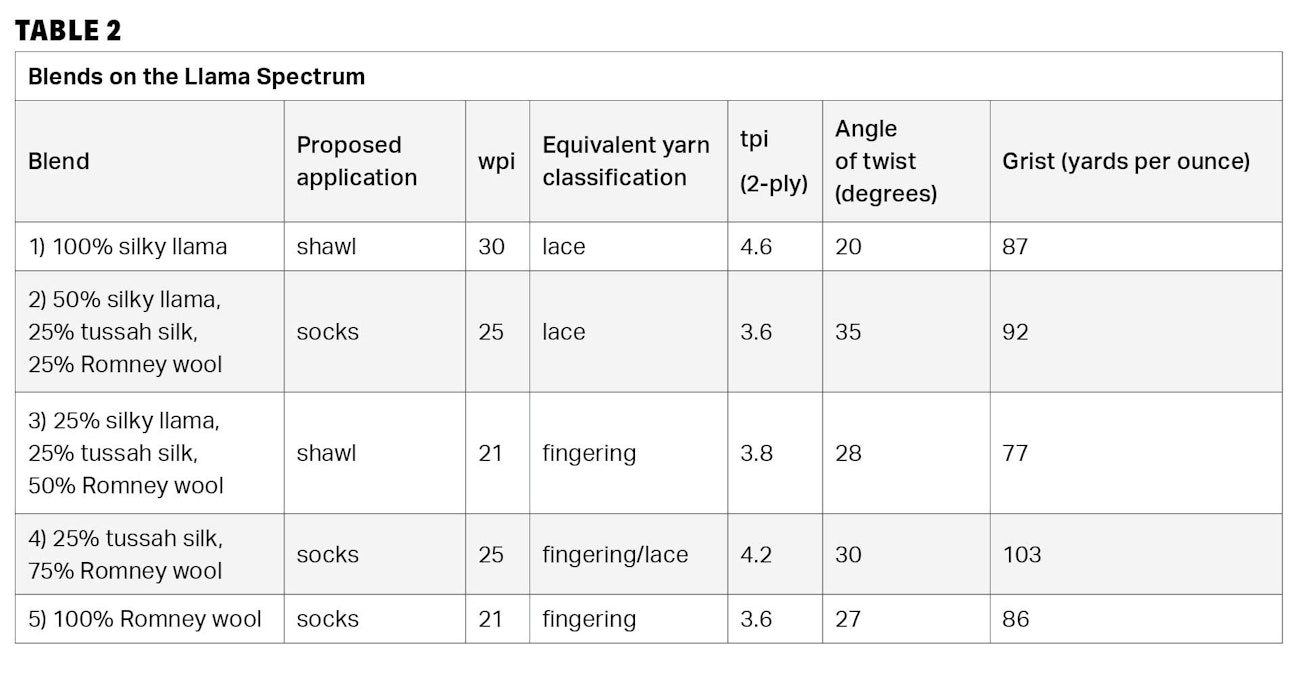 Sampling Yarns Along the Spectrum
To anchor one end of our spectrum, I used 100% silky llama (Blend 1), and for the other end, I used 100% Romney wool (Blend 5).
To test our blends, we needed to swatch. For each blend, I knitted three swatches of 40 stitches: stockinette stitch on US size 1 (2.25 mm) needles; a simple lace pattern of yarn over, knit 2 together on US size 4 (3.5 mm) needles; and a pattern from Barbara Walker's A Second Treasury of Knitting Patterns called Celtic Cable, also knitted on US size 1 (2.25 mm) needles. These swatches told an interesting tale.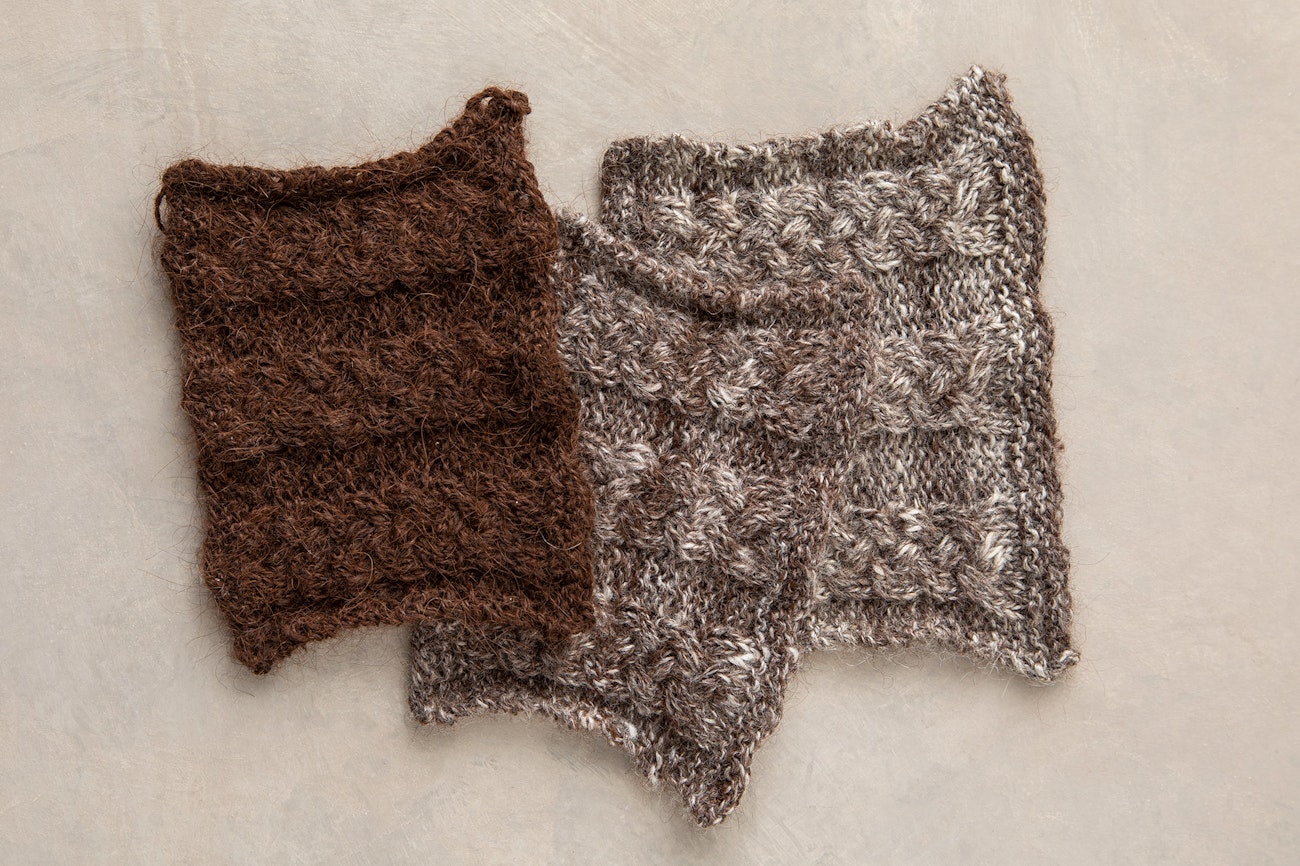 From left to right: Blend 1, 2, and 3. Each of the three fibers in the blends enhanced a different aspect of the yarn.
None of the 100% silky-llama swatches (Blend 1) held their shape after blocking. In the knitting pattern we used, we felt they were lackluster and flat with little definition and no three-dimensional quality.
The second set of swatches was in our sock blend (Blend 2). The lace swatch was lovely but lacked the airy quality that we would want for a shawl. The cable swatch was perfect—sturdy and dense without being heavy, with good definition and visibility.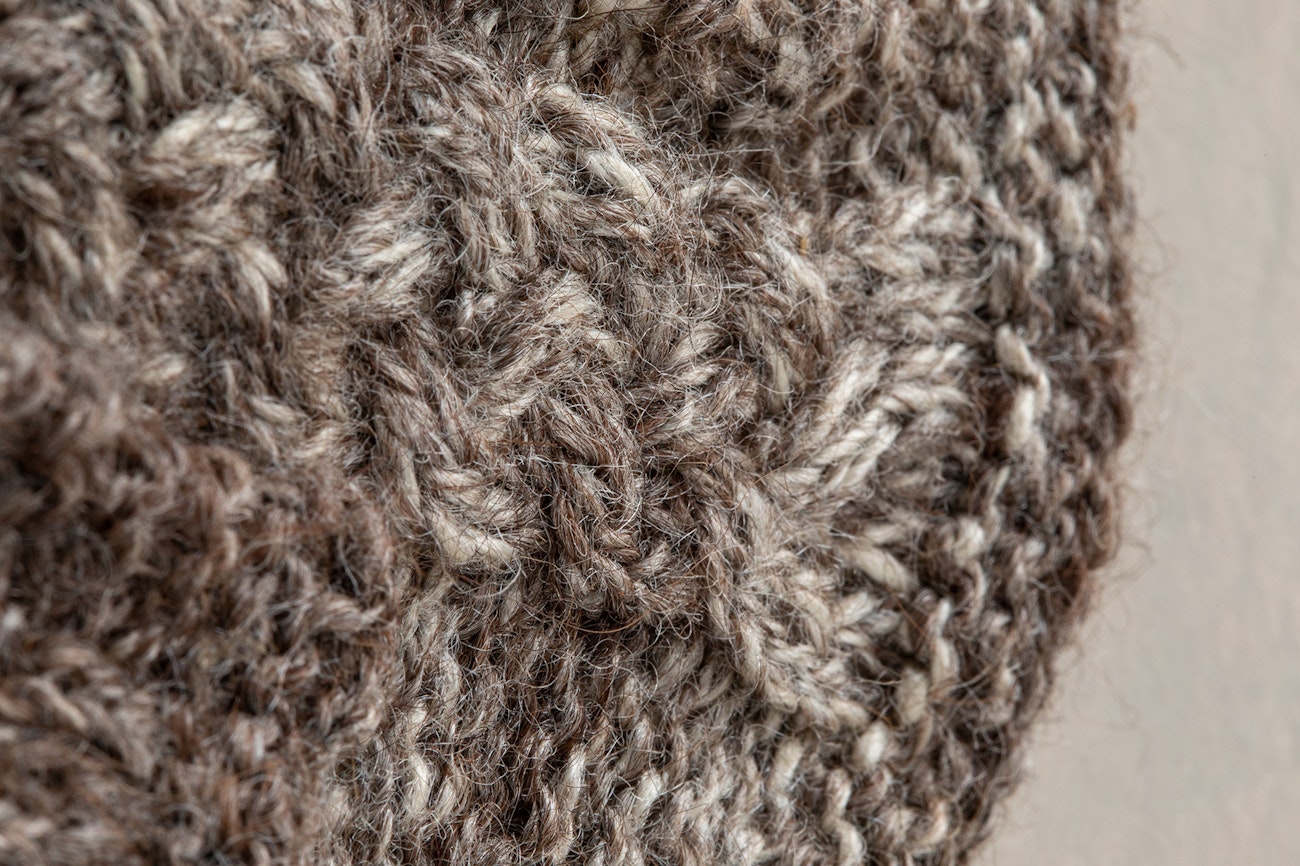 Blend 2 of silky llama, tussah silk, and Romney creates a beautiful heathered effect when knitted.
The third set of swatches was in our lace blend (Blend 3). They held their shape after blocking. The cable swatch was a better sample than the silky llama alone, but it lacked the definition and density that would make a sturdy pair of socks. The lace sample popped! It blocked beautifully, gave the lace a lovely rounded quality, and felt light, airy, and soft as well. Success!
I also decided to swatch a wool/silk blend (Blend 4) to better understand the contribution of the llama to our combinations. Working with the Romney wool and tussah silk alone, I realized that the silky llama added depth and quality to all the blend swatches.
This has been quite an eye-opening experience for me. The possibilities that llama blends can offer is more apparent to me—and I know now that the true test of any yarn you spin is not just in the properties of the skein but in the textile that comes to life on your needles.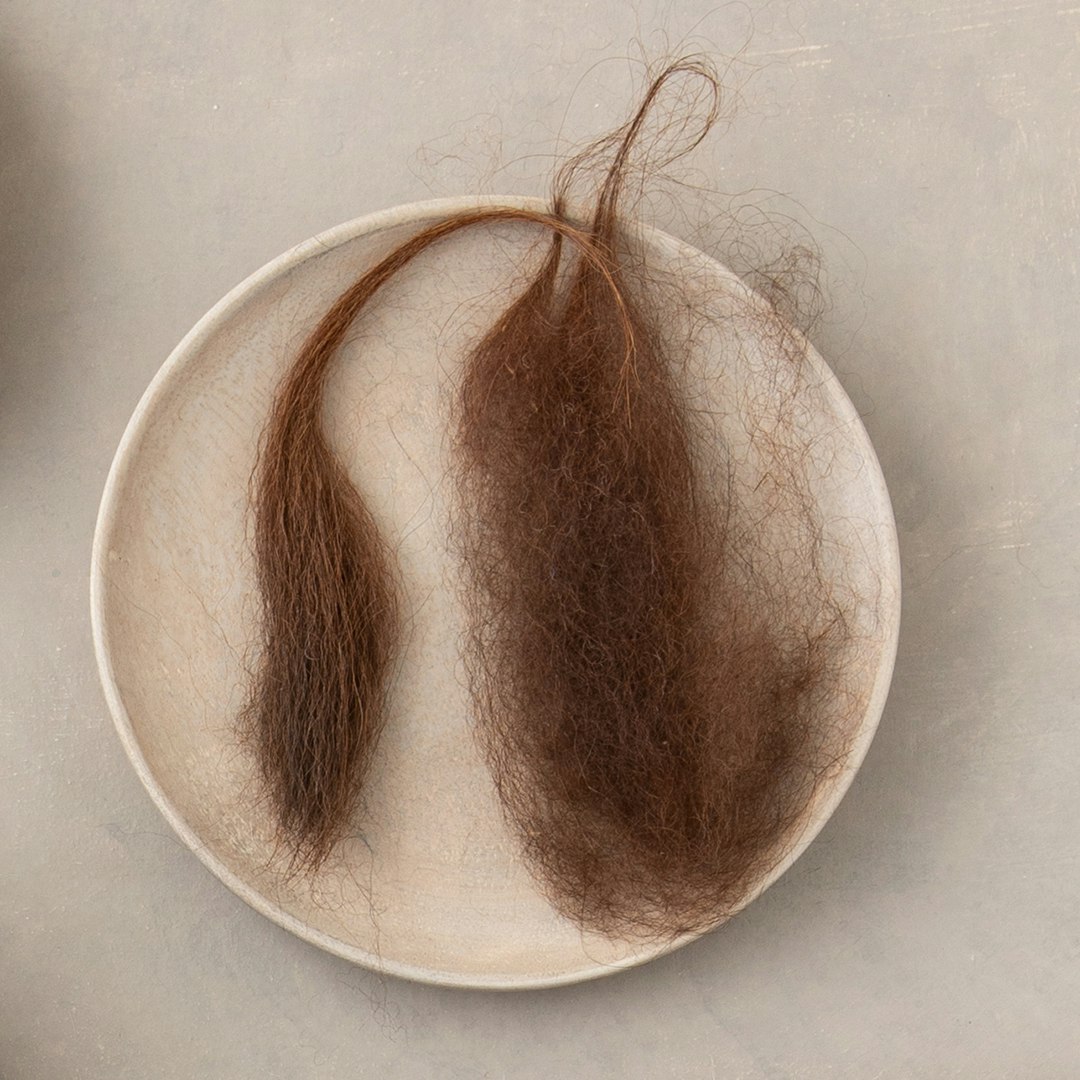 Silky llama locks from Misty Morn Llamas
Want to learn more about llamas? Check out the Winter 2022 issue of Spin Off.
Also, remember that if you are an active subscriber to Spin Off magazine, you have unlimited access to previous issues, including Winter 2022. See our help center for the step-by-step process on how to access them.

Resources
Walker, Barbara G. A Second Treasury of Knitting Patterns. Pittsville, WI: Schoolhouse Press, 1998.
Barbara Kelly-Landry, a lifelong resident of Cape Breton Island, Nova Scotia, Canada, has been an employee of the Fortress of Louisbourg National Historic Site for the past 37 years. She has spent much of that time interpreting textile traditions of the eighteenth century, including bobbin lace, knitting, and spinning. She looks forward to her next spinning and knitting adventure with her best friend, Dr. Annamarie Hatcher.