Subscribe to The Long Thread Podcast:

Melvenea Hodges nurtures a small crop of cotton in her back yard in South Bend, Indiana. Besides beautiful foliage and some of her favorite fiber to spin, she tends her plants to celebrate what she can create with her own hands—not just beautiful textiles but a connection to her heritage and a source of peace.
As a primary school teacher, her working days are hectic, but she and a friend have a pact to save some creativity for themselves. Although her spinning and weaving projects are ambitious, she doesn't confuse creativity with productivity. The magic happens, she says, "once we take away the element of creating for some kind of purpose and just accept that creating is a natural part of being and that it is inherent in us."
That creativity takes the form of exploring Scandinavian weaving, spinning to weave a traditional overshot coverlet, or painting whimsical wooden jewelry. No matter what, though, she grounds each day by spinning cotton, seated on the floor with her back to a wall, losing her thoughts as her spindle turns.
"If your life's whirlwind is whirling too fast," she advises, "get yourself a spindle."
This episode is brought to you by: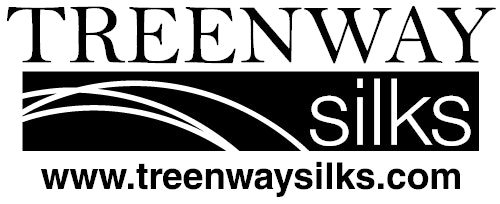 You'll find the largest variety of silk spinning fibers, silk yarn and silk threads & ribbons at TreenwaySilks.com. Choose from a rainbow of hand-dyed colors. Love natural? Their array of wild silk and silk-blends provide choices beyond white. Treenway Silks—where superior quality and customer service are guaranteed.
Links
Melvenea Hodges's website
Chameleon Shawl (Spin Off Magazine subscriber exclusive) Vavstuga Weaving School
Visit Melvenea's online shop for her handpainted, handwoven, handspun, and handknitted items.
Zaria Gorvett, "The ancient fabric that no one knows how to make," "The Ancient Fabric that no one knows how to make") BBC Future, March 6, 2021.