We all have small amounts of precious yarn—bits too beautiful to get rid of but too small to complete a project. These basic crocheted fingerless mitts are a great backdrop to showcase those little bits of special yarn. You can use a combination of contrasting yarns for a variety of flora, or you can make all the foliage from a single skein for a more unified look. In this example, I used a lovely color-changing yarn from Anne Merrow's personal stash to keep the same texture but to allow a variety of colors. These flowers and leaves will look great in varying sizes. You can use a thinner yarn (and smaller hook) to create smaller motifs; if you're using a heavier yarn for embellishment, consider making just one flower per mitt and coiling the petals in a larger circumference to keep the flower from getting too bulky. There are endless ways to personalize these mitts!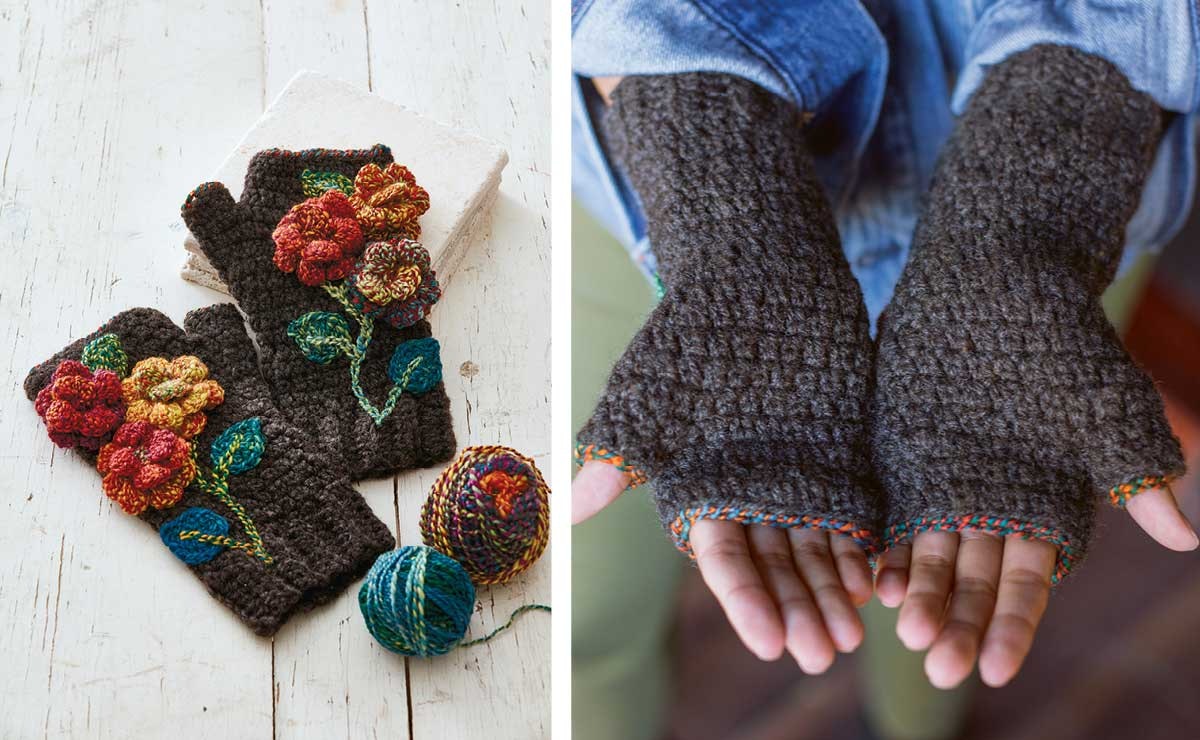 Fine-Tune Your Crochet Gauge
Because worsted-weight yarns can vary greatly in gauge and grist, this fingerless mitten pattern has been written for three possible gauges. Changing hook size will change your gauge as well, but what if you like the fabric that results from a certain hook size and the gauge doesn't match?
For example, say you made a swatch to check your gauge and found that your swatch was too small. You could use a larger size hook to obtain the given gauge, but the resulting fabric might be too loose and the gaps between your stitches too large. (See swatch A below.) This is especially problematic if you are trying to make something to keep out the cold wind.
On the other hand, what if you made the swatch to check your gauge and it turned out too big? You could certainly use a smaller hook to obtain a tighter gauge, but this could result in a fabric that is too stiff for your liking. (See swatch B below.) For these mitts, I wanted the fabric to be warm (no big holes between stitches) but have a little bit of drape and softness. (See swatch C below.) The Marigold Mitts pattern is written for three similar but slightly different gauges, making it easier to create mitts that are a perfect fit for your handspun worsted-weight yarn.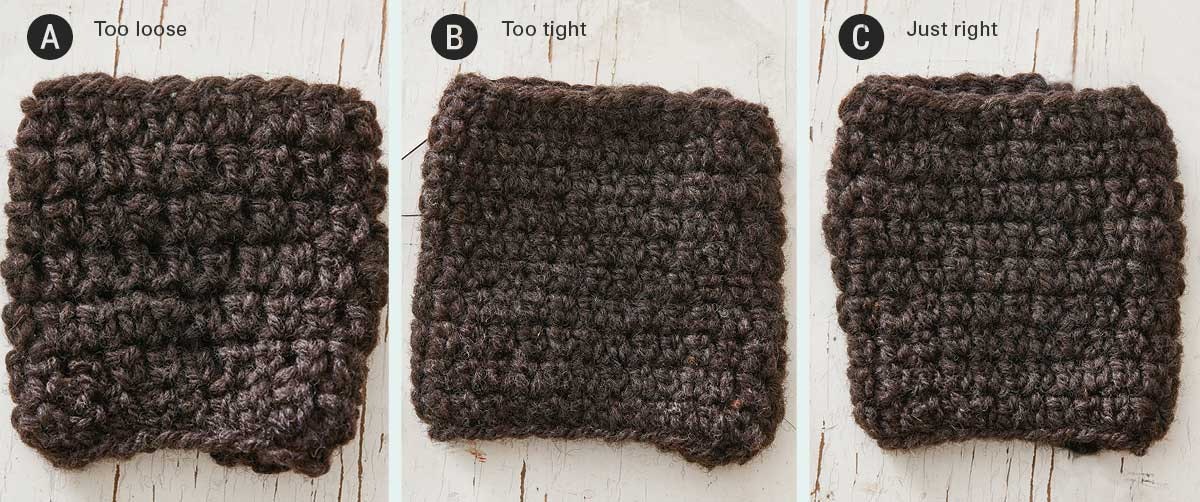 Materials
Fiber 2½ oz Sheep Feathers Farm dark gray Cotswold x CVM pin-drafted roving and 2 oz SweetGeorgia Bluefaced Leicester top for flowers.
Yarn MC (gray): 3-ply; 124 yd (113 m); 650 ypp; 8 wpi; heavy worsted weight. CC (variegated red, orange, yellow, and green): 2-ply; 84 yd (77 m); 688 ypp; 10 wpi; worsted weight.
Hook Size H/8 (5 mm) hook for mitts, F/5 (3.75 mm) hook for appliqué pieces. Adjust hook size if necessary to obtain correct gauge.
Notions Markers (m); tapestry needle; quilter's pins.
Gauge 11 (12, 13) sts and 9 (9½, 10¼) rnds = 4" in esc with larger hook and MC. Sample shown: 12 sts and 9½ rnds of esc = 4" with larger hook and MC yarn. Leaf measures 1" wide and 1½" long worked in CC yarn with smaller hook.
Finished Size Pattern is written in three different worsted-weight gauges to fit average-size women's hands. Mitts shown measure about 7¾" hand circumference, not including thumb, and about 8½" long, including cuff.
Notes
Don't worry about row gauge because it can vary greatly. The pattern has checkpoints where you can add or subtract rounds to get the desired length.
Gauge is not important for the embellishment pieces. Make one leaf and one flower to decide which hook will yield the size and look you want.
Right and left mitts are worked the same. Sew the embellishments onto the mitts so that there is a right and a left mitt.
Visit https://spinoffmagazine.com/spin-off-abbreviations/ for terms you don't know.