The largest flock of registered Coopworth sheep in North America live on a farm just south of Green Bay, Wisconsin. Coopworth were developed in New Zealand during the mid-twentieth century and were based on a cross between Romney ewes and Border Leicester rams. We recently asked Hidden Valley Farm & Woolen Mill owner Carol Wagner to tell us a bit about how she and her husband, Paul, came to run their mill and why they chose to raise Coopworth. As the Wagners state on their website, "The Coopworth is more than a breed; it is a philosophy."
How did you become a spinner?
I am a former high-school European history and German language teacher. From a historical perspective, I have been fascinated with the occupations and daily lives of people in different ages. The production of sheep and wool has been a major factor in the development of society, economies, revolutionary protests, and quality of life. I was motivated to learn to spin because of its connection to the past. We stand on the backs of those who came before us. I am a knitter, too, but tend to knit small projects. I also know how to weave but find it too labor intensive. I have enough other labor to worry about.
Which came first, the sheep or the mill?
The sheep came first. When we moved to our farm, I wanted sheep so I would have a fiber source. I knew nothing about sheep. I didn't spin or know that each breed has different wool characteristics. We got a generic ram and three Suffolk ewes. That was the beginning of a search for my breed of choice and my venture into the world of spinning.
There was a small woolen mill in the area that we used. When the owners decided it was time to retire, we purchased it. It came at a great time; I was ready to leave teaching and try something else. The mill business was based on carding new wool into batts, reconditioning old quilt batts, and tying comforters. We have continued that service but have expanded to include the processing of roving.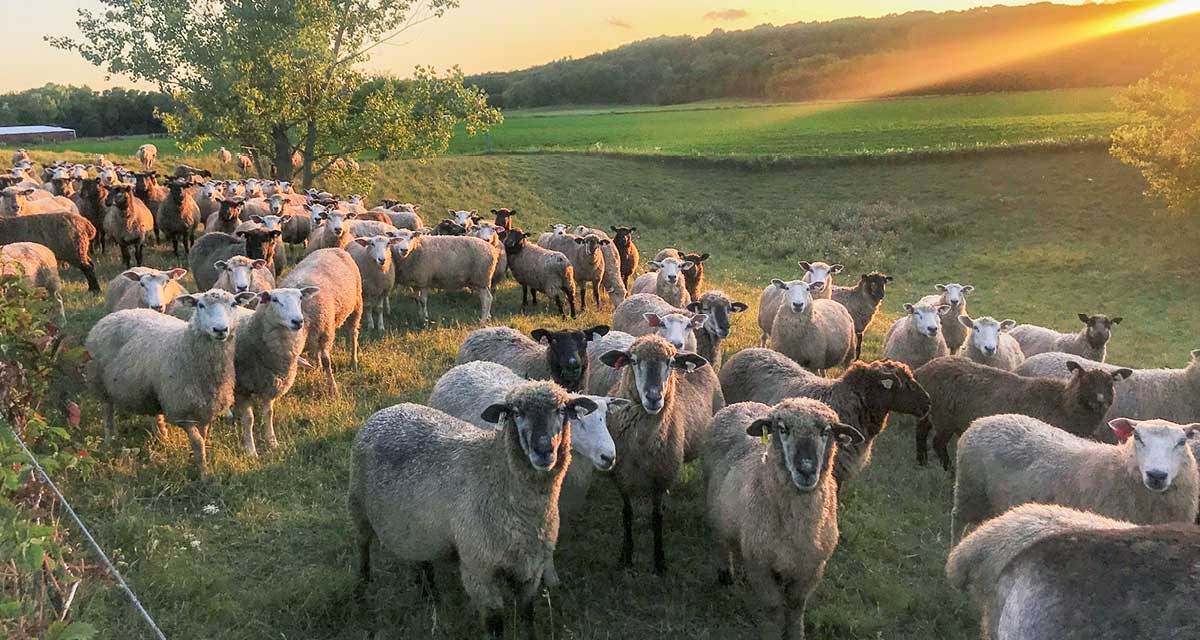 Why did you decide to raise Coopworth sheep on your family's farm?
I read an article in the Fall 1989 issue of Spin Off about the introduction of Coopworth sheep into the United States. I was hooked! I researched the breed and spun the wool. I knew this was the breed I had been looking for. I finally found a breeder close to Wisconsin, and we purchased our first Coopworth sheep in 1992. These sheep have done everything we have asked of them. They are easy keepers, lamb easily, are great mothers, and have amazing wool.
How have your fleeces changed over the years as you have selected for fleeces you like and sell?
My original white Coopworths were born in New Zealand. Their fleeces were lovely but a bit coarser than I wanted. Through the process of selection, I have improved the quality of our fleeces. They are softer, silkier, and have lots of luster. I have learned what qualities to look for in a lamb's fleece that will result in a lovely adult fleece.
What should handspinners know about buying and spinning Coopworth fiber?
The Coopworth sheep is a longwool breed. Longwool is classified as coarse, but in the case of the Coopworth, this shouldn't be equated with harshness. The wool is soft and silky with a natural luster. The sheep come in both white and natural colors. In our flock, the naturally colored fleeces tend to be a bit finer than the white.
Coopworth wool is strong and can be used for a variety of projects and spinning techniques. It is a versatile fiber. Even with its longer staple length, it can be carded and spun using a semiwoolen or woolen technique. This is great for sweaters, scarves, hats, mittens, and other wearables. If it is combed and spun with a worsted or semiworsted technique, the natural luster is accentuated. It is wonderful for durable socks. It can also be spun fine and used for shawls. One tip: I suggest spinning Coopworth with a medium to low twist. High twist may produce a yarn that is too tight and ropelike.
What additional fiber types can your mill card?
Our carders are vintage Davis & Furber carding machines, dating from 1918 and 1921. They are venerable machines. One is used for batting and the other is reserved for roving. We process the wool from most breeds. However, we do not process Merino, Rambouillet, or other fleeces that may be too fine for our machines. We are able to blend exotic fibers such as mohair, silk, bamboo, Tencel, and camelid with wool. By choice, we do not process 100% alpaca or llama, but we will card it if we can blend in 20% wool. We use a Merino or Falkland Island combed top. It makes a lovely blend.
For more information, visit www.hiddenvalleyfarmwoolenmill.com or call (920) 758-2803. To learn more about the Wisconsin Sheep & Wool Festival, visit www.wisconsinsheepandwoolfestival.com.