Welcome to our series Meet the Sheep! We love hearing about sheep from the shepherds who raise them. These important perspectives can help us better understand the wool we spin and the people, animals, and landscapes that create it. Check out the series to meet more woolly friends. —Editors
Thirty years ago, my husband, Pat, and I took a step toward fulfilling our dream of being more self-reliant by purchasing irrigated agricultural land in Larimer County, Colorado. Our dream formula for this land included livestock, an orchard, a vineyard, and vegetables. Our farm is called Valley of the Wind, inspired by the foothill breezes that sweep across the land. We ventured into raising sheep to help manage the grass and to provide the best wool for my fiber crafts.
We raise a flock of California Variegated Mutants (CVM) and we love both the gentle sheep and the fabulous fiber they produce. Pat maintains the flock's health, care, and shearing. I step in from there by sorting, prepping, and selling the fiber at markets in Estes Park, Colorado, and Santa Fe, New Mexico. Our flock's fleeces repeatedly place in competitions, and we have even had Grand Champions.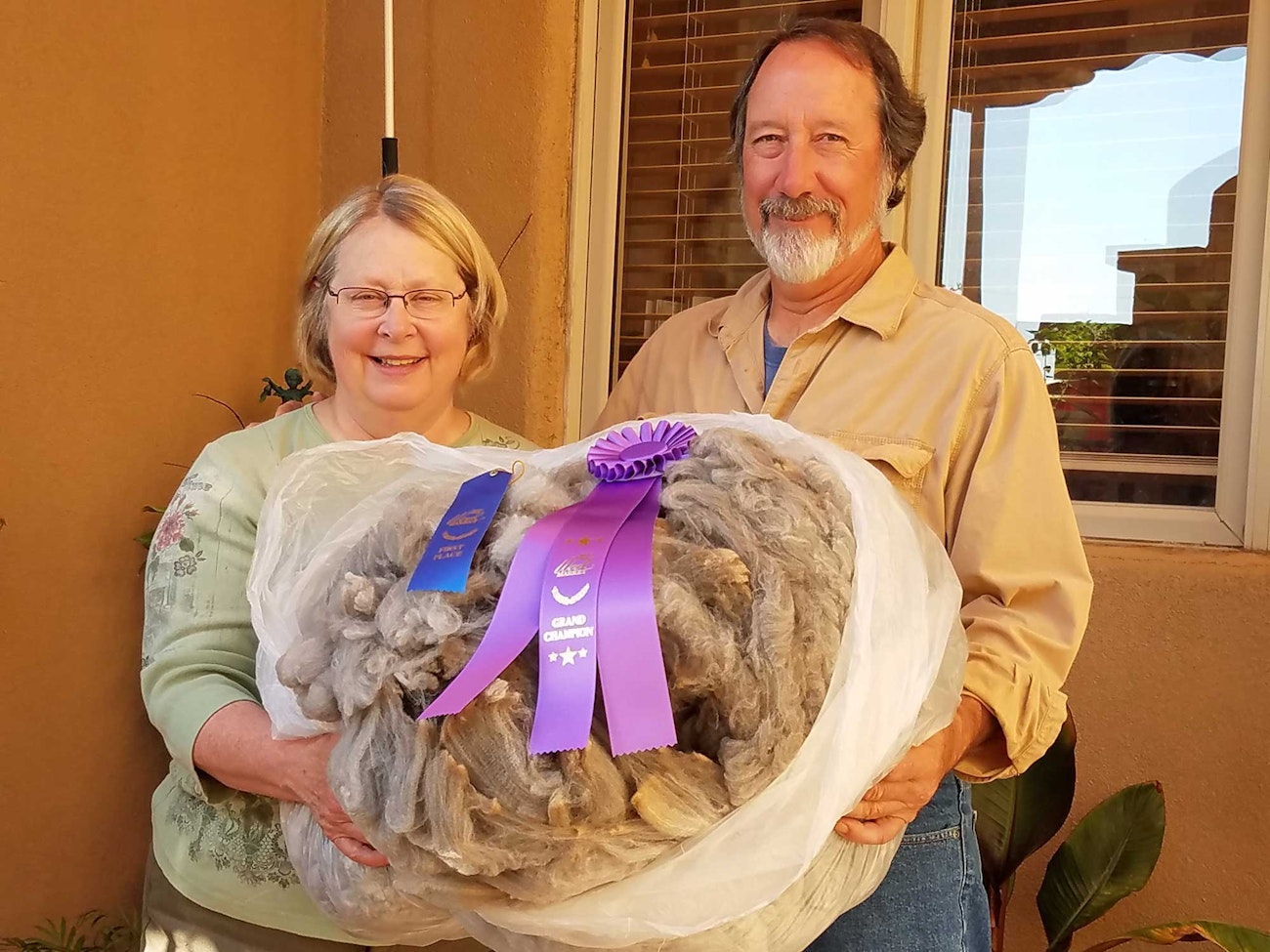 Geri and Pat proudly display their Grand Champion Fleece at the Estes Park Wool Market.
But Why CVM and Why "Mutants"?
CVM is a multicolored derivative of the Romeldale, an American sheep breed developed during the early twentieth century. Romeldale is famous for its high-quality fine wool that is used by Pendleton Wool Company.
In 1915, New Zealand Romney rams were shown at the Pan American Exhibition in San Francisco. These rams were purchased by A. T. Spencer who crossed them with his Rambouillet ewes. This cross resulted in improved meat and wool quality. He named the new breed Romeldale.
In the 1940s–1950s, J. K. Sexton continued to improve the breed by selecting for maternal ability, twinning, and a uniform fleece of soft-handling wool. He set the breed standards. The fleece is dense and finely crimped, with staple length of 2.5–5 inches and micron count of 21–25.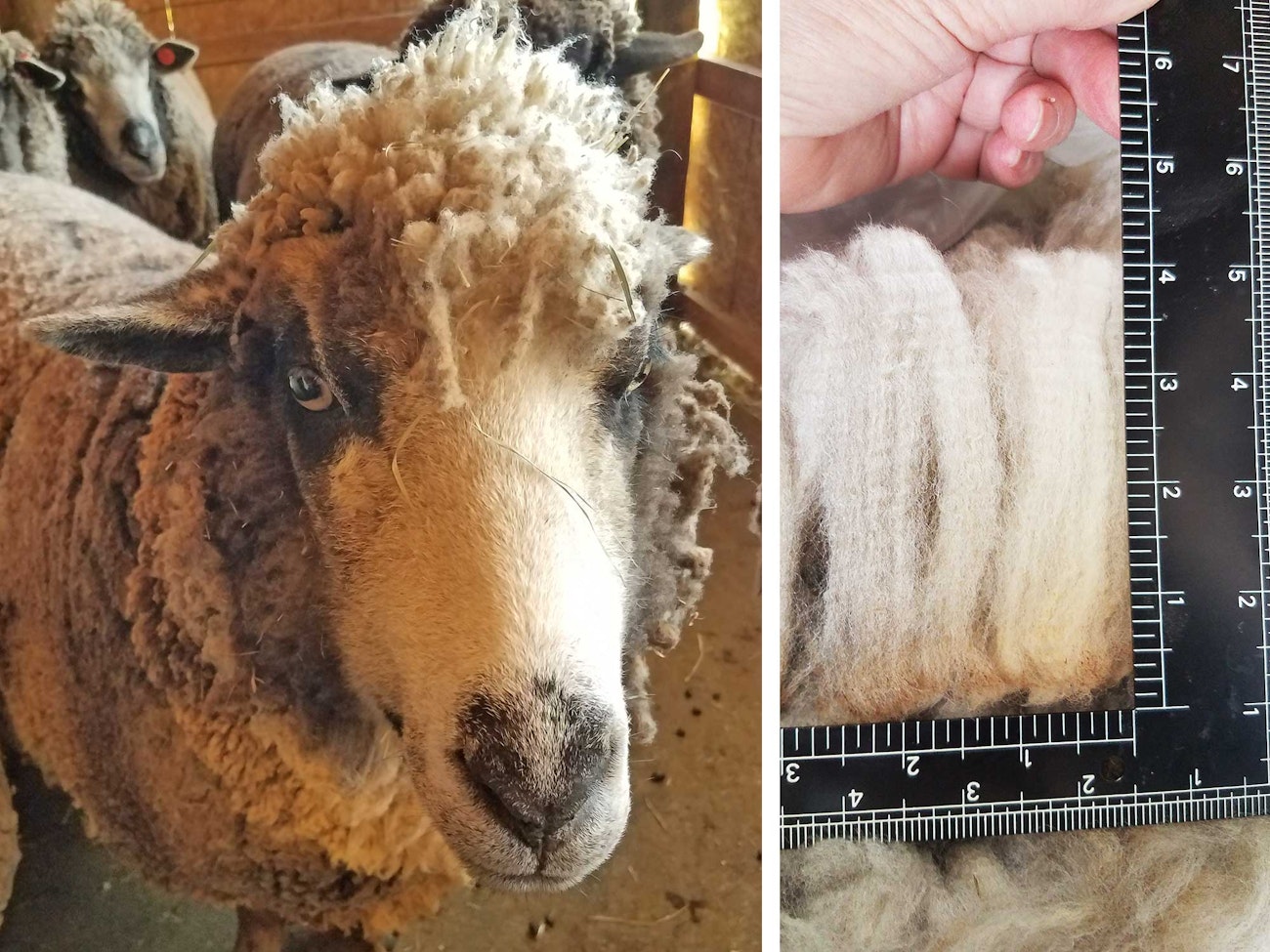 Mizi needs a haircut (left). Geri sorts the locks (right).
For years, Romeldale shepherds selected for white sheep/wool due to market pressures. Pendelton was the market for these shepherds, and it demanded only white to maintain their consistent dye lots from season to season. Occasionally a colored lamb with "badger-face" markings would be born. These lambs were seen as "mutants" and were culled to prevent contamination of the flock's white wool. Any wool identified as other than white could cause the entire clip to be rejected.
During the 1960s, Glen Eidman, a partner of the Sextons, became interested in these occasional colored lambs. He saved and separated them and carefully line bred them. His attention to the improvement of fleece quality and expanded color variations resulted in what he called the California Variegated Mutant breed—we refer to them as CVMs. Along with the above standards, the fiber is very elastic, with great memory, and is suitable for anything that is worn next to the skin. Raw fleece will have a generous amount of wool grease and requires an appropriate scouring agent. I have successfully scoured, combed, carded, spun, knitted, crocheted, dyed, and felted with our wool.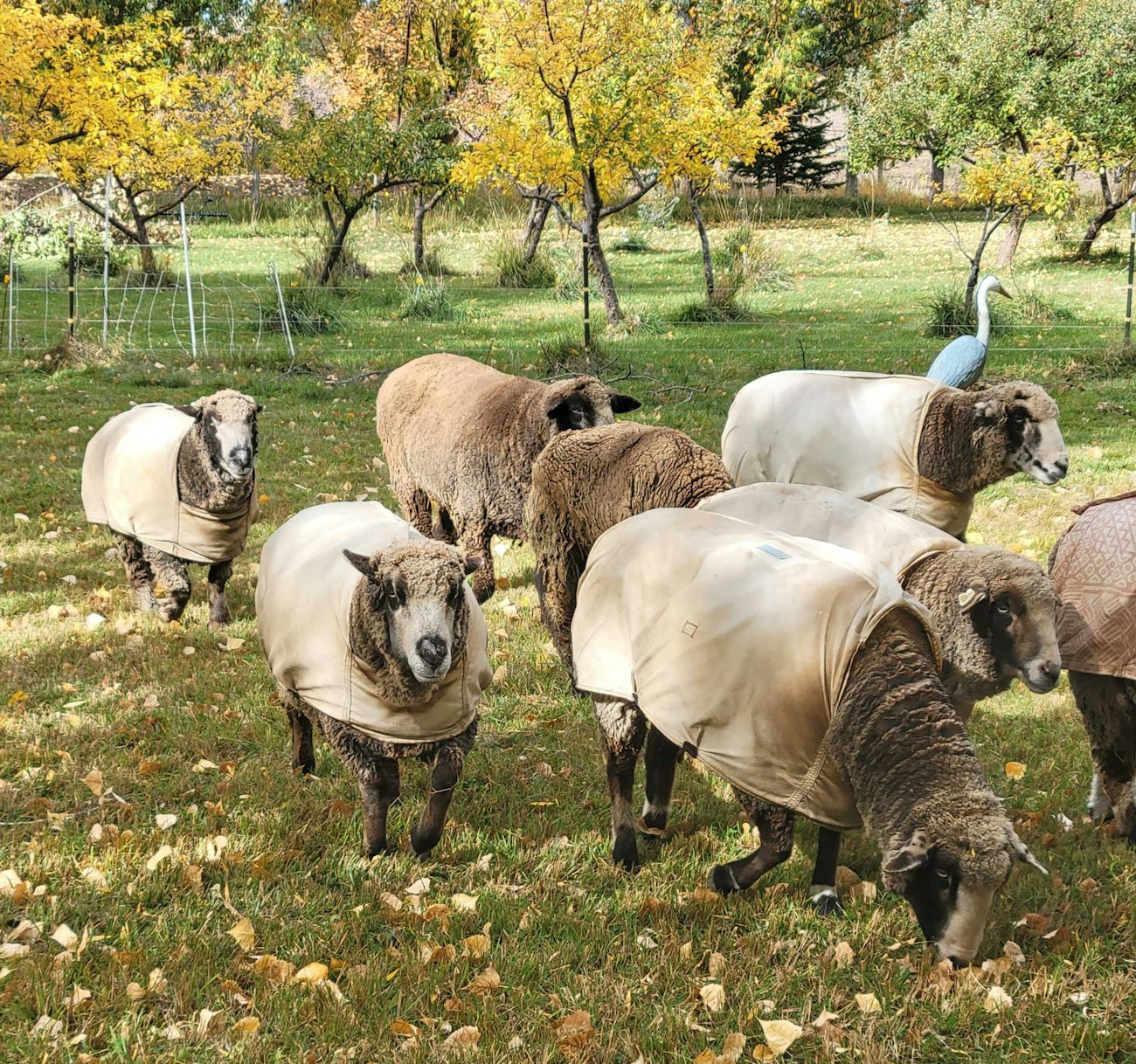 The McGibneys' flock is shown grazing at Valley of the Wind during the fall of the year.
Because of Eidman's work, these beautiful colored sheep and their high-quality fine wool are available through a small number of breeders today. Both variegated and white are recognized as Romeldale. Genetically they are identical with the exception of the color variation genes. Recognized by the Livestock Conservancy, Romeldales/CVM—both colored and white—are listed as endangered.
We encourage you to embrace this endangered American breed and their superb fine fiber. Supporting shepherds raising purebred flocks helps to protect this genetic gem.
Valley of the Wind, LLC is a member of:
Resources
"Romeldale/CVM Sheep," The Livestock Conservancy.
Robson, Deborah, and Carol Ekarius, The Fleece & Fiber Sourcebook. North Adams, MA: Storey Publishing, 2011.
Geralynn McGibney has been actively involved in fiber crafts since age four. She learned to knit from her Aunt Ida, who grew up in Switzerland where every child learned to knit. By age nine, Geri was involved in 4-H, sewing, crocheting, and knitting. Spinning and weaving came later in her adult life. Pat made her a four-harness loom for her RN graduation and her aunt Dorothy gifted her an Ashford traditional spinning wheel. Since retirement, she can be found with Pat at home on the farm working on various non-fiber and fiber projects. See some of her fiber and accessories at Valley of the Wind Wool on Etsy.