Welcome to our series Meet the Sheep. We hope you enjoy meeting some of our favorite shepherds and their woolly friends. —Editors
Known as deeply reticent and prone to caution, Border Cheviot sheep are held back by a deep-rooted uneasiness. Yet they are inherently thrifty, hardy, and resilient, with a spirit that has allowed them to survive the deep morasses and rugged, windswept hillsides of Scotland for centuries. Border Cheviot sheep (pronounced "chevy-ette") have been an integral part of the culture and lives of the Scottish people for as long as the earliest records. According to Edward Harrison in his April 1939 article about Cheviot wool, "Possessing the most essentially Scottish of all wools [ . . . ] this smaller breed of sheep has taken on the character of their native land; in that, under a slightly rough exterior, it is sound and honest at heart. It is in every respect an unassailable wool, strong and wear-resisting, and possessing that indefinable quality of 'bone' which gives it life and strength without harshness."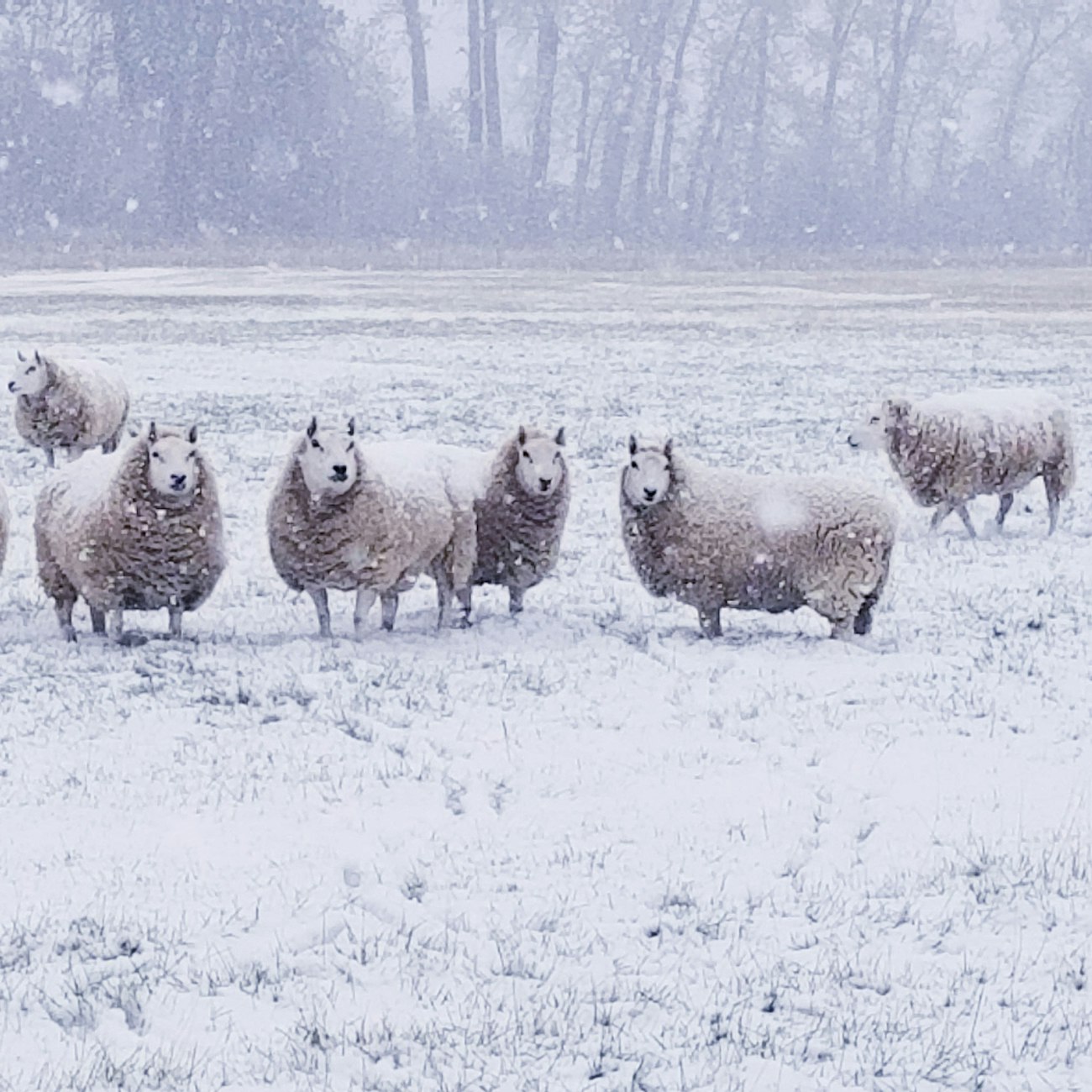 There are few cases where a breed has been more permanently "typed" by a single environment than the Border Cheviots of Scotland. With a closer fleece, which prevents snow and rain from inconveniencing them, along with a truly hardy disposition, they are ideally suited and unyielding to the cold.
A unique aspect of Border Cheviot wool is its ability to maintain elasticity when made into a garment. This resilience is a function of the unique helical crimp, or springiness, found most predominantly in the Border Cheviot fiber. Though the helical coil is the smallest part of the fiber, these little springs give wool its flexibility, elasticity, and resilience. It is these characteristics that help wool fabric keep its shape, remain wrinkle free, and make it ideal for apparel such as socks and mittens as well as traditional rugged outdoor garments such as tweed jackets and kilts.
Being one of the smaller commercial breeds of sheep, weighing between 130 and 200 pounds at maturity, Border Cheviot sires are sought after for crossing with commercial ewes to instill their hardy and robust lambs with an innate will to survive at birth. With the lambs' smaller shoulders and more slender heads, seldom do the ewes need assistance in the birthing process. Even in the harshest of climatic conditions, these lambs thrive with vigor and strength.
For today's shepherd, these amazing little animals have found their popularity and value as an excellent fiber for the novice or expert handspinner. This wool washes up very white and takes dye like no other. Additionally, it produces an incredible volume at a low fleece weight, making for wonderfully light-wearing garments.
Since 1976, Dean has been breeding and caring for his Border Cheviot sheep, maintaining the same bloodlines from descendants of his first sheep purchased as a 4-H project. He continues to successfully compete at fairs, attend fiber shows, and judge youth events.
From Scotland's rugged and weathered hillsides to today's pocket-sized farmsteads with Border Cheviot sheep, you will experience the splendor of these bright, inquisitive, and alert sheep. No matter what your goal is, your connection with a Border Cheviot will be truly gratifying.
Dean Hyden is an avid shepherd and fiber artist who owns and operates Shepherd's Bounty in Washington State. He has been breeding Border Cheviot sheep for 46 years and has won awards in the show ring along with wool and fiber arts competitions. He is a qualified youth sheep judge and a Livestock Advisor through Washington State University. In addition, he is a certified Wool Classer with the American Sheep Industry. He lives in the Pacific Northwest with his wife of 27 years.