I've made a study of socks, having knitted more than 140 pairs (14 of which were made with handspun yarn) over the years. My first handspun socks were made with two-ply, fingering-weight yarn that was 100% alpaca. They were soft and silky and kept their shape better than I expected, thanks to the stitch pattern. However, after only four months, the thin spot on the ball of my foot fell victim to a nail in our hardwood floor. It was a poor yarn choice, yet I loved those socks!
Many of the commercially available sock yarns we have come to know and love in North America are 75% to 90% Merino wool and 10% to 25% nylon. The nylon is added to increase the strength and, hopefully, the longevity of handknitted socks. Merino wool is a soft, fine, highly crimped wool with a staple length of 2 to 5 inches. Because of its crimp, it has a lot of elasticity, which is a great feature in socks. Most people find it comfortable against the skin. Although I love the softness of my Merino-blend socks, they are not as durable as I'd like for my outdoorsy adventures.
After wearing through a couple pairs of handspun socks, I began using superwash wool/nylon commercial fiber blends hoping that they'd be more durable. Then I graduated to carding nonchemically processed wool with nylon fibers to get a longer-lasting sock. Now I want to explore alternatives to man-made nylon to strengthen sock fiber blends in my quest for a more sustainable, environmentally friendly existence.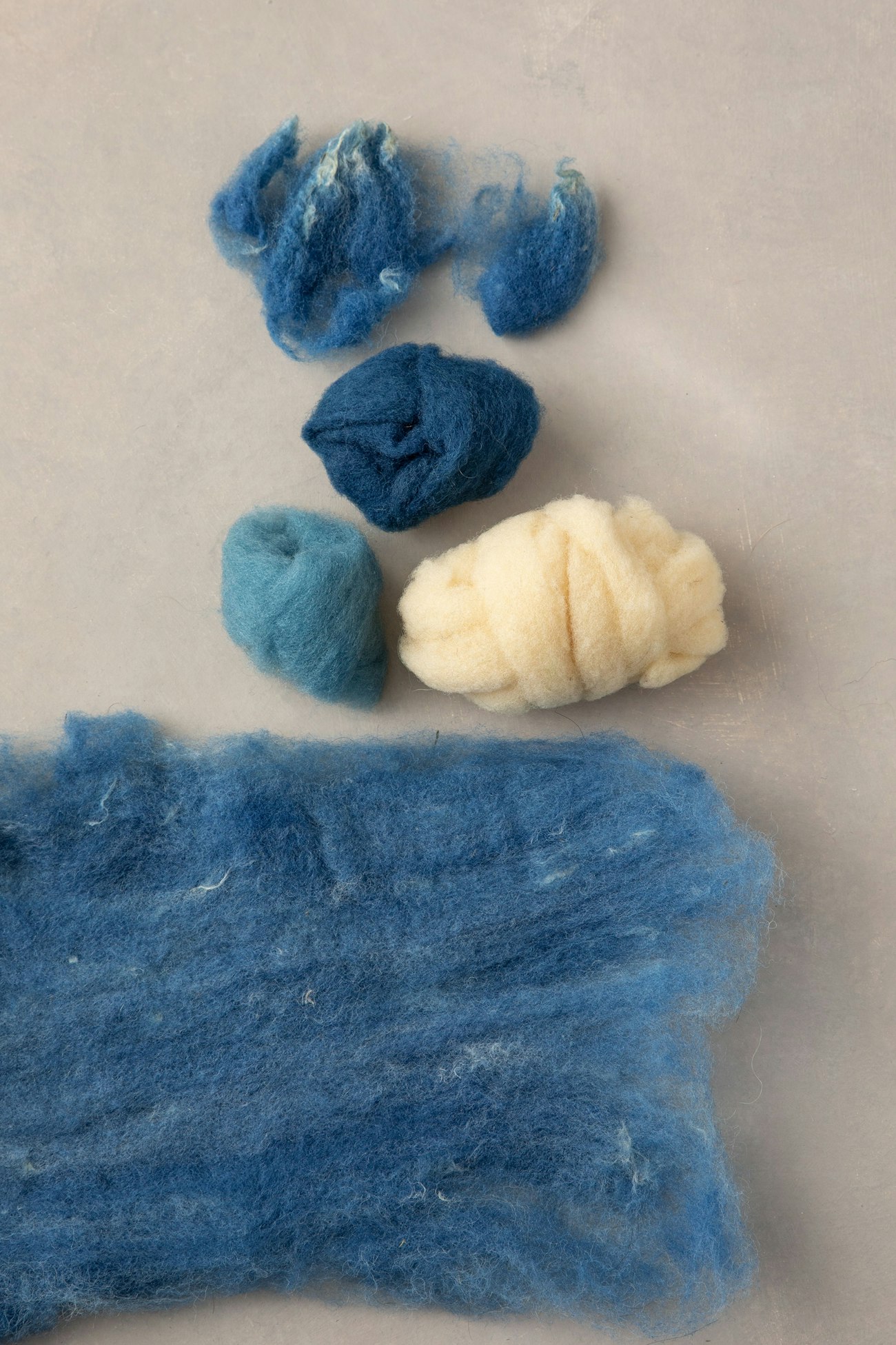 Gulf Coast Native is a rare breed in the United States and can be purchased in different preparations. From top: dyed locks, natural and dyed rovings, and a dyed batt
Fiber Choice: Finding Balance
Creating the perfect sock blend—and ultimately yarn—is about balance. There are countless possible fiber combinations suitable for sock yarns, depending upon your desired sock and the wearer's willingness and ability to properly care for them. Down wool is soft, insulative, and elastic. Alpaca is touted as being warmer than wool, but without crimp, it lacks elasticity. Silk adds strength and a beautiful sheen, while cotton adds coolness and comfort to the yarn. A small touch of angora enhances softness and warmth and adds a bit of halo. Longwools decrease pilling and increase durability, and mohair adds strength and resistance to abrasion and felting. Blends provide the opportunity for the desirable qualities of different fibers to work synergistically.
An important trait of a long-lasting sock is the tight gauge of the knitting, which produces a dense, durable fabric. The number of plies is also an important factor, and increasing the number of plies will generally result in a stronger yarn. Try tugging on a 12-inch length of singles yarn from both ends and you will find it comes apart more easily than a three-ply yarn of the same length. The plies reduce abrasion of the yarn as well since the exposed surface area of each ply of the yarn is decreased as more plies are added. My go-to handspun sock yarn is a traditional three-ply with a lot of ply twist. I have also knitted socks with handspun yarns that consist of four singles traditionally plied, cabled yarn construction, chain-plied yarns, or crêpe yarns; all held up well to wear.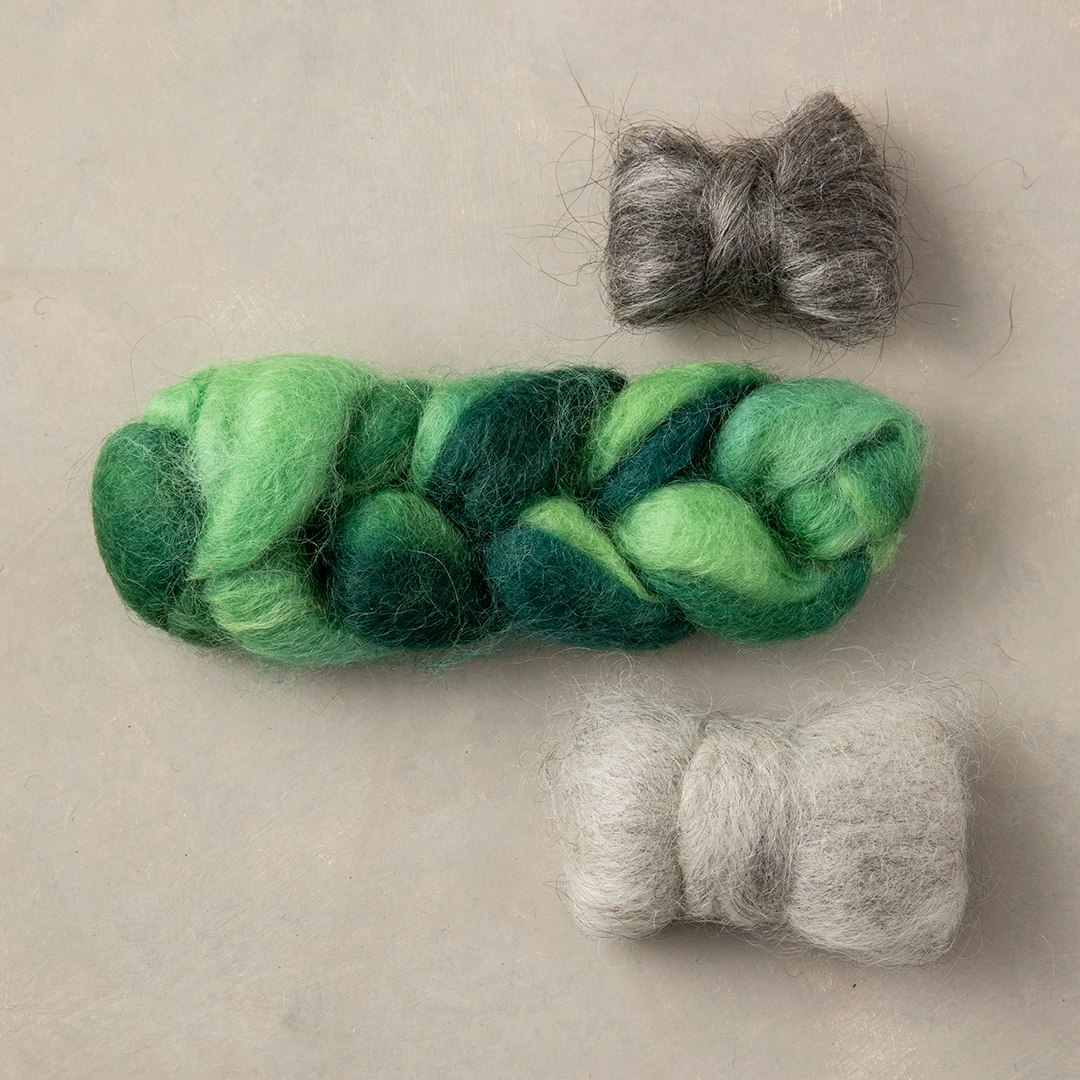 Stefanie blended three fibers with Gulf Coast Native. From top: mohair roving, Wensleydale combed top, and Lincoln roving
No-Nylon Samples
After learning about the Shave 'Em to Save 'Em rare breed initiative from the Livestock Conservancy in the Spring 2019 issue of Spin Off (see Resources), I branched out significantly from my usual commercially processed spinning fibers. One of the earliest new breeds I tried was Gulf Coast Native (GCN). I purchased some raw fleece from Mary Henze of Rock Mills Farm and fell in love with the bouncy, springy yarn that I was able to create from the fiber. The fleece was fine and crimpy, had little grease, and was soft enough for next-to-skin wear.
Subsequently, I compared other new-to-me fibers with GCN and decided it was a fiber I needed to explore more. I discovered Red Oak Farm's combination pack of GCN wool roving in natural and indigo-dyed colors as well as indigo-dyed locks in their Etsy store. It was a great opportunity to compare what I knew from my first GCN experience with GCN wool from another farm. And who doesn't love a little color?
After consulting The Fleece & Fiber Sourcebook by Deborah Robson and Carol Ekarius, some of the lustrous longwools that I considered for my sock-blend explorations included Bluefaced Leicester (BFL), Wensleydale, Border Leicester, and Lincoln, in addition to mohair fiber from Angora goats. I have worked with BFL before and found that I enjoy spinning and using 100% BFL for socks. It is sleek, yet bouncy, and BFL is on the finer side for a longwool—a great combination of qualities for a sock yarn.
Next, I looked at Wensleydale. The wool from this breed varies but is frequently on the fine end of the longwool family. Wensleydale is best known for its distinctively curly locks, and some find it fairly resistant to felting,* making it a great option for socks. Border Leicester, another longwool originating from the north of England, is described by Robson and Ekarius as a sturdy, friendly wool with a crisp hand, with finer fleeces making hard-wearing yet comfortable garments. Lincoln is another hard-wearing longwool with a lot of strength; it will felt, but not easily.
Lastly, I jumped into a new species and considered mohair. Kid mohair is the finest, softest mohair. As goats age, their fiber becomes stronger and more lustrous with larger fiber diameters and more pronounced crimp, meeting the durability requirement for a sock yarn.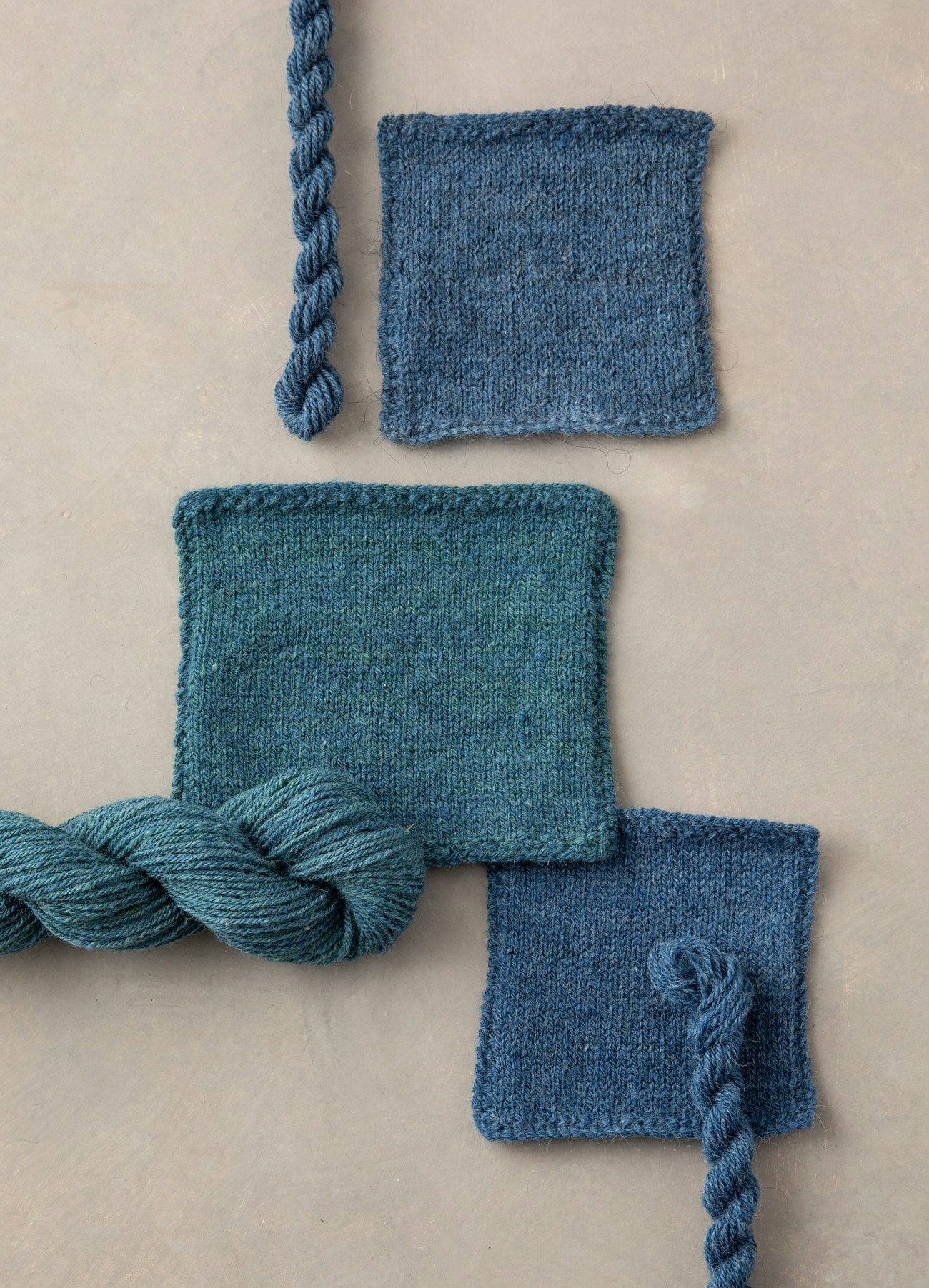 Stefanie tried three different sock blends, each using 80% Gulf Coast Native wool and 20% of a different hard-wearing fiber. From top: mohair blend, Wensleydale wool blend, and Lincoln wool blend
Sample Sets
From the endless combinations of all of the above fibers, I narrowed my options to three sample blends, and I planned to test each blend in a three-ply yarn structure and knitted swatches. For each of the samples, I decided to use an 80/20 fiber blend so I could compare them on a level playing field. Using my drumcarder, I blended three layers of GCN with two layers of the accompanying fiber for each of the 80/20 blends. After the first pass, I removed the batt and split it lengthwise into four strips, teased each one to the width of the drumcarder's infeed tray, and put them through for a second pass. The sample batts were each rolled back up as if to make rolags and predrafted into a long roving. I spun them on my Schacht Ladybug with scotch tension, a ratio of 8:1, and a short-forward draw for maximum control. Worsted-style spinning (drafting without twist) resulted in a more durable, denser sock yarn. I chose to chain ply the samples because it is a simple way to create three-ply yarn when working with small amounts of fiber.
The first blend was 80% GCN wool with 20% mohair from Buscho Farms. Mohair tends to be resistant to felting due to the fiber's scale structure, which is thinner, smoother, and larger than that of wool. I used an adult mohair fiber in my sample to add hard-wearing qualities to the blend. With a 4- to 6-inch staple and a lot of luster and body, it added strength to my finished yarn.
For the second sample, I spun a blend of 80% GCN wool with 20% Wensleydale longwool roving from the Frivolous Ewe. Wensleydale is a lustrous wool with a long staple of 7 to 12 inches; the Wensleydale used in this project had an average staple length of 8 to 9 inches. I expected some difficulty blending it with the shorter stapled GCN. To head off any potential issues, I pulled 8-inch sections of the GCN roving and carded those with Wensleydale staple-length fibers that were pulled from the roving. The Wensleydale fleece I used had a much finer fiber diameter than most other longwools, which gave this knitted swatch a softer feel than the other two samples. It is an ideal fiber addition for socks that feel great and are very durable.
My third blend was 80% GCN wool and 20% Lincoln longwool roving from Richert Ranch. Lincoln is a lustrous wool with a long staple that can range from 7 to 15 inches and forms heavy locks. It makes smooth, hard-wearing yarns—another suitable sock fiber.
After swatching the three sample yarns, I decided to go with the more colorful 80% GCN/20% Wensleydale blend for my sock project. This blend felt the softest of the three to the touch, followed by the Lincoln blend, and finally the mohair blend. The Lincoln blend felt a bit more slippery, and the mohair blend had some coarser fibers protruding from the knitted sample's surface. Since I had Wensleydale fiber in tonal greens that blended beautifully with the GCN wool in natural and shades of indigo, I designed a sock that incorporates slipped stitches and small cables but uses only one color of yarn per round.
My next sock yarn spinning adventure will be with a blend that includes 5% angora for softness and warmth and to keep my beloved bunnies close to me. What sock yarn blend will you be spinning next?
*Propensity to felt depends quite a bit on how the fibers are aligned and the condition of the fleece.
Interested in the project Stefanie made from her durable sock yarn? You can find it in the Winter 2022 issue of Spin Off.
Also, remember that if you are an active subscriber to Spin Off magazine, you have unlimited access to previous issues, including Winter 2022. See our help center for the step-by-step process on how to access them.
Resources
When Stefanie Johnson is not protecting public health through environmental inspections and communicable-disease investigations, she enjoys teaching others to spin, knit, and weave. The Johnsons raise French Angora rabbits, honeybees, and a variety of chickens and ducks on their hobby farm, Settlers Grove, in Illinois. More of Stefanie's work can be found in Knitty and Knotions, and on Etsy and Ravelry.