Click on the Download Now button or link below to learn about wool combing and carding for spinning, which can be as engaging and delightful an experience as spinning your yarn—especially when you have amazing spinning experts leading you by the hand. Spinning from freshly prepared fiber is akin to eating strawberries straight from the strawberry patch!
Handmade tools are so enticing—almost as seductive as the wool we process with them. Perhaps because we love the texture of things or maybe it is the balance of opposites—hard wood to soft wool—whatever it is, it is rare to find a spinner who doesn't have a love affair with her spinning tools.
When spinners explain their craft to others, they often start by explaining the basics of wool carding and combing. While both processes are important steps in preparing fibers for spinning, experienced and novice spinners alike have very diverse approaches to fiber preparation. With this free wool combing and carding eBook, we show you how to get the most out of your fiber combs and cards, and get beyond commercially prepared fiber through trying new methods and a variety of wool carding tools. Plus, along with each helpful article on wool combing and carding, you'll discover tips and expert instruction to help you along the way.
Wool Combing and Carding Projects Inside:
Combing: Organizing Fibers to Spin
By Robin Russo
Not sure of which comb to choose for a particular fiber? Are you using a fine wool, a long-luster wool, alpaca, mohair, angora, or another exotic fiber? Are you separating fibers or organizing fibers? Is it best to use a Viking comb or a Paddle comb? Robin answers all of these questions while providing invaluable tips for comb selection, fiber organization, combing techniques, and overall safety while combing. The detailed illustrations and clear step-by-step by instructions will have you combing even the most exotic fibers in no time!
Handcarding with a Light Touch
By Carol Huebscher Rhoades
Do you dread hand carding? Have you given up on hand carding all together to preserve your sanity and your joints? It doesn't have to be that way! Carding fiber should be a quick, efficient, and painless method for preparing fibers for light, airy, beautiful yarns. This article outlines steps for making carding faster, improving body positioning, and ensuring wonderful rolags. Carol gives you step-by-step instructions for placing your fibers on the wool carder, optimizing hand carder motions, transferring fibers, and, ultimately, making perfect rolags. Whether you are new to spinning or looking for a way to perfect your hand carding technique, you'll find helpful tips and tricks to guarantee easy-to-spin results.
Drumcarding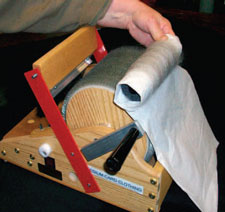 By Robin Russo
New and experienced spinners will both agree that hand carding can be a tedious and arduous task—especially for those larger projects. If you dread hand carding, using a wool carding machine may not only be the answer, it could change your outlook on carding forever! Robin explains that having a little understanding about your drum carding machine and exactly what it can do, will make a big difference in the spinning process. This free article introduces you to a few simple rules and uncomplicated steps that will not only enhance your drum carding, but will also ensure beautiful carded batts for spinning or felting.
On a Roll with Pseudorolags
By Susan Z. Douglas and Rosemary S. Thomas
If the best ideas are brilliantly simple, then the "pseudorolag" is one of the best! They are called pseudorolags because they are not considered to be true rolags because they are not hand carded, but instead, are made from flicked locks. A variety of fibers, from fine to coarse, are suitable this technique. You can use up your stash of different textured and colored fibers to create yarns with amazing depth, color, and variety—without the need for hand carders, hackles, or special tools. It's surprisingly simple and easy! All you need is fiber, a flick carder, and your own ideas. The possibilities are endless!
Happy spinning,
Amy C. Moore