As I'm writing this, the world is grappling with a pandemic, and many of us are facing some form of adversity, wondering what normal may look like in the future. If there's anything 2020 has taught us, it's that no one is immune to uncertainty and the upsets it can bring to our personal routines and habits.
I was diagnosed with a chronic pain condition in 2019, and what followed was the unplanned restructuring of my entire life. I know I'm not alone in this; things happen in our lives and send us searching for a new normal. A concept frequently taught to those of us living with chronic conditions is pacing. It's a reminder to take things slowly and mindfully in order to keep ourselves from overexertion or a flare-up of symptoms. Our energy is finite and influenced by things outside our own control. More stress = less energy.
As my chronic condition has taught me—and the pandemic has taught all of us—sometimes we are all fragile in our own way, and pacing can be a helpful practice for all of us. Even our making is impacted by stress, and yet it's in such times that we need our making the most. However, if you're anything like me, it is in times of difficulty that seeing a project through to the end can feel the most daunting. Life's complications can make the creative process feel overwhelming, but there is something particularly satisfying about a freshly finished project.
In the beginning of my own journey, I would push myself out of frustration, railing against my own body, only ever managing to make things worse: a project ruined through carelessness, pots of dye dropped or forgotten, or myself stuck in bed for days as the result of my own actions. Learning my limits has been an ever-changing road, and chronic pain has forced me to occasionally slow down. I learned to compromise and adapt. If I couldn't bend and lift pots of water to wash or dye wool with, I carded. If I couldn't card, I spun. If I couldn't treadle, I tried to knit. On the days when I had to stay in bed and my hands couldn't take the weight of a heavier project, I would work on something small. Some days, I am not able to craft for very long, but even so, I still find ways to do this work that I love.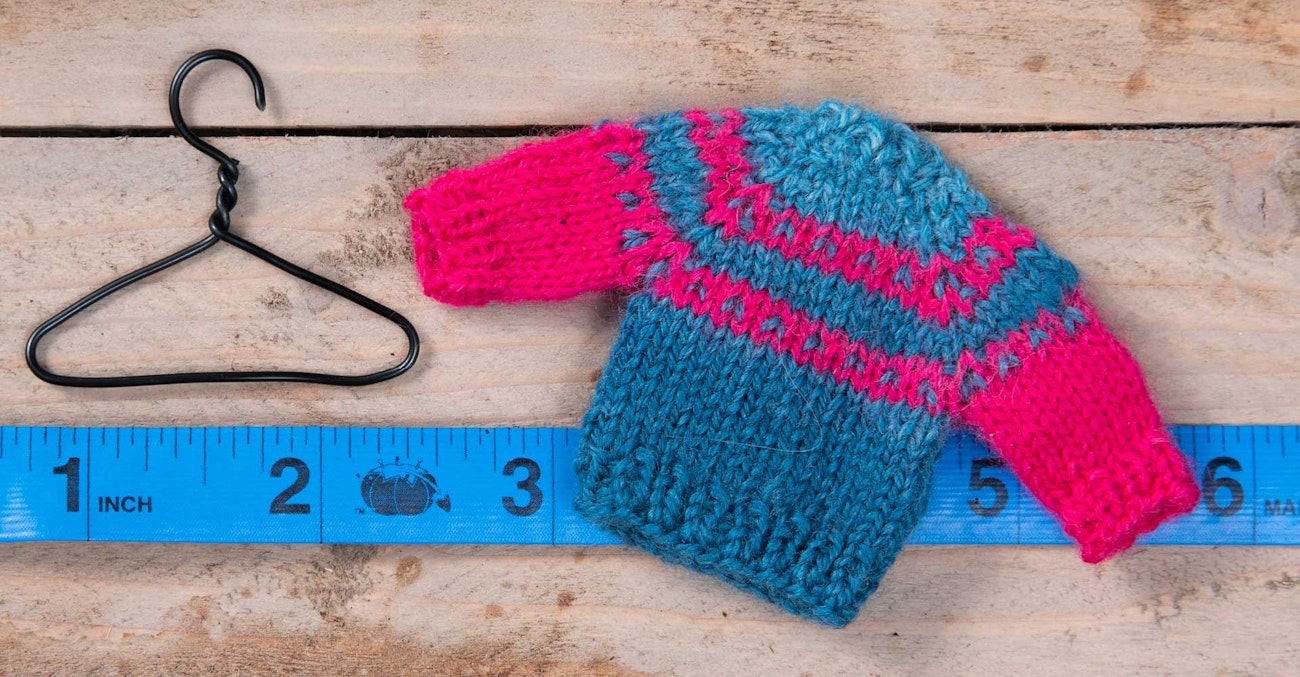 No matter the reason, be it physical illness, emotional burnout, or even grief, the truth is that we don't always have the energy or ability to tackle a large project. When spinning for a full-sized sweater isn't an option, I've found it equally satisfying to work on a really small one. In fact, there have been studies showing that our brains react in the same way to completing a small task as they do for a large one.
This project is a spinner's study in pacing and is designed to be completed in manageable increments as time, pain, and energy levels allow. I started making these miniature sweaters using leftover bits of sock yarn, but once I made one, I just couldn't stop! Not only are they cute, they knit up quickly. Weighing in at around 0.07 ounces (2 grams) per sweater, they don't take much fiber, yarn, or time.