This is the story about sheep in tune with their landscape, the historic Farfield Mill in northwest England, and a textile designer who created unique, luxury fabric from an unexpected blend of fibers—sari silk and Herdwick wool. The hardy Herdwicks have beautiful gray coloring, round faces, and perpetual smiles. But they produce a beast of a fleece, course with hair and kemp. Traditionally, the fleece is used for carpets, or, in bad times, it is burnt as worthless.
In 2017, two enterprising young women, Rachel and Alice, were horrified at wasted wool and passionate about the Lake District's famous Herdwick sheep and sought to find a use for this "carpet wool." They discussed their idea with the master weaver at Farfield Mill, who then introduced them to Carole Bowman, who agreed to design and weave a sample fabric to be used for luxury interior design items. The resulting fabric design is now woven commercially for Cable & Blake, Rachel and Alice's designer label. Carole's interest in the potential of Herdwick wool was piqued, and she wondered what would happen if she combined the low-value wool with another low-value fiber. Could the result be greater than the sum of its parts?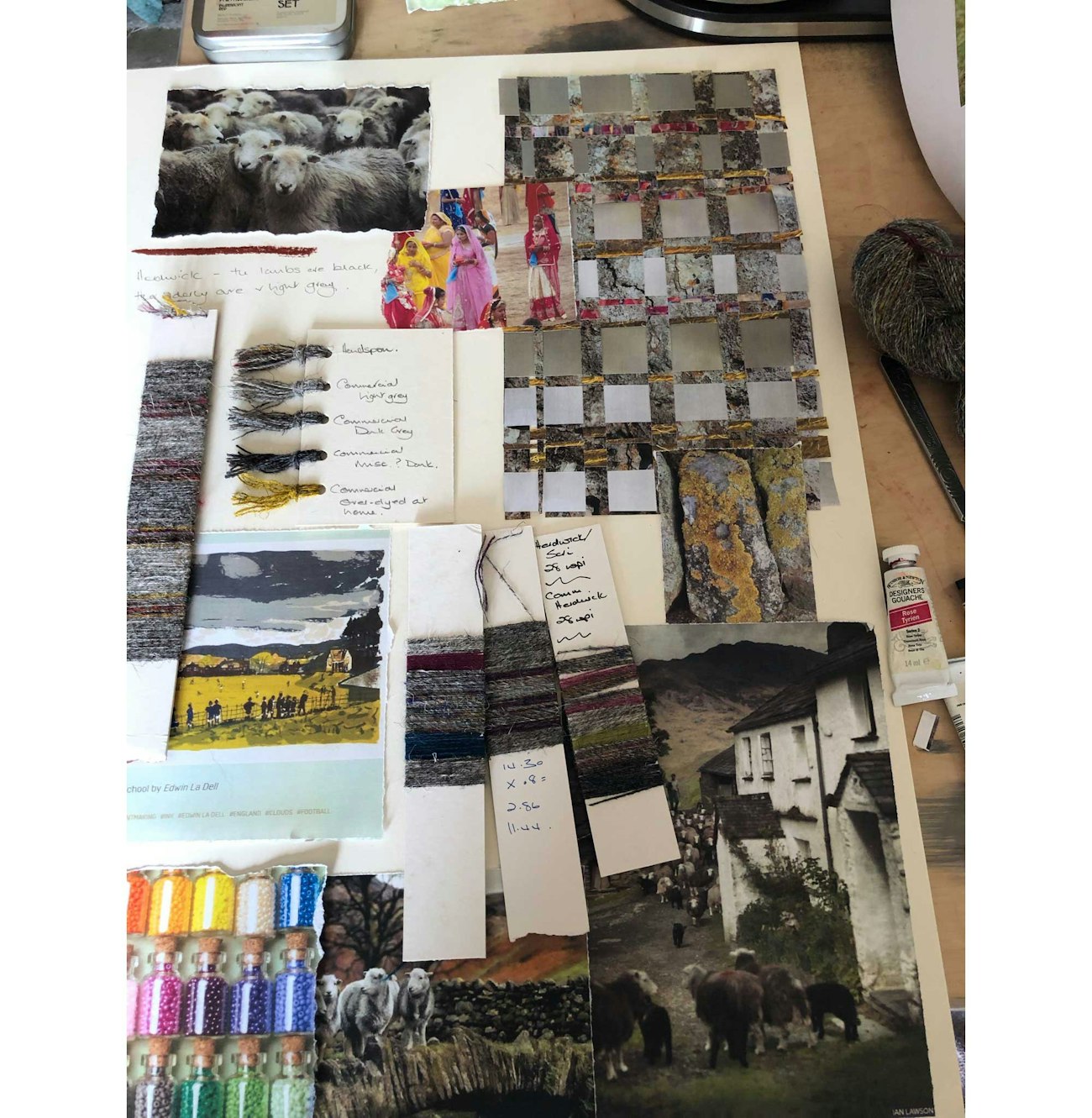 The beautifully spun yarn from such an unusual fiber combination caused much interest among visitors to the mill. I was one of the people who visited Farfield Mill, chatted with Carole, and admired the yarn. The idea of the yarn remained with me, intrigued me. What a great combination; it shouldn't work, but it did. When Spin Off called for articles for the theme Opposites Attract, I immediately thought of this yarn and contacted Carole. She told me that the yarn had sold before fabric could be woven, but she would work with me and create more yarn. Together, we would weave samples and enough fabric to create a finished item. I developed a new friendship, learned a new technique, and have been inspired to create my own versions of this yarn and fabric.
Working with Herdwick Fiber
I had prepared a fleece by drumcarding and then spun it as a chunky yarn, but seeing Carole's fine singles was a revelation. Commercially prepared roving is available and easier to spin than my hand-prepared fiber. It contains many short fibers and black and white kemp that add texture and color to the yarn. Some liken spinning Herdwick to spinning Brillo pads and warn of finger damage, but Carole and I have found that its texture is not as bad as its reputation.
Sari Silk
When I think of silk, I envision softness and elegance, flowing scarves, and bright saris. I loved the idea of combining silk with Herdwick, a juxtaposition that challenges expectations. Sari silk uses the offcuts from weaving, which are shredded and then carded into roving; it consists of short fibers as well as threads and knots. A word of warning: Many sari silk preparations will bleed. If keeping the colors bright and separate is important, perform a wash test first.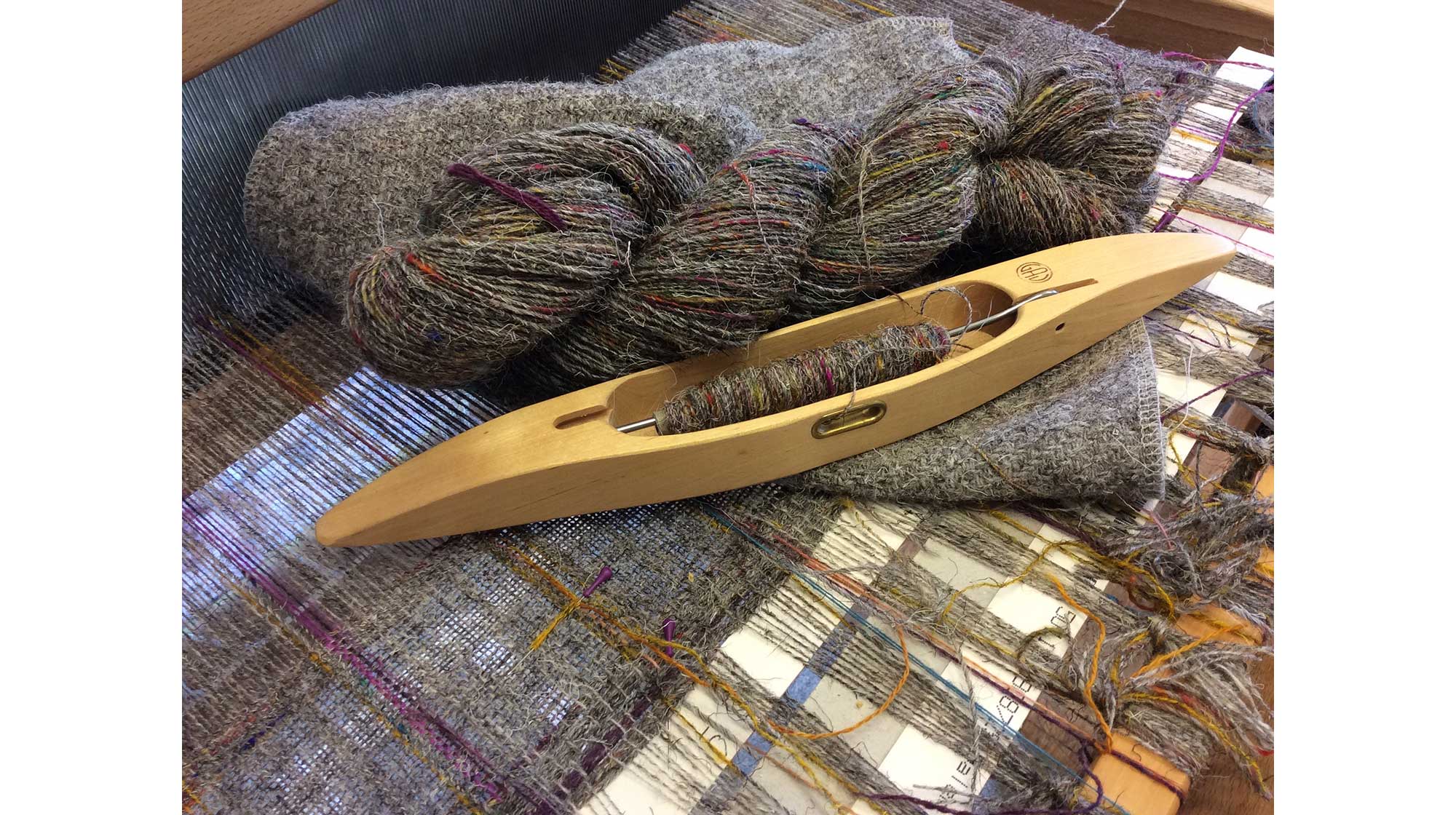 Carole's Process
After Carole identified the fibers she would use in her blend, she needed to decide how to combine them in the yarn. Carole used a technique that incorporates short fibers into the base fiber. In this case, the short sari silk adds bright spots of color to the longer-stapled, tweedy gray Herdwick. Her handspun yarn worked well, but Carole quickly discovered that the Herdwick was very "sticky" on the loom, making the shed difficult to create. Her handspun warp yarn did not hold up as well as she hoped on a full length and width fabric, and some of the warp threads broke. To make progress, she was able to pull through replacement warp threads.

Cath's Variations on the Herdwick Cloth
Inspired by Carole, I created my own versions of this intriguing blend. The swatch shown on the left would make a great knitted jacket fabric; I prefer the side of the swatch showing reverse stockinette stitch with some of the natural kemp visible on the surface. The sample on the right shows my handwoven fabric before fulling.
I have fallen in love with the tweedy nature of Herdwick yarn and plan to use the subtle effect of the silk with the Herdwick for future projects.
Cath Snape is an enthusiast who loves nature, history, and anything related to fiber and textiles. Spinning is her passion, and she enjoys sharing that passion through teaching. She runs Beechwood crafts, delivering craft courses from her tranquil patch in Yorkshire. She loves to understand and is intrigued by new ways and techniques. Visit her at beechwoodcrafts.com, Instagram @beechwoodcraft, and facebook.com/inspiringcraftcourses.
This article was excerpted from Spin Off Winter 2022. To learn about Carole's and Cath's spinning processes, read Cath's full article in the Winter 2022 issue of Spin Off, available here.