When I first encountered a Norwegian dyeing technique called flammegarn in Nancy Bush's Folk Socks, I was intrigued. After seeing flammegarn socks at Vesterheim Norwegian American Musuem in Iowa, I knew I had to give this resist-dyed yarn a try myself. So, in the depths of the Indiana winter, it was time to jump into flammegarn with both feet.
What is Flammegarn?
Speckle yarns are hot right now, but Norwegians (among others) have been speckling and spotting their sock yarns for quite a long time. The bunad (Norwegian folk costume) from several regions sometimes include indigo flammegarn stockings. These sock yarns are dyed with resists tied along the skein, preventing dye from penetrating. They might be tied and dyed once, as with indigo, leaving white speckles, or they might be dyed once prior to being tied with resists and dyed again so that the speckles show the base color.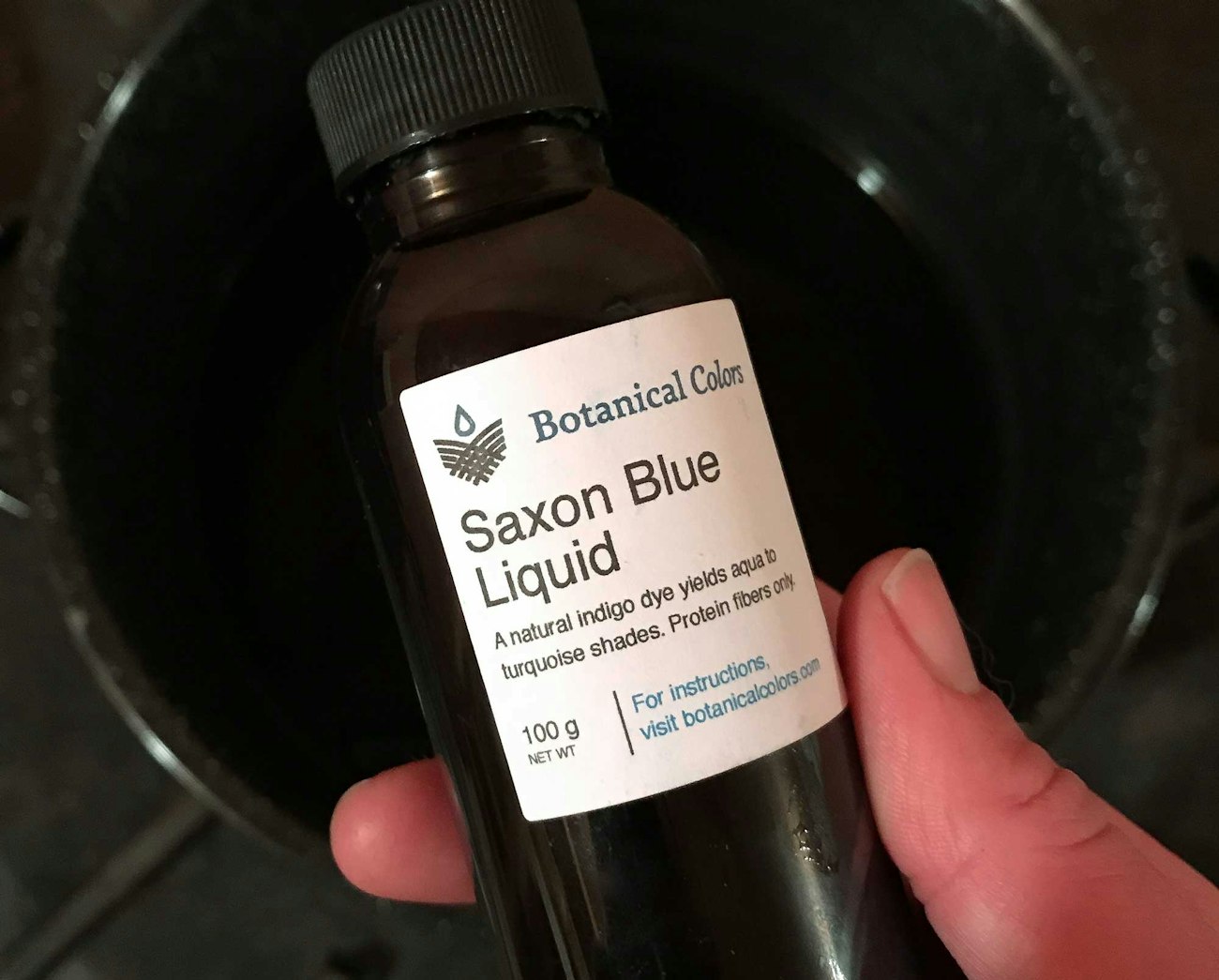 Saxon Blue Liquid from Botanical Colors
Sample, Sample, Sample.
I recently ordered some Saxon Blue Liquid from Botanical Colors. Although the luscious teals of Saxon blue have a dangerous reputation, the product I purchased from Botanical Colors is remarkably easy to use. Pour it into the pot, add mordanted fibers, and heat. Blue stockings, here I come!
I tried several resist materials on three small sample skeins of Columbia 2-ply yarn, with interesting results. All were tied as tightly as possible while the yarn was dry, prior to being dropped into a mordant pot with alum and cream of tartar. I tied one skein each with 8/2 weaving cotton (thinnest), curling ribbon (medium), and strips of cloth (largest).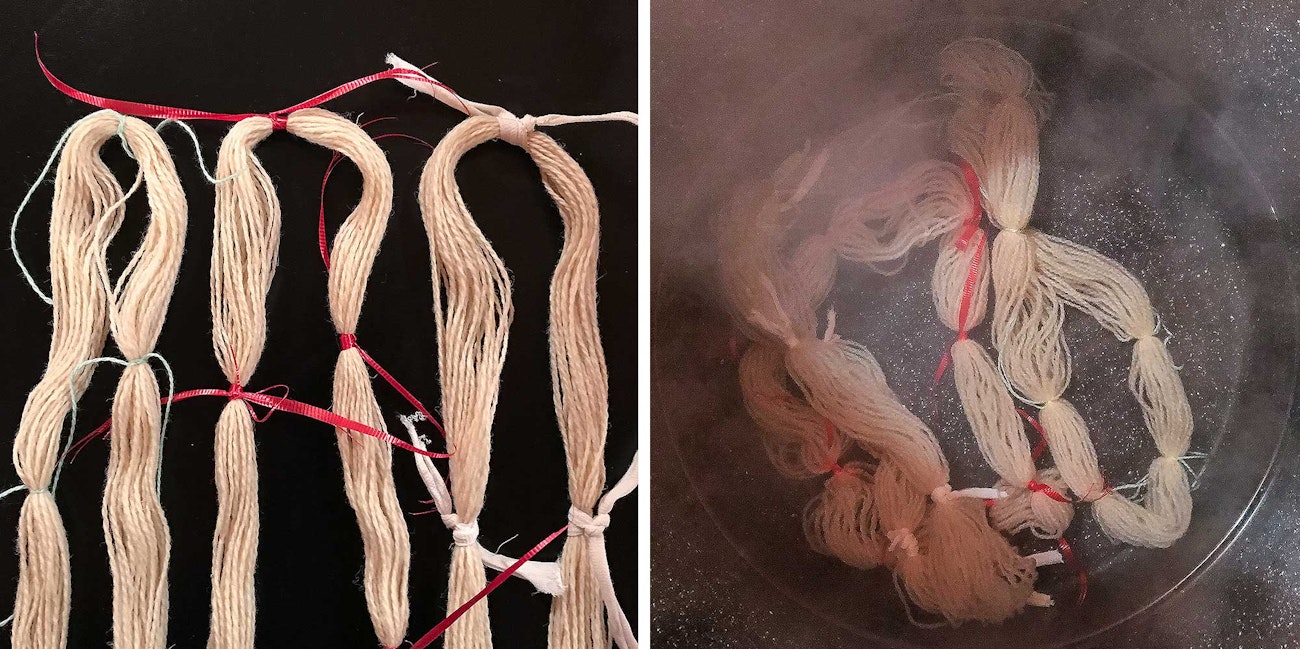 Resists tied on samples, from left: 8/2 cotton; gift-wrapping ribbon; and cotton fabric. I mordanted the skeins with alum at 10% and cream of tartar at 5%.
Not surprisingly, the spots were also small, medium, and large. Perhaps the most interesting difference was the ribbon. Because it isn't a fabric, the spots were more distinct, with sharper edges between dyed and undyed yarn.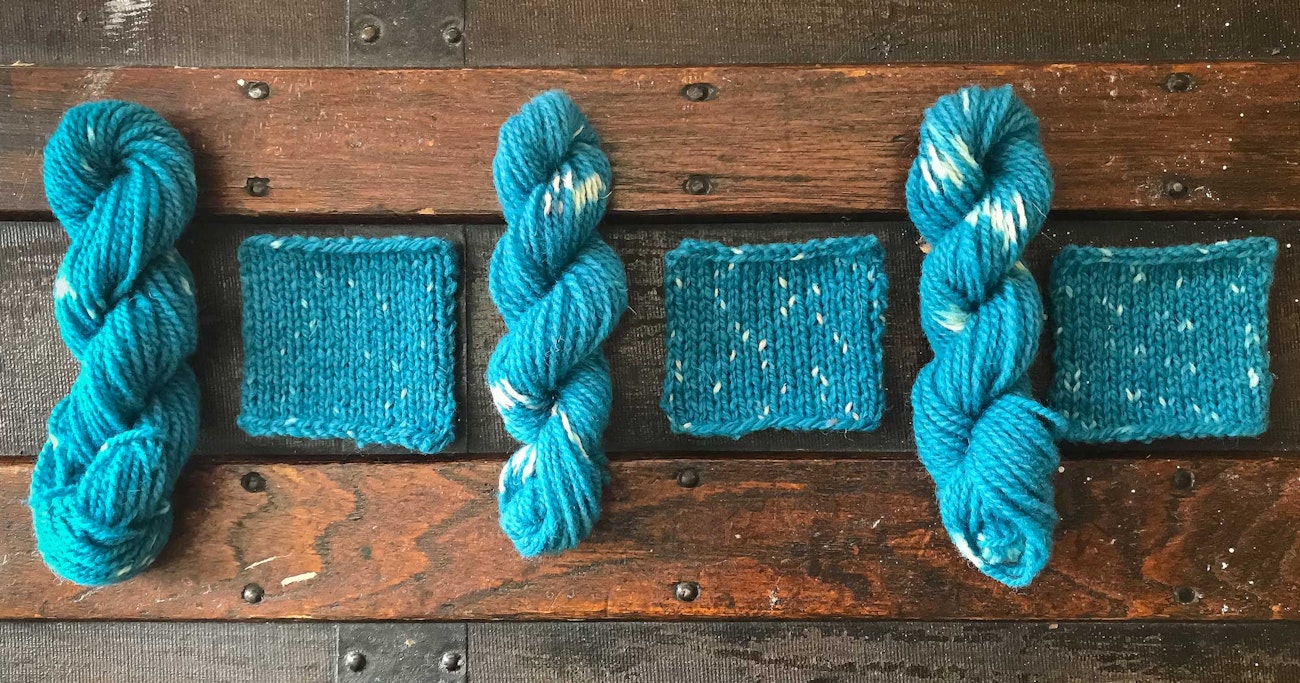 Skeins and swatches from left: 8/2 cotton; gift-wrapping ribbon; cotton fabric
Now that I have my samples, my plan is to create a sock yarn with speckles and spots, but I would like the speckles to also be dyed. Just think of all the options!
Kate Larson is the editor of Spin Off and spends as many hours as life allows in the barn with her beloved flock of Border Leicesters.
Originally published December 17, 2018; updated February 22, 2023.