As we launch into the new year, we couldn't help but reflect on the last 12 months and everything we've done at Spin Off. This year brought many spinning goodies, including four issues, weekly web articles, and the brand new Spin Off library (with something for everyone).
Of the nearly 150 web articles you saw this year, many were brand-new, while others were older gems we rediscovered and freshened up. Every time you come to the site, your visit counts as a vote, and after tallying them all, these articles were the most popular. From sheep to spindles, fiber to finished objects, and everything in between, we'll let you decide which of these 10 posts are your favorites.
10. Productive Spindle Spinning: Yes, You Can!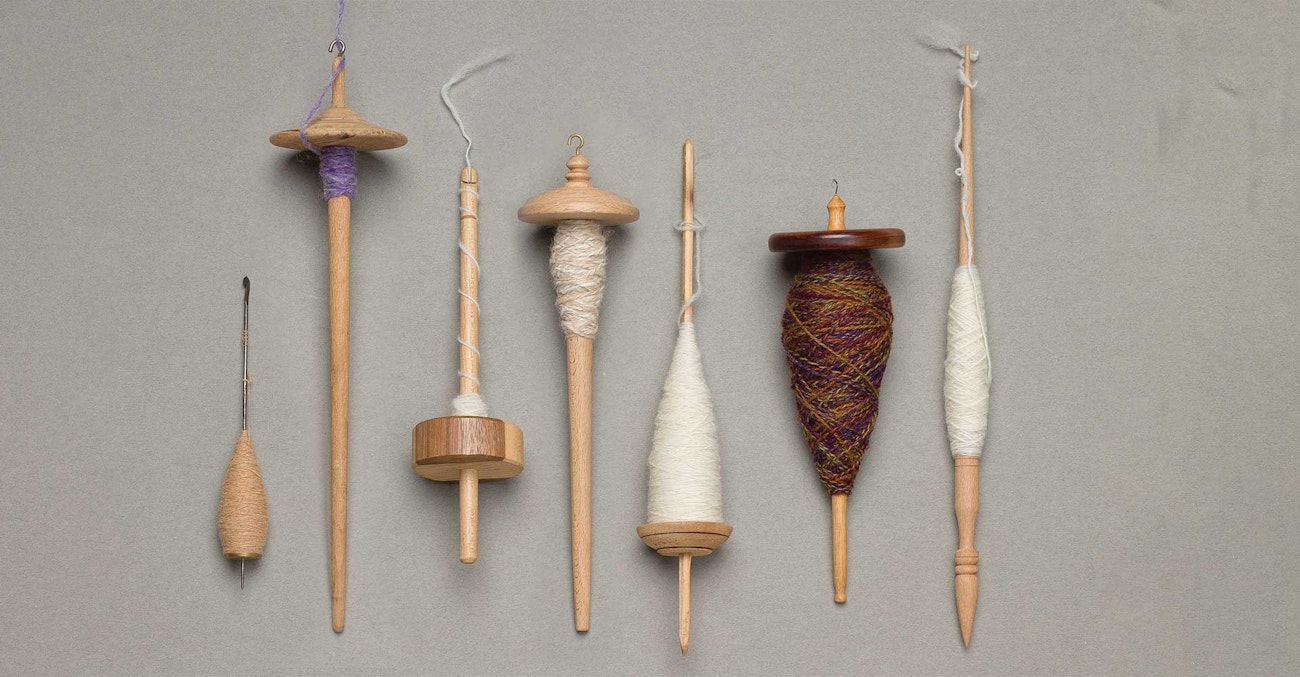 Various types of spindles. Photo by Joe Coca
A handspindle can be more efficient and faster than a wheel. For instance, in good hands, a takli can reach 10,000 RPM, which far outstrips a treadle wheel. And the takli isn't the only "roadrunner"—there are lots of "speed demon spindles" available. Read the full article.
9. Spinning Chairs, Posture, and Finding the Right Fit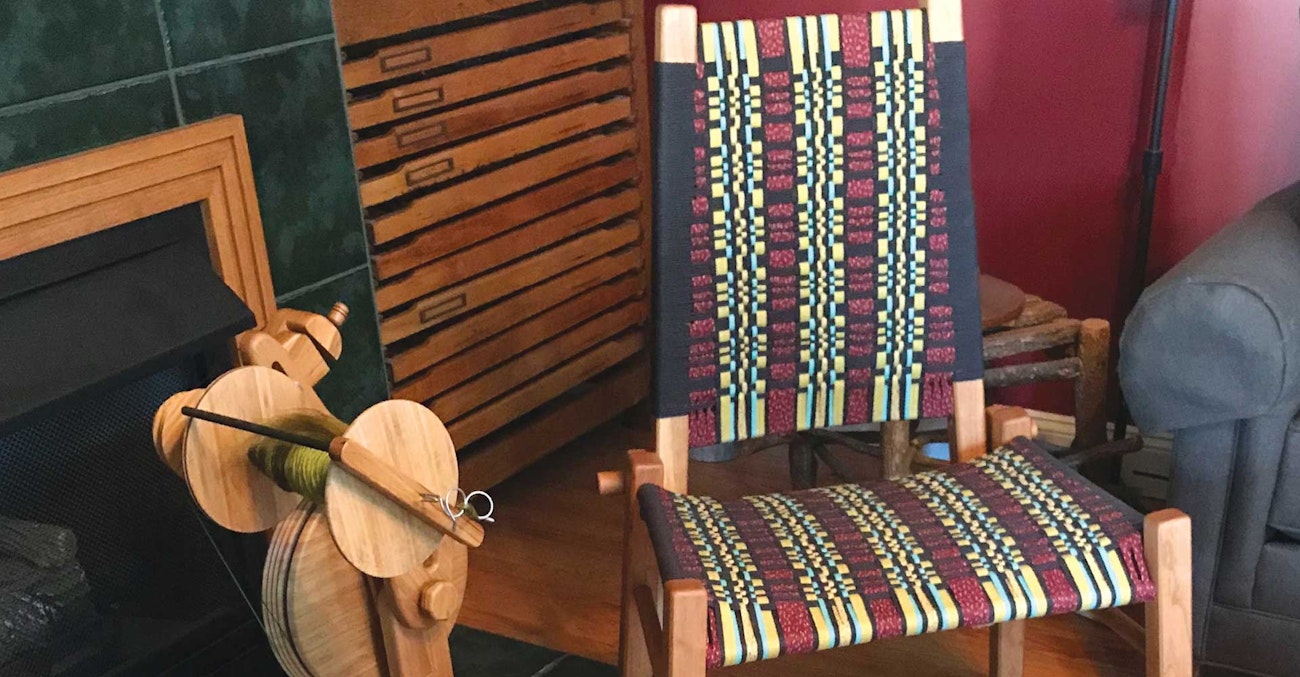 Walt's custom-made chair for spinner Roxanne Eklund and her Majacraft Aura. Photo by Roxanne Eklund
Most spinners don't give their chairs a second thought, but if you have developed new pains while spinning or your old aches and pains are getting worse, don't blame your wheel first; it could be your chair or posture. Read the full article.
8. The Spinner's Guide to Spring-ish Clean a Spinning Wheel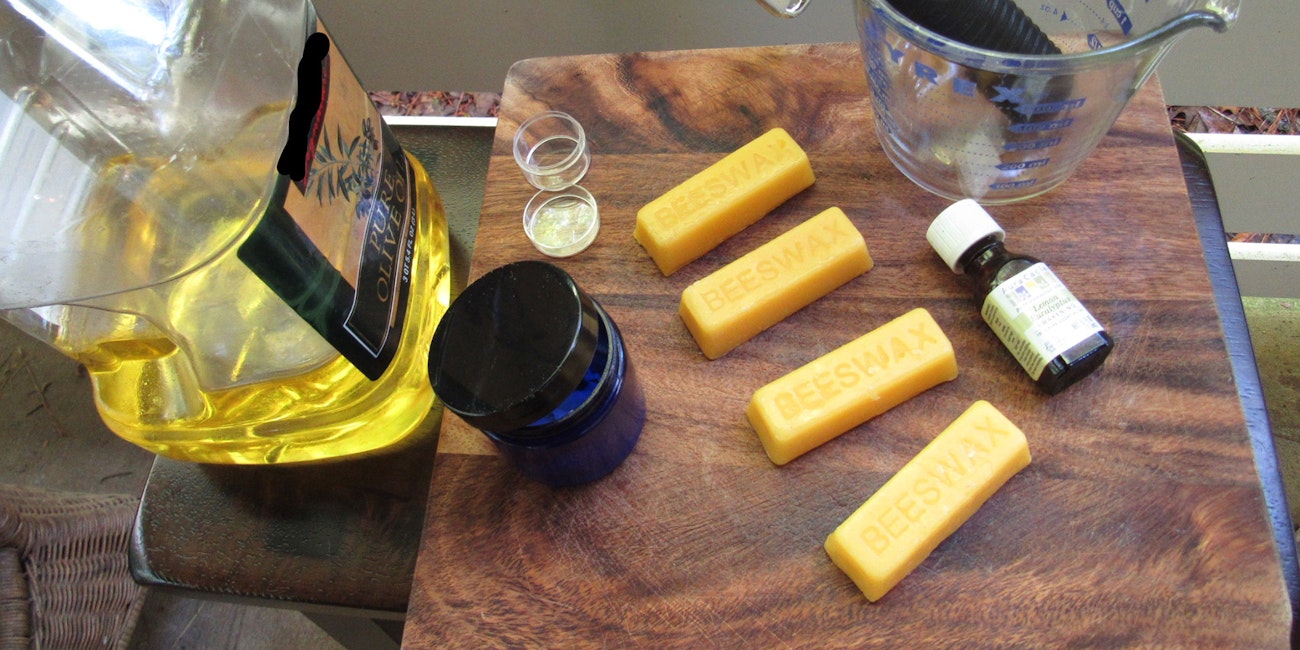 Everything I need to make a generous amount of spinning wheel conditioner. Photos by Deborah Held
Make sure your tools are in tip-top shape. A thorough cleaning can be accomplished in just a couple of hours—depending, of course, on the size of your spinning wheel and spindle cache. Read the full article.
7. How to Get a Perfect Finish: Thwacking and Snapping Handspun Yarn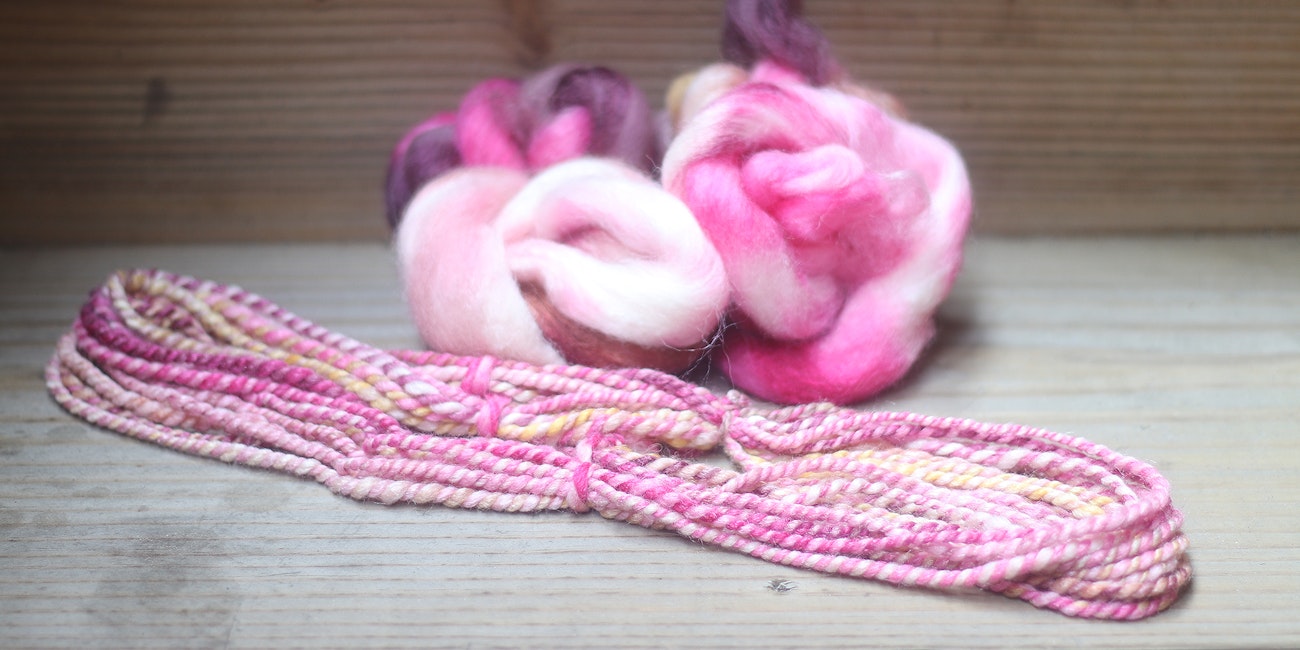 Learn how, why, and when to thwack or snap your handspun. Photos by Emonieiesha Hopkins
Have you ever stopped to think about why you finish your handspun yarn by thwacking it against a surface or snapping it between your hands? Emonieiesha shares her tips for finishing a skein. Read the full article.
6. Drop-Spindle Spinning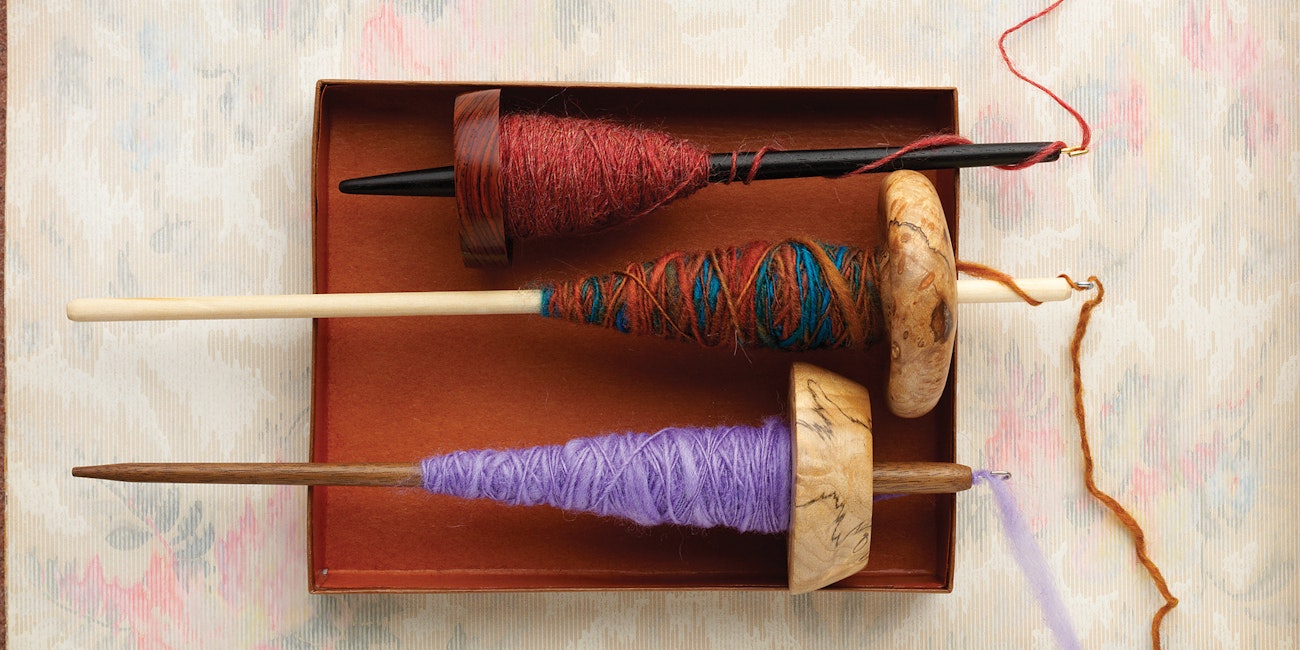 What type of drop spindle is best to start with? Here we discuss both high- and low-whorl options. Photo by Joe Coca
Drop-spindle spinning is a great way to make yarn. Two experts on spinning with a drop spindle, Maggie Casey and Abby Franquemont, have created great resources to help you learn how to spin with a drop spindle. Read the full article.
5. Learn to Cross-Lace Your Flier—Judith Shows You How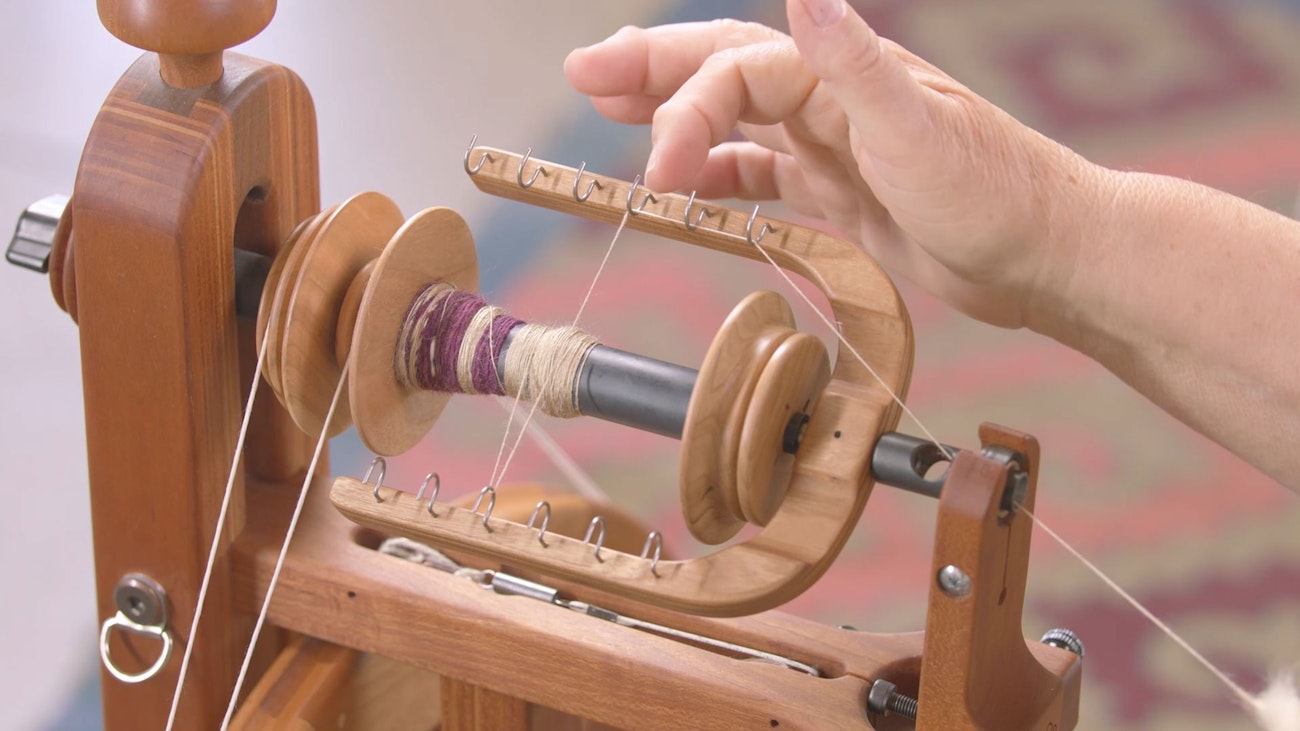 Cross-lacing your flyer can help you master fine spinning. Photo from Spinning Wild & Unusual Silk Video
Cross-lacing is simply lengthening the circuitous route your handspun single makes when it leaves your hands and winds onto the bobbin. This is an important trick to have up your spinner's sleeve for fine yarns, which need a delicate uptake, and also for slippery or short fibers. If you've ever felt like you were holding onto your fiber for dear life as your wheel pulled it away from you, cross-lacing is worth a try. Read the full article.
4. Nålbinding Basics: Oslo Stitch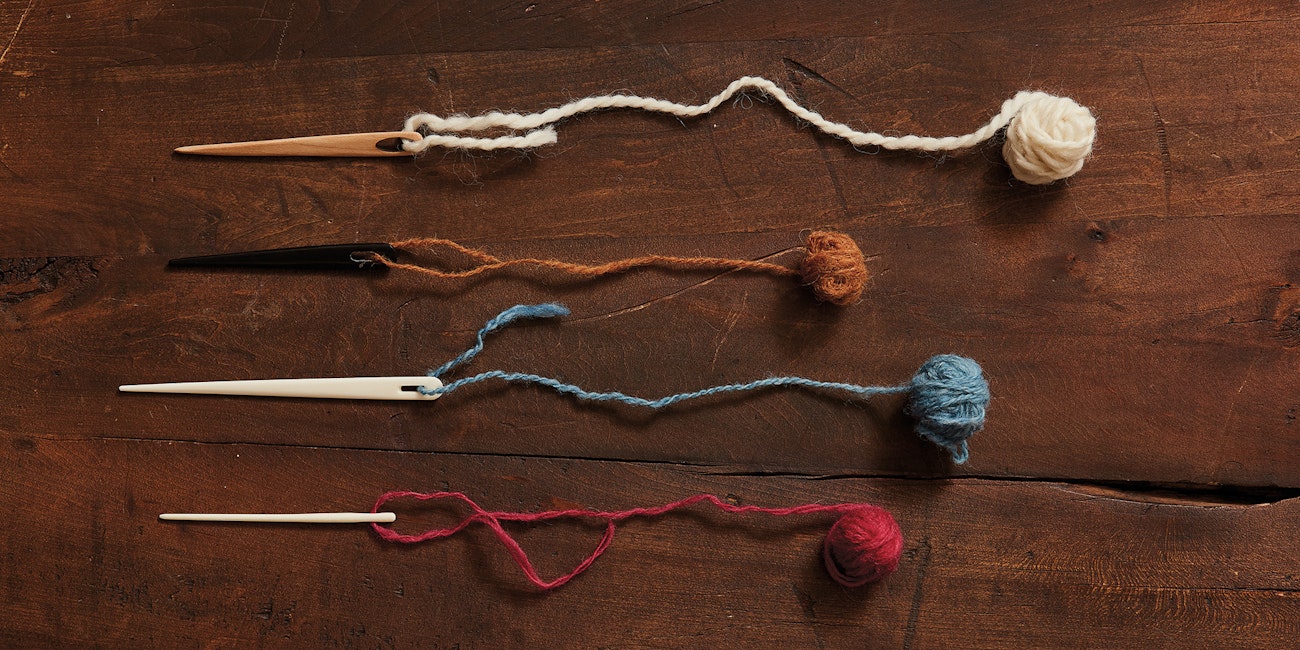 Two-ply yarns spun with a semiworsted draw (from top): Border Leicester from the Doulton Flock, Boreray wool dyed with alder buckthorn, Derbyshire Gritstone dyed with indigo and logwood, and British shortwool dyed with cochineal. Photo by George Boe
Nålbinding is the craft of making a textile from loops of yarn; it is a craft for mavericks. The best advice to someone trying nålbinding for the first time is to be patient with yourself while learning. Can't start in the round? Crochet your first round! Can't do the spit-splice joins? Let ends dangle and weave in later. Persist, keep going, and all will be well with more practice. Read the full article.
3. What No One Told Me about Bobbin Winders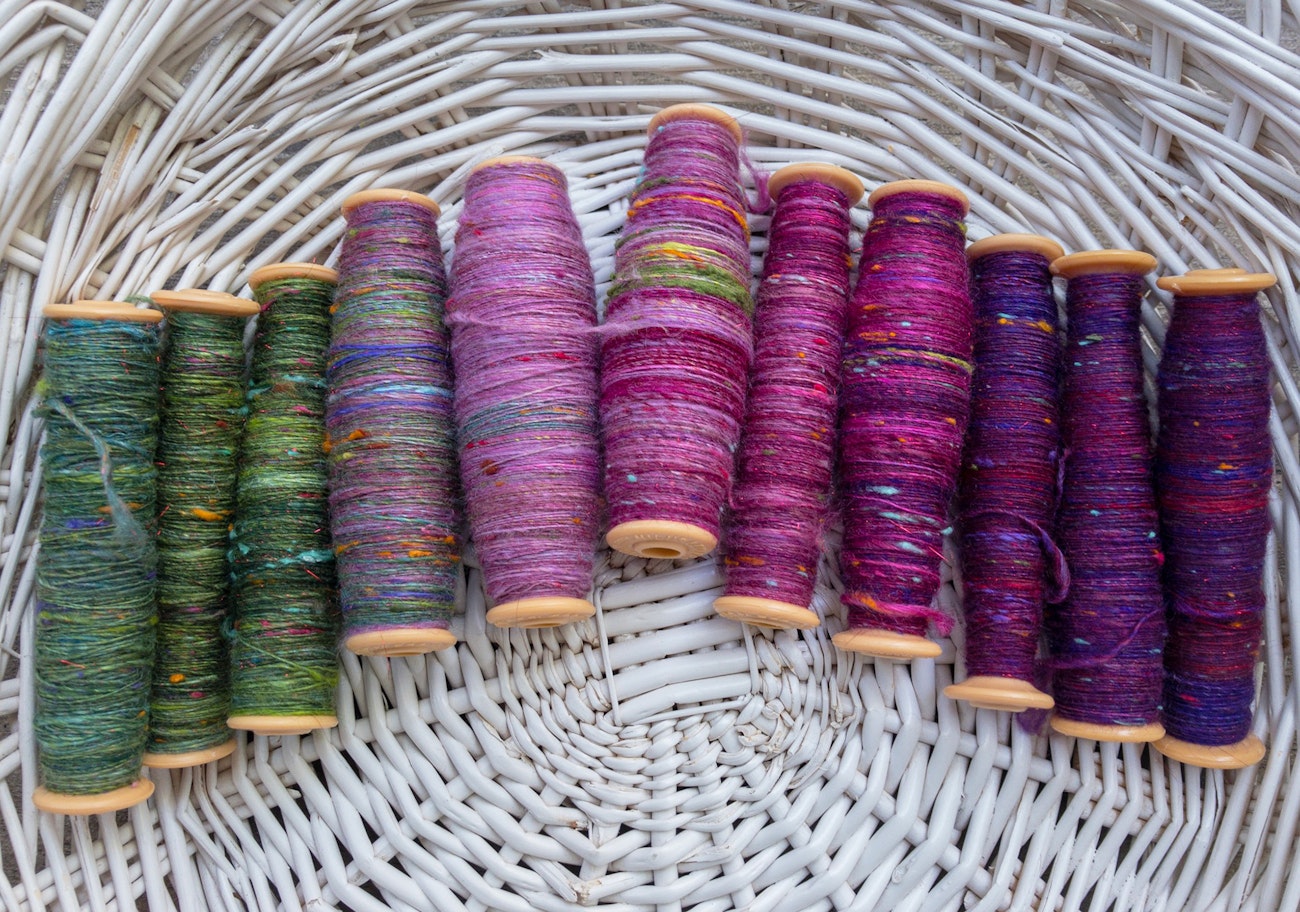 Singles from spindle spinning rewound onto weaving bobbins for plying purposes. Photo by Deborah Held
Handwoven editor Susan E. Horton also winds a lot of bobbins, and she put together an article and short video with some of her favorite techniques and tips. Learn about protecting your table from the bobbin winder, protecting your hands from the friction of speeding yarn, and filling a bobbin so the yarn will run off it freely instead of sticking to itself. Read the full article.
2. Visible Mending: 7 Tricks to Know Before You Sew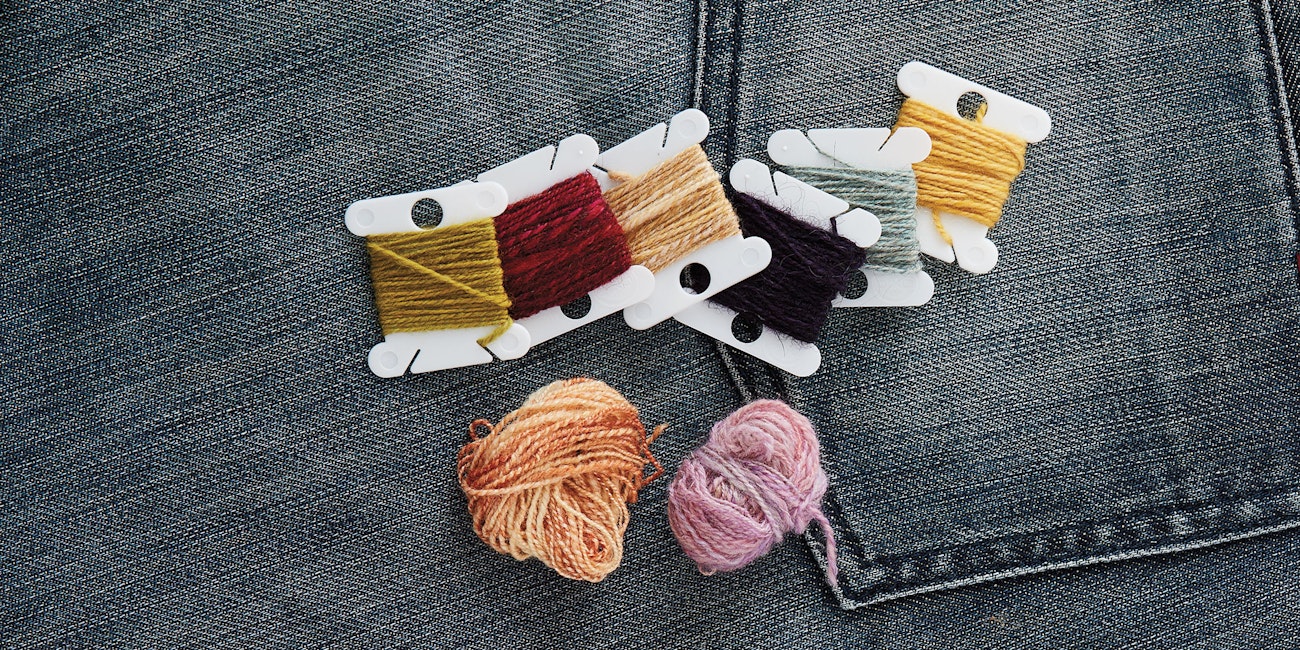 Debbie Held explores mending her jeans with handspun yarn. Photo by George Boe
Patch it, mend it, or darn it—visible mending continues to be hot! Transforming a worn piece of clothing with vibrant stitchwork offers a great way to show off your handspun yarn. Read the full article.
1. What Do Yarn Numbers Mean? Weaving Yarns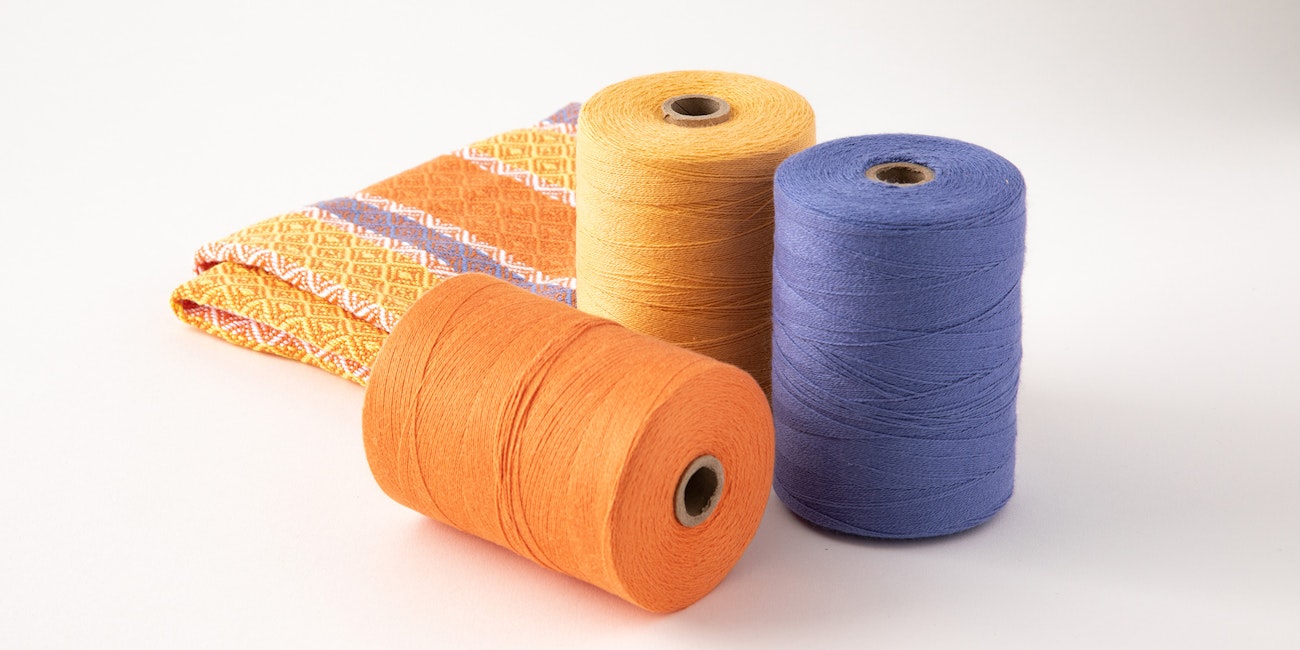 Cotton weaving kit from Vermont Weaving Supplies. Photo by Matt Graves
What do the numbers such as 5/3 or 2/20 mean in weaving yarn? Amy Tyler has decoded the measurement systems used for measuring fibers, and in this piece, you'll learn about the count system used for weaving yarns. Read the full article.
---
We've enjoyed working on it all, and we wish you a fiber-filled 2023.
Happy spinning!