My spinning studio (aka the living room) got a new inmate in the winter of 2010/2011: a drumcarder. I'd used one before, when preparing raw fleece from Maggie, but owning one, rather than borrowing, gave me much more freedom to play around. I could experiment like a mad scientist, sampling different ways to prep fiber and blend colors. It was a brand new spinning world! Mwahahahaha!
To break in the new carder, I prepared about 2.5 pounds of raw fleece from a huacaya alpaca named Jack. His luscious medium-gray fleece had been sitting in a bag for several years because I hadn't felt able to process it or to rewire my brain for spinning alpaca yarn. Alpaca fleece differs from wool in significant ways, requiring different approaches to fiber prep and spinning.
I did make two mittens, but one declined to be photographed for this post. The last tiny bit of Jack yarn became a hanging loop for my alpaca WPI tool.
" class="size-full wp-image-372587" height="708" src="https://longthreadmedia.nyc3.cdn.digitaloceanspaces.com/spinoff/sweater
hat
mitten.jpg" width="800"/>
I knew all of these things in theory before I started processing Jack's fleece, but there's just no substitute for hands-on experience. My very first decision— not to wash Jack's fleece—turned out to be a mistake. The alpacaherdess who sold it to me warned me that Jack had lived in a highly dusty area. But since I wanted to start drumcarding, and since I didn't have to worry about lanolin gumming up the carding cloth, I charged ahead. As I processed Jack's fleece, piles of dirt formed under the drumcarder. After each spinning session, my wheel sat inside a crop circle of dust and I had stripes of black running along my hands. Experts such as Kaye Collins recommend washing before spinning because it's harder to get all the dirt out of a finished yarn; see our free Guide to Spinning Alpaca or watch Judith MacKenzie demonstrate camelid spinning for even more advice.
Prepping & Spinning Alpaca
Fortunately, the mess didn't detract from my fun. Drumcarding went very quickly with a good audiobook on the stereo; Jack's tones of gray formed slightly variegated batts of exquisitely soft fluffiness. I spun semiworsted to create a 2-ply bulky yarn, checking twist carefully—there's a sweet spot for alpaca where yarn holds together without feeling stiff or harsh. Although my big yarn breaks with the tradition of using luxury fiber to make fine yarn with lots of twist, Jack's longish staple length gave me more room to play. Plus, I hoped to knit a particular pattern from Jack that called for a large amount of bulky yarn.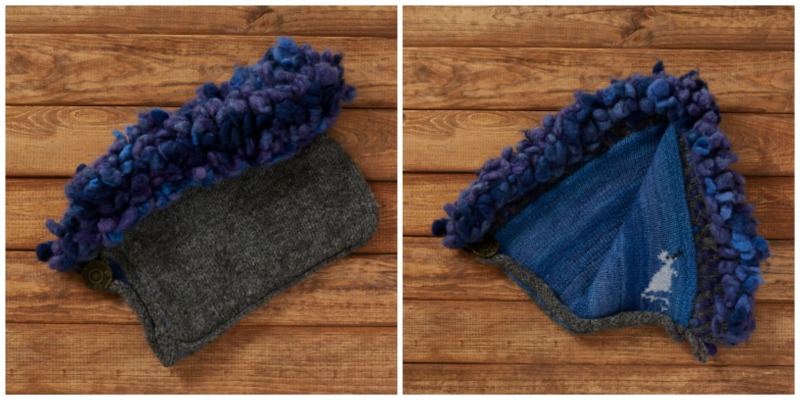 When my initial plans for this yarn didn't work out, I knitted Jordana Paige's lovely Cadence pullover. It's a gorgeous sweater in alpaca, though there aren't too many days suited for a heavy sweater with elbow-length sleeves. Then I created a delightful hat and coordinating mittens—you're never too old for antlers! Finally, the last ball of Jack's yarn provided the perfect outer layer for Lyra's Hood, with other handspun on the inside. That's a lot of snuggly gray goodness from one little alpaca!
—Deb
---
Read more "Closet Full of Sheep"!
Featured Image: Image by Moha Abdo from Pixabay
---