Handspinning has become like breathing to me these days. A regular practice keeps me balanced and grounded. It has helped me heal my wounds after my father's death and reconcile with my life.
The Chalo Charkho Ramiye program is about the revival of handspinning in India through a holistic approach. The Indian spinning wheel, or charkha, is generally associated with India's independence movement and Mahatma Gandhi, but for me, it all started with a passion to revive an indigenous craft that is fast becoming almost extinct in my country. To my surprise, only after two years working with the program did I find out that my mother had learned charkha spinning in school. The occupational skills of farming, textile making, and carpentry formed the core of the Indian education system.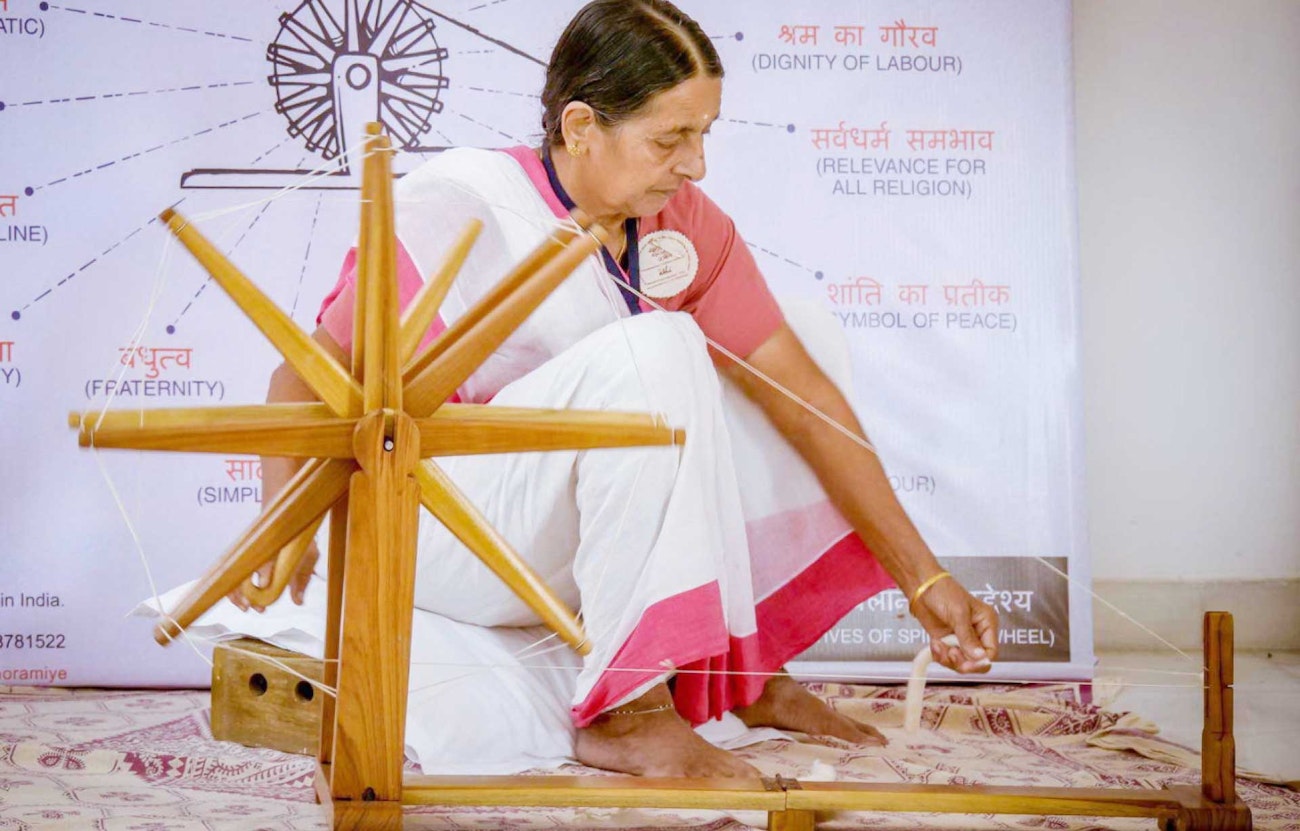 We began the program in 2013 by meeting once a month, and within a year, we started weekly programs. In addition, there are special programs where I have been invited to demonstrate and teach charkha spinning. I teach, and if I have more participants, I organize volunteers. My program focuses on hands-on spinning experience and developing educational materials. I also felt it was much needed to have a publication on handspinning from an Indian perspective, so I authored a book on the subject. My mother also gives demonstrations for public events.
In my experience, everyone who visits the program watches in wonder to see how yarn is made with simple tools like the takli and different types of charkha. They all want to try their hand at making yarn. A lot of them later take handspinning lessons with me, and a few of them are regular spinners now.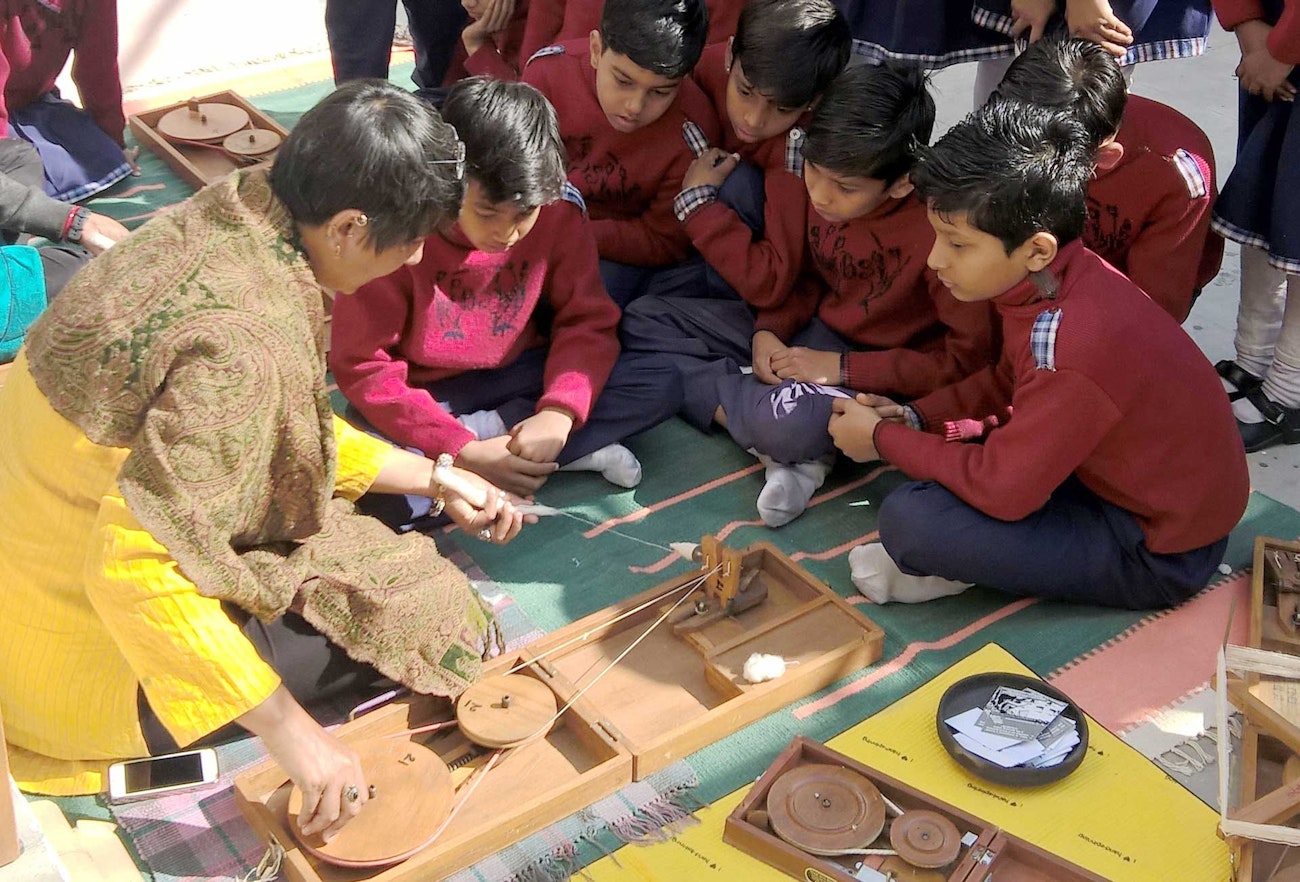 I teach students from all walks of life, be it children as young as six to teenagers to elderly people in senior residences. I find children particularly receptive, and they learn with great enthusiasm. I also teach specially abled people with physical and mental challenges; for them, this is therapy. I see immediate results, with improved concentration as well as increased ability to sit and work in one place.
I was born in Ahmedabad, the first UNESCO World Heritage City of India, although I lived in rural regions of my parents' ancestral villages during my childhood. I belong to a traditional potter's community named Varia in western India. My first name, Avani, means "Earth." I believe my association with traditional pottery and love for nature is where I got my passion for heritage or traditional arts.
My mother is the epitome of my inspiration. She taught me various life skills and crafts that enable me to live a sustainable lifestyle, to reuse and repurpose, which formal education never teaches. These days, it is fashionable to talk about sustainable living; in India, our lifestyle was traditionally environmentally friendly, and we were conscious of using local resources and skills. I am trying to find a best possible balance in my experiences of rural, urban, and international living to contribute to the resurgence of heritage arts and live a sustainable life.
India is known for its diversity, and so is the case of its heritage arts. Every few miles, one finds different handwork skills, arts, and crafts that were traditionally community-based practices. My encounter with the richness and diversity of Indian traditional arts outside my potter's community happened during my design education, in which I studied the bamboo craft of northeast India. The diversity of crafts engaged me so much that I made Indian arts the center of my career.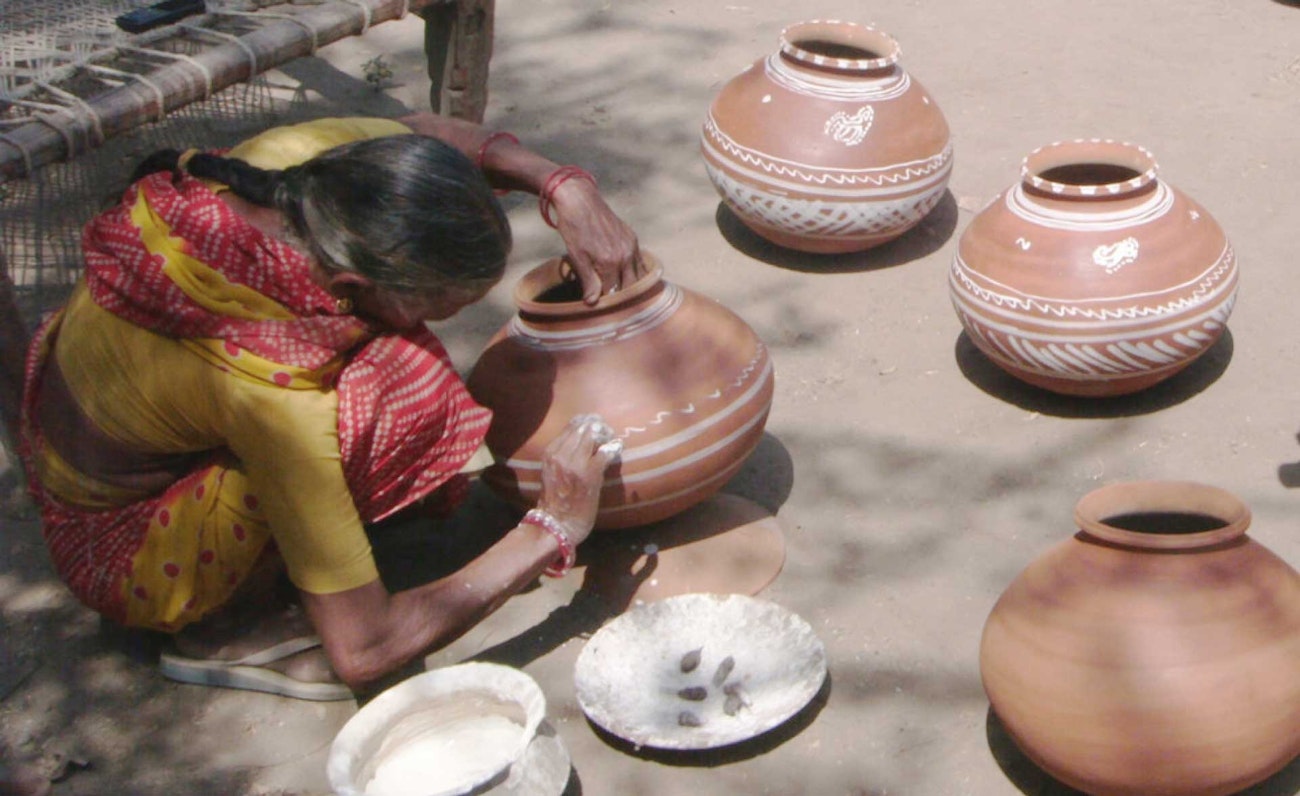 For me, Indian arts are not just products but a lifestyle entwined with the local economy, environment, and culture. To research, document, and promote local arts is to give a holistic picture to Indians that is lost in the race of so-called development and materialistic combat. For me, when people buy traditional creations, they contribute to sustaining a local maker's family, contributing to the Indian economy, endorsing sustainable living, and understanding the story and effort that have gone into the making of an object.
"Exposure, Experience, Acceptance" is the foundation for all my independent programs. My experience demonstrates that to survive and revitalize arts and culture, one needs to practically live it. This can be done by giving exposure and experience to local youth and children, as they are the future with the capacity to either pursue or turn away from their heritage.
Avani Varia is the author of Chalo Charkho Ramiye: A Contemporary Charkha Movement. Find out more at avnivaria.com.
This article first appeared in Spin Off Fall 2021.