If you love working with novelty yarns, Sarah Anderson, teacher and author of The Spinner's Book of Yarn Design, made a whole video on this very subject, and in four hours she shows more yarns than you might have known existed. In Building Blocks of Spinning, Sarah walks you through—you guessed it—the building blocks you need for a lifetime of successful spinning: twist, draft, and control. She also teaches you how to create spiral, cable, crepe, bouclé, and other novelty yarns.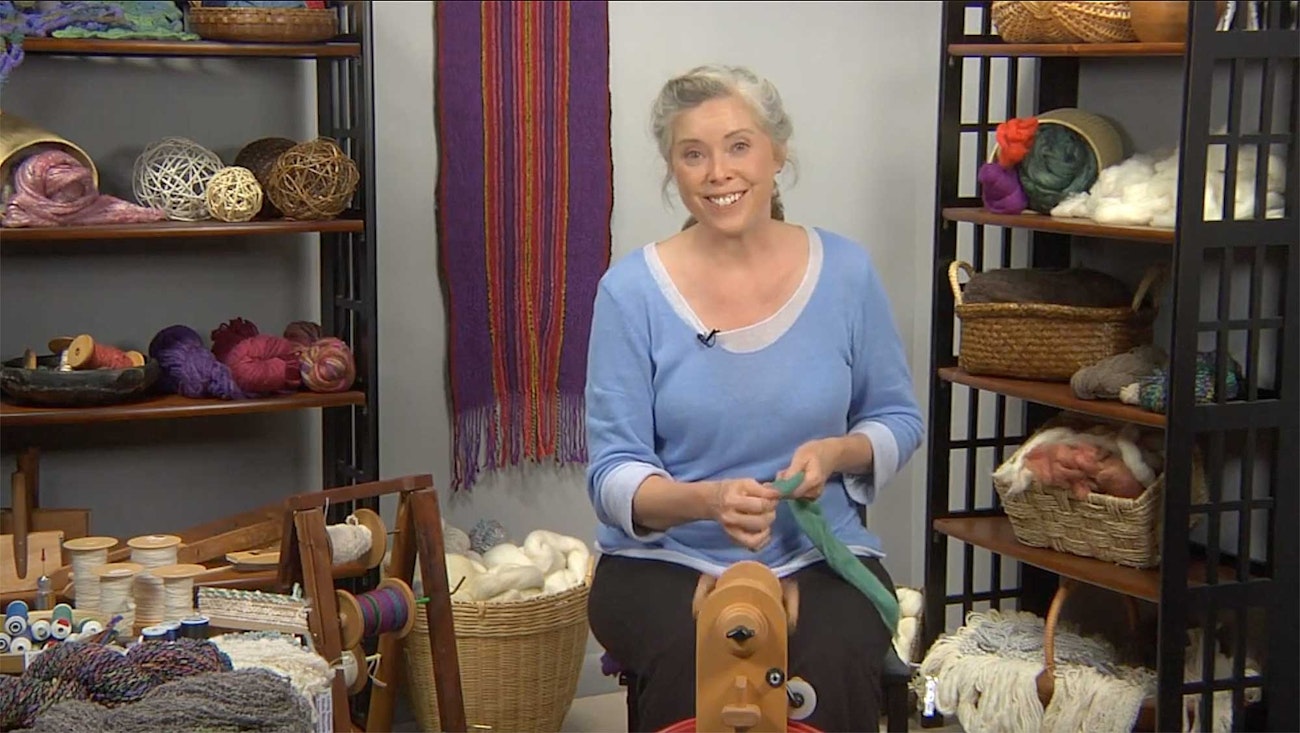 Sarah Anderson demonstrates the secrets of twist, techniques and fiber preparation for worsted and woolen spinning, how to spin short fibers like cotton, basic balanced plying, chain (Navajo) plying, troubleshooting, and more. Photo from Building Blocks of Spinning by Long Thread Media
Goal: Great Slubs
I marvel at how easily Sarah can change the diameter of her yarn. I know in my head that the diameter of a yarn is really only determined by the amount of fiber I draft into it, but getting my hands to make that change quickly and easily (and consistently!) is pretty challenging. Sarah credits the precision of her drafting to spinning slubs.
When I first started spinning, slubs were an unwelcome occurrence, a lumpy-bumpy impediment on my way to smooth, fine yarn. But just like spinning fat yarns can get harder if you only work on your fine-spinning skills, slubs can be hard to wrap your head and hands around if you have only practiced one style of drafting.
What's the secret?
Sarah taught me three:
Use combed top. What follows is a lot easier if all the fibers are the same length.

Draft out a staple length until it starts to thin while holding the twist at bay. You need to draft out just a little bit less than the length of the staple. Keeping an eye on the transparency of what you're spinning will tell you when it's time to draft out another bunch of fiber.

When you've reached the end of the staple, gently roll your fingers in the direction of the twist and let the twist into the fiber slowly. Shepherding the twist down every inch of the slub will compact it and disarrange it.

Left to right: Sarah Anderson demonstrates taking a bite of fiber for a slub. She then slowly allows the twist to roll into the freshly made slub. Finally, slub yarns can be so even that you can match up the thick spots for a very cool textured yarn. Photos from Building Blocks of Spinning by Long Thread Media
You may be surprised to learn that slubs are a great way to practice consistency! Sarah Anderson offers wonderful advice for spinning all kinds of yarns in her video Building Blocks of Spinning.
Check out these other great resources by Sarah Anderson, which are available as individual downloads, or as part of an All Access Subscription:
Anne Merrow is Editorial Director and a co-founder of Long Thread Media.
Originally published November 10, 2015; updated June 19, 2023.