Sampling is for more than just spinning projects, and I'm constantly sampling in my life as a natural dyer. When I am exploring a new dyestuff or trying a new method with a familiar dye plant, I'll often spin up a skein, split it into minis, and prepare each one to be placed in a different dyebath.
I used this method in my article, "Ode to an Onion Skin," published in Spin Off Fall 2022 to easily test 10 different onion-skin recipes. Mini skeins created from one larger skein help to create a consistent sample set without needing a large amount of dyestuff. In my set of 10, the minis ended up either mordanted with alum, or not, and then individually modified with adjustment to the pH of the dyebath or afterbath to shift the color.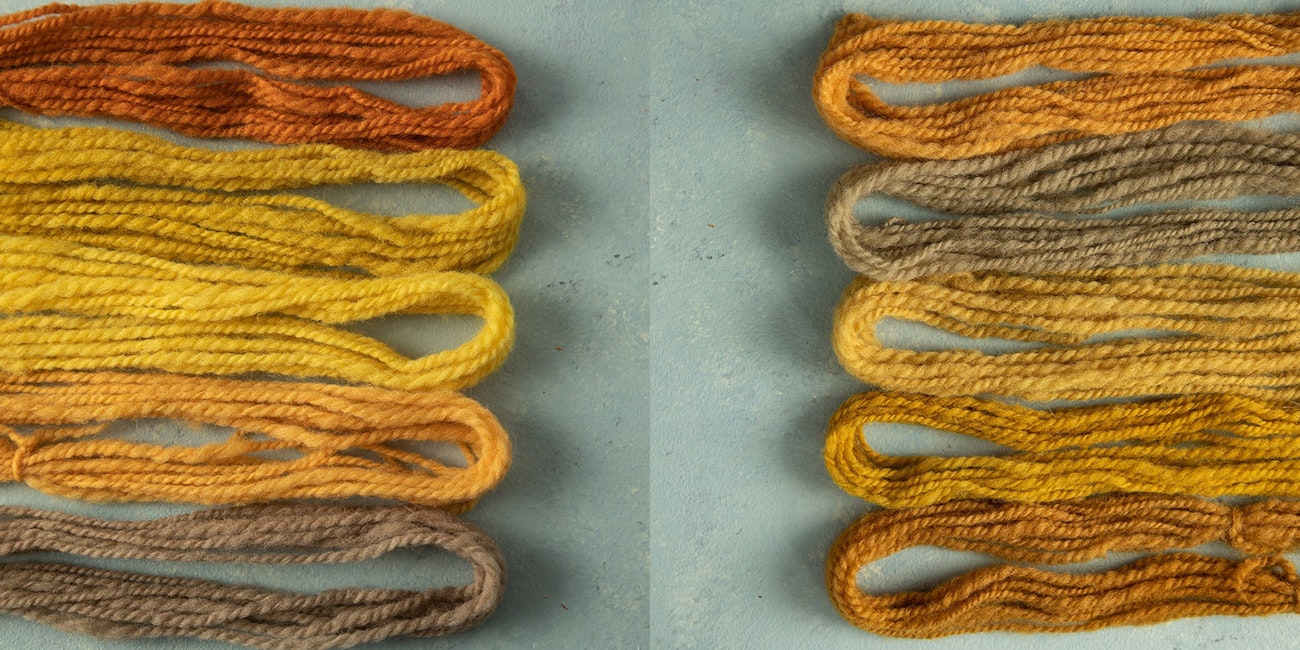 Madeline's sample skeins dyed with onion skins and various mordant techniques.
With so many questions and so many dyestuffs to try, I often end up with baskets of small-yardage skeins that accumulate around the house. The way natural dyes tend to "go" together without clashing is something that I truly love, and these minis are a great excuse for playing with color. Putting together palettes of my own colors helps me plan larger projects, and there's there's no rule that color studies have to be swatches. Whether dye experiments, or scraps left over at the end of larger projects, I'm a big fan of smaller knits that focus on color.
This simple cowl knitted in linen stitch gives a lovely, flat fabric; interesting texture; and plenty of opportunity to play with color as you work. I made one version of the cowl with the 10 skeins I dyed with onion skins; however this pattern is easily modified to use what you have. I find that two-color linen stitch works best with colors that contrast, though if you'd like your cowl to have a more uniform look overall you can choose to use one continuous main color and only switch the smaller skeins as you go.
Kitchen Cast-Offs Cowl Knitting Pattern
Fiber about 3 oz.
Yarn 2-ply; 2–3 colors (see Notes), about 110 yd total; 640ypp; 7–8 wpi; worsted weight.
Needles US size 7 (4.5 mm), 16" circular. Adjust needle size if necessary to obtain the correct gauge.
Notions Marker (m).
Gauge 17 sts and 24 rnds = 4" in linen st.
Finished Size Single loop, 24½" x 7". Double loop instructions are included in parenthesis.
Note: to make a double loop cowl, cast on twice as many sts.
Visit spinoffmagazine.com/spin-off-abbreviations for terms you don't know.