In her new video, Spinning Fractal Yarns, Heavenly Bresser teaches us how to use handpainted combed tops and hand-prepped batts to create handspun that is rich in complex stripes and color interactions. I was excited to see that Heavenly begins the spinning section of her course with a great demo and discussion about "spinning across the top." This technique is one of those things that we often know about, but until we see someone do it well, it can be hard to put into practice.
What we call "spinning across the top" or "spinning on the tips" is simply working back and forth in a zigzag when drafting and spinning so that the full width of the fiber is spun evenly. This is important when spinning a handpainted combed top because it typically means that all of one color will be spun before shifting to the next. It really is one of those things that is easier to demonstrate than explain! So, Heavenly's excellent lesson on this technique is one of our top tips to share with you from her fab new course.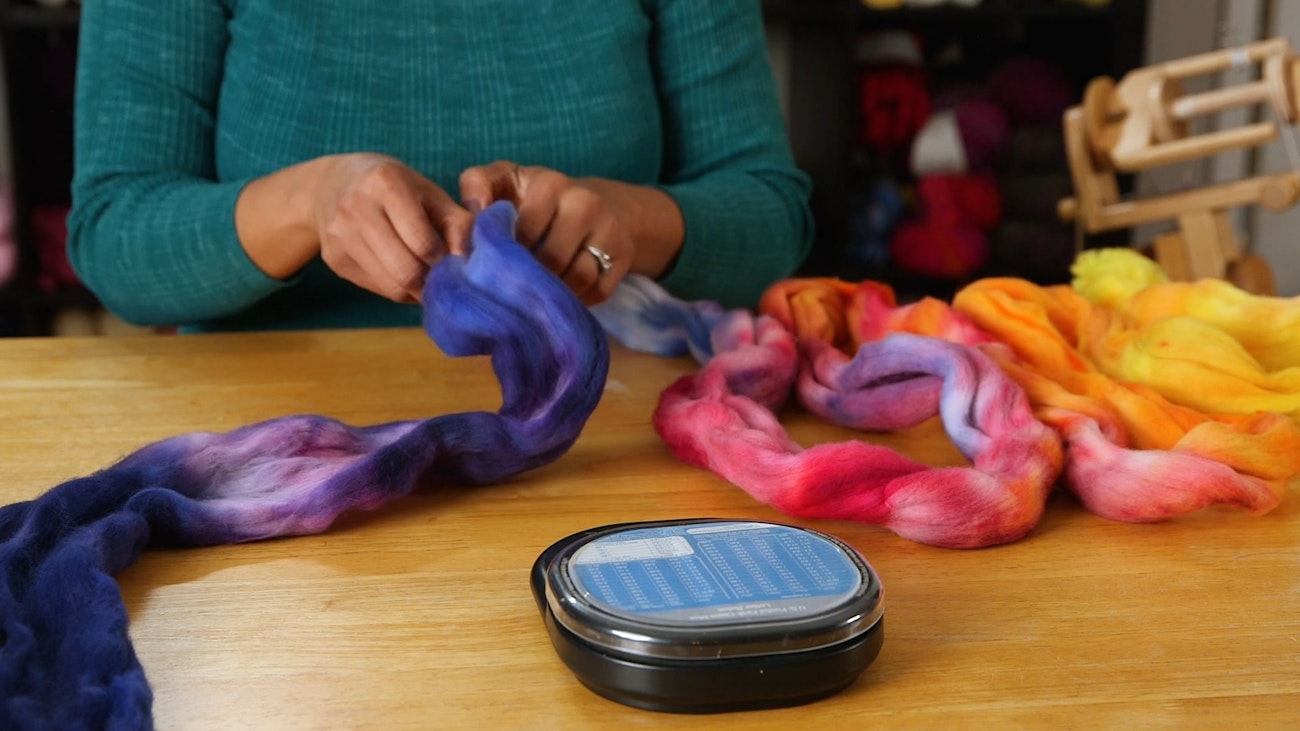 Handpainted tops typically change color along their length. Spinning across the tips helps you use up all of one color before shifting to the next. Photo from Spinning Fractal Yarns video workshop
Spinning Across the Tip of Your Tops
Heavenly describes spinning across the top here, but if you've struggled with this technique, I also urge you to carefully watch how she manipulates the fiber, too. Here are a few things she shares:
Drafting Technique: Short-Forward
This drafting method is often called a worsted draw or short-forward. You'll see that Heavenly's forward hand pinches the point at which the twist meets the fiber, preventing the twist from entering the fiber supply. This method creates great control over which fibers are drafted. Watch Heavenly's forward hand (her left) as it shifts the point of twist right or left across the fibers.
Flip It!
Not everyone is comfortable spinning across the top moving from left to right or vice versa. So, Heavenly shows a great trick if you only feel comfortable zigging to the left and never zagging to the right; simply flip the fiber over when you get stranded on one edge. That's it!
A Chill Fiber Hand
Also check out how relaxed Heavenly's back hand (her right) is as it holds the fiber. So often, I meet spinners struggling with smooth drafting and consistency that only need to relax their grip on the fiber supply. Heavenly uses her fiber hand to loosely hold the top. That hand also adjusts the angle of the fibers to change which section of top is presented to the fiber. Having trouble getting the left side of the fiber spun evenly? Simply tilt it toward the twist with your fiber hand and move the point of twist to meet it with the forward hand. It takes practice, but this little video is worth a thousand words!
Learn more about how you can start planning, spinning, and plying self-striping yarns that celebrate every hue in your fiber with Heavenly's fun and beautiful course, Spinning Fractal Yarns.
Kate Larson, editor of Spin Off, teaches handspinning around the country and spends as many hours as life allows in the barn with her beloved flock of Border Leicesters.