I am on a serious cardigan kick, and I find myself contemplating buttons as I spin and knit. Creating a garment by hand—whether it's loud and colorful in its scrap-tastic glory or a gathering of sheepy grays—allows us to wrap ourselves in our work. This me-made aesthetic can sometimes feel a bit . . . interrupted if we end up putting plastic buttons down the front of our new handspun garment. I have a fun solution for you to try! Dorset ring-style buttons.
I first encountered Dorset buttons years ago when reading Burning Bright, a Tracy Chevalier novel that follows a family of button makers as they make a new life in London during the eighteenth century. After reading further about the English button trade (1700s–1900s), I was giddy to see how it intersected with other authors I adore, such as Thomas Hardy and Jane Austen.
The original button styles created in Dorset were made using a small disk of horn and sometimes small tufts of wool. Local sheep, which we now call Horned Dorsets, provided both. Photo by Deirdre Carter
I wrote an article with a short history of this tradition more than a decade ago, and it was published in Jane Austen Knits 2013. The article included a tutorial with instructions for creating a Blandford Cartwheel button, and we are excited to excerpt the article and share it as this month's subscriber bonus! Current Spin Off magazine subscribers can log in to access the downloadable PDF at the bottom of this post. Not a magazine subscriber? Learn more about all the perks.
Handspun Buttons
Using handspun to create Dorset buttons isn't new—after all, the Dorset button trade is recognized as starting in the early 1600s. However, I don't think nearly enough button makers are trying handspun. I hope you'll give it a try, so I've gathered a few tips below for intrepid soon-to-be button makers.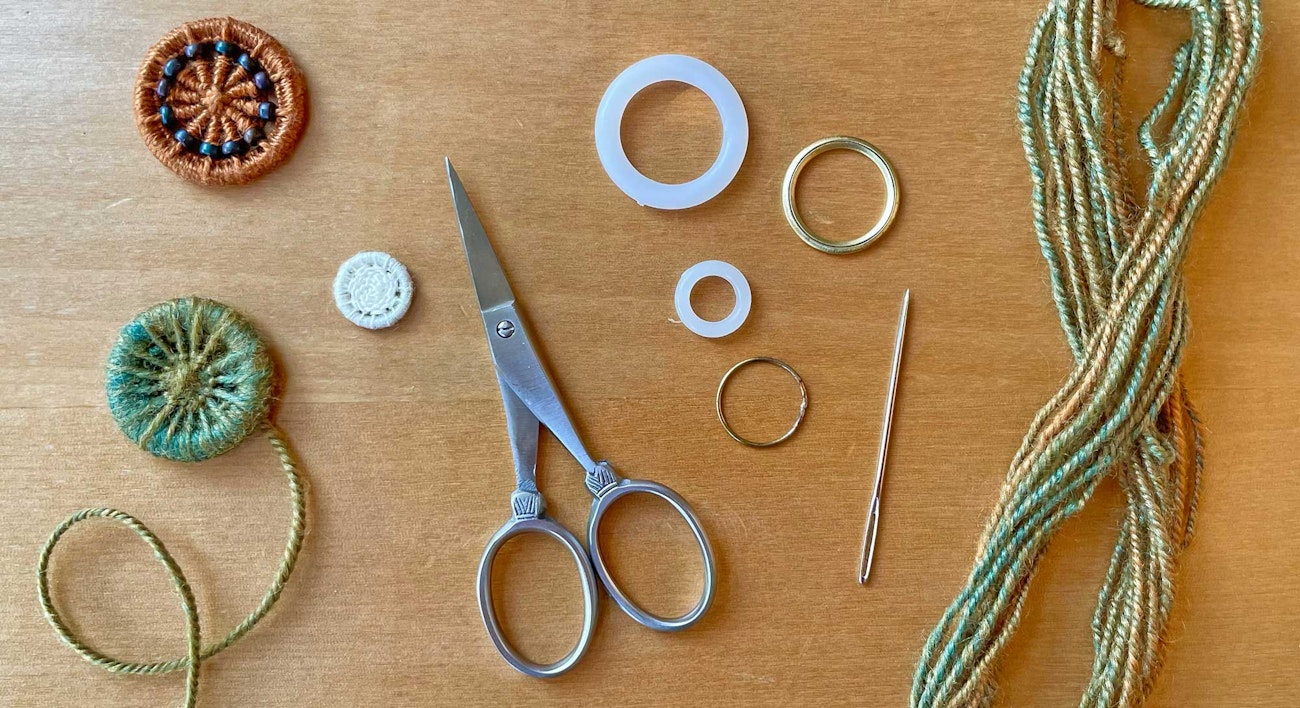 All you need to make buttons: sharp scissors, tapestry needle, yarn, and a rust-proof ring (plastic or brass work well). Buttons on the left are (from top) silk with beads, fine bleached linen, and BFL silk. The rings range from 1.5 cm to 2.5 cm.
Tips for Happy Handspun Buttons
Use a gray silk or silk blend to create buttons that look almost like pewter buttons, but without the weight and drag. Try gold or copper, too!
Start with a high-twist yarn to create a crisp button. Depending on how you work your button, you will build up or lose a fair bit of twist. Simply dangle the button or twist the needle to rebalance as you work.
A button design that leaves empty space in the center of the ring allows the background fabric to show through. This often makes the button blend naturally into the piece.
Chain-plied yarns pool color, creating a shaded button, like the green button shown here. Want the colors to shift faster? Simply divide a small strip of fiber off of a handpainted top to shorten color repeats. You need between 2 and 3 yards of yarn to create the button in this tutorial, so you can plan the color shifts accordingly.