In many respects I am still a beginning spinner and learning a great deal about fiber and the effects of spinning. For the Crocheted Peddler's Pack I created for Spin Off Fall 2020, I kept the settings I normally work with at my wheel. The focus for that project was spinning a consistent size that was larger than I usually do. I did not consider the twist, as I simply spun for the bag as originally taught—S twist for singles and Z twist for plying.
As I am exposed to more varied projects that we receive for Spin Off, I notice that some are spun opposite, Z twist for singles and S twist for plying. This got me to thinking—what effect does this have in the finished project, and does one method versus the other make a difference? As any scientist would do, I set up an experiment.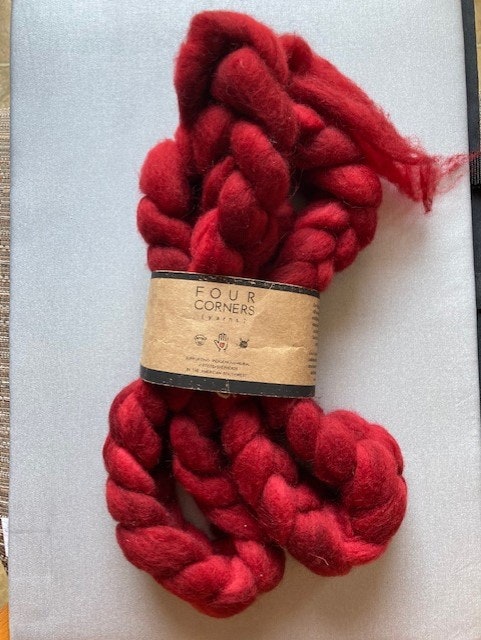 From my stash I pulled a lovely braid from Four Corners. Their High Desert 2 base is 40% single-flock Navajo Churro and 60% single-flock fine Merino. I weighed out 2 ounces and split this into 1-ounce portions. I wanted to keep the spin as comfortable as possible and kept my Schacht-Reeves wheel at its usual settings, using the medium whorl at the 19:1 ratio for spinning and the 16:1 ratio for plying. One ounce was spun with S twist and Z plied, while the other was spun with Z twist and S plied. The skeins were finished together in a bath of Soak, spun out, and left to hang dry.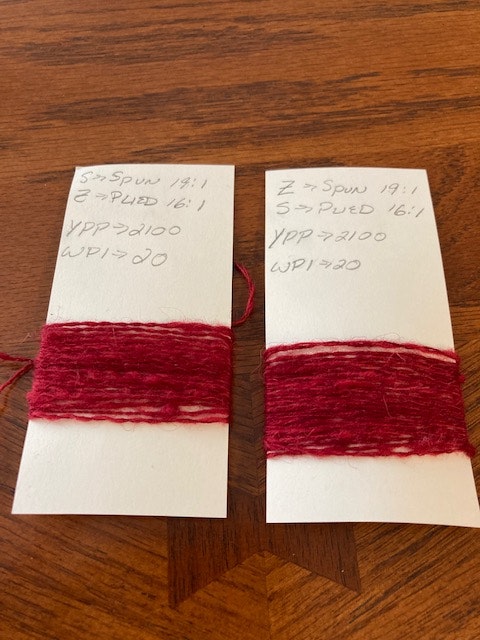 Now on to working with the yarns. Using a size F (3.75 mm) hook I crocheted sample swatches of each along with a doily pattern from The Art of Crocheting featured here. With any experiment, you try to predict the outcome before you begin. For this comparison—as both yarns were equal in WPI and YPP—I did not expect to find much, if any, difference between the two samples. I was surprised at the outcome!
The S twist, Z plied yarn responded as expected. The twist of the yarn worked with the stitches and did not split. The Z twist, S plied yarn told a different story that I did not expect. The yarn immediately started to untwist and lose its ply as I began crocheting.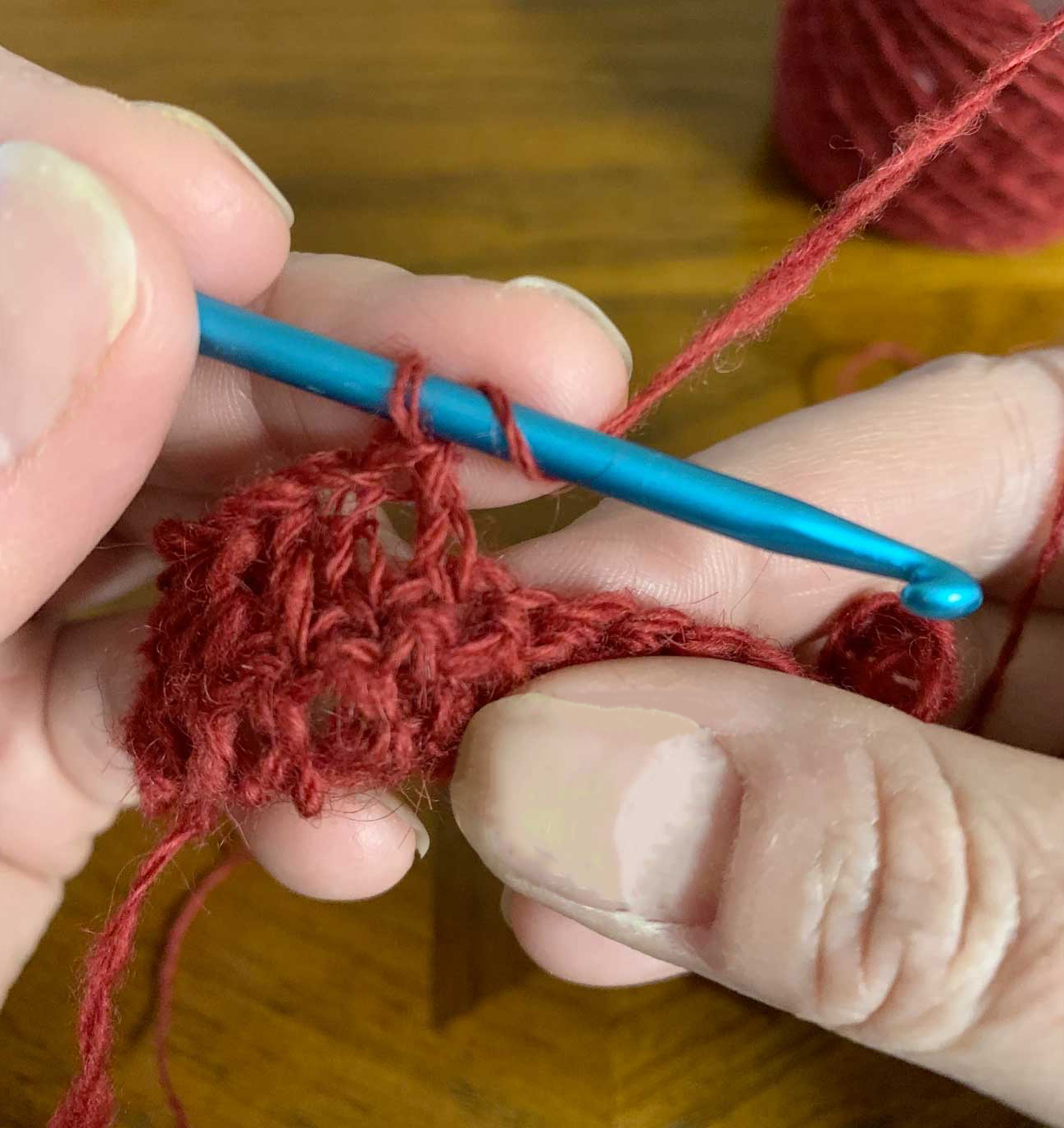 I had to see if this would continue to happen and crocheted the larger piece. Not only did the ply twist come out of the yarn, making it more difficult to use, the twist would go back into the yarn if I frogged the stitches. You can even see the singles separating in the piece.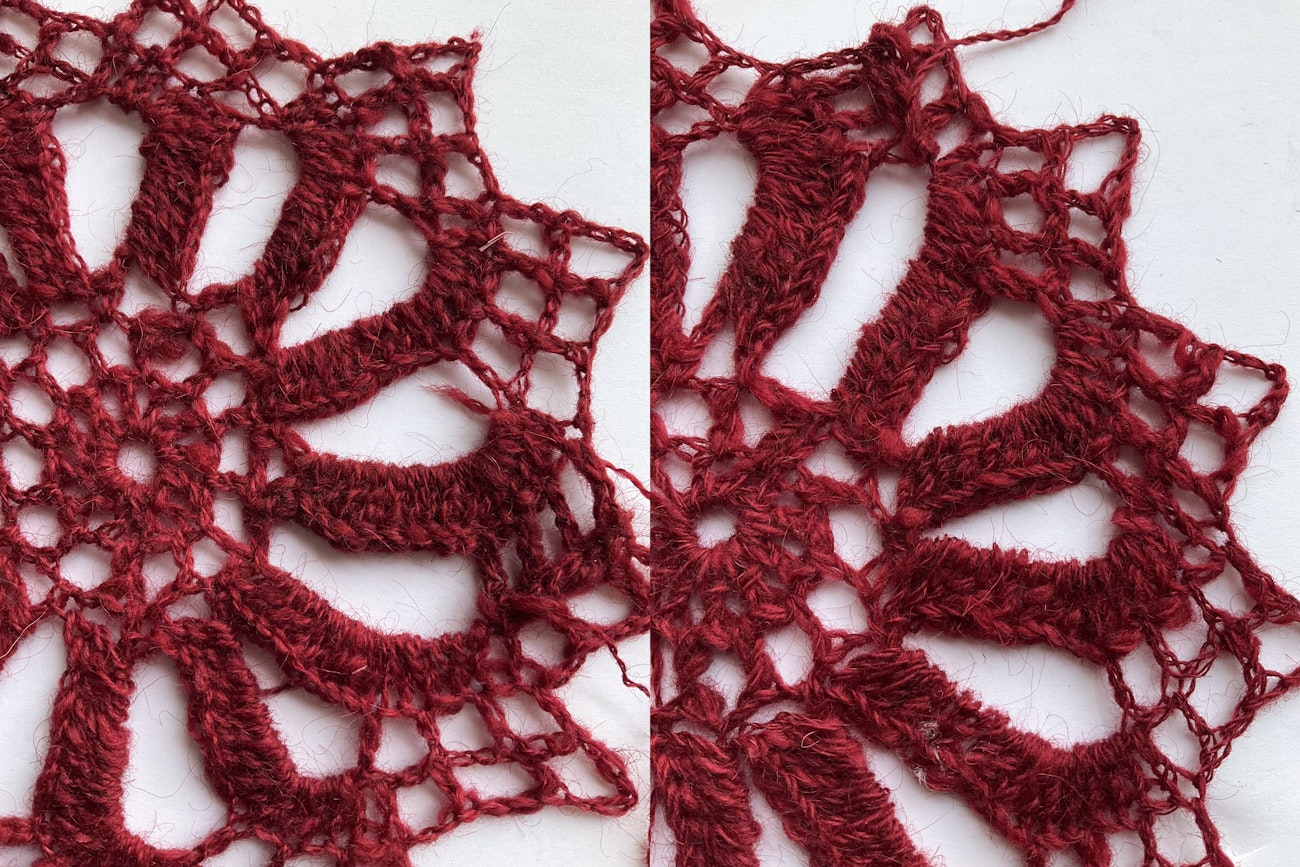 What does this say about planning for future projects? As a left-handed crocheter, any future projects I plan to use hand spun for should be S twist spun and Z plied to keep the yarn together. And it also shows that direction does matter. The next step would be to use the same yarn to work the same samples with the right hand and see if the S twist, Z plied yarn would separate as the Z twist, S plied did for the left hand.
Katrina King just keeps learning in craft and life. Along with lace knitting, she also has crochet, weaving, spinning laceweight yarn, embroidery, and tatting in her tool bag. You can follow her craft adventures at Threaded Dream Studio. When she's not crafting, she can be found teaching at her local yarn shops, reading epic fantasy novels, and chasing her daughters to various activities in and around Fort Collins, Colorado.