One of the best things about being part of the Spin Off team is getting to learn from so many great teachers. And by teachers, I mean our contributors. Crocheter Connie Lee Lynch uses a cool technique that was new to me in her Interlocking Button Cowl from Spin Off Winter 2023.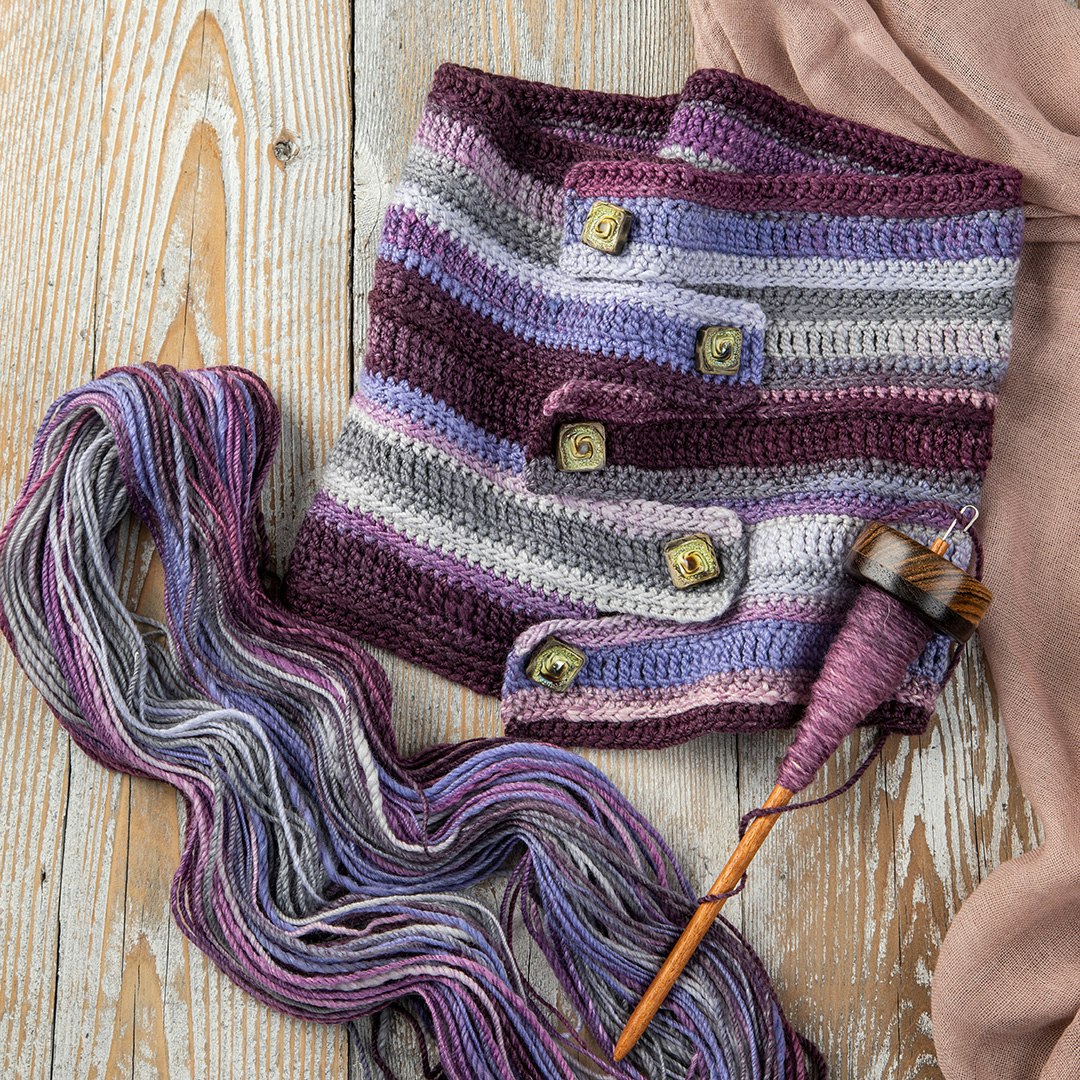 Connie Lee Lynch's Interlocking Button Cowl uses a crochet technique to add interesting detail to the front of her piece.
While the name sounds nearly the same, the back loop and the back bar are in different locations on your crochet. The back loop of crochet is on the top edge of the work, and when it is used by itself the front loop creates a single line of texture on the front side of your project. Working in the back bar shifts the top edge to the front of the work and looks like you have added a chain of texture.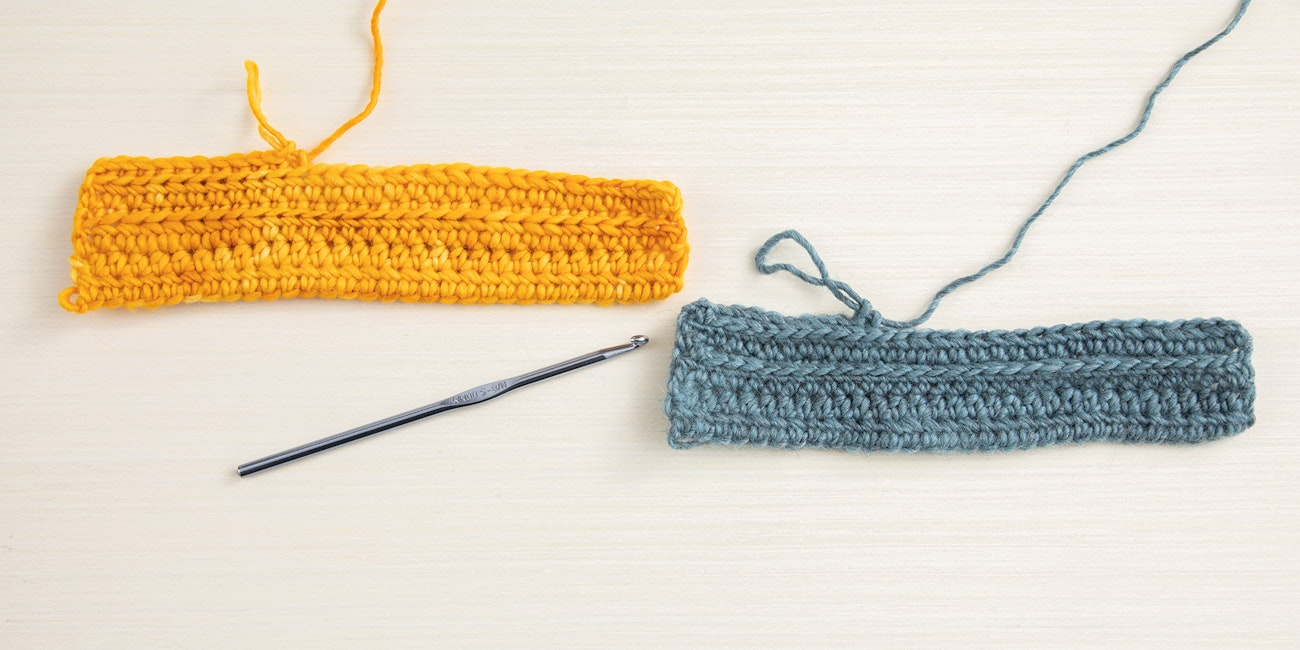 Working into the back loop (left) creates rows of slanted stitches, which are the unworked front loops. Working into the back bar (right) leaves both the front and back loops unworked so they appear as a row of chained stitches.
How to Work in the Back Bar
This technique can be adapted for different combinations of crochet stitches once you learn to identify the bar. Here's how it works in Connie's beautiful cowl project:
Single crochet in back bar: On WS, insert hook from bottom to top under diagonal bar located below top 2 loops of next half-double crochet, yarn over, pull up a loop (2 loops on hook), yarn over and pull through both loops.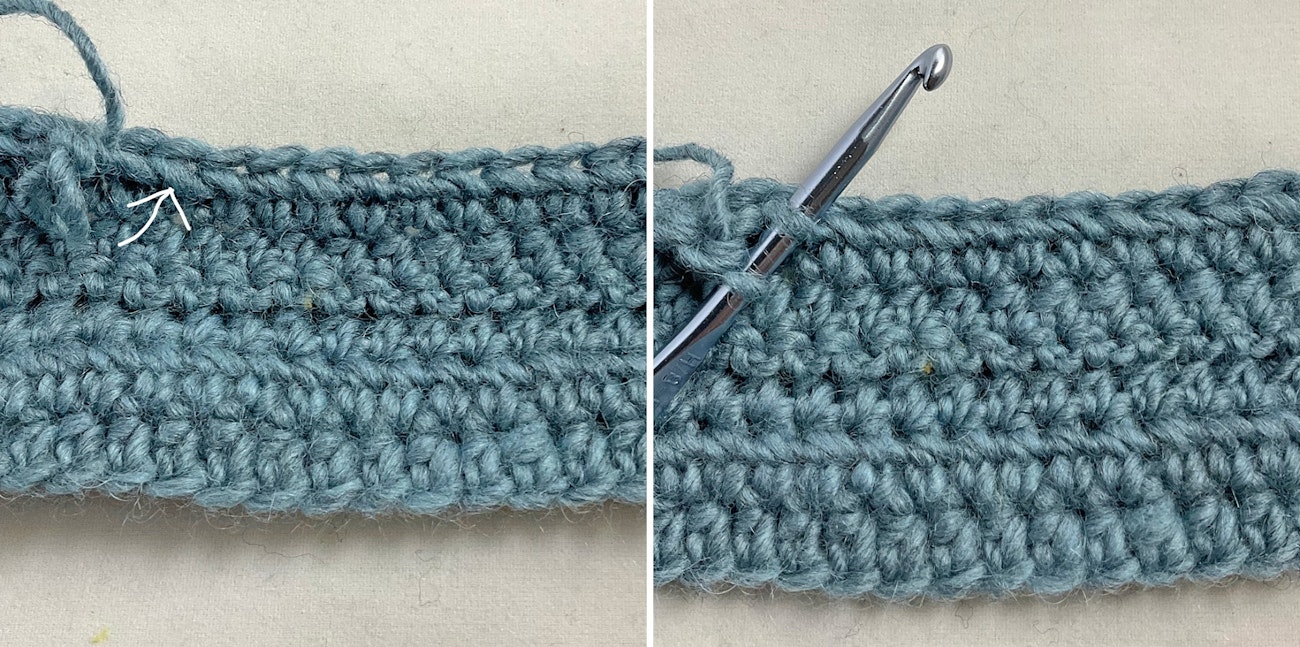 Katrina is a left-handed crocheter, so reverse if you hold the hook in your right hand. On a flat swatch, the top row of stitches is the WS of the previous row. You will find the back bar just below the chain stitch on the top edge of the work. With your hook in the working loop, insert hook under back loop, and work next stitch. Photo by Katrina King
By simply changing where the hook goes, you have created an eye-catching detail in the crocheted piece. I can envision using it on scarves and I wonder how it would look on a center-out spiral piece or a granny square. There are so many possibilities!
Is there a technique you would like to share, or one that we can take a deep dive into for you? We love to be inspired by your ideas. Email your photos and questions here.
Katrina King is the editorial assistant for Long Thread Media. As an avid maker, she is always looking to learn more craft techniques.