Designer and pattern Kaffe Fassett, Cityscape I-Cushion from Modern Daily Knitting, Field Guide No. 16: Painterly by Kay Gardiner and Ann Shayne.
Fiber Back of pillow: Three Waters Farm, Blushing Pinks (Blue-Faced Leicester) and Summer Shade (Blue-Faced Leicester); and Shirsty Cat, Smokey Gems (SW Merino).
Front border and I-cord Raven Ridge Fiber Arts, Mountain Bluebird (85% Polwarth/15% tussah).
Other supplies 20" × 20" Soft Touch pillow insert; Spectrum Warm/Cool 1.75" buttons, purple and teal.
Fiber preparation Combed tops, batts, and rovings. For Smokey Gems, I used handcards to mix fibers to bridge colors.
Wheel spindle system Schacht Ladybug, scotch tension.
Ratio 6.5:1.
Drafting method Short-forward draw.
Singles direction Z-spun.
Singles wraps per inch 20 (back).
Ply wraps per inch 13 (back).
Total yardage 416 yards for the back; 133 yards for the border and I-cord; unknown for the patterned section.
Yarn classification/weight Sport (back); varied (front).
Needles U.S. size 5 (back and border); U.S. size 6 (front).
Gauge 21 stitches and 26 rows = 4" (back); 17 stitches and 24 rows = 4" (front).
Finished size 20" × 20" cushion.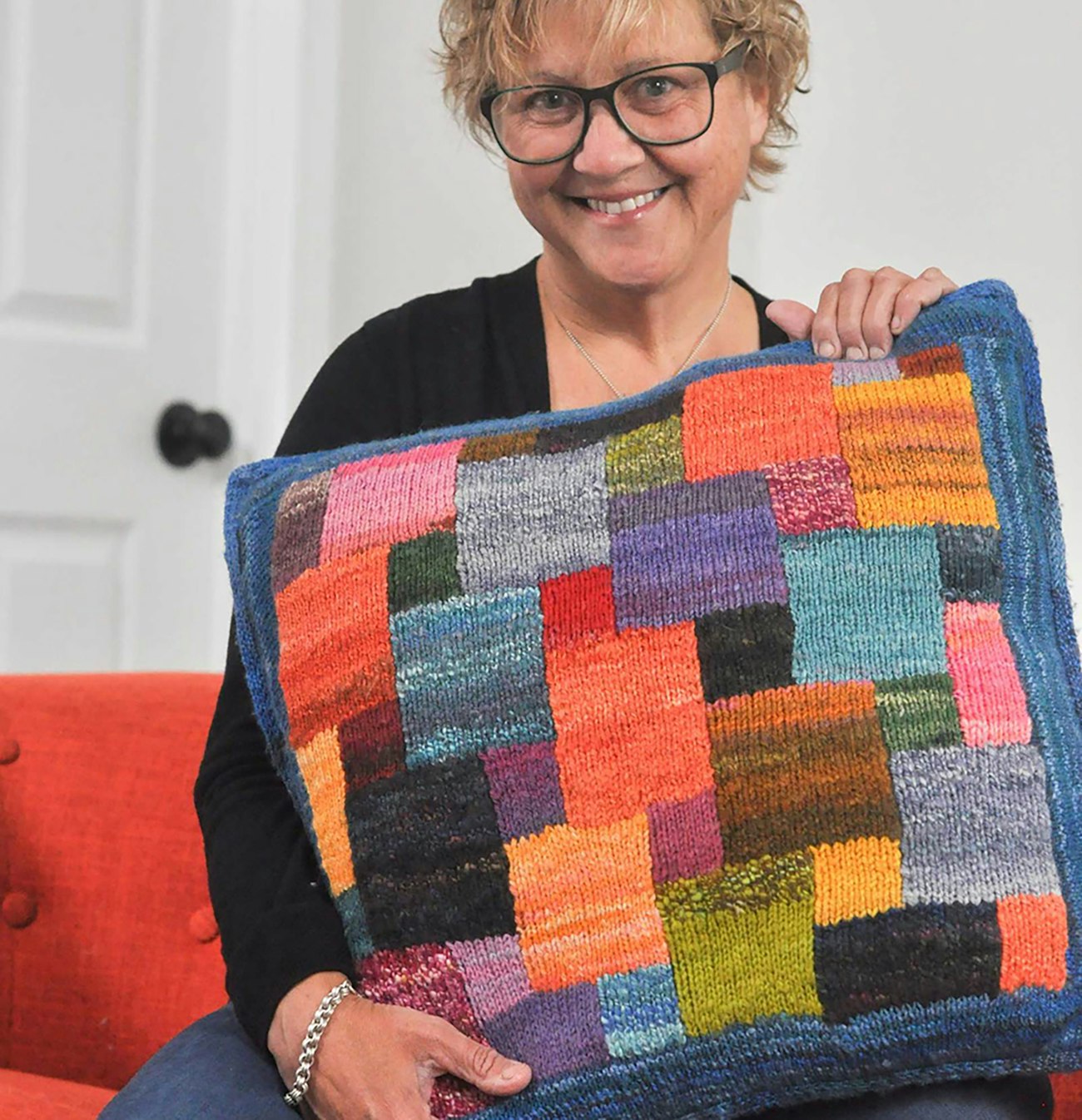 My Kaffe Fassett cushion is a perfect addition to my colorful living room. Despite its pride of place, you would immediately notice that spinning consistency was not a priority. I needed yarn for Modern Daily Knitting's 2020 Kaffe-along and was confident I had enough leftover handspun to make a brightly colored version of the Cityscape I-Cushion. After gathering scrap balls and unused practice skeins from over 10 years of spinning, I still needed more. The hideous, handspun striped sweater languishing in my cedar chest provided the rest of the yarn in a wild array of colors.
Before I began to knit the front panel, I organized my yarn into color families. This collection consisted of various types of fiber that had been prepared and spun on my Schacht Ladybug using different methods. It included batts, combed top, and roving spun into 2-ply, 3-ply, and chain-plied yarns. My project quickly transformed into a memory sampler that included souvenirs from trips to fiber festivals, local shops, and some of my favorite dyers.
This project was my first attempt at intarsia, which I found surprisingly easy. As I followed the pattern chart, I focused on color placement reminiscent of an antique Amish quilt. In the end, the vivid colors combined exactly as I had hoped. I completed the front by spinning a two-ply skein of Mountain Bluebird by Raven Ridge Fiber Arts to create the complementary border and I-cord.
Before I started the back, I took a Zoom class with Jillian Moreno and was captivated by the color swatches she created. Although I knew the back of the cushion wouldn't match the front, I decided to try fractal spinning. I pulled out a braid of Spunky Eclectic and carefully followed the dividing and spinning procedure from Jillian's lecture (not used in this project). When a package of Blushing Pinks and Summer Shade arrived from Three Waters Farm, I immediately started this magical spinning and plying technique again. For the last color, I used my Schacht handcards to add pieces of the Three Waters Farm fiber to the Shirsty Cat colorway, Smokey Gems. This provided a bridge between the colors on the back and the front.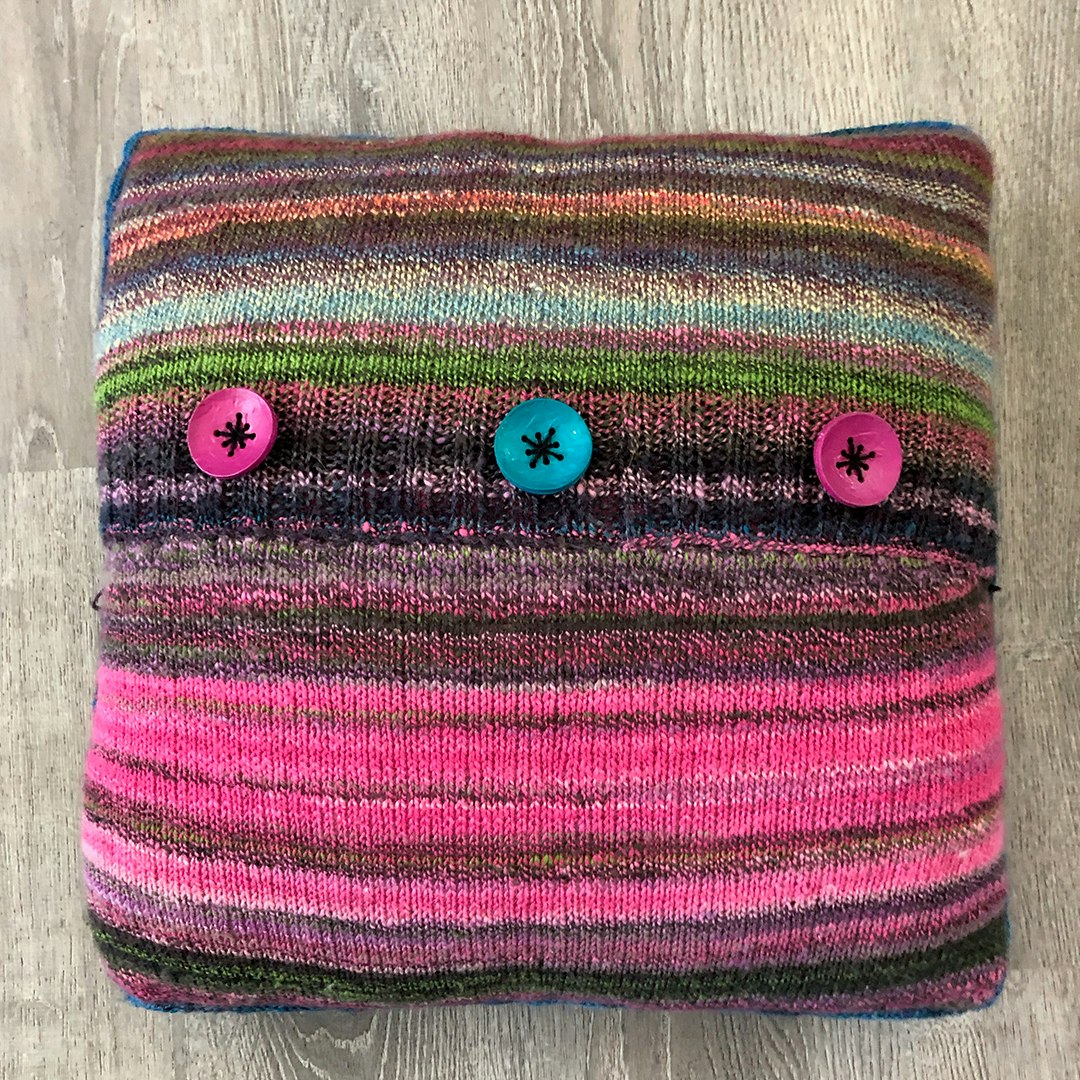 The back panels were a quick knit because the unexpected color changes were engaging. The fun was over as soon as I began the assembly because the pillow was an awkward size and the overlapping section of the envelope ribbing was unwieldy. After inserting the pillow, I breathed a sigh of relief and added three big garish buttons for good measure.
This cushion represents the history of my spinning. Here are my teachers and friends. Here is Sheralynn, my first extremely patient, long-distance coach in Australia. Here is my local spinning group in Central New York who answered my many questions. Here is Barb, who gifted me my first fancy drop spindle. And here is my friend Jesse. When I confided in her about my questionable spinning ability, she said, "Dude, you know how people are book smart and street smart? We are street spinners."
Street spinners, this project is definitely for you.
Sue's project was originally published in Spin Off Winter 2022. Do you have a finished object to share? Tell us about it! Email here to share your project.