My first love is sewing. I teach sewing at Fabricland in Green Brook, New Jersey, and I am a custom dressmaker. I became a handspinner at the 2018 Maryland Sheep and Wool Festival (MSWF). I walked into the raw-fleece tent and felt like Holly Golightly at Tiffany's. It was just the best place in the world. I picked a black Romney fleece and purchased it with no idea what to do with it. Several months (and many purchases of equipment) later, I produced a lumpy sweater, and I was so impressed with myself! I've been spinning for 18 months or so. I've been knitting for around 4 years.
This project started with my desire to have an item to enter into a contest at the MSWF in 2020. My handspinning is, shall we say, not as accomplished as it could be, but my garment design and execution skills are perhaps better than average. For these reasons, I wanted to enter a garment rather than a skein. However, looking at the categories for knitted garments, I saw that all of them specify "handknitting." I am a machine knitter. I don't want to be accused of cheating, so the knitting categories are not for me. The one category that I thought could work for me was the Maryland Wool category, which only specifies an "item" made from Maryland wool. With this in mind, I purchased two lovely fleeces in contrasting colors from Maryland farms.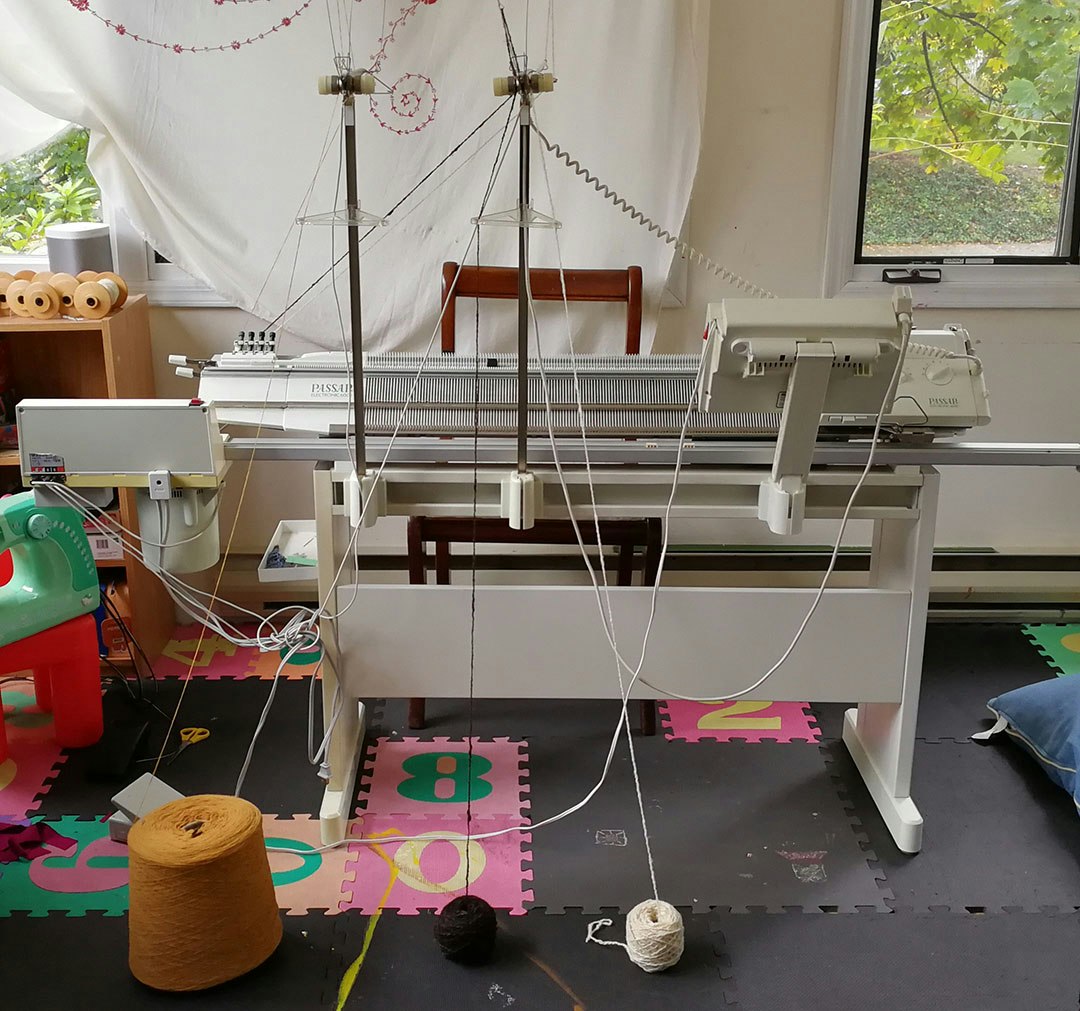 Materials
Pattern and designer Self-drafted pattern; the Fair Isle design was adapted from a traditional weaving pattern and some traditional knitting motifs.
Fiber/preparation Texel fleece, natural white; Border Leicester fleece, natural black; and orange fiber, hand-dyed with acid dyes. White fiber was washed and prepared on a drumcarder. Black fiber was washed and flick carded.
Wheel system/spindle Kromski Minstrel.
Ratio 12:1.
Drafting method Short forward draw.
Singles direction Z-spun.
Singles wraps per inch White 22 wpi; black 25 wpi.
Ply wraps per inch White 10 wpi; black 13 wpi.
Yarn classification Fair Isle, sportweight; sleeves, worsted weight.
Knitting machines Fair Isle, Passap E6000 electronic knitting machine; sleeves, Brother KH230 bulky knitting machine.
Gauge Fair Isle: 6-1/2 sts × 16-2/5 rows = 1" in Fair Isle on the knitting machine (each row requires two passes, so it's really more like 8-1/5 rows = 1"); sleeves: 4-1/5 sts × 6-7/10 rows = 1" in St st on the knitting machine.
Finished size 38" chest measurement.
Design Process
For the design, I wanted something eye-catching but also in tune with the aesthetic of the festival. There were some amazing weaving entries in 2019, including one utilizing a design similar to the one you see in this sweater. I decided this design would work for me. I plan on entering this sweater into the Made with Maryland Wool contest at MSWF in 2020.*
I started with the two raw fleeces: a black Border Leicester and a white Texel. For the Border Leicester, I washed, flicked, spun, and plied the wool. For the Texel, I washed, picked, carded, spun, and plied. The white yarn came out a bit heavier than the black, but they are close enough in weight to work in the same garment.
I used my Passap E6000 knitting machine to knit the body's Fair Isle design. The Passap is a computerized machine and a great tool for knitting a large Fair Isle design. I made a bitmap file with the design, uploaded it to the machine's computer, and knitted a gauge swatch using the machine. From the gauge swatch, I went back to the bitmap file and altered the design to fill the space on the front and back of the sweater. I plotted out the entire design rather than using a repeating design, allowing me to delineate the top, bottom, and sides of the design. This machine can knit a design that's up to 180 stitches wide and 240 rows high.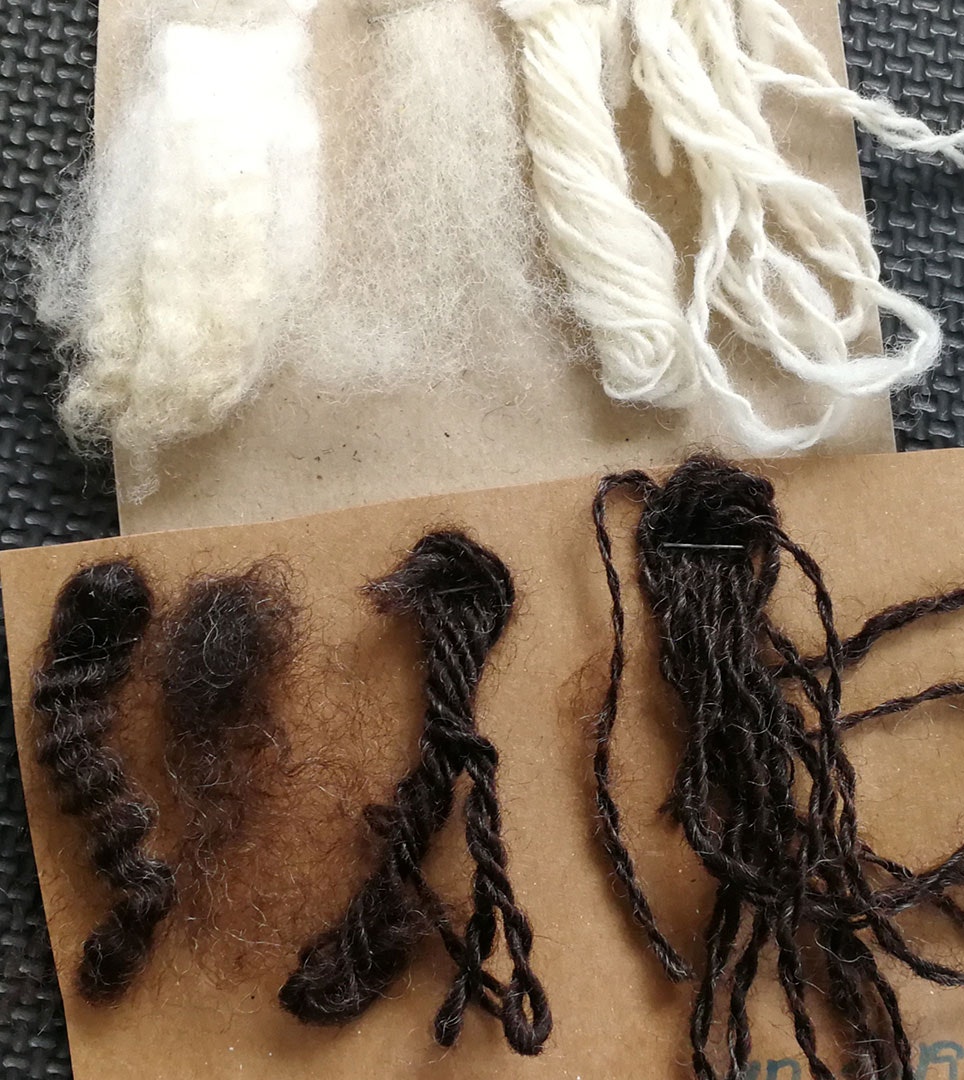 To knit the sleeves of my sweater, I used a much simpler mechanical knitting machine, the Brother KH230. I use it for all of my stockinette knitting. After knitting the four pieces—front, back, and two sleeves—I blocked the pieces and seamed the sweater by hand. I finished the neckline with a facing made from a scrap of silk organza.
The most challenging part was flicking the black fleece. I found flicking to be time-consuming and hard on my hands. My favorite part was pulling my gauge swatch off the knitting machine and seeing that my vision would actually work! It took a lot of effort and time to get to that point, and I was worried the whole time that this handspun yarn might not actually work with the design that I had in mind.
*Unfortunately, due to the COVID-19 pandemic, the Maryland Sheep and Wool Festival became a virtual event in May 2020 and many of the contests were canceled. Claudine hopes to enter her handspun, machine-knitted sweater in 2021. —Editor
Have a finished object to share? Tell us about it! Contact [email protected] to submit your project.
This article is featured in the Fall 2020 issue of Spin Off, our Ancient Craft, New Tools issue.