Have you tried knitting with your handspun on a flatbed knitting machine? Claudine Celebuski shared her fantastic machine-knitted, Fair Isle sweater with Spin Off *in the Your Finished Object department in the Fall 2020 issue. So, we asked Claudine to share her top tips for working with handspun on a knitting machine.
1. Know Your Knitting Machine's Gauge
The first thing that you need to know when spinning yarn for use on a flatbed knitting machine is the gauge of the machine. Knitting machines have set gauges and can sometimes accommodate yarn that's a little too thick or too thin, but it is easier to begin by spinning yarn that is the right weight for the machine. If you have a bulky-gauge machine, spin a worsted- or Aran-weight yarn. If you have a standard-gauge machine, sock-weight or sportweight handspun will yield the best results. Most art yarns will probably not work well on a knitting machine. These highly textured yarns can easily get caught on the mast tensioner and needles.
2. Add Enough Twist
In addition to spinning a specific yarn weight, you may need to adjust the amount of twist in your yarn. Your handspun yarn needs enough ply twist to hold the yarn together when under the tension and threaded through the mast. However, if there is too much twist, your yarn will be too stiff for the machine to pull it through the needles on the bed.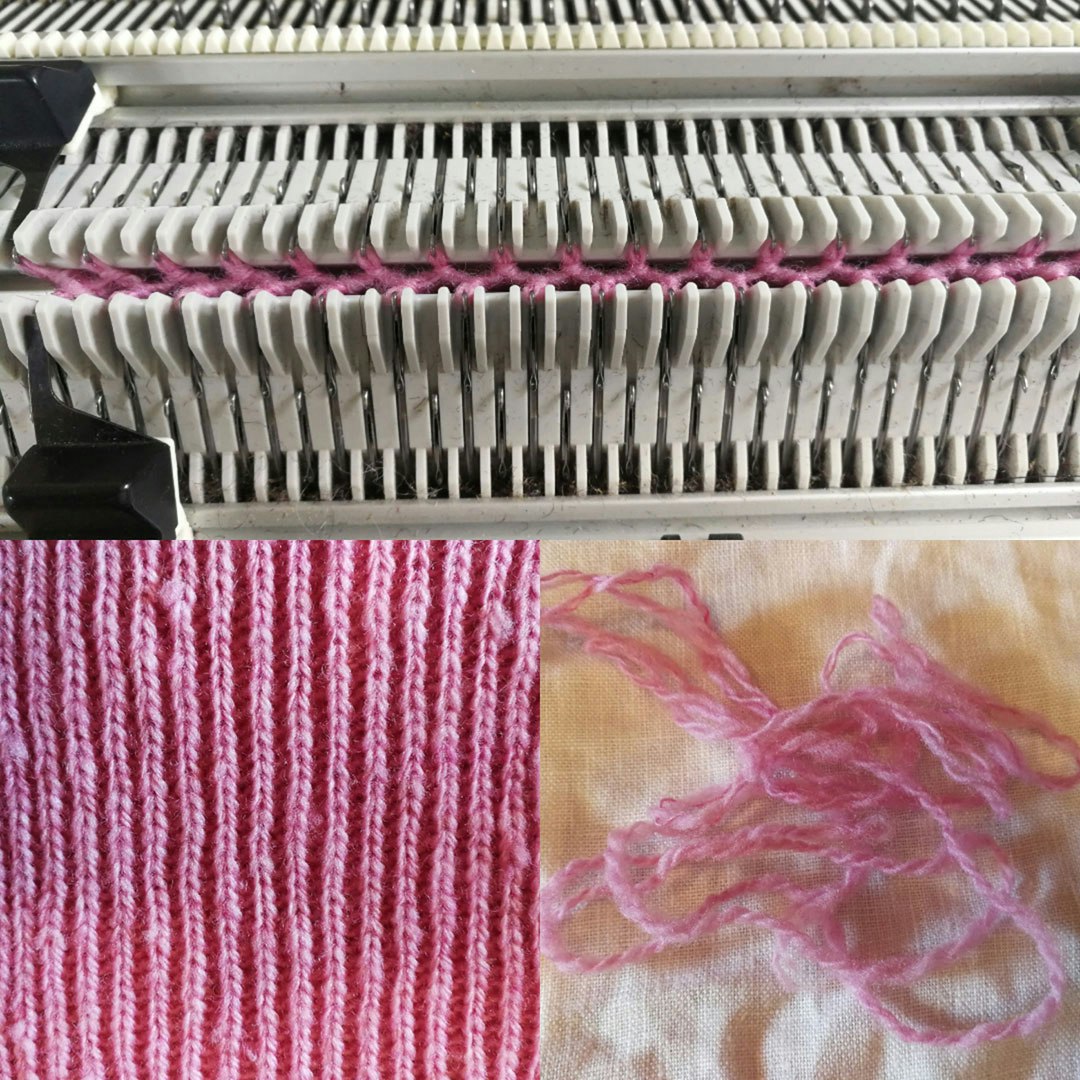 If your yarn is a little too thick or uneven for your machine to handle, try knitting a 1 X 1 rib, with a ribber. This configuration uses alternate needles on two beds and works with a yarn that is not an ideal match for the gauge of the machine.
3. Make Adjustments for Thick Yarn
If your handspun yarn is too thick, or stiff, for the machine, sometimes it is possible alter the stitch on the machine to accommodate it. Try knitting a 1 x 1 rib with a ribber attachment (above) or knitting stockinette stitch on a single bed using every second needle (below). Often, a bit of trial and error will yield the result you want.
If your yarn is a bit too thick, engage every second needle on a single bed to knit stockinette stitch.
If your yarn is too thick to do a machine cast-on, try working the cast-on with waste yarn, then switch to your handspun and leave a long tail of yarn for hand finishing the cast-on edge with handknitting or crochet when you remove the waste yarn.
4. Make a Test Swatch
Testing is vital. I've been spinning for knitting machines for about two years, and I still have to run multiple test swatches and alter my plans for almost every project when I use handspun. You'll want to work out all of the issues using test yarn (I use acrylic) before you start test-knitting with your precious handspun. Make large test swatches. Usually, when knitting a test swatch for a Fair-Isle motif or a tuck-stitch pattern, I knit 60 stitches wide by 100 rows. This gives me a better picture of what the finished fabric will look like. Once I have worked out all of the issues using test yarn, I knit much smaller samples using my handspun.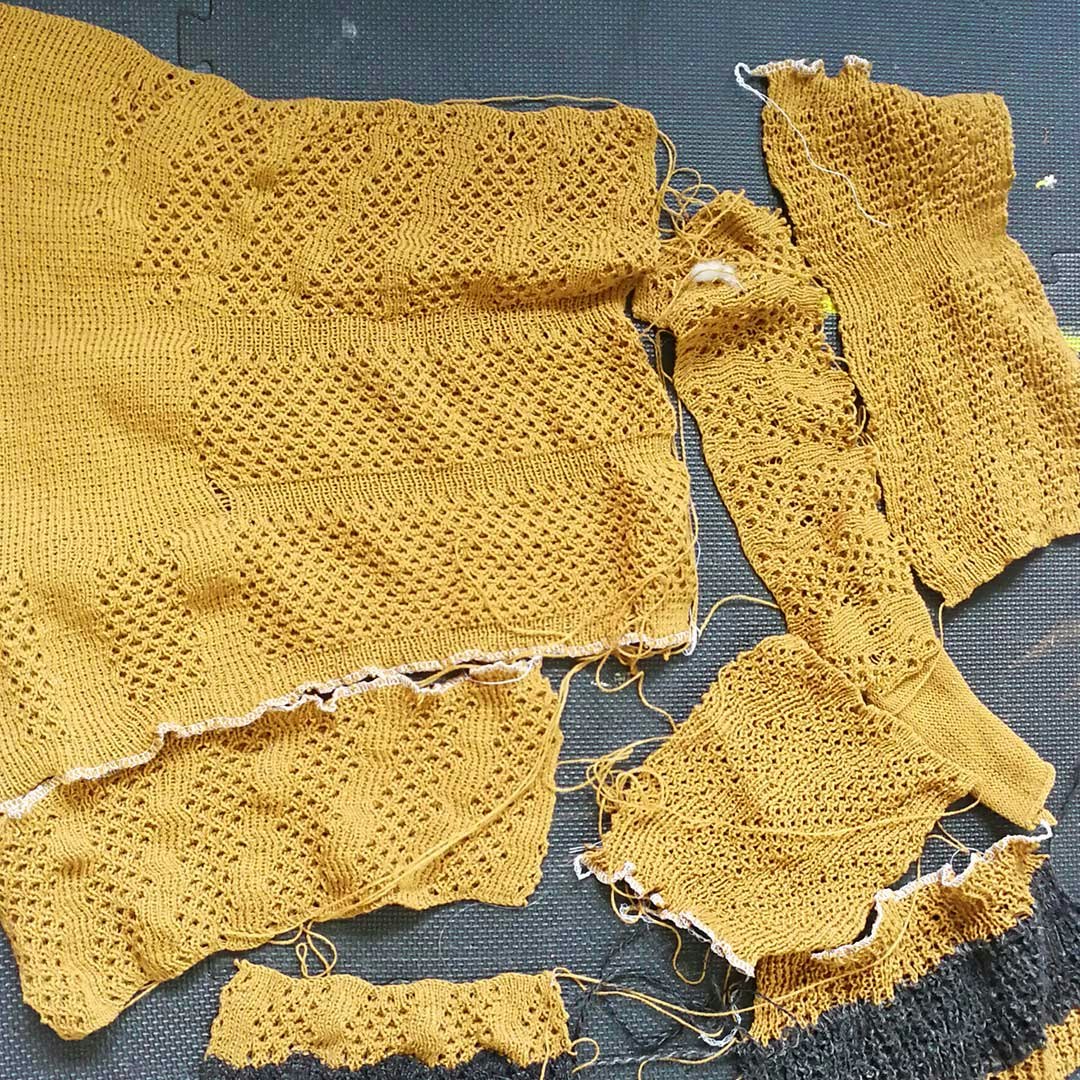 Claudine knit samples using acrylic yarn on her Passap e6000 knitting machine in preparation for knitting the Gotland sweater shown at top.
5. Use More Than One Knitting Machine
Sometimes, I end up using more than one machine for a project, or I knit half of a project on a machine and half by hand. I recently finished a sweater with a colorwork design on the body and plain sleeves. I knit the colorwork pattern on my electronic machine, wanting to take advantage of its patterning capability, even though the yarn that I spun was difficult to use with this machine. Although I don't recommend forcing your knitting machine's carriage, moving the carriage across the bed of my machine with my handspun yarn was challenging. I used a second machine to knit the sleeves, and my bulky machine was much easier to use with my handspun.
It's easy to get your heart set on a certain result, but often, you'll have to adjust your initial design to fit within the realities of knitting-machine technology. The best advice I can offer for machine knitting with handspun yarn is to try to spin the proper weight of yarn for the gauge of the machine and be willing to alter your design if necessary.
Claudine Celebuski teachs sewing at Fabricland in Green Brook, New Jersey, and she is a custom dressmaker. She became a handspinner in 2018.
Originally published August 24, 2020; updated June 8, 2022.