The Pantone color of the year for 2023 is Viva Magenta. What a fabulous, bold color that's perfect for a zip of color in a project, or, if you are brave, the entire project! What if you wanted to re-create this vibrant hue by dyeing your own version?
I don't own a book of Pantone swatches, and I'm guessing you don't either. You can print a color swatch from the Pantone website, but keep in mind that you will be at the mercy of your printer algorithm, the condition of the print cartridge, and the brightness of the paper you print on. I would encourage you to take a look around the Pantone website and choose your favorite image and match to that. I found them all to be a bit different. This is not terribly surprising because there is some leeway with hue in commercial matches. I used to perform commercial color matching in my early career. The fact is, most manufacturers are faced with many process variables and zeroing in on that machine-perfect match is prohibitively expensive.
Knowing this, why not go with your own version? It's not like another spinner is going to run up to you at a fiber festival holding up their Pantone swatch and declare your work to be incorrect! Find your version of Viva Magenta, and make it your own.
I decided to do just that and explore Viva Magenta using both natural dyes and washfast acid dyes. The approach I use for this kind of exploration is based on creating reproducible color formulas using very small amounts of dye and fiber. My article "Find Your Colors! Road Map to Repeatable Dyes" was published in Spin Off Spring 2021 (current magazine subscribers can login below to get a downloadable version of the article).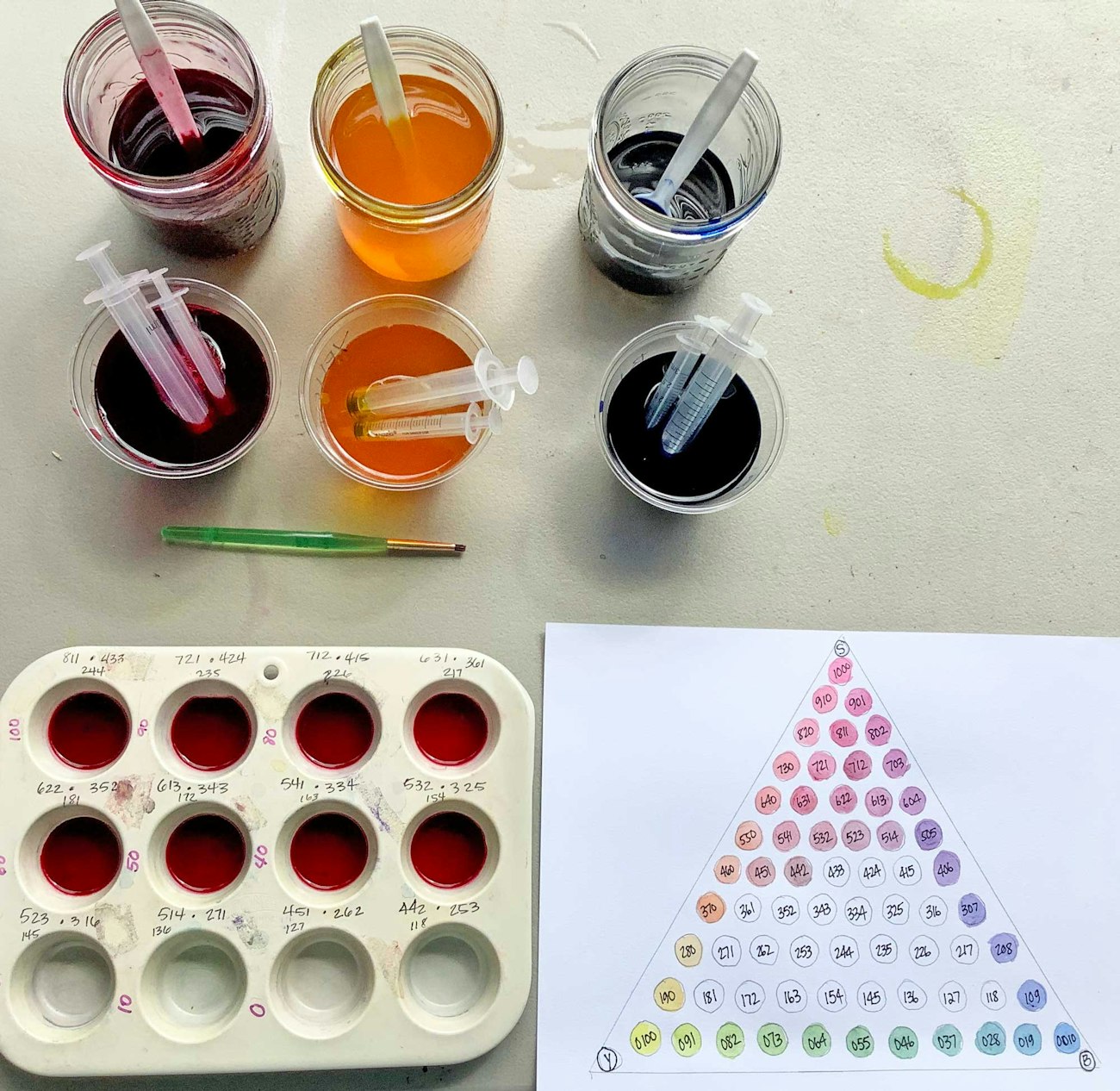 Terry detailed her straightforward approach to creating dye formulas in her article "Find Your Colors! Road Map to Repeatable Dyes." Current Spin Off magazine subscribers will find the full article PDF below.
This Magenta or That Magenta?
To begin this process of color exploration, I first needed to choose a place to start with color mixes, and this was based on my own observations and color-recipe notebooks. I also needed to choose several fiber bases to dye, since the color of the yarn or fiber will affect the final hue. I selected three different yarns: a white Polwarth silk (WPS), a cream-colored East Friesian (CEF), and a light-gray Shetland (LGS).
After looking at my dye notebooks, I chose to start the acid-dye samples using a cool red (polar red, P) and warm yellow (gold, G). As I began dyeing, I also tried three samples replacing the warm yellow with the cool yellow (yellow, Y). I dyed my samples using 1% stock solutions at 1% depth of shade.
In the three images below, you can see my finished acid-dye sample results with three different Viva Magenta photos for comparison. Though the sample cards are the same, you can see the range of color possibilities with the background images from the Pantone website.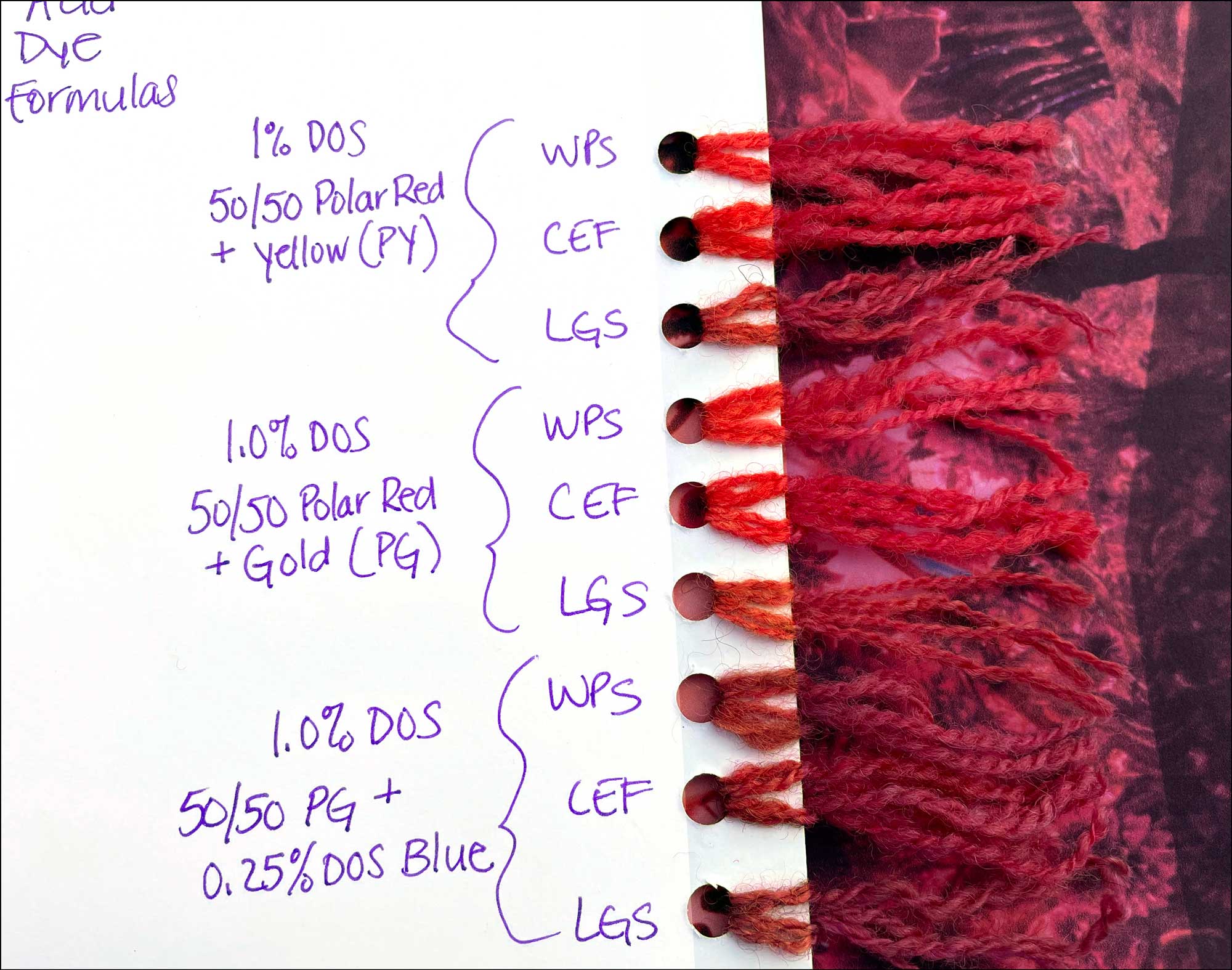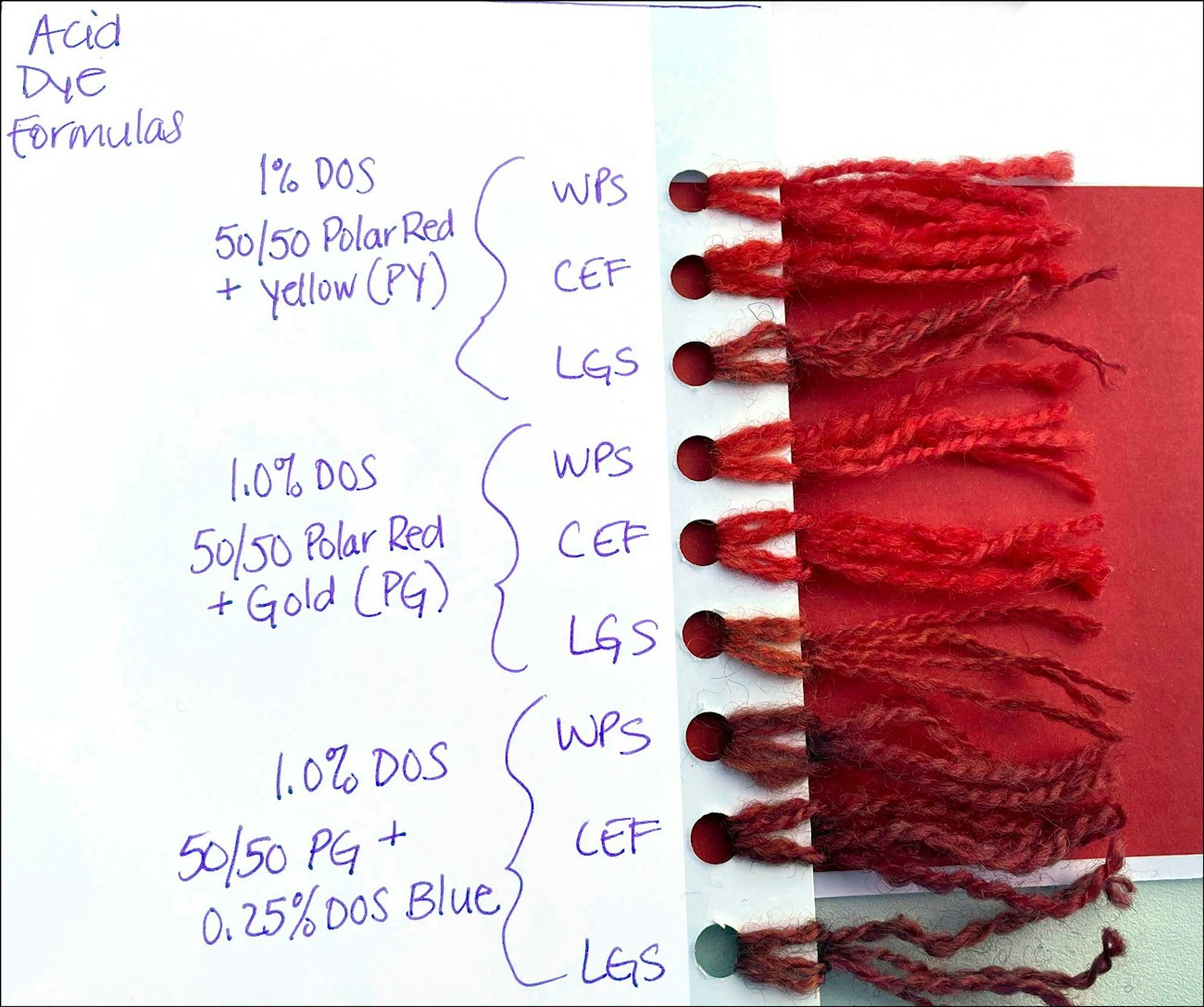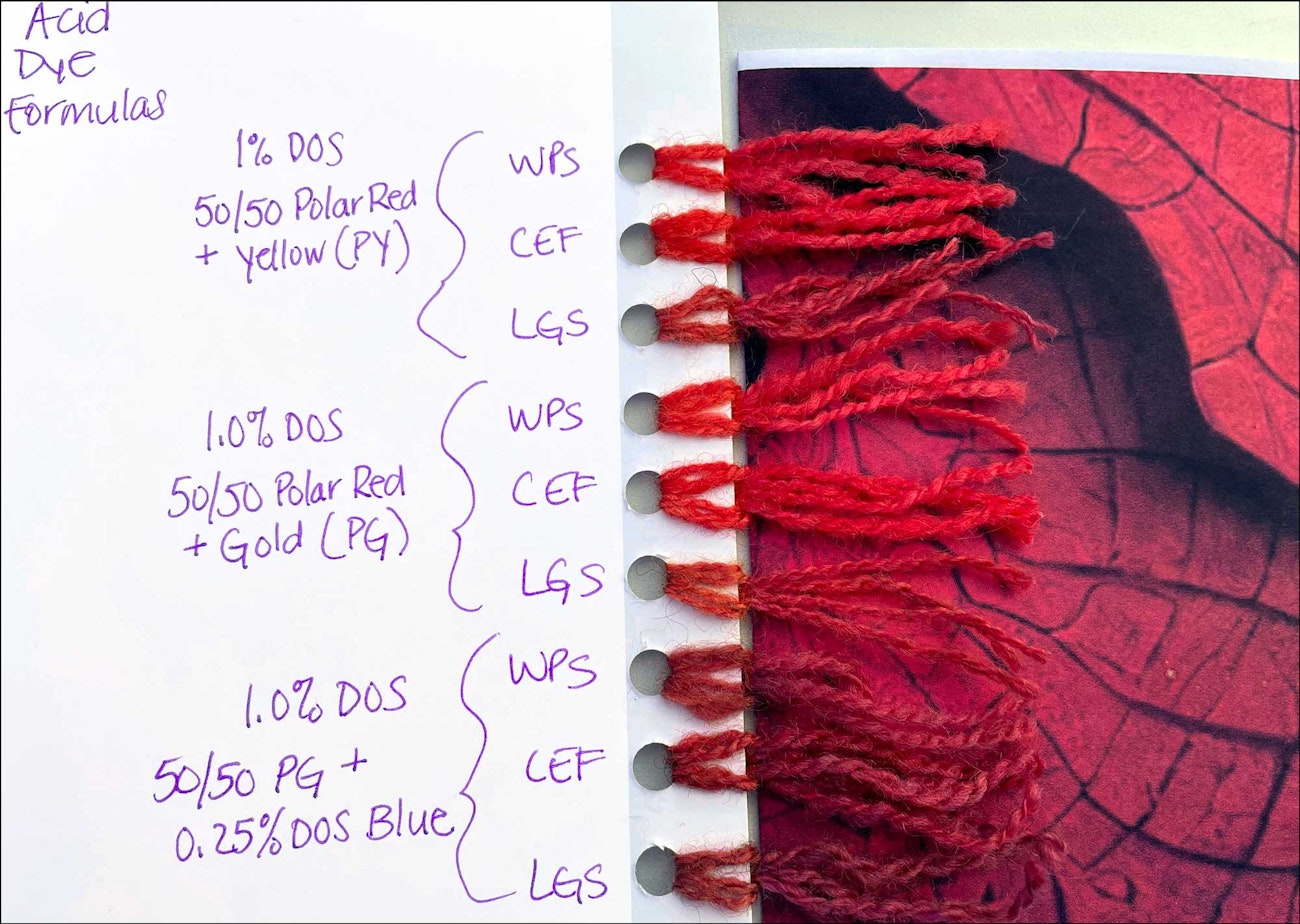 Acid-dye sample results with three different Viva Magenta photos
A Natural Dye Version
For the natural dye version, I chose cochineal at roughly the same depth of shade. I added 6% weight of fiber (WOF) of cream of tartar (CoT) to push the hue toward a more yellow direction.