If you missed Part 1, you can read it here to find out about Devin's use of natural dyes and the carding and spinning that ensued. Here, Devin shows us what they made with the resulting yarn.
I have already shared how I dyed and blended wool and silk and then spun it to create a basket filled with yarn full of opportunity.
As I spun the yarn I thought of what I wanted to do with it. At first I thought of knitting colorwork, but I soon dismissed that. The combination of longwool and silk as the fiber, with short draw as the spinning method, created a smooth and strong yarn that I thought would be well-suited to weaving. I wanted to feature the colors and to make something smaller and faster that would let me explore various color combinations.
I have always enjoyed looking at woven bands that are used for items such as ribbons, belts, and trims. I thought this would be a good use of the yarn I was spinning and I began brainstorming what I could use various bands for. The answer was literally in front of me. I have a beautiful freestanding distaff which I use for spinning flax and I had tied the dressed flax on it with some Christmas wrapping ribbon which was all I had at the time. What would be better than a handspun and handwoven colorful ribbon to secure the flax on the distaff?
There are various ways to weave ribbons from handspun, but I had just taken a tablet weaving class from John Mullarkey and was eager to practice and cement in my brain what I had learned about warping and weaving with tablets. I paged through A Tablet Weaver's Pattern Book (Mullarkey, Emerson Holtzer, Hoffman, Terumann, and White) and settled on a pattern. Once I had decided on the pattern, I could then choose my yarns. Inspired by the autumnal color outside my window, I chose a rich brown, bright yellow, and red yarn.
After some confusion and a consultation with John Mullarkey, I eventually was up and weaving, and enjoying the process immensely. The handspun wool and silk blend wove up well with no fraying or pilling. I had been warned that it would most likely be sticky and I did have to clear nearly every shed, but it was just a matter of lightly bringing my fingers down to the shed line. When I made sure that I had maintained a strong tension on the warp after each advance, I had less sticking. If I left the tension looser, I had more sticking and a more difficult time clearing the shed.
This ribbon wove up quickly and I could not be happier with the end result! It works wonderfully for its intended purpose and brings the glowing autumn colors into my studio.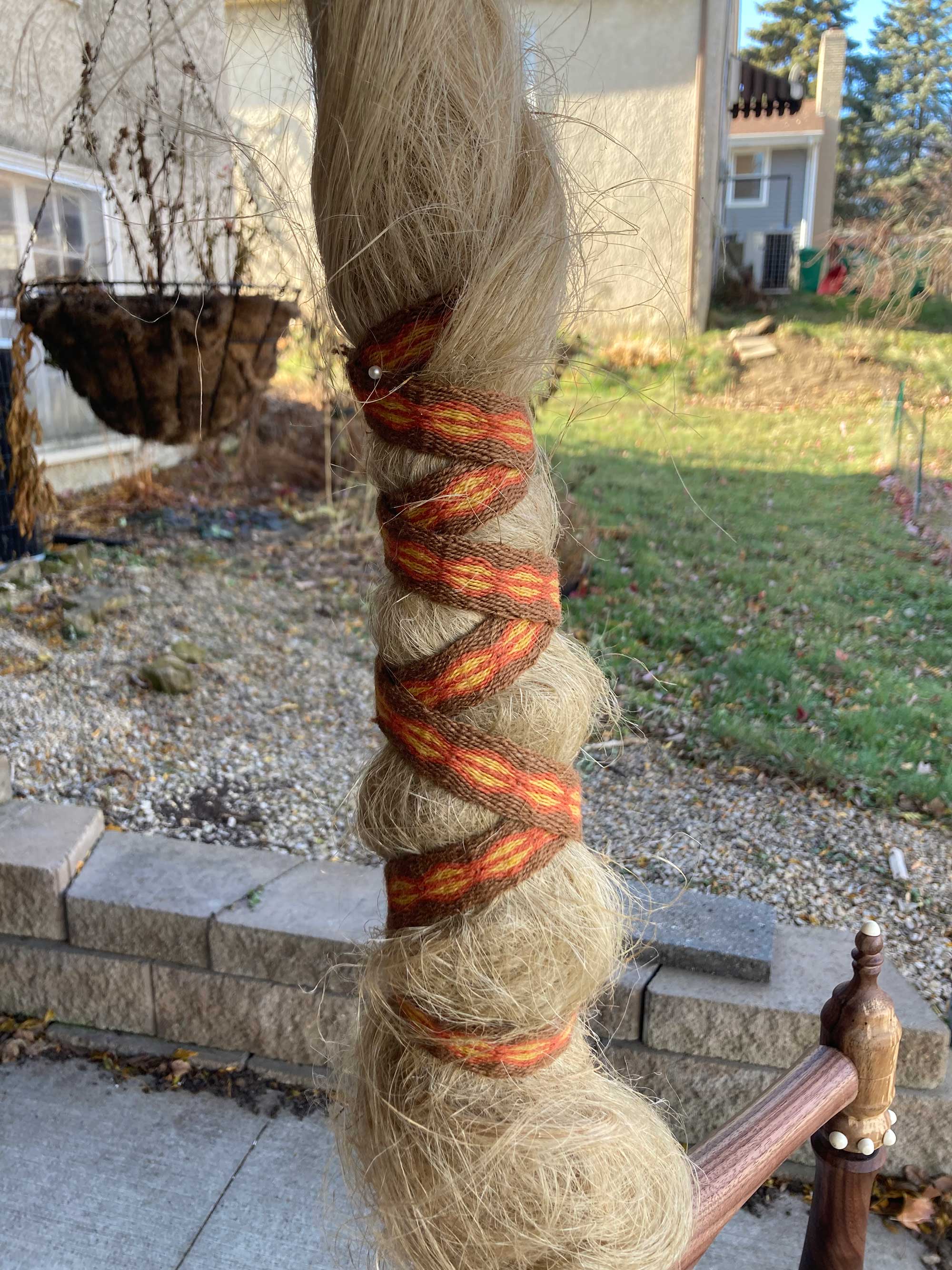 Once I finished that warp, I knew that I wanted to use the rest of this batch of yarns for more band weaving and immediately made a new warp, this time intended for a belt. I look forward to making more bands and exploring more techniques to see how my handspun holds up to them.
Devin Helmen has been immersed in fiber since learning to spin at age 8. They spin, knit, and weave in beautiful Minnesota. Devin enjoys writing and teaching about fiber arts and has a passion for spindles and everyday textiles. They blog, intermittently, at www.afewgreenfigs.blogspot.com.