I'm certainly not alone in my love for spring, and not just because warmer weather is just around the corner. My town in Colorado has an abundance of flowering trees that burst forth with color, bringing a literal breath of fresh air to what's left of the last dreary days of winter. Pink and white trees line most of the main streets, and their fresh, rosy colors inspire me and make me feel happy. We've also just added one of my favorite issues to the Spin Off library for the first time—Spin + Knit 2017.
I'm so excited about this issue because it combines the joys of spinning and knitting and includes patterns that feature both small and large amounts of handspun yarn. I love the idea of making a project where I can select the fiber based on the end project, and then savor the feel of it as I spin and then knit it. I enjoy spinning for the meditative qualities, but I'm learning to create yarns with a purpose—yarn to knit something specific and wear it with pride.
In my current (spring) state of mind, it's no surprise that as I thumbed through the pages I was drawn to the blush pink projects or those with rich and vibrant pinks. Here are three of the many beautiful projects you'll see in this issue and be sure to head to the library to grab your copy.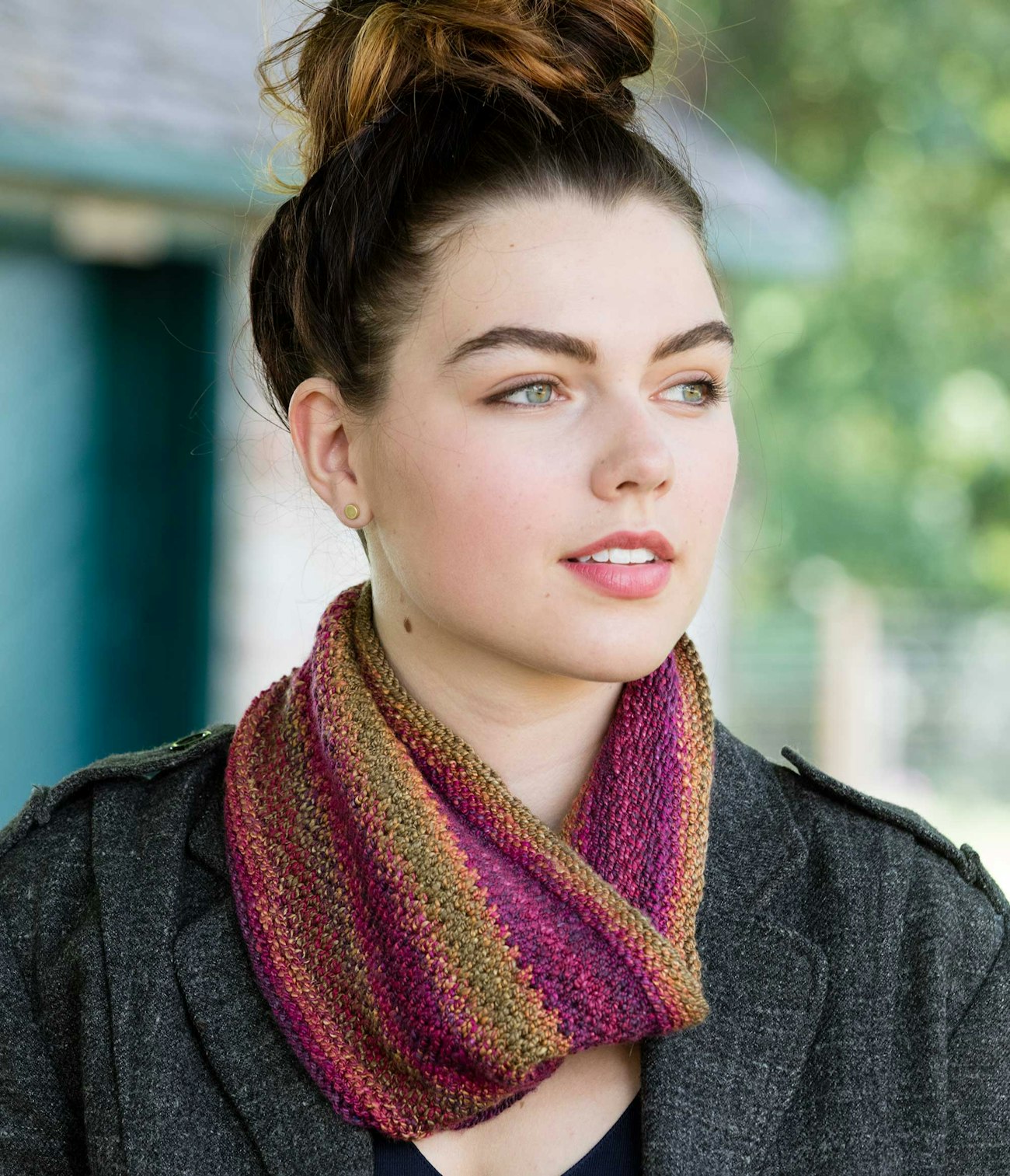 A gorgeous handpainted braid in lively gemstone colors reveals beautiful color variations in this sweet knitted cowl.
The "Eye of Partridge Cowl," designed by Jennifer Raymond and spun by Anne Merrow, uses a simple slipped-stitch pattern that creates a watercolor look and waffle-like texture. The Polwarth/silk combination results in a sweet, soft cowl and a denser, warmer fabric that's still fluid and elastic.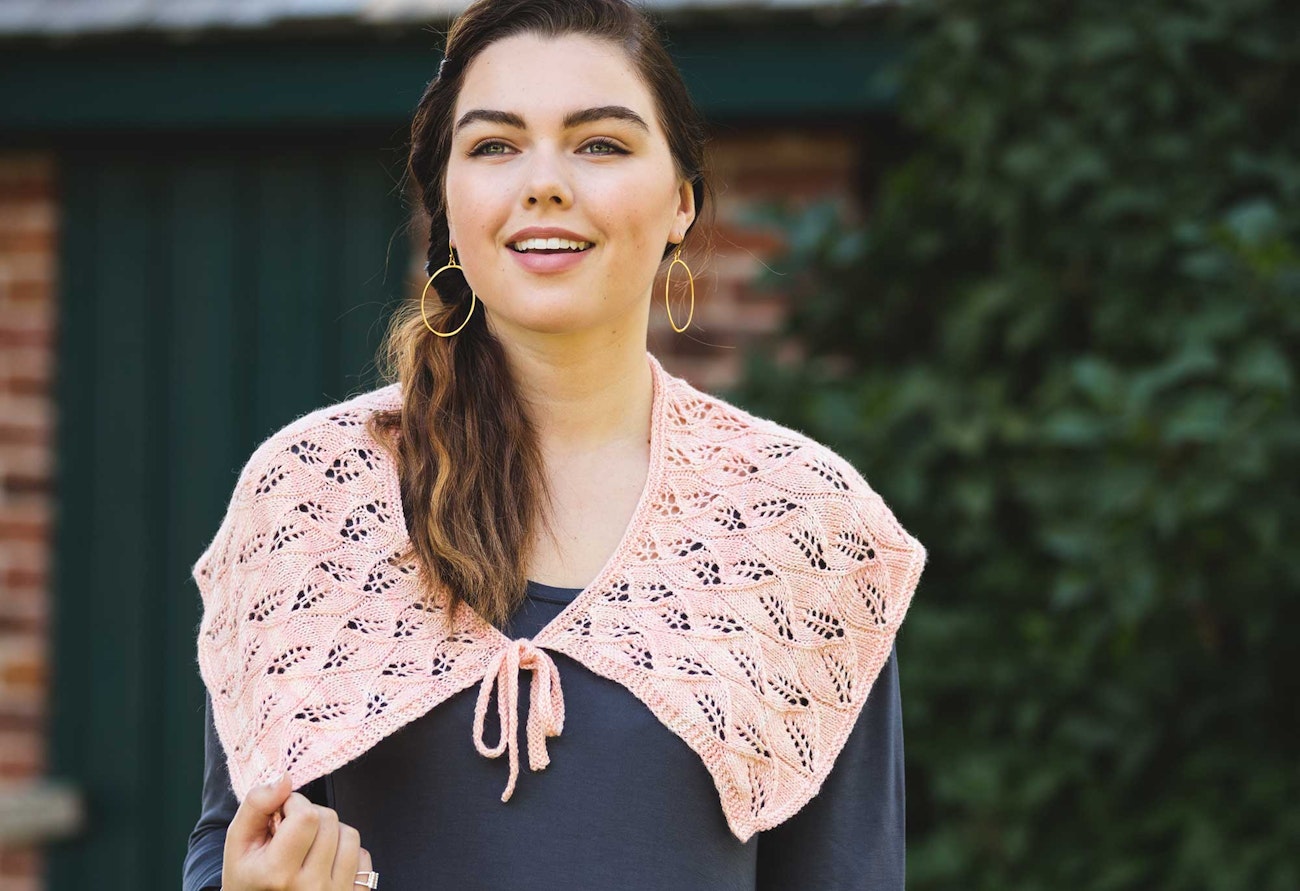 The Merino/Tencel blend in a peachy pink combed top lends softness and comfort to this pretty lace accessory.
I love that the "Lacy Leaves Capelet" by Heather Zoppetti is worked in one piece from the bottom up and shows off leaves that grow smaller as they move from the bottom to the top. Merino and Tencel combed top are spun into a fingering-weight yarn, and then knitted into this delicate lace pattern.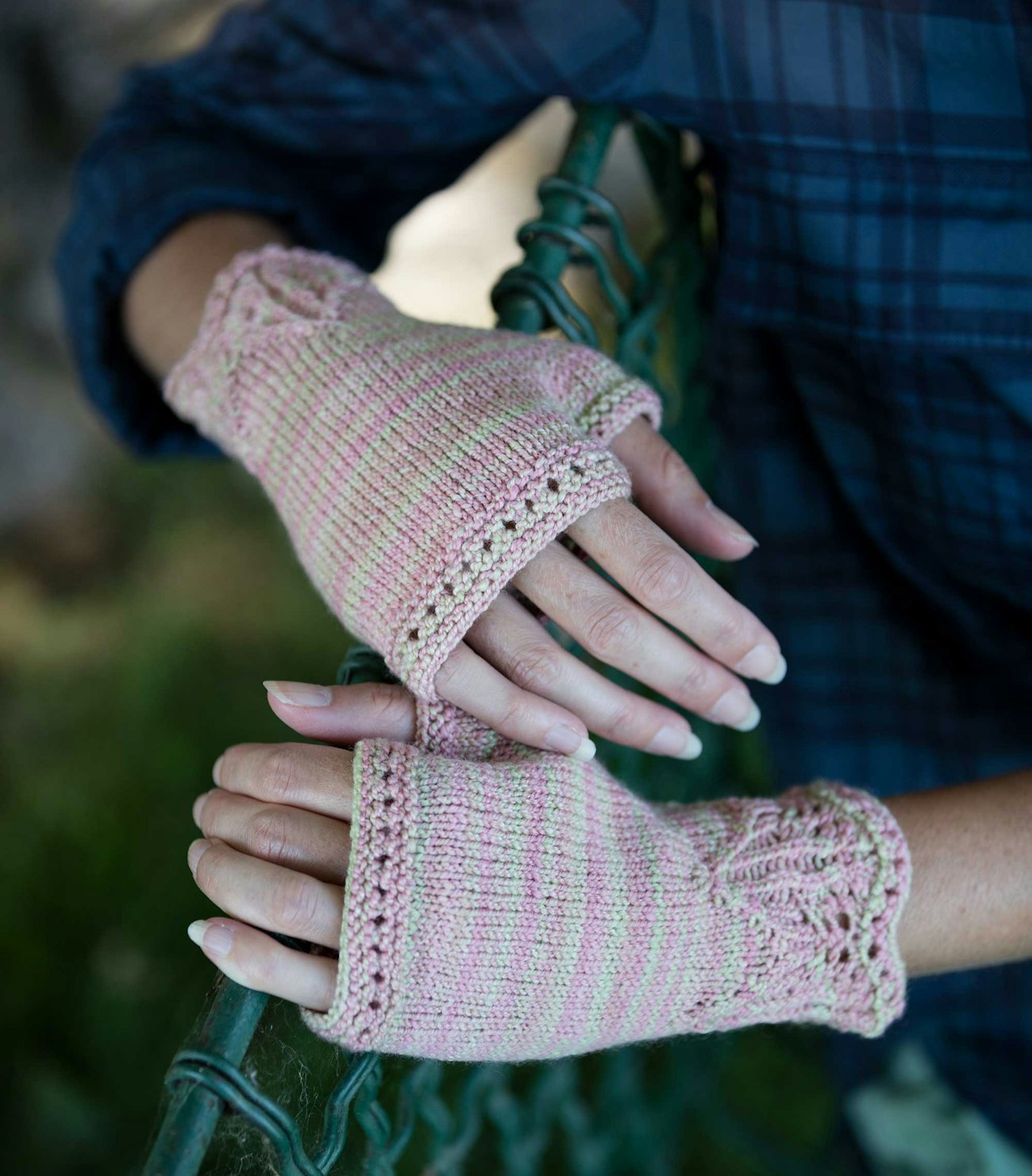 Spin and knit these dainty mitts using a scant 2 ounces of handpainted top.
The "Secret Garden Mitts," by Heather Zoppetti use Merino and bamboo viscose and only require a small amount of handspun yarn. Worked in the round from the cuff up, these fingerless mitts feature fancy cuffs knitted with ribbing and lace.
There are many more enticing projects in this issue that run the gamut of colors and patterns, so you're sure to find plenty of inspiration in this special bonus for All Access subscribers. Head over to the Spin Off library to check out Spin + Knit 2017 and get the instructions for the three projects shown and much more.
Debbie Blair is the associate editor of Spin Off magazine. A lifelong crafter and avid reader, she finds her happy place reading and relaxing next to a mountain stream.