Find additional color tips from Ellen's article in Part 1 of the series here and in the Fall 2021 issue of Spin Off.
—Spin Off editorial team
There are multiple ways we can develop our color perception and hone our ability to see color. We can read books by and about color theorists, but hands-on learning is vital. As a handspinner, I've found many opportunities to put color theory into practice. Here are a few "tools" for your own color journey.

1. Find Color Mentors
Authors and artists such as Josef Albers and Rita Buchanan provided the foundation for my color knowledge. There are many resources and mentors you can connect with through books, videos, workshops, and more. See Resources for more suggestions.
2. Take an Art Class
Prior to spinning yarn, I was an intense knitter, and a guild member recommended an art class titled "Color Dynamics" that applied exercises from Albers's book Interaction of Color. This class heightened my awareness of identifying undertones. From the chapter titled "A Color Has Many Faces," we were asked to solve the puzzle "One color appears as two" using professionally dyed art paper. This book is a fantastic guide to not only reading about color theory but putting it into practice at home or in a group, and Albers's approach to using colored papers translates to fiber work very well. Many community art centers offer adult education classes in color theory.
3. Take a Blending Workshop
At the Black Sheep Gathering, I was energized by a drumcarding workshop, mixing dyed fiber to explore how two sets of primary colors produced different secondary and tertiary colors. We formed two different 12-section color wheels with our Merino top, blending painters' and printers' primaries. One important take-away for me was that electric purple was only possible when blending printers' primaries. There are similar online and in-person color-blending workshops.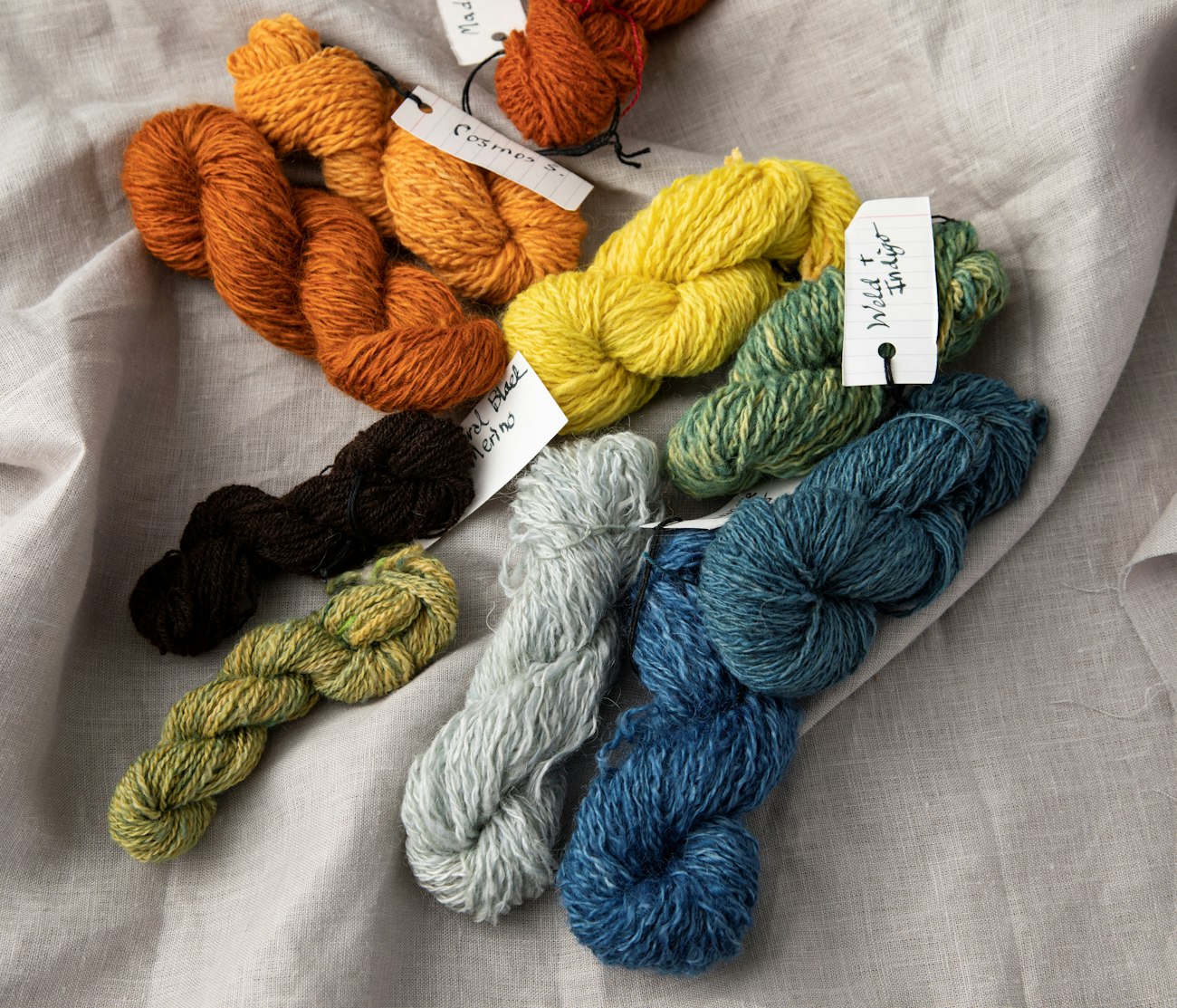 4. Build a Fiber Palette
You don't need to dye your own fiber to study color. You can teach your eyes to see the difference between painters' primaries (classic red, blue, golden yellow) and printers' primaries (magenta, cyan, lemon yellow). There are a number of companies that sell a full palette of dyed colors on a variety of base fibers. Build your own fiber palette for color experimentation.
5. Color Theory with a Fiber Focus
If I can recommend two areas of color awareness for you to gain confidence in, they are undertones and value of a color. If you are working with a natural gray fleece, look for blue, brown, and yellow undertones. Or if you are drawn to a stunning blue handpainted braid, ask yourself if it leans toward red or yellow. Learning to identify the complexity of a color will help you build palettes.
Ellen McKean began designing textiles at the age of four after receiving a child's hand-cranked Singer sewing machine. Wishing for a "fabric factory," she found it through spinning, dyeing, growing dye plants, sewing, knitting, and weaving. An intensive period of studying classical music at Jacobs School of Music, an interruption for eye surgery due to family genetics, an interlude of making textile art-to-wear, and recently, a joyful return to music gives a brief history of her artist's life.
This article first appeared in Spin Off Fall 2021.