There are so many reasons that we might hesitate to plunge into natural dyeing. Sometimes we just don't have the resources—time, brain space, budget, or all three—to devote to a craft that can have a steep learning curve. Or perhaps you are worried about "ruining" good fiber and ending up with a pile of beige skeins.
These are all very real concerns, and I hope we can help smooth your path. Jump on in, the dyebath's fine! For this month's subscriber-only bonus, we are pulling three fantastic Spin-Off articles from the archives and making them available in our online library. Authors Madeline Keller-King, Dagmar Klos, and Martha Owen are experienced natural dyers who offer some easy ways to get started.
From the Grocery Store
Using supplies that are already in your kitchen or easily collected on your next grocery run can make getting started less stressful. Onion skins are one of those dyestuffs that people often start with and then continue using even after exploring more exotic palettes. Not only are onion skins readily available for most people, they create a range of reliable colors with little effort.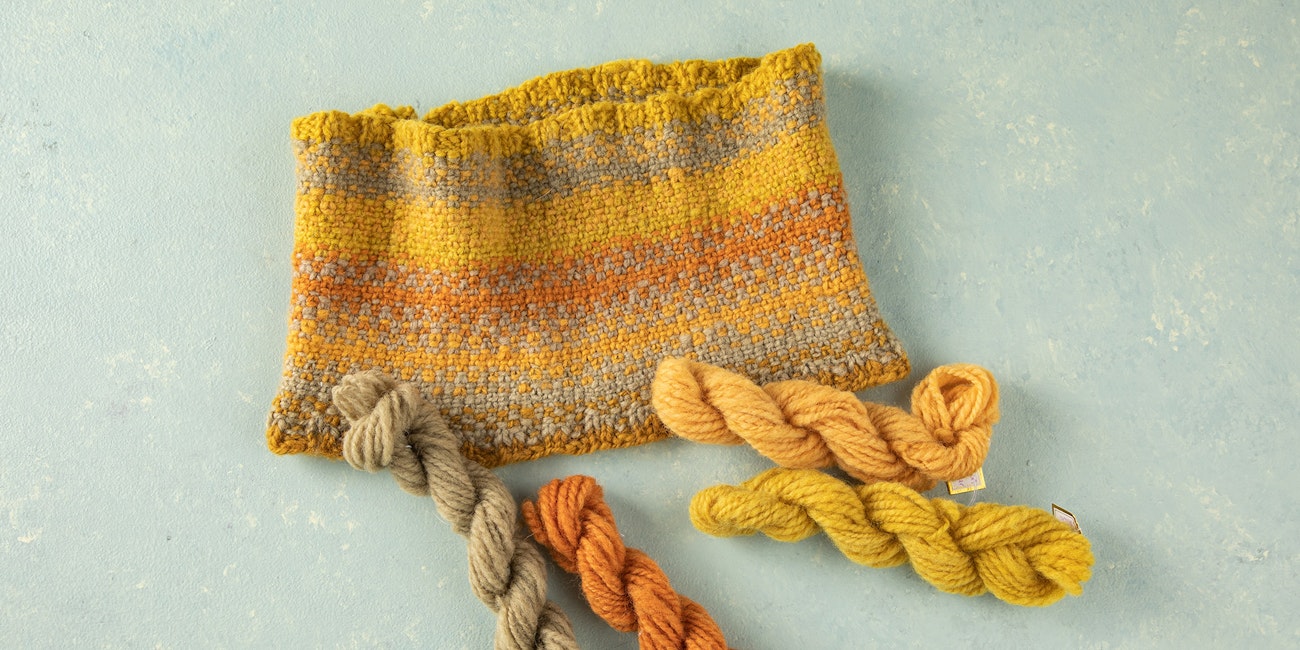 Madeline created the Kitchen Cast-Off Cowl project so you can put all of your lovely dyeing samples to good use! Current Spin Off Subscribers can find the pattern here.
In her article, "An Ode to Onion Skins: Modifying a Humble Dyestuff," Madeline shows how easily you can create yellows, golds, and oranges using a few grocery items: yellow or red onion skins, alum (used for canning), and vinegar. By soaking some rusty nails in a vinegar solution, you can expand your palette to include khaki and greens.
Hot tip: Want to collect onion skins faster that your household can eat them? When purchasing onions at the grocery, pick up loose skins that tend to pile up on the shelf.
Overdye Scraps for Stress-Free Learning
Dagmar Klos wrote a great article for Spin Off Spring 2015 about using natural dyes to create beautiful and complex palettes using stash yarns. She started with a group of handspun odds and ends dyed in colors that would not be happy neighbors if knitted together, and then shows how they look when overdyed with things such as tea, black walnuts, and marigolds. Overdyeing with natural dyestuffs can create breathtaking results!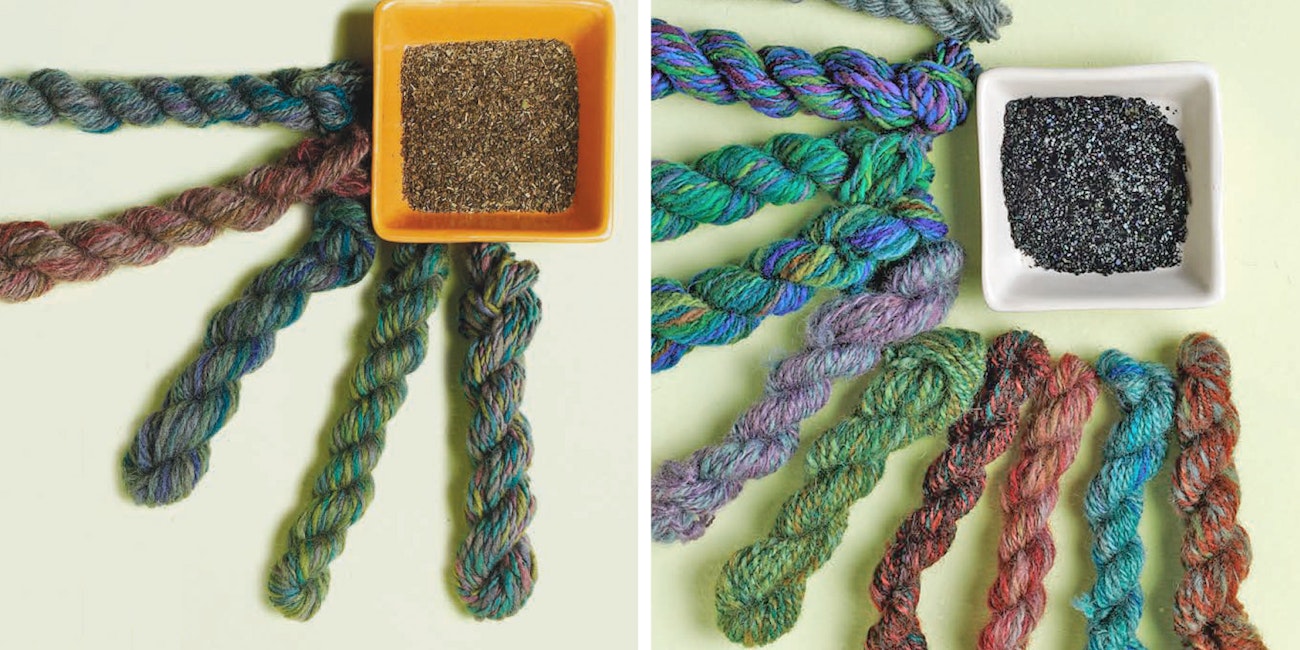 Dagmar's article shows how dyes like black walnut, tea, indigo, and marigolds impart color into your fiber. Photos by Joe Coca
I wanted to share this article for beginners not because it is a step-by-step resource like Madeline's. Dagmar's article is a fantastic introduction to how three different families of dyes work and where specific dyestuffs fit in that framework. Some dyes need a mordant, while others don't. This can be a huge source of confusion for beginners, but Dagmar's article can get you started just by dipping into your own stash.
No Time to Dye? One-and-Done Dyepot
I also meet spinners who have been collecting dyes, mordants, pots, books, and more, but have yet to find a free weekend to give them a try. Martha Owen, the artist in residence for fibers at the John C. Campbell Folk School, has been teaching people how to get colors in a hurry during weekend workshops for years. She wrote an article for Spin Off Spring 2021 about her "magic pot" method that combines multiple dyestuffs for a fun, multicolor effect. This how-to article is focused on fun and just getting started with natural dyes.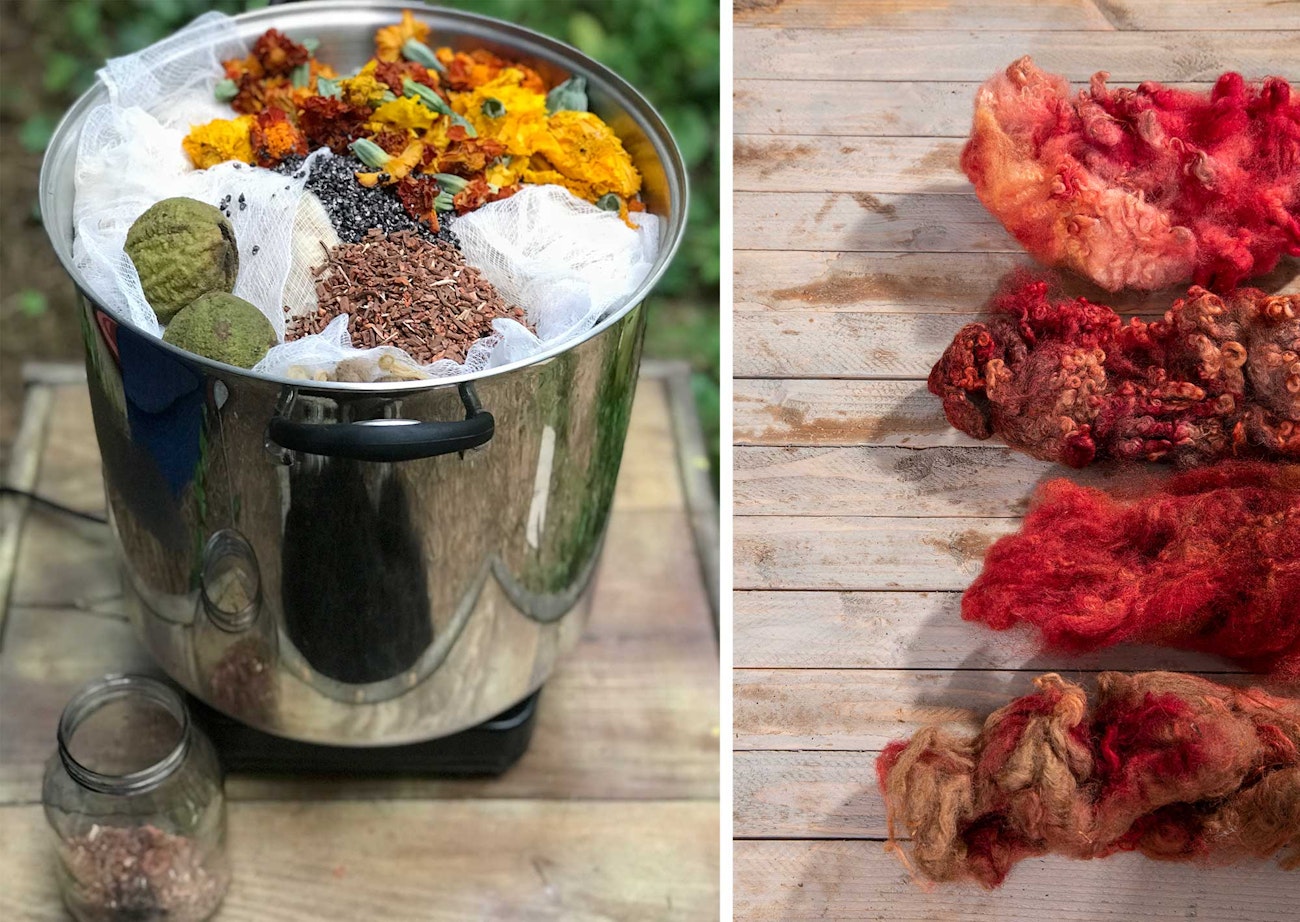 Martha's "Magic Pot" and resulting skeins. Photos by Matt Graves.
You're sure to find plenty of inspiration in this special bonus for subscribers to Spin Off. Head over to the Spin Off library to find these three articles and more.
Kate Larson, editor of Spin Off, teaches handspinning around the country and spends as many hours as life allows in the barn with her beloved flock of Border Leicesters.